Moodboards and command strips - is it ever a good idea to decorate as a renter?
Making a house a home is expensive, and not always straightforward if you're on a short-term contract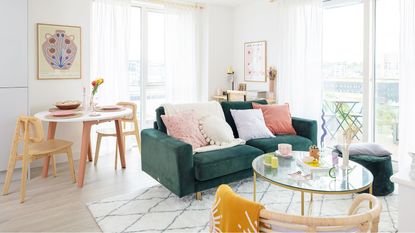 (Image credit: Future PLC / David Giles)
What springs to mind when you imagine a rented flat? My guess is that it's not what emerges after a cursory Google of the phrase 'decorating for renters'.
After a year of working on a Homes and Interiors website, I'm familiar with the sort of pictures that people are looking to browse when they plot renovation projects. They want painted walls, expensive soft furnishings, and period features which have been painstakingly restored.
Not, as you'll find in my rented flat: magnolia walls, a broken extractor fan, and more than a smidge of mould.
While Ideal Home is genuinely bursting with wonderful ideas on how to decorate a rented property, even the writers behind those glossy ideas pieces (lots of whom are also renters) can get fatigued. Inventive ways to overcome the confines of short-term lets are hard to come by, and even the good ideas sound expensive.
Of course, homeownership, as ever, is a topic dominating our news cycles, with findings from the English Housing Survey concluding that there were there are 15.6 million owner-occupied households in England in 2021-22, representing 64% of all households.
As one of the 36% who doesn't own property, I wanted to dig in a little more into whether trying to decorate and rent is worth it, and which ideas you can pursue in good faith.
Consulting your landlord
It might seem outlandish, but before you abandon all hope of being able to change your space, experts say that it's worth putting the feelers out to your landlord and asking them what's possible.
Tash Bradley, Director of Interior Design at Lick Paints spoke to me from her rented flat about her experiences with seeking permission from her landlord.
Tash was pleasantly surprised by the outcome of her request, saying 'I actually submitted a sort of mood board for what I wanted to do so that she visually could see what I was looking at doing.'
She recommends this as a tactic to clients that she speaks to as part of her colour consultations at Lick, where she talks people through colour psychology and how to decorate in order to feel more at home. Tash says that while 70% of her clients do own their homes, there is potential for those who are renting to think outside of the box as they pitch renovations to their landlord.
'If they are renting, I always say, look, have you spoken to your landlord? What are they happy for you to change? You know, is it just the wall colours? Or are you able to paint your kitchen cabinets?'
If you can sell your renovations to your landlord as a benefit to them, you're bound to have more success. 'When they have a tenant that wants to take pride in and get excited about the home, and if the tenant is going to invest in getting a decorator or paying for the paints then it builds a great case for the tenant. And it really changes the place into a home where you have your personality.'
If you can get your landlord on board, then being able to make changes at home might just change how you feel about other aspects of your life.
Renter-friendly interior Instagram accounts are on the rise, with my favourites like Steph at @ohsorented with her colourful Scandi rental and @grillodesigns both making the case for what you can do with the reality of your home as it is. In fact, most of the images included in the article are off rental properties that have been transformed with a little imagination.
Finding optimism is hard in the renting cycle, so even if talking to your landlord doesn't go excellently, you could use the exercise to work out what is in your realm of possibility.
If painting isn't viable, could you refresh your furniture with second-hand buys from sites like Marketplace and Olio? Research from Gumtree found that their 'Freebies' section is the most popular category on the website, with 1.7 million items listed for free at the time of writing.
Assessing cost
Even if your landlord is willing to grant you all the permission in the world, the cost of decorating is a major factor that can hurt your plans, especially in a cost-of-living crisis.
According to the ONS, private renters on median income could expect to spend 23% of their income on a median-priced rented home in England. This figure rises to over 30% in London and after bills, it's understandable if you might not want to invest in making changes to your rental that will only increase the value of the property for your landlord.
There's also the issue of furnished vs unfurnished properties, with flatshares usually coming kitted out with furniture as standard (and therefore trickier to put a stamp on), as opposed to larger family houses, which usually have more to work with.
While it can be hard to not feel like you're throwing money down the drain while renting, Nick Woodward from Essential Living says that in an ever-changing market, renting can sometimes provide more opportunity for change.
'Gone are the days when people get a life-long job in their hometown and buy a house nearby,' says Nick.
'Today, people tend to change jobs every few years and renting allows the flexibility to relocate as and when it's necessary. For many, the financial cost of renting is worth the freedom to move around the country as they please.'
That's all well and good, but I think it's hard to ever make a case for renting being financially savvy, especially when research like the type, conducted by OVO Energy reveals that 67% of homeowners planned home improvements this year - with plans to spend upwards of £5000 on average.
Spending the same amount on a rented property has little to no benefit in the long term - even if you plan to stay in the same place long-term, there's not always a guarantee of security.
What you can do to make a change
So what you can do to make a change in your rented home that won't break the bank but will brighten up your short-term situation? It's something I discussed with Ideal Home's Content Editor and fellow renter Holly Cockburn.
'I'm a lover of period properties and the interiors that come with them, but the images on my vision board often involve huge renovations that aren't conducive to renting a small flat,' says Holly.
'One idea I've managed to mirror in my own home is a cafe curtain. They've trickled down into the mainstream and add a cosy feel to any home, and luckily they're easy to DIY.'
'All you need is a tension rod, a half-height curtain and some curtain clips. You can even use an old linen sheet for a truly authentic look. The effect is a design that's reminiscent of local French cafes and stops my very close neighbours from peering into my bedroom.'
If you're less of a DIY-er and more of a beautiful-things lover, then art can also go a long way to make a rented space feel more like home. I spoke to Sarah Walfisz, resident art expert at Art Republic, who has tips for how you can pick out art even if you can't change the colour of your walls.
'Neutral tones can be your friend,' advises Sarah. 'You'd be surprised at how many pieces of impactful art are less colourful than others, while timeless pieces in neutrals can suit any room – even if you move to a fully furnished property.'
'Alternatively, go all out and don't worry about the artwork blending in – art is subjective and ultimately you want it to be seen, so really go big with your choice!
It's an expression of who you are, and the most loved pieces of art are the ones to which you have a connection. Most new builds and rented spaces are quite neutral to start with, so make your mark and transform the space into a place that feels like your home.'
Of course, building an art collection all at once isn't exactly the most budget-friendly tip, which is why Sarah adds 'It's also important to note that creating an art collection happens over many years. You may place a piece in the living room now, to then find another piece in 3 years' time that you fall in love with and works better for that wall colour.'
If you can't hang art on the walls, you could try getting pieces that you can artfully prop up (and make it seem like they were meant to be displayed that way all along). And even if you're technically banned from hanging art, command strips (from £10.50 at Amazon) are about to become your best friend - they've enabled me to hang even larger artwork in my flat, and have seriously impressive staying power.
Can you decorate a rental?
There's no quick fix to the issue of renting and decorating or of the current state of the housing market, but there are small things that can make you feel more positive and allow you to do more while still keeping your deposit at the end of your tenancy.
Whatever you do, make sure to get written permission from your landlord if you do manage to secure some leeway when it comes to renovations. And be thrifty while thinking long-term about your purchasing of soft furnishings or statement pieces, so that you can hold onto them if you do want to own a place that's yours one day.
Get the Ideal Home Newsletter
Sign up to our newsletter for style and decor inspiration, house makeovers, project advice and more.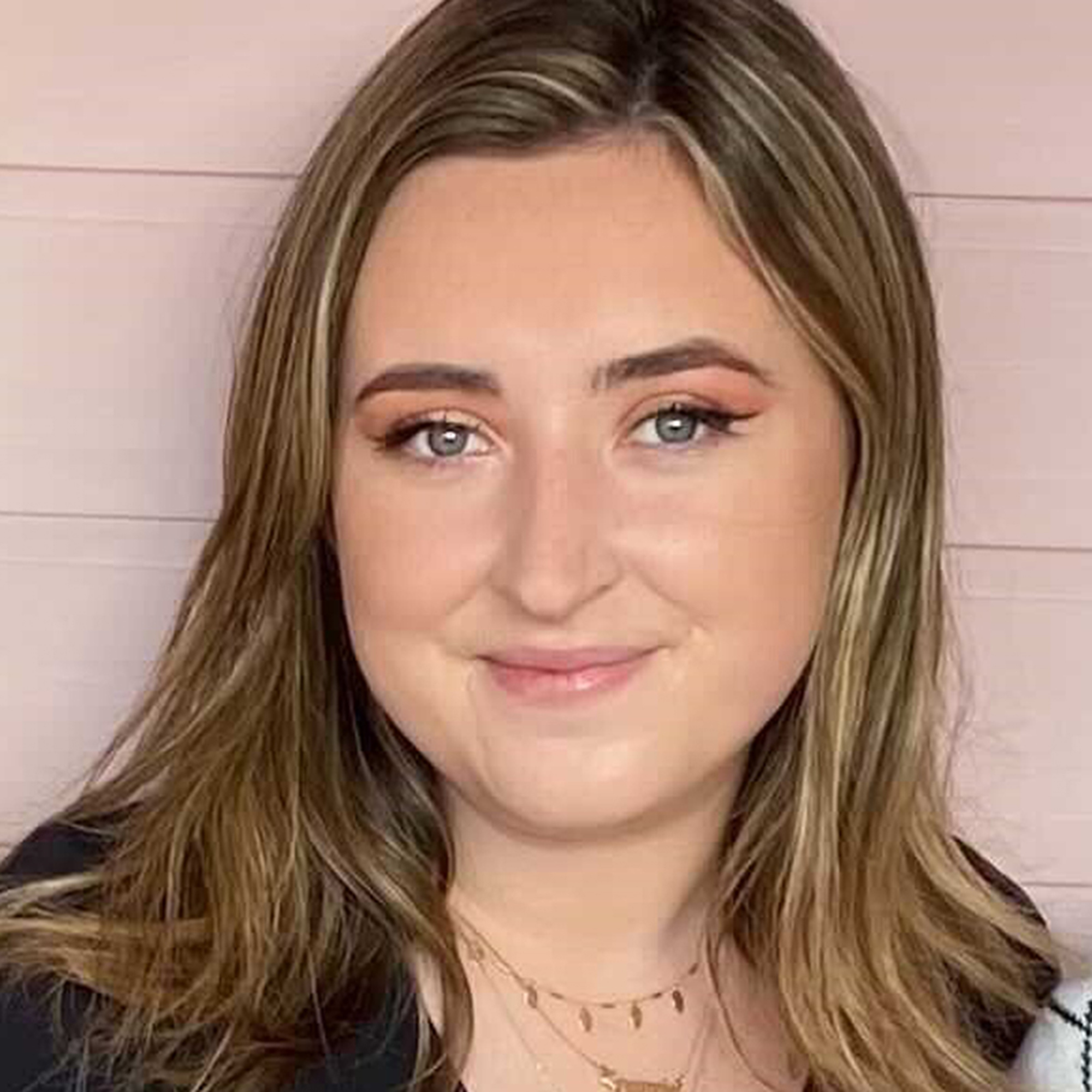 After writing for all of Future's Homes titles, Molly is now an Ecommerce Editor at Ideal Home, working across a range of shopping content to find the best buys for your space. Previously, she was the Staff Writer at TopTenReviews, another Future site, where she covered home content, which to a US audience is anything from turkey fryers to ride-on lawn mowers. Now, she spends her time writing reviews of appliances she's tested at home and at our testing facility (we're talking air fryers, vacuums, dehumidifiers and more!), as well as curating buying guides. She's a certified Consumer Expert for several product categories after passing a five-step program including hands-on experience, consumer interviews and extensive research into her specialist areas including kitchen appliances and vacuums.