This vintage trend is a stylish homage to the classic French bistro aesthetic - and we're obsessed
A stylish way to avoid nosy neighbours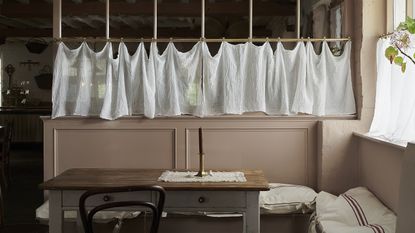 (Image credit: deVol)
Cafe curtains are having a resurgence, and it's easy to see why. The vintage trend is steeped in nostalgia, reminiscent of your favourite hole-in-the-wall bistros and family-run cafes. In short, it's the exact vibe you want to create in your kitchen, living room or even bedroom - a warm and inviting space that feels curated yet down to earth.
But the cafe curtain trend hasn't always been seen this way - a new focus on homespun, vintage-inspired interiors and shopping secondhand has positioned the adorable linens at the forefront once again, taking them from dated to trendy.
With emerging trends, it can be hard to know how to incorporate the look in an up-to-date way that will fit in with your existing interior. This is why we've gone straight to the experts to ask them how and where to add cafe curtains ideas in your home, for a nod to the heritage aesthetic with a modern twist.
What are cafe curtains?
It's likely you saw cafe curtains before even realising the term for the trend. A charming feature in brasseries both in the UK and around Europe, they're a staple feature that you likely take as a signpost of a cosy watering hole. But where did they actually originate?
'Café curtains date back to the 19th century, originating in Vienna, Austria. It was during this era when Europe began to embrace a more open and inviting atmosphere, encouraging you to enjoy street views whilst sipping on coffee, and to achieve this, cafes installed half-length curtains that covered only the lower part of the window, leaving the upper part open to let in natural light and a view of the outside world,' says Sophia Ayrton-Grime, interior designer + founder of Atelier Raff.
'Now spotted in our kitchens and bathrooms at home, cafe curtains dress a plain window to give you privacy and allow sunlight to filter in from the top.'
How to include cafe curtains in your home
Spotting a new trend is one thing, but knowing how to include it in your existing interior is another feat. Cafe curtains are at their best when simple and pared-back, so instead focusing on the area to place them and the hardware will be where the decision lies.
'Cafe curtains are really in vogue at the moment and I love them. I've actually included them in the design of my new home. They offer a timeless charm and are great for providing privacy to spaces while letting in natural light,' says interior designer, Kelly Hoppen.
'There's beauty in the functionality and simplicity of cafe curtains, and you can use tiny modern poles which make them eclectic. They can be done in various styles and lengths, but the fabric is very important. For me, the fabric needs to be sheer and creased linen.'
1. Put privacy first
At Ideal Home, we love design tips that equally combine both style and practicality. After all, modern homes need to put function first in a design in order for it to be an addition to shout about. Cafe curtains do just this - their heritage is rooted in adding privacy to windows, and with an attractive twist, it's hard to say no.
If there are any windows around your home that you find need an added layer of privacy (think bathrooms and bedrooms, or even kitchens and living rooms that are overlooked) then it might be time to start hanging.
'I think Cafe Curtains are so popular due to their practicality, especially when used in kitchens, breakfast nooks and bathrooms as they offer a balance of privacy and natural light while maintaining a cosy, inviting atmosphere,' echoes Sophie.
2. Go for vintage glamour
In order to hang a cafe curtain, you've got to have a pole and curtain clips, which offers more opportunities to style it up to suit your taste. There are a number of options to consider from a minimal white pole to vintage brass glamour - you can even pick these up secondhand if you're looking for an affordable update.
Antique clips are also an easy way to add style as they can vary in levels of gild. So if you're looking to create an opulent bedroom scheme in a subtle way, consider combining a curtain with some bold hardware. Just make sure you know how to hang curtains properly before you get started.
3. Add a pop of colour
Cafe curtains are typically made from white linen, but this doesn't mean you can't be playful with colour. Atelier Raff has gone for a fashion-forward look with coloured trims, so you can mix and match with your interior, or even around your home.
Deckchair stripes are also having a major moment in interiors, so why not double down on both trends with a statement seaside-inspired stripe?
'Stripes pair brilliantly with almost any pattern, so whether your space is complete with painterly florals, scallop shapes or geo prints, a stripe will be the perfect match. If your home is more on the simple side, stripes can be a great way of introducing patterns without committing to an overly busy design,' says Louisa Tratalos, founder of Colours of Arley.
'Generally, thinner stripes tend to give a more classic look, so for a contemporary update opt for a bold, thick stripe in a vibrant colourway to add a fresh new take on an old-time trend.'
4. Create an at-home cafe
A kitchen is the heart of the home - it's where families gather and friends are entertained, so creating the cafe-culture aesthetic at home will only extend the social atmosphere.
Adding a cafe curtain around the perimeters of a built-in breakfast nook will make the space feel cosy without blocking out the natural light. This is especially key for open-plan kitchen diners, where you might want to zone the dining and cooking areas without stopping any conversation from flowing.
5. Be inspired by whimsy bedrooms
While cafe curtains are traditionally used in eateries, making kitchens a natural segue, bedrooms are a great place to include them. The whimsical look makes them perfectly suited to be placed next to bed linen, and they offer just the right amount of privacy without overwhelming a design.
Including a cafe curtain as a bedroom curtain idea is also handy if you're overlooked, as it makes getting dressed that little bit easier without blocking out the natural light.

'The café curtain is not only the prettiest of window coverings, but it is actually a very useful and authentic method of sectioning off a room, hiding a view or creating privacy. Find a window, find a delicate piece of sheer wispy fabric and attach one of our brass rails to create a vignette of beauty,' recommends Helen Parker, creative director at deVOL.
Full of timeless charm, cafe curtains are begging to be hung around your home. So what are you waiting for?
Get the Ideal Home Newsletter
Sign up to our newsletter for style and decor inspiration, house makeovers, project advice and more.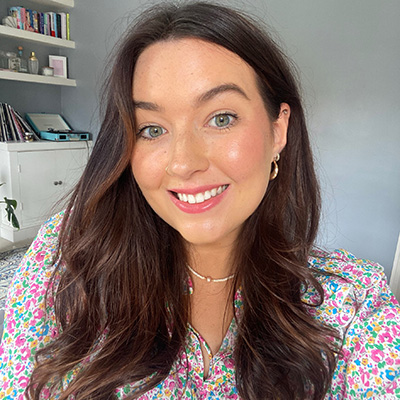 After starting out her journey at Future as a Features Editor on Top Ten Reviews, Holly is now a Content Editor at Ideal Home, writing about the best interior ideas and news. At Top Ten Reviews, she focussed on TikTok viral cleaning hacks as well as how to take care of investment purchases such as lawn mowers, washing machines and vacuum cleaners. Prior to this, Holly was apart of the editorial team at Howdens which sparked her interest in interior design, and more specifically, kitchens (Shaker is her favourite!).