Small bathroom layouts – 14 smart layout ideas to help you maximise space
Small bathrooms don't have to compromise on luxury with these design tricks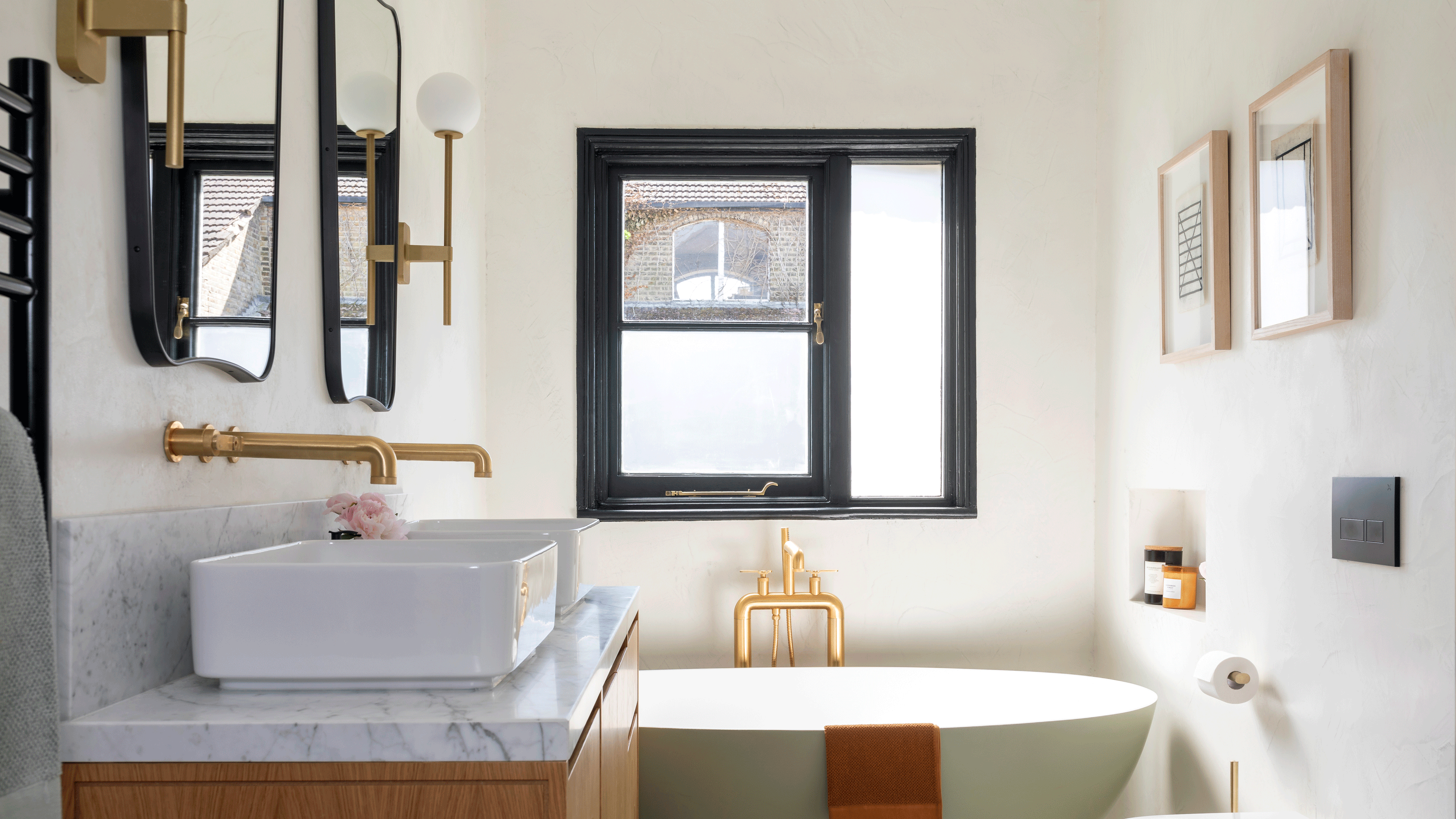 (Image credit: Future PLC / Fiona Walker-Arnott)
There are some simple ways you can make the most of small bathroom layouts and enjoy your bathroom as both a stylish and functional space. Just because your bathroom is a little tight on space, this doesn't mean you should have to forgo the feeling of luxury gained from a spacious interior.
Small bathroom ideas are a lifesaver because the last thing you want is a cluttered and crowded environment when you're getting ready in the morning or winding down in the evening. Making the most of the bathroom layout is the key to it performing well, without it feeling too cramped.
'With some clever planning and smart design decisions, even a small bathroom, tiny en suite or compact cloakroom can feel spacious and offer everything your household needs,' says Jonathan Phillips, Category Lead for Plumbing and Heating, MKM.
Small bathroom layouts
So the question is, how do you make the most of small bathroom layouts and maximise your space? We've asked the experts and compiled all their tips and tricks into this essential guide, which will help you create a dreamy, spa-like place of tranquility, whatever the size of space you're working with.
From small bathroom lighting ideas to furniture hacks, our guide will tell you everything you need to know about small bathroom layouts. Grab your notepad and start planning your dream bathroom with these design tips.
1. Incorporate a wall-mounted toilet and sink
'One of the easiest ways you can create the feeling of extra space in your bathroom is to raise the furniture off the floor,' says Lucy Henderson, Dead Designer, My Bespoke Room. 'With limited floor space, it would be advisable to use a wall-mounted sink and toilet to create the illusion of space as more flooring is visible.'
Incorporating a wall-mounted toilet and sink is one of the best things you can do for small bathroom layouts, as it will instantly free up floor space, which is key to making the room feel bigger. Having the toilet and sink rooted into the floor is also one of the common bathroom design mistakes that make the room harder to clean, so a bonus of fixing them to the wall is an easier cleaning regime.
2. Choose hidden storage units
An easy way to make your bathroom feel bigger is to banish clutter from sight with the help of hidden storage units. The things we need to store in the bathroom are endless, but the last thing a small bathroom needs is heaps of toiletries on display. This will make the bathroom feel instantly more crowded, so invest in some wall-mounted storage solutions that will keep all of this hidden instead.
'Before investing in storage, try to reduce your clutter as much as possible,' says Ruth Foster, Interior Designer, Victoria Plum. 'Then optimise your storage with bathroom cabinets or boxes so everything can be hidden behind closed doors.'
3. Maximise light
Bathroom lighting ideas are the key to making small bathroom layouts feel bigger. The best way to do this is with a large window, which you can talk to a contractor about adding. 'A large window can make a small bathroom indulgently spacious and give it a contemporary feel,' says Tom Rutt, Founder, TR Studio.
You can also maximise lighting through the lighting fixtures. Instead of just relying on one light source, combine spotlights on the ceiling with decorative wall lights which will help to open up the space. Even small bathroom layouts can incorporate the latest lighting trends if you approach them creatively.
4. Tile to the ceiling
'Another trick for creating the illusion of height is to ensure that features do not fall short of the ceiling,' says Jonathan, MKM. 'For example, in the shower consider taking the tiles to the ceiling.'
So if your bathroom wall ideas involve tiles, a simple trick to make your bathroom feel bigger is to let the tiles go all the way to the ceiling. This will elongate the walls and make them appear larger than they are. Plus, you'll get to make the most of your tiles; go for bold colours on one wall to make a statement.
5. Leave out the bath to make more space
'If you don't have enough floor space for a bath, which as a standard size are 1700mm long and 700mm wide, showers are a great option as they use the height of the room without taking up much floor space,' says Lucy. 'A standard sized shower tray is around 800mm x 800mm, making them much more space-saving than a bath.'
A bath takes up a lot of precious floor space in a small bathroom, so if you can bear to sacrifice a soak in the tub in favour of a satisfying drench in the shower, then getting rid of the bath is a fantastic space-saving solution. Replace it with a luxurious walk-in shower idea and the room will feel instantly bigger.
6. Mount a frameless bath screen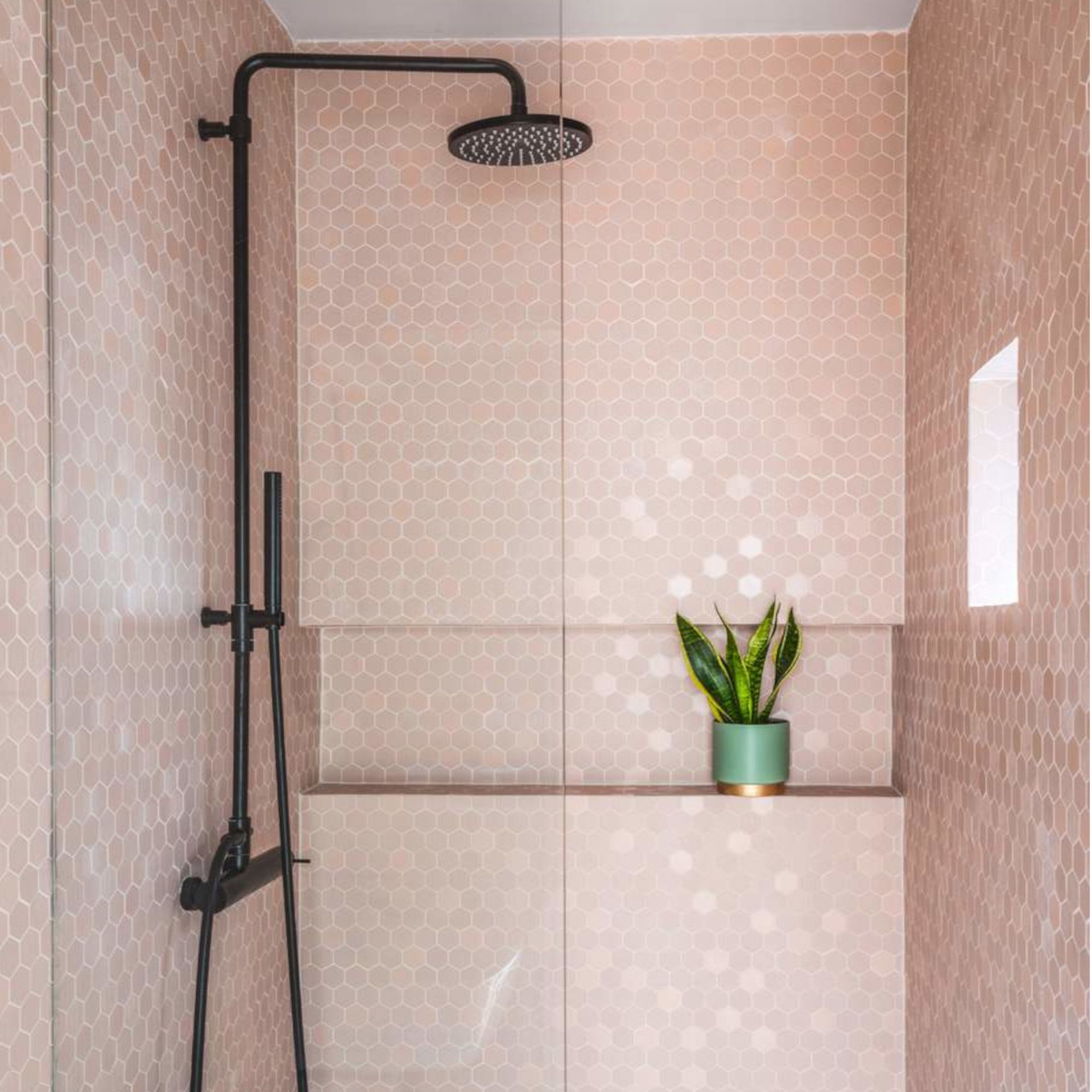 If you decide to keep your bathtub (and who can blame you!), then opt for a frameless bath/ shower screen. 'The materials that you use in a small bathroom play an important role, so opt for clear, frameless glass for your shower screen or enclosure, creating a further sense of space while illuminating the room too,' says interior designer Ruth.
By replacing a heavy frame or shower curtain with a frameless alternative, you'll remove the physical divide and create a seamless sensation that will make your bathroom feel less cluttered. Incorporate a colourful shower tile idea for a small bathroom that packs a punch!
7. Combine the shower and bath
Shower baths are a common feature in small bathroom layouts, and for good reason. They save a lot of space compared to bathrooms that have the shower and bath as separate elements, which only makes sense for larger spaces.
'L-shaped or P-shaped shower baths are a great way to combine the ease of a shower with the functionality of a bath, which is why they're so popular for family bathrooms,' says Lucy, My Bespoke Room. The best shower bath ideas definitely don't have to compromise on style either, and you can turn this space-saving function into your favourite part of the bathroom.
8. Choose multifunctional fittings to save precious space
When space is limited, multifunctional fittings make a big difference, especially when it comes to extra storage. Whether you opt for a combined toilet and vanity unit or a mirror with hidden storage behind it like the one in this bathroom, your space will feel instantly less cluttered.
'It's a good idea to include a mirrored cabinet above the vanity unit,' says Natalie Bird, Brand Marketing Manager, Roca. 'As well as providing extra storage – a must in a small bathroom – it also reflects and bounces light around the room, making it feel lighter, brighter and bigger.'
9. Opt for wall-hung storage to free up floor space
As well as removing the toilet and sink from the floor, do the same with your bathroom storage too. The more free space in small bathroom layouts, the better.
'For those with limited floor space, hung cabinetry is a great solution,' says Becky Dix, Head of Design, The Luxury Bath Company. 'Not only can a wall-hung cabinet create the illusion of space by opening up the room, it can also free up some much-needed floor space and create a natural break between the floor and surfaces.'
A wall-mounted towel rail is a good design feature to incorporate as well. 'Wall-hung towel rails are ideal for small bathrooms, freeing up floor space while providing valuable storage for towels and clothing, keeping them dry and warm,' says Nick Duggan, Director, The Radiator Centre.
10. Turn your small bathroom into a wet room
For a contemporary small bathroom that feels oh-so luxurious, consider a wetroom idea. Continuous flooring, without a shower tray interrupting the flow, will elongate the room, and since minimal fixtures and fittings are required, the room will feel more spacious.
'Wet rooms are a great way to create an illusion of more space in small bathroom layouts and wet room panels are less bulky than shower enclosures so will offer a smart, streamlined, finish,' says Lucy, My Bespoke Room. 'You can get shower trays from as small as 800mm x 800mm, so this size can easily fit into narrow bathrooms - you'll just need to ensure you have enough space for easy access in and out of the shower as well as areas to fit a toilet and basin.'
11. Save space with a slimline sink and loo
When planning for small bathroom layouts, it's important to take into account the projection of your fixtures (how far they stick out into the room). Short-projection toilets and sinks are a great idea in a small bathroom as they are slimline and take up less room.
Obviously, they need to feel big enough to do their job, but there's plenty of modern, ergonomic designs to choose from that are space-savvy. The short-projection sink in this bathroom is wall-mounted too - ticking two boxes!
12. Make use of corner space
Every inch of space counts in a small bathroom, so install a corner shower or a corner vanity unit to optimise the space in the corner of the room that would inevitably go to waste otherwise.
This corner shower, paired with the light marble-effect walls and floor, makes this small shower room feel far more spacious than its footprint would suggest. Especially valid for a small en-suite idea to make more of the limited space.
13. Use the floor plan to maximum potential
Consider reconfiguring your space to make more of the useable floor space. In a narrow small bathroom layout consider creating a return to house the toilet, while turning the shower positioning sideways to make the room feel more streamlined. Just because the space is small doesn't mean. you can't make it work harder to meet your needs.
In a narrow space simply turn everything on its side to fit the floor plan so it creates an unbroken flow, rather than cutting the room off with a conventional face-on layout.
14. Hang a mirror on the most prominent wall to bounce light around
When planning your small bathroom layout consider all the fixtures and fittings carefully. 'Mirrors are essential to make a space feel larger than it is,' says Becky Dix. They create an optical illusion and they also bounce light around the room, and a lighter and brighter bathroom will always feel bigger than a dark and dingy one.'
'Mirrors are incredibly good at brightening up a room by reflecting light', agrees Emma Joyce, Brand Manager, Victoria + Albert Baths. 'Purchasing a custom cut mirror sheet so a whole wall can become a mirrored surface is a smart option.' The bigger the mirror, the better, so taking it one step further and actually incorporating a mirror as part of the walls will really make the most of this savvy design hack.
How do I design a small bathroom layout?
When planning small bathroom layouts, there are a few things to consider. Firstly, look at the crucial components of the bathrooms, the non-negotiables; the toilet, sink, and bath/ shower.
'When planning the layout, we always begin with the toilet,' says Arlene McIntyre, Founder and Creative Director, Ventura. 'You will be limited where you can put this given the soil stack positioning. Once its position has been decided, you can fit everything else around it.'
Wall-mounted toilets and sinks are more pricey, but well worth the investment if you're really short on space. 'With a smaller space, the trick is to maximise the visible floor area, so use a free-standing bath on feet or a plinth,' says Phil Etherden, Managing Director, The Albion Bath Co. 'High-level toilets will also create the illusion of more space as the cistern is above eye level and wall-mounted basins won't take up valuable floor area.'
'It's important to maximise every inch of the bathroom when space is in short supply,' says Becky from The Luxury Bathroom Company. 'Look to corner units, clever storage solutions, slim basins and toilets. Consider matching finishes of your brassware, flush plates and accessories to give a cohesive aesthetic running through the space; this will ensure there are not too many competing colours in one small area.'
How do you maximise space in a small bathroom?
'For small spaces, it's good practice to use the height of the room to save on floor space,' says designer Lucy. 'Tall cabinets are a great way to keep bathroom essentials out of sight and you can choose from an array of options to match the rest of your bathroom suite.'
To maximise space in a small bathroom, the key is to reduce clutter as much as possible. Make use of the corner with a fitted storage unit. You could keep most of your toiletries hidden and place a couple of nicer items on top of the unit for display.
The other way to make the bathroom appear more spacious is through the lighting. Look at the position of the window, and place a mirror on the wall opposite this to reflect the natural light around the room. Or go one step further and incorprorate a mirrored wall into the design.
'A larger than average mirror will give the illusion of space and is ideal in a smaller bathroom, whilst a partially mirrored wall is a clever way to really open the space,' says Jonathan, MKM. 'High mirrors will also open up a room and can be used as a feature above high shelving.'
Get the Ideal Home Newsletter
Sign up to our newsletter for style and decor inspiration, house makeovers, project advice and more.