10 Smart and savvy ways to make your bijou bathroom feel bigger than it is
Maximise even the smallest of spaces to bring some wow to your washroom without having to take on a full redo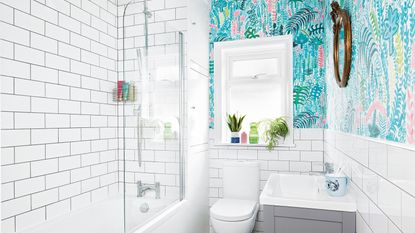 (Image credit: Future Plc/David Giles)
While most of us might lust after a bigger bathroom, the realities of modern living means that small bathrooms are the norm in the majority of homes.
So trying to find clever ways to make your bathroom feel bigger is worth putting some time into.
Julie Lockwood, Product Manager at Bathrooms to Love says, 'With demand for compact bathrooms showing no sign of waning, it is little wonder that the choice of space-saving bathroom products is now so wide and design-led. The options now available have never been bigger – from bathroom furniture to ceramics, and showering enclosures to baths.'
'Cleverly designed products, compact styles, short projection depths and back-to-wall options are perfect for many small bathroom spaces – whether it's under the stairs, within a compact ensuite or in an awkward sized space.'
10 ways to make you bathroom feel bigger
Richard Ticehurst, Brand Expert at Crosswater cites storage as a big area to consider to ensure your small bathroom looks bigger.
'When renovating your small bathroom, it is essential to invest in ample storage. Clutter makes smalls room feel even smaller, so it's important to ensure everything from toothbrushes, children's bath toys, and cleaning products, are stored neatly away and out of sight.'
So if you're struggling with storage, or any other small bathroom problems, these top tips could help to make the best use of every inch of space – offering creative ways to make your bathroom ideas feel bigger.
1. Opt for a bijou bath
'Part of the way our senses judge the scale of a room is by the visible floor area. By allowing more of it to be seen, the space seems larger,' says Emma Joyce, Brand Manager at House of Rohl. 'Wall hung sanitaryware and furniture are obvious examples, but a compact freestanding bath will also reveal more floor space than an inset or drop-in bath.'
'We've have seen increasing interest in compact freestanding baths, reflecting the greater attention that is now paid to smaller bathrooms. There is a realisation, driven by the many examples on social media, that these spaces are not simply practical puzzles to be solved, but can be luxurious and stylish bathrooms in their own right. Victoria + Albert now offers its five best-selling baths in compact form – just 1500mm long – that fit into alcoves normally reserved for inset or drop-in baths.'
2. Tie in texture with tiles
You might be wondering what bathroom colour ideas work best to make your space feel bigger, but actually the textures you use also come into play and are just as important.
Amanda Telford, Marketing Manager at Gemini Tiles says, 'People often think that colour is the biggest concern when decorating a small bathroom but actually texture is just as important!'
'Contrast is essential when it comes to decorating any space in the home and texture is particularly important if you're working within a specific colour palette where shades are very similar. Using texture within small bathrooms can really highlight the features within it. There are many variations and styles to choose from that will assist in adding interest to modern bathrooms. From linear tiles to wood effect tiles, adding a natural aesthetic can really finish off a look and transform smaller spaces with contrast and individuality.'
3. Choose super-slim furniture
It might sound obvious, but the less space your bathroom furniture takes up, the bigger the space will feel. Bathroom flooring ideas are a great way to add personality to your space, so make sure to show it off!
Julie Lockwood at Bathrooms to Love says, 'Bathroom furniture is a key element in helping to design a stunning yet functional small bathroom space, as not only can homeowners experiment with colour and texture, but carefully chosen cabinets can provide compact storage space to keep the 'clutter' hidden behind closed doors.'
'Wall-hung units are particularly suited to small bathroom spaces as they free up floor space to make the room appear more spacious and open. Reduced unit depths at just over 20cm, (222mm to be precise), have been specially designed to fit into small spaces with a minimum footprint as well as flexible storage space. Team with slim semi-recessed basins and WC for a super organised and efficient use of space.'
George Holland, Design Expert at Victorian Plumbing adds, 'Remember that game, 'the floor is lava?' Take those principles into your bathroom design! Think of the floor as sacred space, and decorate via the walls instead,' he advises. 'Wall-hung fixtures are one of those clever small bathroom ideas you can use to suggest the space is bigger than it is.'
4. Get creative with tile patterns
Small bathroom tile ideas are a great way to add colour or pattern, but think about how you could lay them out to create a feature.
Amanda Telford at Gemini Tiles advises, 'Tiles can really bring a small space to life, especially in a tiny bathroom. Whilst opting for large format tiles is an obvious choice, why not consider being creative with the way you lay your tiles - think focal point splashbacks, interesting layouts etc.'
'There are so many ways to use rectangular metro tiles for instance, whether that's stacking them vertically, which can make the room appear larger, or creating a herringbone effect for maximum impact. Small bathrooms are often a place where you can be a bit bolder with your design choices, consider opting for pinks, greens and blues for a designer statement.'
5. Embrace a colour you love
'Naturally, for more space, you may assume you'd need to go with more natural and lighter hues that will help brighten up a small space. Whilst that may work well, it's really important that you incorporate bathroom colour ideas that that suit your personality,' says Emma Joyce at House of Rohl.
'There has been a belief in bathroom design that you should plan for the future owners of the property when really, there are no colours to avoid. The bathroom is a unique sanctuary from modern life so no matter the size, you should use a mixture of colours, pattern, textures and materials- or not, if that's more your thing too.'
6. Save space with in-folding shower doors
The practicalities of fitting a shower into a small bathroom can sometimes mean the space looks and feels cramped. But there are clever ways to get round this.
Julie Lockwood at Bathrooms to Love says, 'For showering solutions in a space-challenged room, look to Infold enclosures, such as the innovative RefleXion model from Bathrooms to Love. The Infold door – a more modern version of the well known Bi-fold door – features a smooth opening and closing mechanism that slides into the showering space instead of outwards into the room so takes up less space and avoids any difficulties in being too close to a basin or loo. It is shown here in a recess bathroom space.'
7. Add depth with patterned wallpaper
Bathroom wallpaper ideas are a simple but effective decorating trick. 'Wallpapering one wall in your bathroom is a great way to make the space feel bigger' explains George Holland, at Victorian Plumbing.
'This is a great option if your bathroom is an awkward shape and you have little to work with, as the pattern will draw the eye away from the room's actual size.'
'You want something attention-grabbing and dramatic to steal focus, so don't be afraid to go bold!'
8. Create the illusion of space with wall lights
Lighting is key for getting the design right in a bathroom, so make it a priority when looking at bathroom lighting ideas. 'Many people rely on the single bulb above them to do the job, but it's one of the easiest ways to make a room feel bigger,' says George.
'Adding lamps can be difficult - not to mention dangerous - in a wet bathroom, but there are some creative solutions for the walls! These days, there are plenty of great wall-mounted lights for under £50, so invest in one that fits your space'.
9. Focus on mirrors
Bathroom mirror ideas are a no brainer for making a small space feel larger.
'Mirrors really help exaggerate space, so simply hanging a large mirror in a small bathroom will make it feel far larger,' advises George. 'Shape the space you want with different kinds of frames - frameless mirrors will feel luxurious whilst round ones will make a room feel softer. Combining a mirror with a dark or dramatic colour scheme will help too, but they work wonderfully in a white, bright bathroom.'
Richard Ticehurst at Crosswater agrees. 'A quick way of creating the illusion of a bigger bathroom is to invest in mirrors. Natural light opens up any room, giving the impression of greater size and space, so the more of it you have, the better. To enhance natural light, invest in a large mirror or a number of smaller mirrors to help bounce light around the room.'
10. Opt for a frameless shower
'Replacing traditional, bulky showers with a frameless one is a great way to make space,' recommends George.
'Not only will a frameless shower physically take up less room, the glass-screen and lack of tray will reduce visual clutter – making the room feel airy and open.'
What colour makes a small bathroom feel bigger?
There's no denying that white paint is often used in abundance in bathrooms and it's true that it can help to make a bathroom feel more spacious. But it can also look stark, cold and boring so it's advised to use with caution, or at least make sure you're adding plenty of personality with lighting and accessories.
George says, 'Think carefully about your colour scheme if you want the room to feel bigger. An easy and effective solution is a white colour scheme warmed up with natural wooden floors and strong black fixtures.'
Richard Ticehurst at Crosswater, agrees. 'For those who want their bathroom to appear bigger without investing in a costly renovation, look to redecorate. Repainting the walls and ceiling with light neutral colours will instantly brighten the space and give the appearance of a bigger and cleaner room.'
But also remember our point above, decorate your space in a colour you love, and feel happy in, not a colour you 'think' you should use.
Do large tiles make a small bathroom feel bigger?
Large tiles can help to make a small bathroom feel bigger as they are less busy and will have less grout lines to distract the eye. You might even be able to get away with buying just a few tiles for your small space, rather than forking out on lots of small tiles.
Don't let space hold you back from the bathroom of your dreams.
Get the Ideal Home Newsletter
Sign up to our newsletter for style and decor inspiration, house makeovers, project advice and more.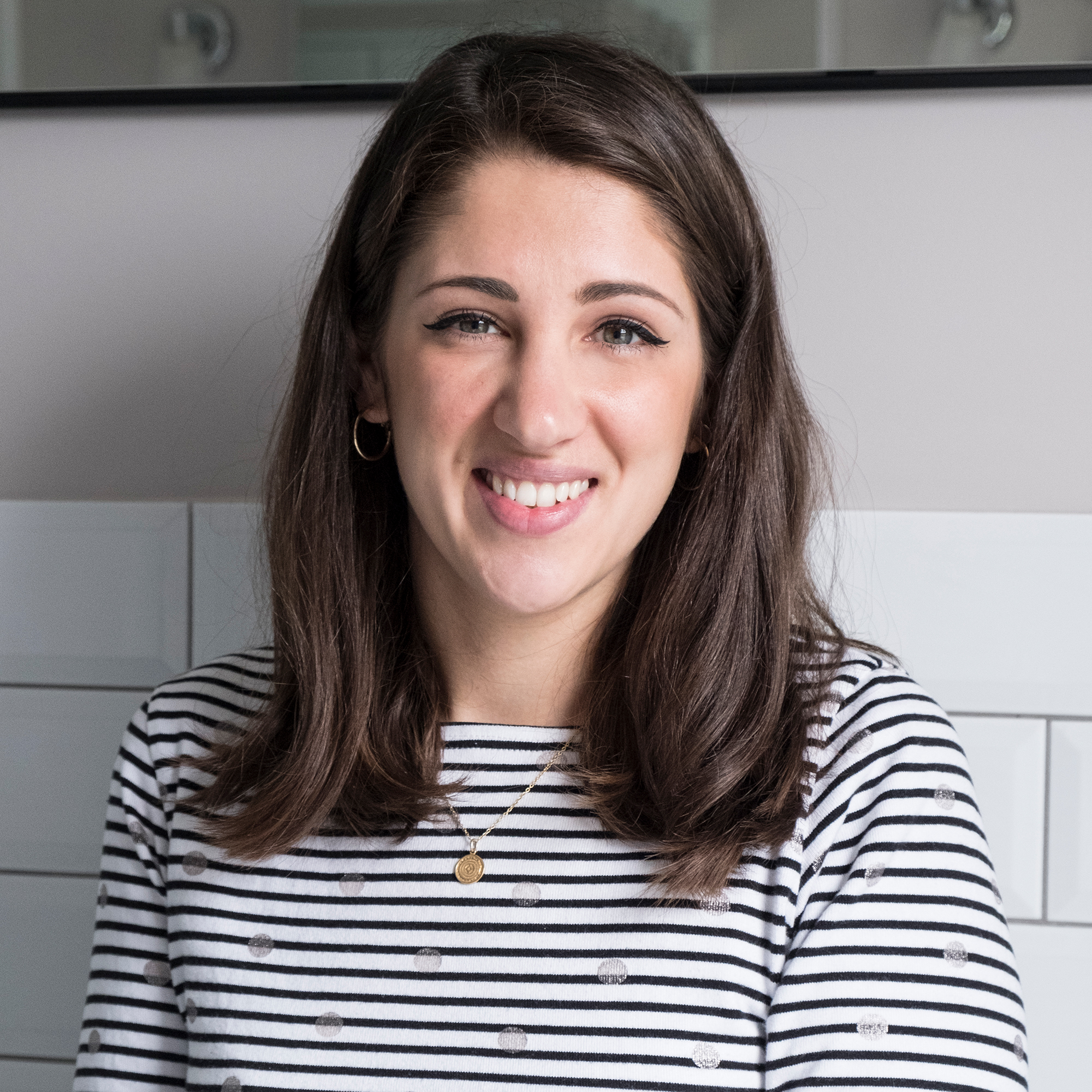 Holly Walsh has been Content Editor at Ideal Home since 2021, but joined the brand back in 2015. With a background of studies in Interior Design, her career in interior journalism was a no-brainer and her passion for decorating homes is still as strong as it ever was. While Holly has written for most of the home titles at Future, including Livingetc, Country Homes & Interiors, Homes and Gardens and Style at Home, Ideal Home has always been her ideal home, and she can be found sharing her expertise and advice across both the printed magazine and the website too.