Cloakroom storage ideas to turn your downstairs toilet into a clutter-free zone
Keep your downstairs toilet looking its best with these stylish and practical cloakroom storage ideas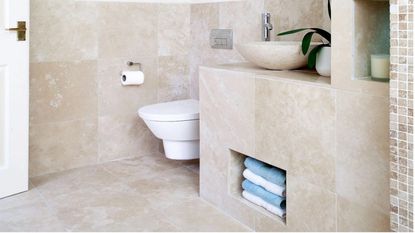 (Image credit: Future PLC/ Jamie Mason)
Your downstairs toilet may be one of the smallest spaces in the home, but it will likely get visited the most. Storage becomes even more critical because you don't want your guests wading through a dumping ground of clutter to use the toilet. Your cloakroom storage ideas need to work extra hard to not only reflect your cloakroom ideas but be practical enough to store everything from cleaning supplies to toilet rolls and even the stray coat.
'Generally small and often without natural light downstairs cloakrooms benefit from the installation of a decent-sized mirror which will not only be functional but help create an illusion of space. Keep cleaning materials and loo rolls out of sight but easily accessible, corner vanity units make great use of what is otherwise a redundant space whilst also hiding pipework,' says Shamila Iqbal, director at Bathroom Mountain.
Cloakroom storage ideas
A downstairs toilet can add about 5% to the value of your home and being on the ground floor is easy for anyone to access. So with it being such an important and well-used room in the home, finding good storage is even more important so it is a pleasure to use and not a chore. Plus these cloakroom storage ideas also work great for en-suite ideas too.
'Incorporating a compact wc into an awkward, unused space is a great way to add enhanced functionality and convenience within a family home. As we Brits are often tasked with planning compact bathrooms, there are many innovations and designs available that allow homeowners to create an inviting yet functional space,' says Paul Bailey, leader of product management at LIXIL EMENA and GROHE UK.
'Opting for wall-hung fittings within a compact space is an ideal solution to give the illusion of space and to create a streamlined finish. Adding a stylish element is also easily achieved by incorporating brassware in modern finishes, such as copper, gold or graphite which add warmth and personality to the room. Other homely accessories such as plants, trinkets and wall art is also another way of ensuring the room feels inviting and in keeping with the rest of the home.'
1. Conceal items in baskets
If you have open shelving in your downstairs toilet, the shelves can quickly become cluttered and look just as untidy as if the shelf was not there. If you have lots of items to store on a shelf, pop them in pretty storage baskets which will not only hide any mess but also allow you to categorise and group things more easily. One basket could be for cleaning products, another for toilet rolls, making it easy to access your products and know where things are.
Baskets allow for a look of uniformity because you can buy multiple of the same design and you can match them to other cloakroom storage ideas or even your downstairs toilet wallpaper ideas. Baskets come in lots of different materials, from plastic, to wire to wicker and can be matched to your decor style.
2. Angle the sink area
The sink area should be well-considered when thinking about your cloakroom storage ideas. Placing your sink in a corner allows it to face into the centre of the room making it easier to wash your hands, while not taking up a lot of limited wall space. Using the often overlooked area to place a sink gives a unique and more interesting feature while allowing no lost space to go to waste.
James Smith, marketing director at House of Rohl says, 'Wall-mounted mixer taps are a good choice as the pipework can be hidden without the need for a pedestal. Avoid tiny sinks that make thorough hand-washing difficult and inevitably splash water everywhere. Both the cloakroom and ensuite are used multiple times a day, so if homeowners spend money anywhere, it should be invested in good quality brassware. Statement brass finishes can add warmth and character, working well in small spaces.'
3. Use fitted bathroom furniture
Fitted furniture is a great way to provide extra storage for the downstairs toilet and would also work well for small bathroom layouts. Fitted bathroom furniture can be coordinated so that each piece matches which gives a sleek finish and the furniture can be fully customised to neatly fit your space, ideal if you have any awkward angles, and be made to give you the right amount of storage for your needs.
Ed Norris, national sales manager at Mereway Bathrooms recommends fitted furniture as a way to make a bold statement and provide functional storage.
'As the downstairs bathroom gets a lot of use, it's important to maintain a clean minimal feeling. Now that fitted bathroom furniture is continuing to evolve and more readily allows for introducing delicate, clean sinks and sanitaryware alongside, it makes designing downstairs bathrooms that much easier.' Norris recommends fitted furniture if you want to conceal any pipework and maintain a seamless finish.
4. Install a heated towel rail
A heated towel rail does two things in one, providing valuable storage for towels and heating your downstairs toilet. Heated towel rails work well in modern bathroom designs due to their minimalist and polished design which is often in stainless steel. Towel rails and racks come in various sizes so they can take up as little or as much space as you would like depending on the overall size of the downstairs toilet. Nick Duggan, director at the Radiator Centre says, 'Wall-hung towel rails are ideal for downstairs toilets, freeing up floor space while providing valuable storage for towels, keeping them dry and warm.'
No one likes drying their hands on a damp towel and if they are left damp this can be a breeding ground for bacteria and germs and can even lead to a musty smell developing.
5. Mount wire baskets
In a downstairs toilet, surface space can be little to none so you need to be creative with your cloakroom storage ideas. Hanging wire baskets on the back of cabinet doors or the main toilet door you get a clutter-free way to add extra storage. The baskets can even be used to create a focal point by placing the baskets centrally down the wall using small cup hooks.
Having your baskets on display makes it easy for guests to grab anything they might need and each wire basket can represent a different category, eg. spare hand towels in one or extra hand wash in another. Depending on your bathroom colour scheme you can go for neutral or bolder colours and jazz it up with a hanging plant.
6. Make use of stud walls
When thinking about installing a downstairs toilet, a stud wall can be used to your advantage to provide extra storage. With toilets that have a concealed cistern, a stud wall is often used and an alcove within that is one of the cloakroom storage ideas that can be used for toilet rolls, hand towels or more decorative items like a reed diffuser or potted plant. If the alcove is large enough maximise your alcove ideas and storage by adding shelves for multiple layers for you to store your products.
The stud wall also hides any unsightly pipework so your cloakroom storage is not only practical but also looks good. The alcove created will mean that all your items are on show, so consider how they are arranged and feel free to add decorative elements to make it more attractive.
7. Extend your shelving
To give you extra storage space but keep your cloakroom floor clutter-free, go long with your shelving and install a shelf against the entire width of one of the walls. By having the entire length of a wall for storage there is plenty of space to put your essential items like toiletries or cleaning products but also decorative items such as plants, artwork, or an ornament.
By mixing the two, your bathroom shelving idea doesn't feel like a supermarket shelf packed with products and instead has more of a personal homely touch. To prevent the shelf from looking too cluttered don't overfill the space and leave gaps. The shelf could be both essential storage and a focal point of the room and use it as an opportunity to have fun with your shelving ideas.
8. Install a wall-to-wall vanity unit
This cloakroom idea features a vanity unit that stretches the entire length of the cloakroom, providing ample storage space. The textured wooden finish and the hexagonal tiles create a feature of this cloakroom, proving that just because a space is small, it doesn't mean it can't make an impact.
'A beautiful vanity unit can make your basin a focal point, as well as providing that much-neededd storage for cleaning materials and lotions and potions. For a more contemporary theme, a wall-hung unit with sliding drawers is a popular solution,' recommends Phil Etherden, managing director at The Albion Bath Co.
9. Go for a combined toilet and sink unit for maximum cupboard space
In a small downstairs bathroom, an integrated toilet and sink unit is a fantastic space-saving solution that also provides you with plenty of cupboard space. Choose an option like the one in this small bathroom, with cupboard space not only under the sink, but beside the loo too - perfect for stashing away spare loo roll so that your guests are never caught short!
As well as giving you well ordered storage, combining the basin and cistern also saves you water. The water from the sink when you're washing your hands is re-used to fill the cistern. So you save on space and water but still have a functional that is also perfect for small bathroom ideas.
10. Fix a wall cabinet above the loo to save on floor space
'When floor space and square metres are limited, our top tip is to occupy wall space instead,' says Sophie O'Mahony marketing manager at Funky Chunky Furniture. 'Not only can this prevent the room from feeling cluttered or claustrophobic, but shelves and mounted units can give the space a sense of height too.'
Consider mounting a wall unit in the unused space above your toilet. If the ceilings are high enough, you could even choose a double height unit like the one in this bathroom, so that there's plenty of room for storing toiletries, spare towels, cleaning products and spare loo roll. The white cabinetry seen in this image works wonders when it comes to brightening the room and bouncing light around plus it would match your white bathroom ideas- a mirrored option would work well too!
11. Make the most of every inch of space with a corner unit
The corner of any room can easily go unused, but in a small space like a cloakroom, every inch of space counts. Make the most of this otherwise-wasted space with a corner unit. It'll fit neatly into the corner of the room and provide extra storage space for storing spare soap and hand towels, leaving you with more floor space to play with.
This is a great bathroom cabinet idea that will fit in an awkward spot that is often just lost space. Plus being in the corner ensures that the cabinet will not be in the way and people can move about the cloakroom with ease, without fear of bumping into anything.
12. Think about multifunctional fixtures and fittings
No cloakroom is complete without a mirror, and since you're going to hang one on the wall anyway, why not make it multifunctional? Hidden shelving behind the mirror is the perfect place to store small items that you don't want left out on display. If you are happy with the items being on display place a singular shelf at the bottom of the bathroom mirror ideas.
Get creative with the shape and size of the mirror and don't be afraid to go with bold colours. Adding lighting around your mirror is a nice way to add ambient lighting and medium warm white light works best.
13. Add open shelving in a cloakroom-cum-utility-room
If your cloakroom doubles up as a utility room, then storage is even more important and needs to work with your small utility room ideas. On top of all the usual toiletries and spare hand towels, you'll need space to store additional cleaning products, and floor space needs to be maximised so that there's plenty of room for getting washing in and out of the machine.
'Make the most of available wall space with floating shelving,' advises Sophie O'Mahony from Funky Chunky Furniture. 'This makes for really flexible storage that you can use in a way that suits your home the most. Place storage boxes on the shelves to keep hats, gloves, cleaning products, dog leads and other outdoor essentials all tidied away. Or, maybe they're the perfect spot for the weekend's sports equipment, and more.'
In this room, open shelving has been installed, with clear plastic boxes used to neatly store all the essentials. The addition of a plant stops the room from looking too functional - pictures on the walls would have a similar effect.
14. Invest in decorative yet functional storage baskets
The purpose of storage is to be functional, but that's not to say it shouldn't be stylish too! Pretty woven baskets will add a rustic feel to any bathroom, while of course giving you extra space for storing all the necessary bathroom accessories. Baskets are also a great way to give you storage for items you don't want on display and can come in all varieties from handled, metal, coloured or lidded, allowing you to even match your basket to your downstairs toilet wallpaper ideas.
15. Hang up a coat rack
Make your cloakroom live up to its name by turning it into somewhere to store cloaks and coats too! This will help to keep your hallway clutter-free, especially if you add a shoe rack underneath.
This copper pipe design adds an industrial touch to the space, but there are plenty of styles available, from rustic wooden designs to shiny metallic styles.
16. Keep it simple with under-sink storage
This vanity unit has a large drawer for hiding away your less attractive items, while the shelves below give you the opportunity to display neatly folded towels to show your guests just how much of a domestic goddess you are! Add a decorative storage basket for used hand towels and other laundry.
Howard Birch, director at Aston Matthews says, 'An under basin unit is the best option, offering either drawers or cupboard space, and consider a wall-hung option which leaves more of the floor free and creates a greater illusion of space.'
Where should a downstairs toilet be placed in a small house?
Adding a downstairs toilet is both convenient and can add value to your home, so are well worth investing in. Even in a smaller house, a downstairs toilet can be fitted under the stairs, which is a great place to position it because it is easy to access. Plus under stairs toilet ideas are right by the front door means you can use the toilet before going out and is ideal for guests to use because they don't have to traipse upstairs if they need the loo.
To make the installation easier, place the downstairs toilet within easy reach of the existing water supply and soil pipes. Ideally, the downstairs toilet should measure at least 80cm x 140cm to fit a toilet and basin.
How do I make my downstairs toilet look nice?
The downstairs toilet is the perfect place to experiment, make bold choices and show your creativity. Being a small size, trying more wacky design choices feels less scary and the downstairs toilet can be a testing room before you bring the ideas to larger spaces.
Laura Mountford, cleanfluencer know as lauracleanaholic, says a few key styling pieces can make your downstairs toilet look more elegant and all without spending a fortune.
'A mirror not only makes the space look bigger, but it reflects more light and can look really stylish. Adding faux or real foliage instantly lifts a downstairs toilet by giving it interest and colour. A beautiful thick, soft fluffy towel is an easy way to give a downstairs toilet a more luxurious hotel feel. An aesthetic hand soap dispenser can instantly elevate your downstairs toilet whether it be a branded or refillable one and will smell divine too. A quality toilet brush; every toilet needs a brush and so rather than just having a basic plastic brush upgrade to a more stylish one to make it feel more luxurious.'
Get the Ideal Home Newsletter
Sign up to our newsletter for style and decor inspiration, house makeovers, project advice and more.