10 Small walk-in wardrobe ideas to create your dream dressing room
Walk-in wardrobes are the epitome of stylish storage - and they can fit in smaller spaces too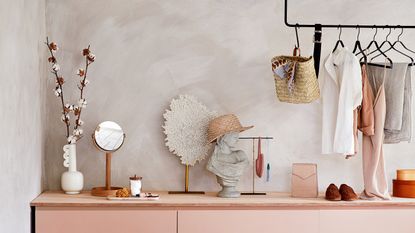 (Image credit: Future PLC)
Our small walk-in wardrobe ideas make having your dream dressing room an attainable goal, whatever the size of the space you're working with. The perfect combination of style and storage, walk-in wardrobes give you the freedom to get dressed and stay organised in a fashionable way.
And while walk-in wardrobe ideas may appear to be the reserves of grander houses with plenty of spare rooms, with a spot of creativity they can be adapted to suit smaller spaces as well. Luxury wardrobe brand Neatsmith points out that there has been an increased demand for "mini walk-ins" in the past year.
'These are created within alcove spaces and while they look like a fitted wardrobe from the outside, when the doors are open, they reveal a wardrobe space you can step inside, often with double clothes rails, drawers and illuminated beautifully by LEDs,' says Neatsmith's Director Philipp Nagel.
According to Louise Sellar, Director at wardrobe specialists Draks, 'this space can be transformed into anything depending on your wants and needs, from a simple place to store your clothes to your own boutique style walk-in. Unlike a regular wardrobe, the walk-in will maximise the space to store your clothes and shoes proudly in an organised manner.'
Small walk-in wardrobe ideas
Whether you're simply looking for a seamless addition to your bedroom storage ideas, or you want to create the glamorous dressing room of your dreams, our small walk-in wardrobe ideas will help take your closet organisation to a whole new level.
1. Go for a bespoke design
In the same way you would consider fitted wardrobe ideas, bespoke designs work a treat with smaller walk-in wardrobe spaces. They allow you turn the most awkward spaces into useful storage that completely fits the space in your home.
'Bespoke designs, unlike freestanding furniture, enable you to make the most of every bit of available space in your home,' says interior designer Philipp Nagel. 'Whether that's simply creating a perfectly fitted full length wall of impactful wardrobes, or working around more awkward architectural features such as sloped ceilings, chimney breasts, and alcoves.'
Greg Carlisle, Managing Director at The Sliding Door Wardrobe Company, agrees. 'A wardrobe design specialist working with you, being able to advise, design and manufacture everything you need to fit your own requirements can turn even the smallest area into the most useful storage space.'
2. Maximise lighting to broaden your space
When working with any small spaces, lighting is key. 'In larger homes, darker colours can visually bring walls inwards, whereas a smaller home might benefit from lighter shades,' says Justyna Korczynska, Senior designer at Crown. Applying this concept to a small walk-in wardrobe means you can make the tiniest of spaces feel more roomy.
Philipp Nagel of Neatsmith agrees. 'It's very important to think about lighting and light-reflecting surfaces to make a windowless or smaller room come to life. Including warm recessed LEDs, mirrored door designs and decorative glass finishes helps to maximise light and a sense of space within a walk-in wardrobe or dressing room.'
3. Add floating shelves for more storage
Floating wall shelves are a great feature in any room, but they're ideal for a small walk-in wardrobe because they're an extra bedroom storage idea with minimal fuss. Use them to store shoes, handbags and accessories to instantly reduce visual clutter, and give your wardrobe a chic organised look.
Designer Greg Carlisle says that incorporating higher top shelves is a good way to really make the most of the floor to ceiling space. 'These won't be for storage of items needed daily but will enable full use of the room height available. Items such as bedding or next season's clothes can be kept here.'
Stick to lighter shades if you are adding shelves to your wardrobe space. 'The age-old doctrine of using light colours on walls to make your home look bigger is true, and your shelves need not detract from this. Shelves that use minimal materials will ensure your walls aren't totally covered,' says wardrobe specialist Philipp Nagel.
4. Go for double level hanging if you can
If your wardrobe space is a little tight on width, maximise its height potential. Two clothes rails means double the hanging space, and will look great too. Longer items like trousers and maxi dresses would have to be folded over their hangers, but it could be well worth it for the storage potential.
You can also consider having a pull down hanging rail on top for easier access. This will add a little more cost though, so if you're looking for a more budget-friendly wardrobe organiser solution, a custom hook will let you pull down your chosen clothes smoothly as well.
5. Consider pull-out storage units
'If you have an abundance of shoes or just want to have them to hand when choosing what to wear, pull-out shoe storage units provide an excellent easy to use way to incorporate this storage need into your design,' says Greg Carlisle.
Storing shoes inside a pull-out cupboard or drawers are smart wardrobe storage ideas. It will keep them neatly organised and out of sight, making your space feel bigger than if your shoes were scattered across the floor.
Pull-out storage units are also great for housing folded clothes which don't need to be hung on a rail, as well as underwear and socks. Visual clutter will be banished and all your miscellaneous clothing items can be incorporated seamlessly into your wardrobe room.
6. Emulate an island unit with a small dressing table
According to designer Philipp Nagel, 'a must-have for the ultimate walk-in wardrobe is a central island unit with glass tops to display jewellery and other accessories.' Smaller spaces would struggle to accommodate a large island and seating area, but a freestanding dressing table can easily fit in the space between your door and clothing unit. And just like that, your small walk-in wardrobe is now a dressing room!
Depending on how much space you have, you could use your dressing table as a vanity unit and store your beauty products there. Or, a simple jewellery box and storage box for sunglasses would look great on top of smaller surfaces.
7. Transform a bedroom corner
If a corner of your bedroom is currently unused, transforming it with some bedroom wardrobe ideas will create the effect of a walk-in wardrobe without the need for a separate room. Shelving units on one side will be roomy, ideal for keeping less reached for items out of sight, and drawers on the other side can store clothes, underwear and other bits you want to have to hand.
Using each side of a corner wardrobe differently is the best way to maximise its potential.
8. Use sliding doors to create a walk-in effect
Adding sliding doors to your walk-in wardrobe can save a lot of space, as you don't need to worry about leaving swing room in front of your dressing unit. As well as more floor space, you could also add extra shelves or a clothes rail to increase storage possibilities.
Sliding doors look great in rattan for rooms with a softer, more minimalist finish, or for rooms with a more modern look, they can be doubled up as a mirror. Bespoke services will provide sliding doors in a multitude of colours and finishes.
9. Add a full-length mirror on one wall
A floor to ceiling mirror next to your wardrobe unit will seamlessly create a walk-in wardrobe effect. Not only will you be able to assess your outfit of the day in full view, you will feel like your stepping in to a full-blown dressing room.
A mirror can make a room feel more spacious too. 'It is useful to include mirrors on the back panels of the wardrobe, along with LEDs to bounce light around the wardrobe and lift the space,' says Neatsmith's Philipp Nagel.
10. Keep your wardrobe streamlined
One of the most effective ways of pulling off a smaller walk-in wardrobe is to minimialise the number of items in it. This doesn't have to involve a drastic clear out, but simplifying what's in your wardrobe can work wonders for a smaller walk-in closet.
We have lots of tips on how to declutter your wardrobe which will help you create a streamlined display of your favourite, most stylish items.
How do you make a walk-in wardrobe in a small room?
'At Neatsmith, when designing a walk-in wardrobe for a small room, we recommend keeping the unit open, so that no doors open up into an already tight space,' says Philipp Nagel.
'The width of the wardrobe should be taken into consideration. You should also split the wardrobe design so one wall at least can include a reduced-depth unit the entire way, with the remaining walls using standard depth but just for hanging items.'
Bespoke services such as Neatsmith will work with the individual needs of your space to create a tailor-made walk-in wardrobe. But if you're looking to keep it simple, adding a clothes rail, a shoe rack and a floating shelf to a single wall will create a minimalist, walk-in wardrobe effect.
What's the smallest size for a walk-in closet?
'To make a walk in wardrobe you ideally need 600mm of space for clothes hanging and approximately 800mm of space for a walk way,' says Greg Carlisle of The Sliding Door Wardrobe Company.
These measurements mean that it's possible to create a walk-in wardrobe within the smaller nooks and crannies of your house, and that it certainly doesn't have to take up as much space as a full room. If there's an used corner in your bedroom, or even just a single wall, you can get creative and design a small walk-in wardrobe that suits your space.
Get the Ideal Home Newsletter
Sign up to our newsletter for style and decor inspiration, house makeovers, project advice and more.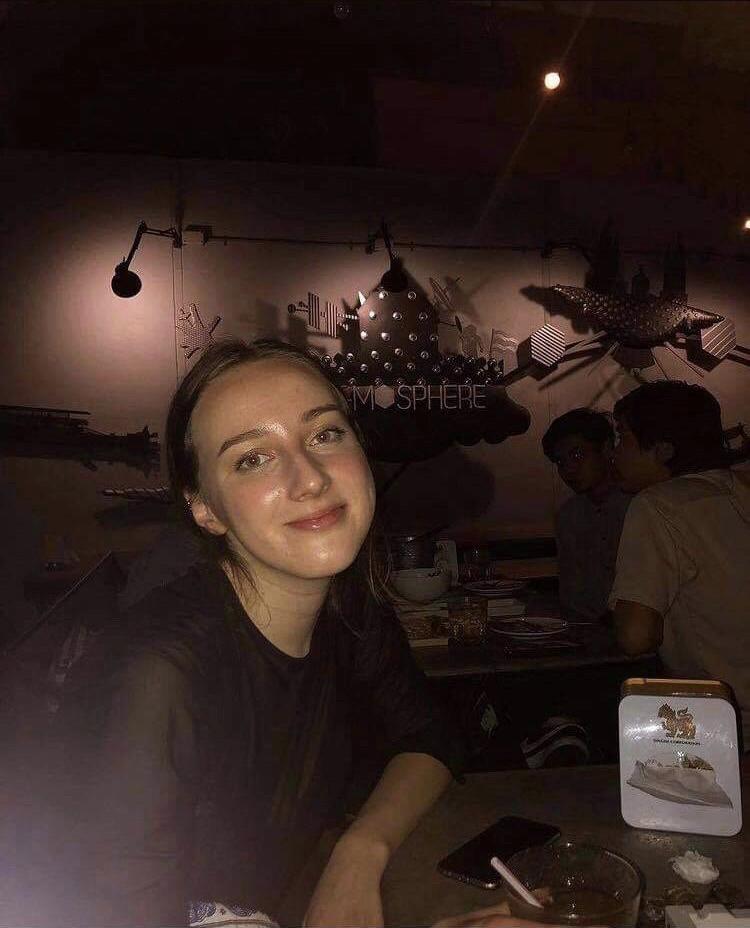 Katie Sims has been writing for Ideal Homes since spring 2022. She qualified from her Master's in Media and Journalism in 2021 and has been writing freelance since. She has worked on Ideal Home's ecommerce team where she researched the best home products on the market, and on the news team, researching the latest trends for feature pieces.