Bedroom storage ideas - 26 ways to banish clutter for a peaceful space
Upgrade your bedroom storage and watch the chaos transform to calm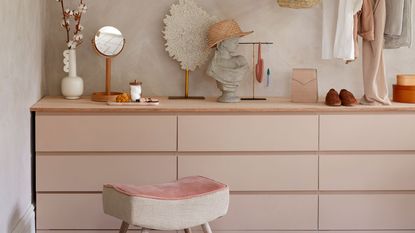 (Image credit: Future Plc/Tim Young)
A bedroom should feel like a sanctuary, a space to switch off and relax before getting a good night's rest. This becomes almost impossible when you look around and all you can see is chaos and clutter, which is why it's so important to make the most of your bedroom storage.
When planning bedroom ideas, it is easy to overlook the importance of storage. You can have the vanity unit of your dreams and plan all your furnishings and decor to a T, but if you don't have ample storage in place, your bedroom's aesthetic will always fall short.
That's the last thing we want, so to kerb the clutter and ensure you can maintain a calm and orderly bedroom, we've thought of all the bedroom storage ideas you can imagine. Whether you've got heaps of space to fill or you're working with small bedroom ideas, our guide will help you maintain an organisation system that works for you.
Bedroom storage ideas
'When it comes to bedrooms, a clutter-free space should be a priority,' says Patricia Gibbons, Design Team, Sofa.com. 'Your bedroom should be a cosy room designed for relaxation and winding down - avoid having too much furniture and make sure you have multifunctional pieces that work extra hard to keep the clutter at bay.'
And who said that bedroom storage has to be boring? The range of ideas in our list will help you finesse and perfect your bedroom's aesthetic, whilst providing a crucial system of organisation. Keep reading for the best bedroom storage ideas that will help your room feel more Zen.
1. Declutter and streamline
The best bedroom storage ideas all start with a good declutter. Take stock of all the items currently being stored in your bedroom and ask yourself how much of it you actually use. It's likely that a big chunk of your wardrobe for example is taken up by clothes you barely reach for.
'You only use 20% of what's in your wardrobe so having a wardrobe clearout can be a good thing to not only determine what you want to wear but also how much you have and if there are any items you're missing,' says Siân Pelleschi, APDO's President, and founder of Sorted!.
2. Invest in an ottoman bed
The best bedroom storage ideas are completely invisible when you walk into a room, so you can maintain a relaxed and tidy aesthetic. An ottoman bed is a great option for a master bedroom as it offers plenty of storage for extra bedding, out-of-season clothing and even Christmas gifts, without adding more furniture to a space.
'If clothes storage is pivotal, pick a divan or ottoman over a classic bed frame as this will allow you to maximise the storage space available without taking up any additional floor space; which is especially important in small bedrooms,' says Adam Black, co-founder, Button & Sprung.
3. DIY your drawers
Bedroom storage ideas are essential for a well-functioning space, but you also want them to be pretty and add to your desired aesthetic. By buying simple cabinets that offer plenty of storage space, you can then utilise the best IKEA hacks to get a trendier look.
Fluted door fronts are a popular choice for a pretty and current look and they're easy to apply to plain cupboard fronts. Plus, switching out hardware to a fresh shade of metal will have an instant enhancing effect.
4. Take under-bed storage to new heights
Get the most from limited floor space with a built-in high sleeper made from storage units for a child's or guest bed. Hanging curtains at either end will turn it into a cosy den for young children, or give teenagers a sense of privacy. Here the homeowner has added custom ply doors to standard Ikea kitchen base units, which creates a bespoke look.
5. Create a bed-end bank
Boost bedroom storage with a row of low cabinets at the end of the bed- great in a study-bedroom for books and paperwork. Make sure the cabinets roughly matches the width of the bed, even if you have to put a couple side by side, and paint in the same shade as the headboard, for a cohesive look.
6. Invest in built-in
'A built-in headboard with bedside cabinetry is a good option for maximising storage space in the bedroom,' says Simon Tcherniak, Senior Design at Neville Johnson. 'It can incorporate reading lights, niches for books, small drawers for medicines, large drawers for additional clothes storage, and cable management for charging devices overnight. Our Contemporary Willow Bedroom is a fantastic option for individuals looking to maximise storage space in smaller bedrooms.'
'Bespoke fitted wardrobes also provide a good solution to maximising storage space in the bedroom. It is amazing how much storage you gain by going high up the wall, and if you make the wardrobe no deeper than it needs to be, your room will still feel spacious. Your designer can measure exactly what needs to be housed or displayed and make sure that it will all fit, look good and be accessible.'
7. Make the most of ceiling heights
If your bedroom is more of a box room and a wardrobe takes up too much space, a wall-to-wall run of chests and ceiling-hung rails will let you pack in a lot of stuff. Give simple off-the peg drawers a new look by painting them a shade of your choice, then topping with a length of wood such as oak, pine or even plywood.
8. Build a bespoke hide-away vanity unit
This built-in alcove idea maxes out the storage potential of a chimney breast wall. The shallow section over the chimney breast needn't go to waste, just add floating shelves and a small table top for the perfect vanity unit space.
Folding doors shut away the clutter when not in use and a handy stool can be neatly stowed away in the fireplace recess.
9. Streamline a row of wall hung units
If your bedroom space doubles as your work space this row of cupboards will be the perfect place to stash files and paperwork.
Paint a row of handleless cabinets the same colour as the top half of the wall behind them, then use the bottom edge of the cupboard as the level for a lower band of colour, making the storage blend in. Carry the band of colour all around the room for a cohesive bedroom paint idea.
10. Store out-of-season clothes under the bed
If you're squeezed for wardrobe space, gather up any out-of-season clothes that aren't currently being worn and store underneath the bed in pull-out drawers like this willow underbed lined storage, £60 at John Lewis. Measure under-bed space before you buy – lower beds will require a shallow drawer - and opt for drawers with lids or covers so belongings don't get dusty.
11. Tackle small items with baskets
Use boxes, storage baskets, bins and trays to maximum capacity and have storage that's both efficient and pleasing to the eye. The right containers are essential to making any space look neat, even at a moment's notice - just toss things in and you're done.
This wicker basket is not only perfect for dividing and conquering pillows and throws, it also looks pretty and creates an interesting feature in this rustic, relaxed bedroom scheme.
12. Tame an untidy wardrobe
Space at the bottom of wardrobes often gets forgotten about. Separate short and longer-hanging pieces so you can access floor space more easily, then invest in stacking boxes that can be arranged to fit. Clear boxes such as these Songmics clear stackable boxes, £52.99 for six at Amazon allow you to see what's inside at a glance.
13. Add a longline shelf to display pretty knick-knacks
Combine storage and display space with a longline picture shelf positioned above a bed. Wooden wall panelling is an easy way of covering an uneven wall and will add a layer of insulation so bedrooms feel warmer. Finish off panelling with a narrow picture shelf and paint wall and woodwork in the same soft shade.
14. Keep floors clutter-free
Save on floor space in a small bedroom by opting for neat wall-hung nightstands like this Oak floating bedside table, £150 from Urbansize rather than floor-standing bedside tables. With a storage drawer and shelf space for an alarm clock and bedside read, keeping floors clear helps create the illusion of extra space.
15. Get your jewellery sorted
Hang a panel of corkboard between the brackets of a wall shelf to create a clever space to hang jewellery and help clear surfaces. Loop necklaces over smart pins and hang earrings by pushing them straight into the cork. Keep boxes and baskets on top of the shelves for extra storage.
16. Maximise your space with a clever storage headboard
Providing handy shelves and hidden storage, this DIY headboard idea also doubles as a bedside table, freeing up more space in a compact room. Team with a storage divan to stash away bedding and out-of-season clothes.
17. Double up on desk space and bedside storage
For bedrooms that double as home offices (or homework rooms) this fold down desk blends storage with table top space. Finish the interior of the desk in a contrasting shade for a pop of colour when pulled down.
18. Fit alcove cupboards
Built-in floor-to-ceiling storage puts alcoves either side of a bed to best use. Connect them with a full-width headboard in the same colour to give you a streamlined shelf for books and other bits. Green is a restful choice that's perfect for bedrooms. And why not fill the gap with a panel of flamboyant wallpaper?
19. Create double tier rails
For clothes storage, think vertically as well as horizontally. Double tier rails will multiply your wardrobe potential by two, and they can be a smart feature in small walk-in wardrobe ideas. You'll have to fold longer items over hangers, like maxi dresses and trousers, but for the storage space gained, it could be well worth it.
20. Create a neat styling station
A bedroom will often double up as a dressing room for many, which results in a lot of products and styling tools that need a home. If you know you need a dedicated getting-ready spot then make sure you have enough surface space to lay everything out, and enough clever storage to keep products out of sight.
21. Add high shelves near the ceiling
In a box room, make a feature of a high shelf on decorative brackets, with grab-handled baskets that fit flush to the ceiling, for storage that doesn't intrude into the space. Keep bedtime reading easily accessible on a magazine rack mounted to the wall. Piles of cushions allow this bed to double as seating during the day.
22. Squeeze in a skinny vanity unit
Think you can't fit in a make-up station? Think again. this repurposes a shoe storage idea from IKEA and is just 22cm deep and works as a dressing table in a tight space.
We added leather handles to make it extra special, while the storage inside doesn't need to be used for shoes – you could use it to stash away beauty products or linens and towels. A half-painted wall makes a feature of your furniture.
23. Keep work clutter contained
If your bedroom doubles up as your work space too, arrange your set-up so that work doesn't dominate the room. Opt for a desk that can work as a dressing table too and designate some shelving so that everything has a place.
24. Style your bedside tables
Bedside tables make versatile storage in master bedrooms or guest rooms. A single drawer is enough to hold bedside essentials or small toiletry items, so the space underneath acts as a mini book stack when traditional shelving is not an option.
Reserve the top surface for bedroom lighting, your current book and any other items you like to have immediately to hand.
25. Build in bespoke wardrobes
Fitted wardrobes are the simplest way to max out on storage in a bedroom. Whether you have a straight wall that's screaming out for a run of wardrobes or sloping ceilings that would benefit from a bespoke design, it makes great use of the space.
You can easily customise them depending on your budget, too. Carpenters will be able to create a premium built-in wardrobe exactly to your requirements, but if you're looking to makeover your bedroom for less then IKEA PAX wardrobes are the best alternative.
26. Plan wisely with hidden storage
Make the most of your wardrobe space with a neat, discreet storage unit. A combination of drawers, shelves and rattan boxes creates a stylish dressing table that wouldn't look out of place in a Scandinavian household.
Great for keeping things concealed, simply close the doors to tuck it all away, keep your bedroom scheme looking sleek, streamlined and best of all, clutter-free. Make use of a drawer organiser, too, to help separate your socks from your bras and your leggings from your jeans.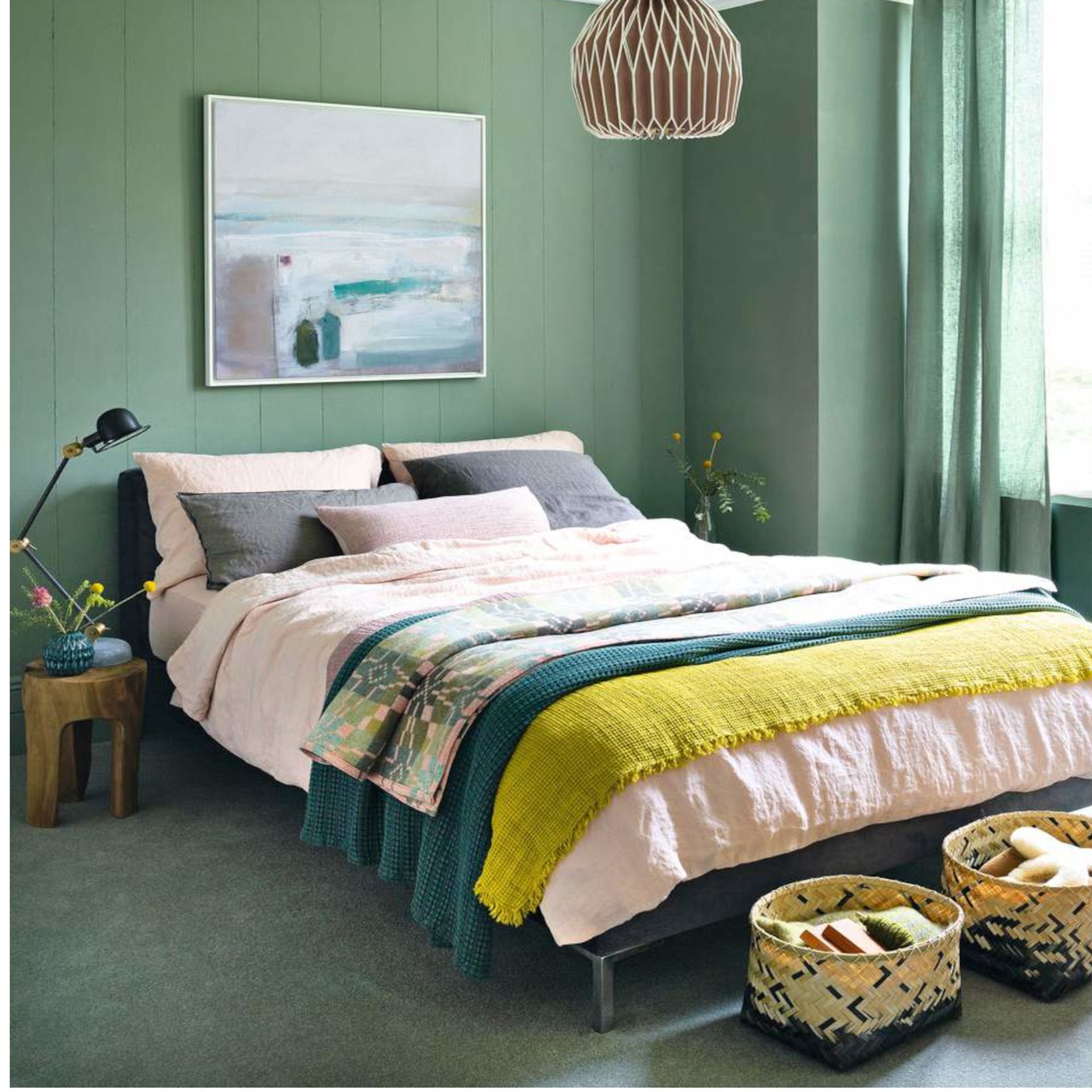 Get the Ideal Home Newsletter
Sign up to our newsletter for style and decor inspiration, house makeovers, project advice and more.
Jennifer is the Deputy Editor (Digital) for Homes & Gardens online. Prior to her current position, she completed various short courses a KLC Design School, and wrote across sister brands Ideal Home, LivingEtc, 25 Beautiful Homes, Country Homes & Interiors, and Style at Home.