Grey nursery ideas to create a stylish space for any little one
Grey is a timeless colour choice for a sophisticated unisex nursery for all new arrivals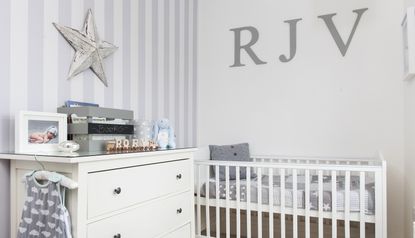 (Image credit: Future / Colin Poole)
Whether you're welcoming a newborn or moving a toddler into their own bedroom, decorating the nursery is an exciting task. The key is to create a timeless nursery decor that can evolve as your little one grows.
Grey is currently the go-to neutral, reigning as one of the most popular shades of the decade. This makes it a natural choice for many nursery ideas.
Grey nursery ideas
Because grey is a dependable neutral, more decorative than white but not as out there as an 'of-the-moment' trending colour like sage green nursery ideas, grey is ideal for the walls and floors of any children's room idea. Flourishes of accent colour can be added through furniture, soft furnishings and accessories to give the room a splash of vibrancy and personality.
'Light grey can be used anywhere you'd consider white,' says Farrow & Ball's head of creative Charlotte Cosby. 'Far from looking spartan, it can add character and depth to even the simplest of spaces.'
'When introducing colour accents to greys, think about the undertones of the pairing first and then the contrast you wish to achieve.' Grey pairs perfectly with inky blues, serene greens, pretty pinks and sunshine or mellow yellows – it really is the most versatile shade for a nursery decorating scheme, to encourage baby to sleep, play and grow.
1. Mix plain and patterned walls
Mix plain grey painted walls with a patterned wallpapered feature wall. Choose a wallpaper in a similar tone with charming motifs, such as white fluffy clouds, for a calming feel.
A white cot and shelving will look fresh and modern against this backdrop. 'White furniture for a nursery is so popular because it simply goes with everything you have and adds a lovely shot of optimistic freshness to what is often the smallest room,' says Marianne Shillingford, Creative Director at Dulux.
2. Add sophisticated brass accent tones
Some shades of grey can feel a little cold or austere if you're not careful. So add warmth to a grey nursery with brass accent tones on floor lamps, side tables or door handles.
This is especially effective in a corner of a nursery where you sit and nurse your baby or read to a tot. As it will create a 'grown up zone', so it's a space you can enjoy being in.
'To avoid a clinical look, step away from chrome and cool metal textures,' says Emma Bestley, co-founder YesColours. 'A nursery which receives little natural light will benefit from a warm, yellow-based grey.
'A sunny nursery would suit a blue-based cooler grey. A neutral light grey will maintain a light and airy feel and therefore make a space feel bigger, otherwise, a darker shade will instantly provide you with a cosy cocooning feel instead.'
3. Balance with black and white details
This versatile neutral works well with a range of colours and tones, particularly black and white. Being a mix of the two, black accents on the picture frames and cushions helps to ground the grey, while the white furniture and shelving makes the room feel fresh and bright.
The yellow chair adds a vibrant touch but if you use a colour like this, make sure you repeat it in details elsewhere. So it doesn't look lost or out of place.
4. Have fun with wall stickers
Animals are always a good match for a kids room so enliven grey walls with a cast of meerkat characters or other cute creatures to entertain them. Find wall stickers on Not on the High Street or Etsy.
The great thing about wall stickers is that many peel off without a trace, so it's easy to change them, as your child grows up and into different interests.
5. Colour block with pink
Colour blocking looks modern and eye-catching - and soft grey and pale pink are great colours to pair together. It will look brilliant for a nursery, but will also be perfect for a girl's bedroom idea as your child grows up.
'In a child's room paler colours tend to be more calming and soothing – both for the child and parents – so a background of a soft pink and warm pinky greys can be a good basis from which to add more colour if you want to,' says Justyna Korczynska, senior designer at Crown.
6. Invigorate with yellow
Grey looks gorgeous in a nursery or any other room, but too much can feel a little drab. If you've gone for plain grey walls, make sure you lift them with lashings of white elsewhere, such as the ceiling or woodwork.
An accent colour like sunshine yellow will invigorate grey and white nursery ideas with warmth too. Use it sparingly though - three or four surfaces is enough. It's better for a nursery to feel serene than over-stimulating, after all you'll want your little one to sleep well.
'Grey is a stable colour in between black and white; it offers total neutrality which helps to encourage a calm environment,' says Emma Bestley, co-founder and creative director, YesColours.
'As a versatile colour, grey can be balanced with a range of shades from the colour wheel. Consider pairing with accents of yellow, pink, or lilac, these vibrant colours compliment grey, adding energy and interest.'
7. Upcycle gifted pieces or vintage finds
Painting and upcycled furniture ideas can save a fortune and prevent good furniture from going to landfill. Coating an old crib in grey paint will bring it bang up to date, while a lick of white paint can make old-fashioned brown wood look modern.
Make sure you choose water-based paints that are free of VOCs. And paint pieces outside or in a well-ventilated room well in advance of the baby's arrival. It can take months for paints to cure fully and 'off gas', which can be harmful to human health.
'VOC's can be found in many household products including air fresheners, cleaning products, carpets and paints,' says Cathryn Sanders, head of creative at Earthborn.
'The gases are a mixture of a variety of different chemicals – some of which contribute to either long or short-term health issues. They are also harmful to the environment and contribute to global warming.
'As well as being free from harmful emissions – making them ideal for children's bedroom, playrooms and nurseries – all of Earthborn's interior paints are certified as being safe to use on children's furniture and toys too, carrying the Safety of Toys Standard certificate.'
8. Personalise the space
Stencilling your new arrival's name or initial on the wall is a charming way to welcome them and to personalise their room. Choose a colour that will stand out against grey walls and add colourful motifs that will delight little ones.
As already outlined, it's important to use VOC free or certified child safe paint in a nursery or kid's room, and to make sure it has cured fully before they sleep in the room.
9. Encourage their imagination with accessories
A kid's nursery or bedroom is more than just somewhere to sleep. It's also somewhere they can play, relax and express themselves. So encourage their imaginations with fun accessories on the walls and floors.
Being a neutral, it's easy to find items that look good against a grey background. Create a cheerful and interactive scheme with cloud shaped shelves, storage disguised with a face and a road map rug that doubles up as a decorative detail and somewhere to play.
10. Include fitted wardrobes
Consider floor-to-ceiling fitted wardrobes for your child's nursery or bedroom. Built-in storage may seem unnecessary but it doesn't take long for little ones to accumulate piles of clothes, shoes and toys.
'It's never exciting to talk about storage, but if you don't plan it in well, a beautiful room will very swiftly become a tip,' says Mandy Collis, creative director, Funky Little Darlings.
'I echo the mantra "a place for everything and everything in its place" and it's the first thing we consider when designing for children. Use every inch of ceiling height for wardrobes and consider trundle drawers under the bed for out of sight but easy access storage that holds volumes but takes up no additional floor space.'
11. Add subtle grey touches to white walls
A grey nursery idea doesn't mean you have to paint the walls, why not embrace this timeless shade for the carpets and soft furnishings instead? White walls are the ideal backdrop for a clean and classic nursery scheme, where tones of grey can add just enough colour definition to add interest.
A grey fabric window blind idea is perfect to anchor the accent shade for the accessories and furniture to be added to match. Grey is the ideal shade for a carpet, providing a light colour to anchor the timeless look – where spills and accidents won't show up too much, compared to a lighter shade of beige or cream.
12. Welcome statement wallpaper
Give a grey nursery a touch of grown-up decoration with a statement wallpaper idea on a feature wall. Choose a design that captivates in a scale of grey and welcomes a pattern to use throughout the room – in this case it's an on-trend geometric design.
Add coordinating touches of geometric print to the room via cushions and rugs. To enhance the more grown up vibes of the decor choose brass or gold light fittings to add a touch of sophistication.
13. Take a two-tone approach to grey walls
Can't decide on which grey to paint the walls? Why not let this nursery inspire your room to take on a two-tone grey colour scheme. Pick a light grey for the top half of the wall, pairing it with a darker grey hue on the bottom half.
Using this bedroom paint idea divides the room, helping to give the illusion of a greater ceiling height which is particularly effective used in a small room – which is so often the case with a nursery.
Paint exposed floorboards in the same light grey to tie the whole scheme together with ease. If you do have exposed floorboards ensure they are well insulated to avoid drafts, layering the floor with decorative rugs welcomes warmth and texture too.
14. Add warmth with the right tone
If the nursery is small or lacking natural light look to paint the walls with a warm grey. Earthborn's colour expert explains how 'Inglenook' is the perfect shade for the job.
As 'a sophisticated combination of taupe, grey and lilac' this hue is not a flat, cold grey. It welcomes a colour that is perfectly paired with pink or blue accents, or any colour that takes your fancy.
15. Introduce a subtle touch of sophistication
This grey nursery is chic in style thanks to a paired back scheme, where all the colours are desaturated and calming. The luxury knitted Tori Murphy blankets are soft in tone but contrasting enough to welcome a delicate accent tone to the more monochrome palette.
The light washed wooden furniture helps to add a hint of relaxed Scandi-style to exude an air of sophistication.
16. Paint walls and wardrobes to match
Keep the background simple and create the perfect blank canvas on which to build up accent colours by painting everything in one tone of grey. Paint everything, from walls to wardrobes and any from of architecture within the room, one solitary grey tone to help to unify all surfaces. This allows the chosen accessories to really stand out against the timeless grey background.
Having everything in one solid colour is another great way to make a small kids bedroom, such as a nursery, feeling more streamlined and less cluttered – therefore helping to create an open and airy feel to the decor.
17. Zone with thoughtful touches of colour
Use colour to create feature walls that zone the space. In this light painted nursery a section of wall is painted in a darker shade of grey to act as backdrop for the bed, to clearly define the sleep area of the bedroom.
You could this imagination paint idea to add a feature wall for changing station or a play area. It allows you to give definition to the small space, without overwhelming with colour.
18. Balance shades throughout the room
If deciding to introduce grey accents to your nursery idea it can be helpful to balance the tone throughout. Choose darker tones for bigger items of furniture that can ground the scheme. Choose lighter shades at higher eye levels to balance the scale of colour, such as this light grey window blind idea – that doesn't compete with the heavier charcoal grey of the chair.
A mid-tone grey is perfect for the carpet to anchor the colour within the room, making a practical base for a small child's bedroom.
19. Welcome playful pattern to floors
If ever there was a room to have fun with the flooring it's in a nursery. The room is ideal for playful pattern on walls and floors, as this cloud patterned carpet shows. They grey ground of the pattern helps to keep it timeless and unisex for all children, with the fluffy clouds being abstract enough without feeling too babyish, ideal to see your little one through from newborn to teens.
Carpetright say the design is, 'durable and resilient, making it a perfect fit to match the playing habits of energetic little feet. Ideal for use within a nursery, bedroom or maybe a playroom to give them a space they can really love.'
20. Add warmth with lilac tones
If you're looking to add touches of pink and purple to the room look for a grey with lilac undertones. A warmer temperature within the grey helps to enhance the warmth of pink accent colours.
Look to add the most vibrant touches of colour on the walls that feature the windows, as these will naturally be darker thanks to the shadows – therefore will need cheering up the most.
21. Seek stripes to make a statement
Looking to add pattern, but don't want the choice to date too quickly? Stripes and spots are both timeless pattern choices that add a sense of fun and a flourish of colour, that won't date at your babies grows.
A grey and white stripe design provides a playful backdrop for layers of any accent colour. As your baby grows you can change the furniture and accessories to suit a new age, but the stripes will retain the same appeal.
22. Open up the space with a neutral warm grey
When decorating a small nursery space which may be lacking in natural light look to the warmer end of the grey scale. Like with the best white paint grey has hidden depths, meaning the undertones can look very different in different lights and different size rooms, and at various times throughout the day.
A grey with a warm temperature will remain cosy rather than cold, which will be important for creating a welcoming environment for little ones.
Enhance the warm tones with accents of punchy pink on soft furnishings and complement the look with bright white furniture.
23. Welcome sunshine rays with bright accessories
A soothing shade of grey creates the perfect backdrop to add pops of playful colour. Colours that go with grey in any room, particularly a nursery, are blush pink, navy blue, invigorating green and uplifting yellow to lift the look.
Painting walls in grey provides a timeless background, giving you the freedom to add pops of colour through a brightly colour pendant light, bold bedding and vibrant accessories such as bunting.
Adding touches of bright colour on accessories means you can change it up every few years as your baby grows and develops tastes and personal preferences.
Is grey a good colour for a nursery?
Grey is a good colour for any room, especially a nursery. Grey is timeless colour that has many undertones, to offer a different shade to suit all tastes. From light dove grey to a more dramatic charcoal grey, it's all about choosing the right depth and warmth.
'Colour wise, 'Inglenook' is a sophisticated combination of taupe, grey and lilac and 'Cat's Cradle' is a calm, nostalgic neutral more sophisticated than a true grey. Both are great calming colours for nurseries' advises Emily Morgan, Colour Expert at Earthborn.
'We know how important it is that your little one is safe and cared for, which is why we have lovingly crafted a breathable eco-friendly paint, that carries the toy safety standard' Emily explains. 'Our paints contain no hidden nasties and are fume free, so you can effortlessly create a safe nursery, without compromising on beautiful colour. Gentle on your home and your little one.'
What colour goes with grey in a nursery?
Grey is considered a shade that never goes out of style largely thanks to its versatility – which is a winning attribute when it comes to choosing a colour to decorate a nursery for a little one. As one of those wonderfully adaptable shades that works perfectly with just about any accent colour it's perfect to add splashes of bright colours against.
'No matter what your style, throw too many colours in the mix and your decor plans become a hot mess!' warns Emily Morgan, Colour Expert at Earthborn. 'When it comes to planning a nursery or children's bedroom in particular, we'd recommend selecting 1-2 main colours with 2-3 accent colours.'
'By limiting your colour palette in this way, the room will feel pulled together and cohesive (even if it isn't always neat and tidy!) A slightly restricted palette also helps to narrow down choices, which can make selecting items for your nursery a little less overwhelming.'
Get the Ideal Home Newsletter
Sign up to our newsletter for style and decor inspiration, house makeovers, project advice and more.
Tamara was Ideal Home's Digital Editor before joining the Woman & Home team in 2022. She has spent the last 15 years working with the style teams at Country Homes & Interiors and Ideal Home, both now at Future PLC. It's with these award wining interiors teams that she's honed her skills and passion for shopping, styling and writing. Tamara is always ahead of the curve when it comes to interiors trends – and is great at seeking out designer dupes on the high street.