24 girls bedroom ideas to transform their sleep space
Use girls bedroom decorating as an excuse to get creative
Maybe they've been asking you to give their bedroom a make-over for months, or perhaps you've noticed their current space lacks style, either way, these girls bedroom ideas will help you to create the bedroom of their dreams.
While pinks and pastels are still popular for girls bedroom decorating, they are no longer a requisite for decorating and there are plenty of ways to reflect their individual personalities through a range of decor and colour.
From storage ideas to reading spaces, bed ideas and colour inspiration, there is something for every age girl in our round up of childrens room ideas.
Girls bedroom ideas
A girl's bedroom is her sanctuary from the outside world as she grows up. Whether she's a pink-loving princess or more into dark colours and drama, when it comes to girls bedroom ideas there is no set stereotypical direction to take.
The key is to introduce flexible and accessible storage, colourful accents, and one or two striking features as focal points, for a look that can evolve as your little girl grows up.
In any child's bedroom idea you need to create a flexible space, accommodating their changing needs from babyhood through to teenage years. So it makes sense to ensure that big-ticket items such as beds, wardrobes and chests of drawers will stand the test of time.
Then, add colour, pattern and magical touches through fabric, lighting, artwork and quirky accessories.
1. Create a reading nook with shelving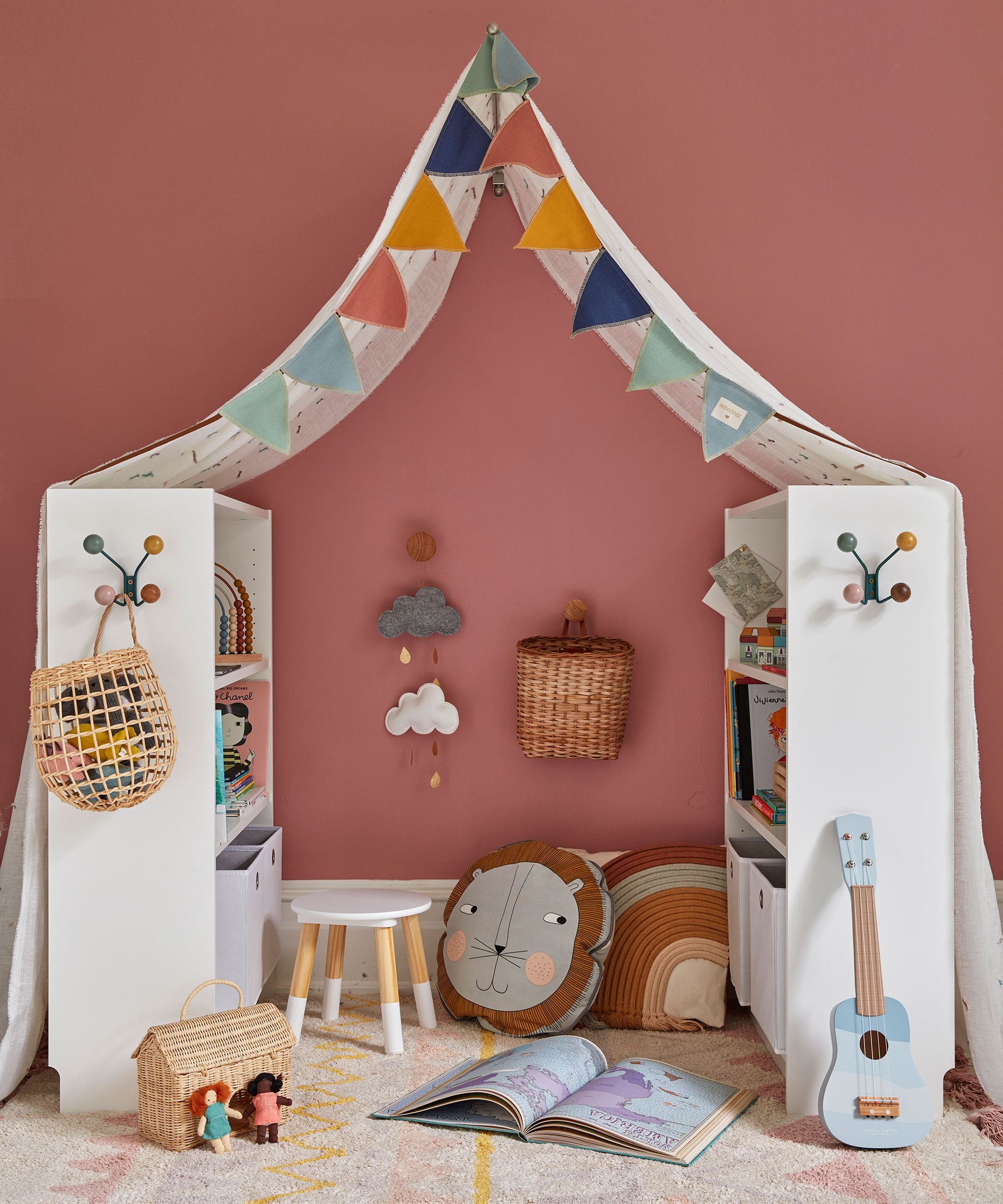 Buy now: Billy bookcases, £25 each, Ikea
Create a secret den for reading or relaxing, that gives your little lady a space to chill out.
Instead of placing shelf units against a wall, face them towards each other to create a special reading nook. Suspend floaty fabric over a swing curtain pole for a magical hideaway canopy, letting it drape to the floor for a fairy-tale feel within girls bedroom ideas. Or if space is tight, swap one unit for the back of a bed head.
If you're working with shared bedroom ideas, assign a shelf each, hanging individual hooks at the end for and cherished personal belongings or special toys.
2. Raise the bed to create storage space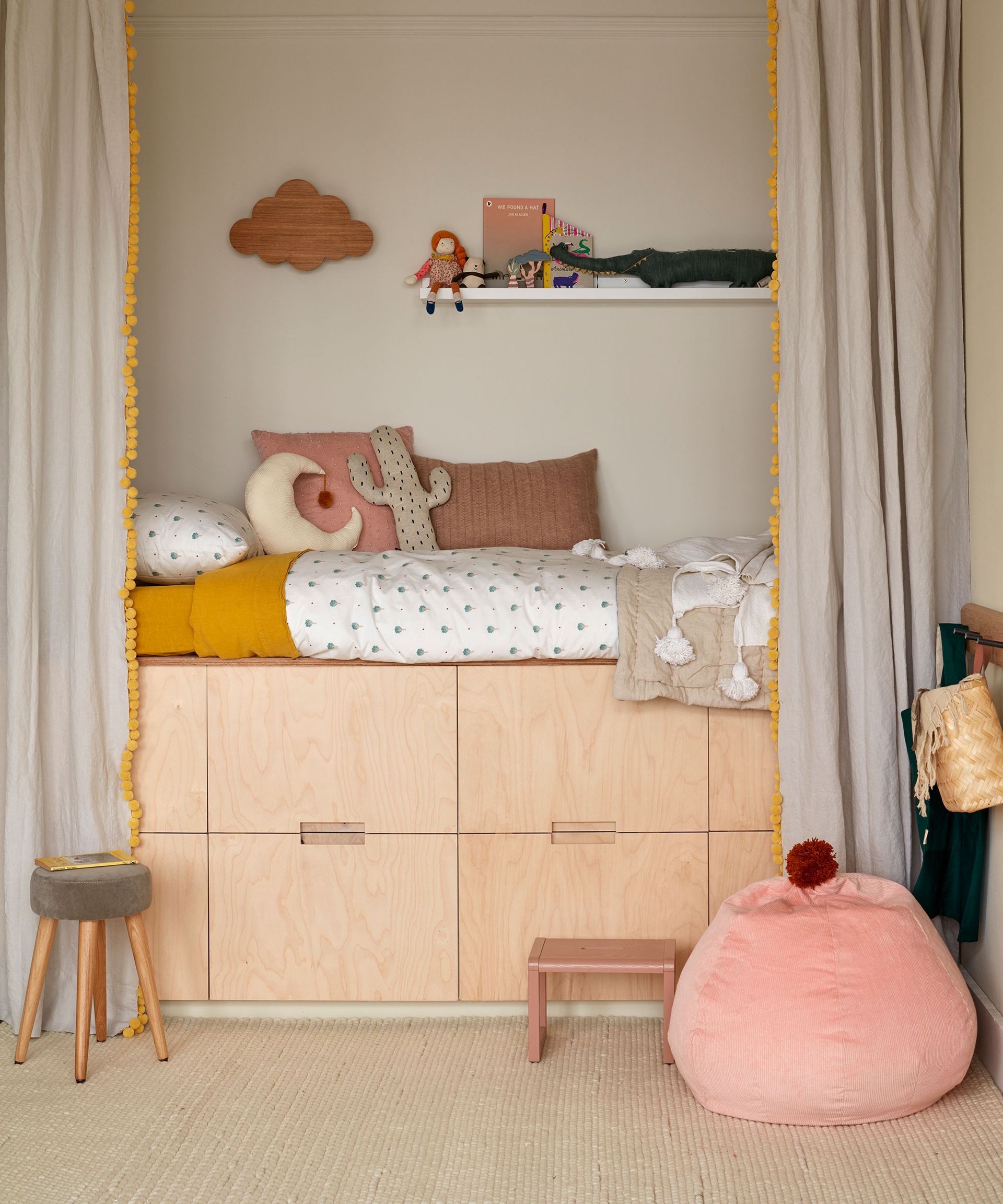 She'll love this bespoke bed and storage idea and will revel in being up high, plus with this type of girls bedroom decorating can get the most from limited floor space with a built-in high sleeper made from storage units.
Here, we added custom-made ply doors to Metod base units and Maximer drawers, both Ikea, for clothes and toy storage ideas. A step-stool will help younger kids climb up a cosy-reading nook, and hanging curtains will give older children the option of privacy.
A slim shelf on the wall will provide a space for books and knick-knacks.
3. Make a dedicated space to store craft essentials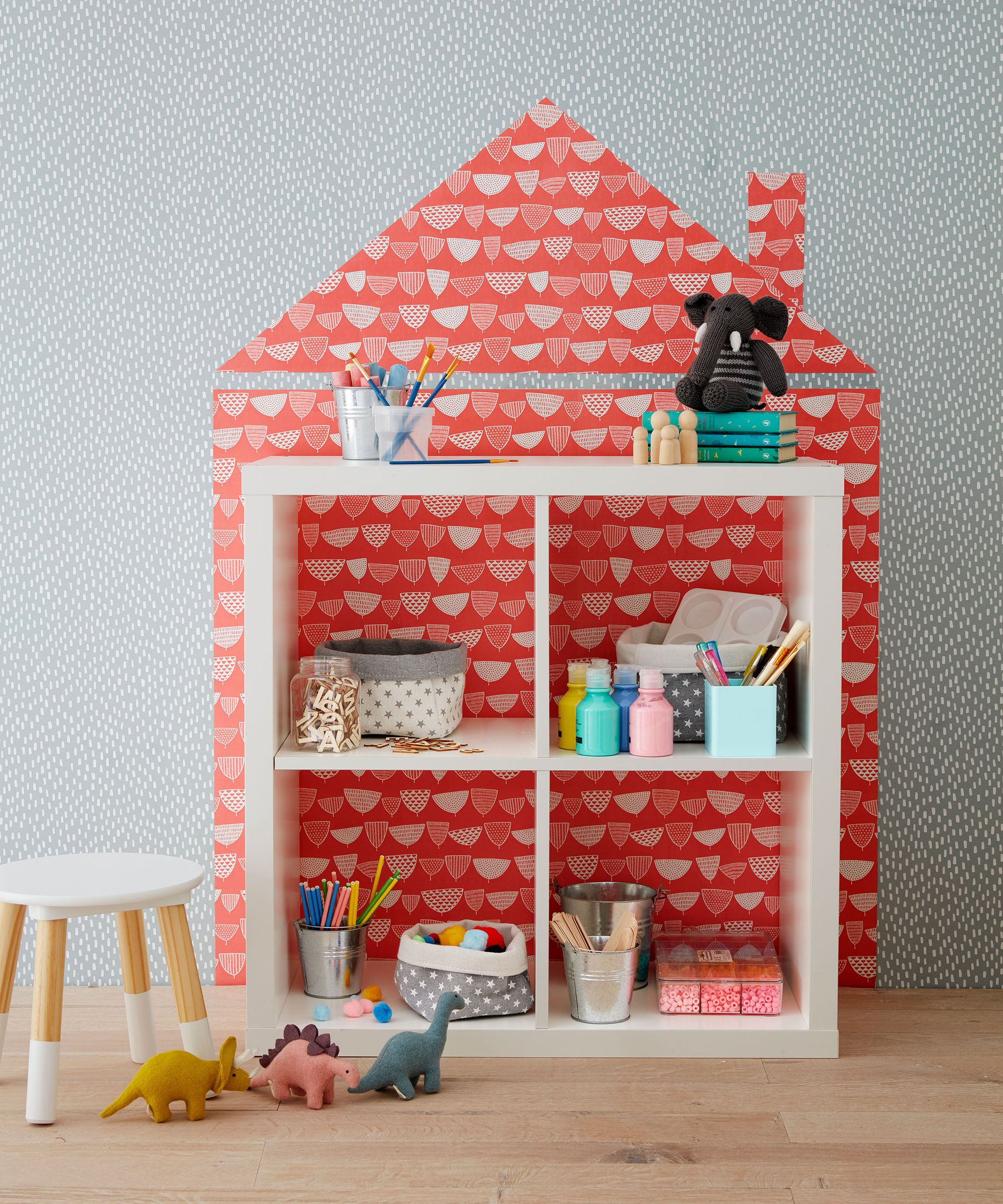 Buy now: Kallax shelving unit, £29, Ikea
She might be a budding artist, be nuts about knitting, or just an all-round crafting queen, so creating a craft house to store her essentials will go down a treat.
Make tidying up paints and brushes more exciting by giving them a special home in girls bedroom ideas. Using bedroom wallpaper ideas set behind a cube shelf transforms it into a fun little house, that little ones will love to keep neat and tidy… hopefully!
If you have skirting boards, add legs to the unit so that the wallpaper starts at the same level as the shelving.
4. Make a bespoke headboard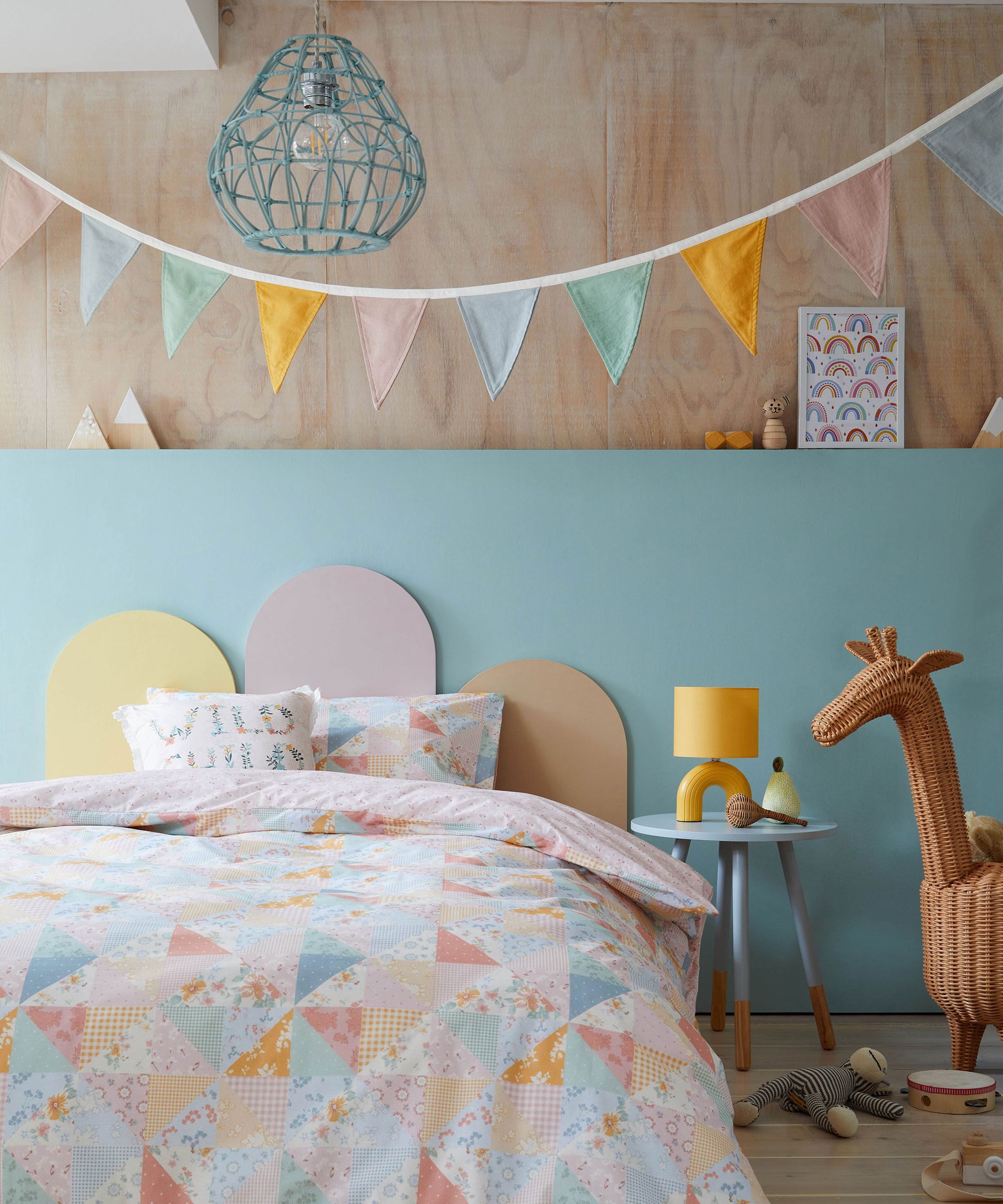 Buy now: Country patchwork cotton twin duvet cover and pillowcase set, from £34 for a single, Dunelm
Adding a headboard adds interest and colour to your little girl's bedroom and doesn't need to be costly to create.
Build a simple but playful headboard by cutting three tall, arch shapes from a piece of plywood or MDF. Draw an outline in pencil and use a jigsaw to cut out the shape and smooth the edges with sandpaper. Fix in place with a strong wood adhesive and paint in contrasting shades to the wall.
An alternative girls bedroom decorating tip is to use bedroom paint ideas instead. Simply draw the arch shapes on the wall behind the bed and paint in ice-cream pastel shades for a similar effect.
5. Opt for timeless grey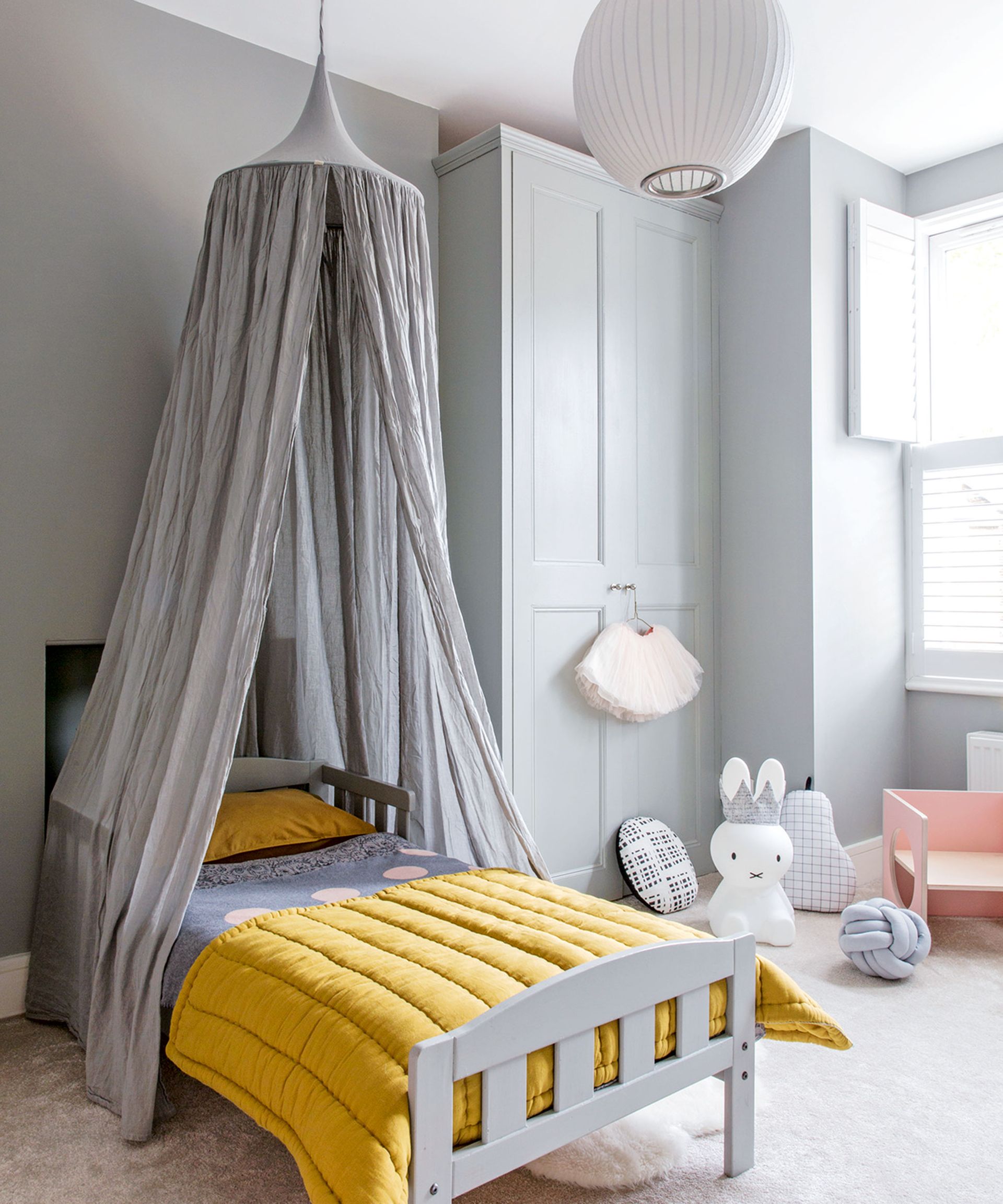 While grey might seem a bit of a boring shade to choose for girls bedroom ideas, it's actually hugely versatile and can be paired with almost any other shade. Painting the room grey- and choosing grey pieces of furniture too, means it should last as your little one goes from tot to teen.
Here, mustard yellow and pastel pink give the space a girly edge and keep the grey bedroom ideas from looking too sombre. But as her tastes changes and colours become more important to her, it's easy to add in new shades with accessories and accents, while still keeping the bare bones grey.
6. Make a feature with stylish storage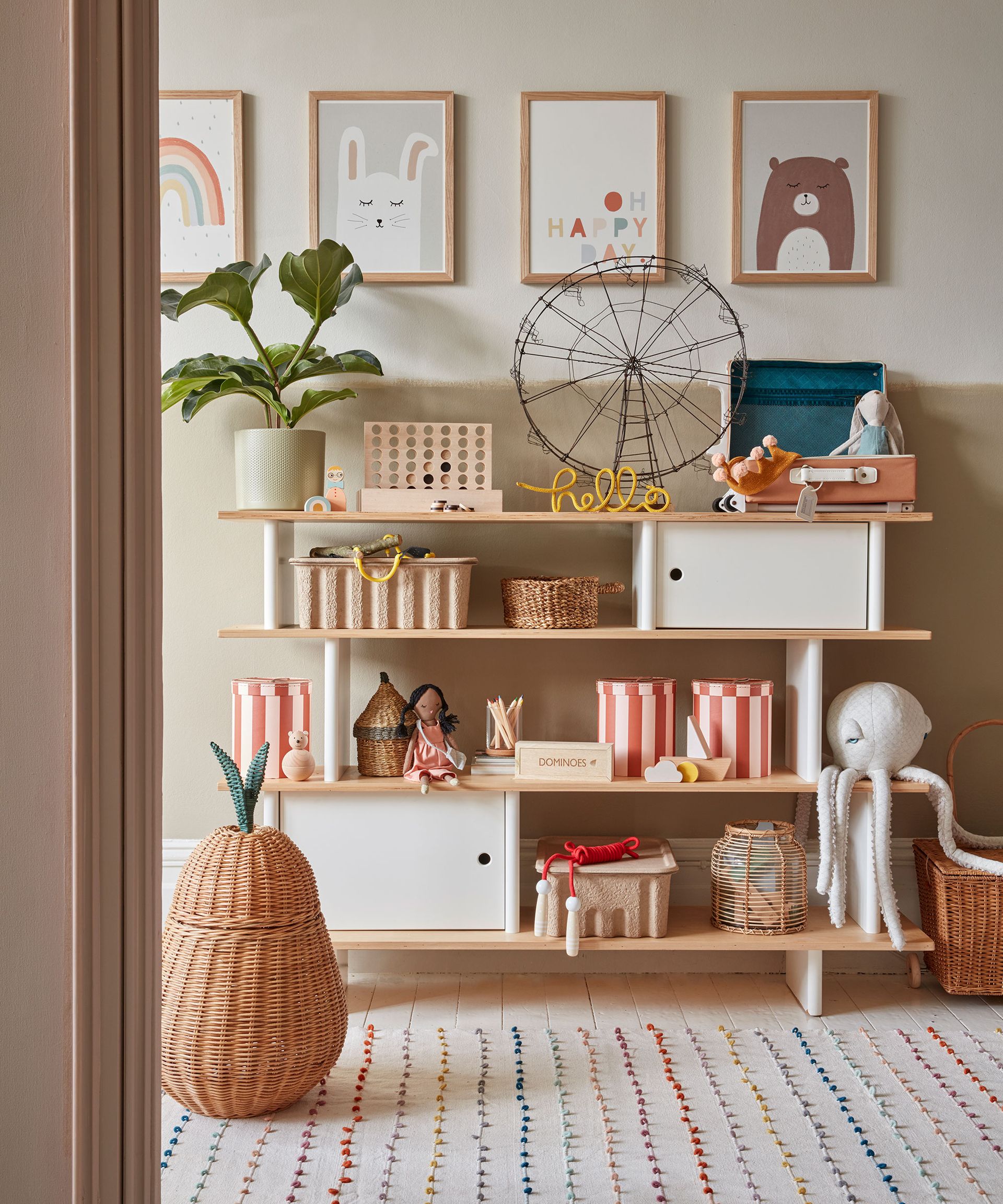 We all know trying to keep on top of kids bedroom storage can be challenge, so try to make a feature out of their wares instead. Choose a slim shelving unit with a combination of doors and open shelving so you can choose what stays out on show.
Baskets are great for stashing away soft toys or dressing up clothes as part of girls bedroom decorating. And if you add a pot plant or two to the shelves, it will make it feel smarter and more of a feature in the room.
7. Mix and match colourful furniture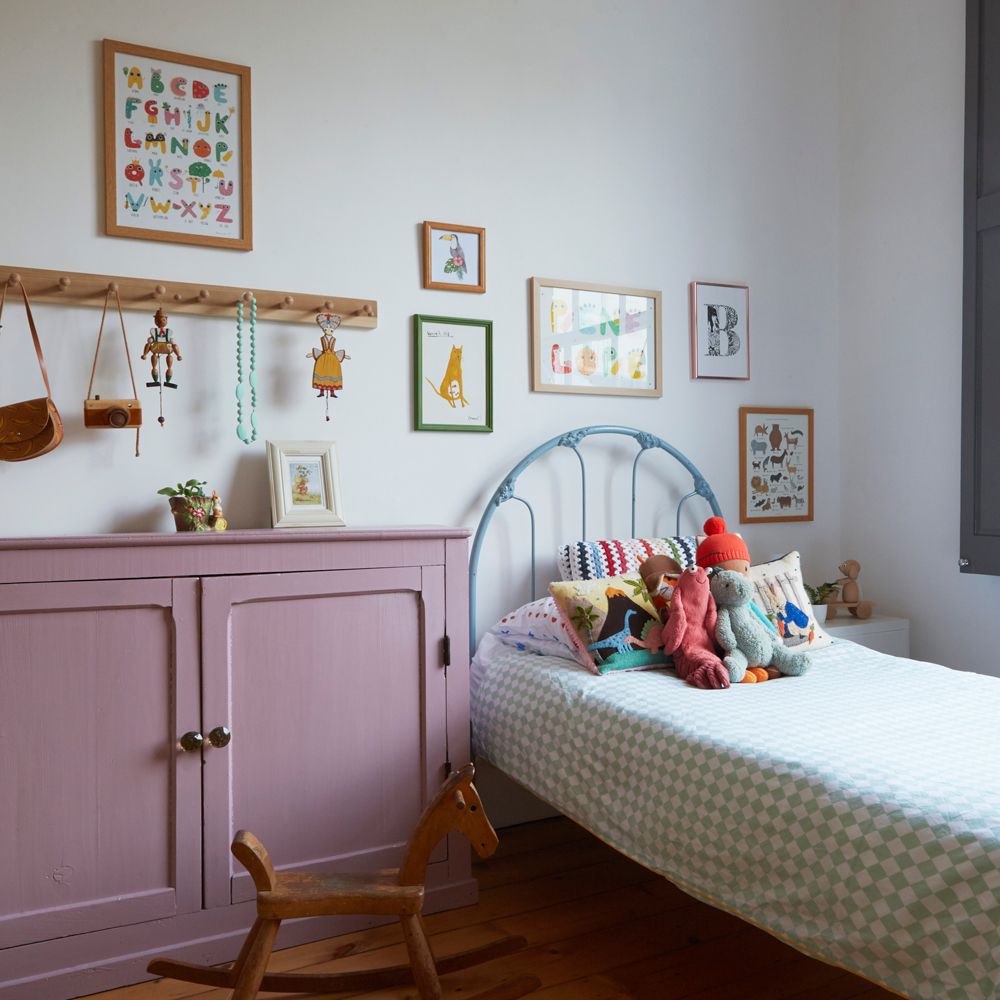 All kids love colour so where better to inject a rainbow of shades than in their own bedroom? Upcycled furniture ideas – such as painting them in complementary tones – create inviting girls bedroom ideas that feel cosy as well as uplifting.
This look suits period style properties perfectly, continue the theme with colourful artwork mounted in painted frames.
8. Calm with pastels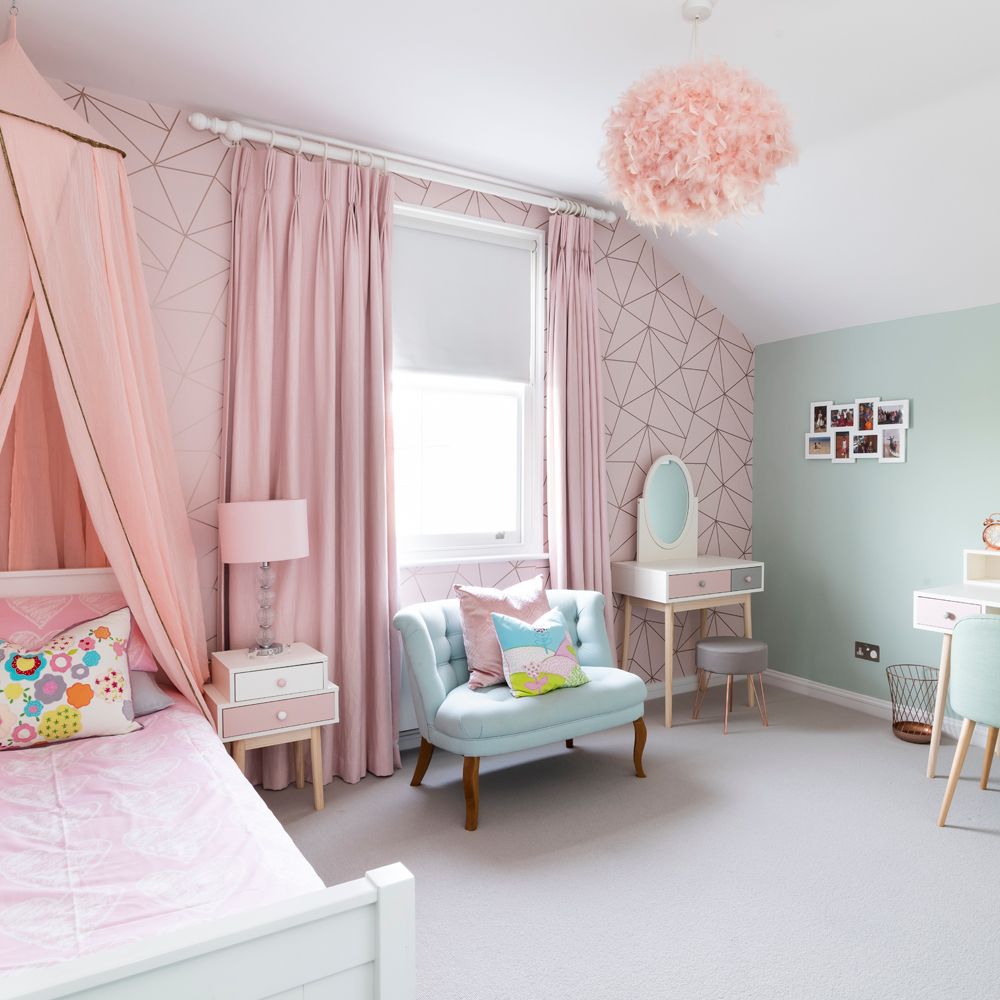 Pink bedroom ideas are probably the go-to when it comes to most colour schemes for girls. So, add a little originality to the look by teaming the sugary shade with gentle pastels for a less sickly look.
This soft aqua tone makes a refreshing update and adds a touch of glamour when teamed with metallic accessories and a geometric print feature wallpaper.
9. Jazz up walls with stickers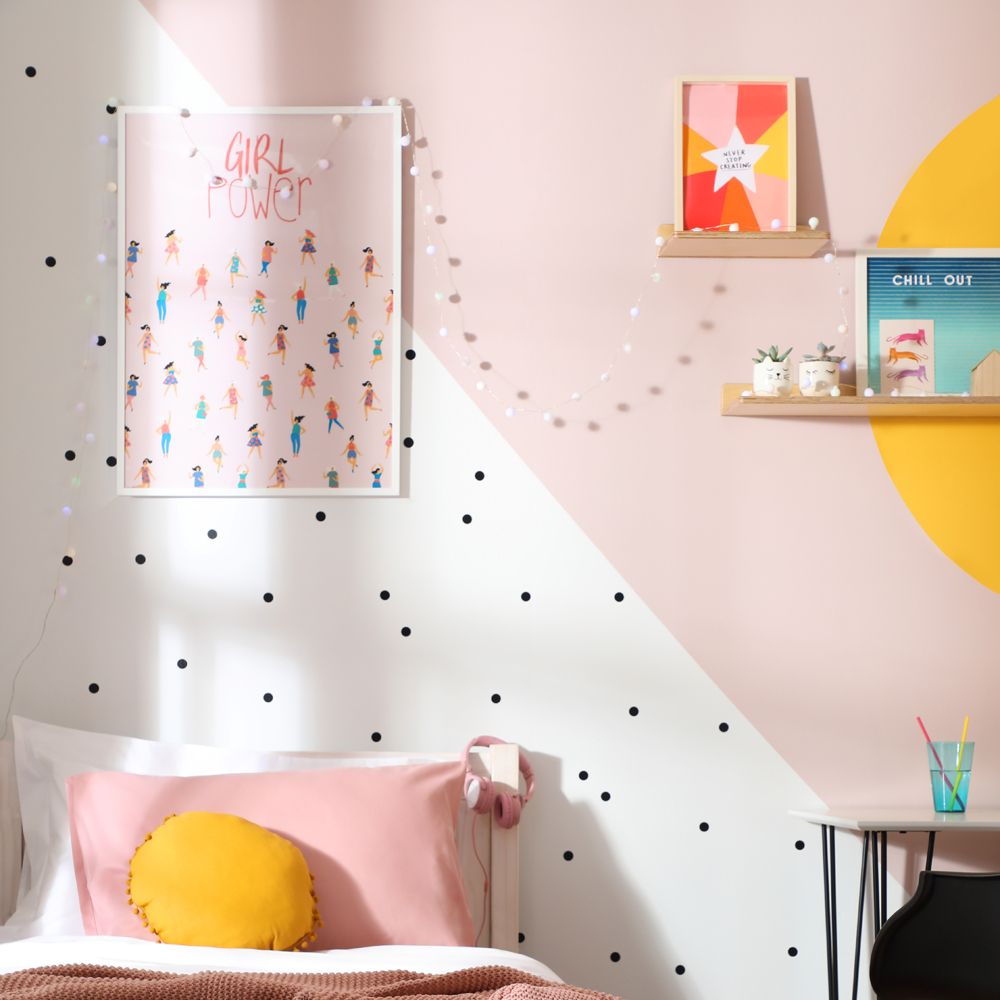 Little girls change their tastes as they grow into their tweens, so an easily adaptable backdrop will futureproof your scheme as a teenage girls bedroom idea.
Pretty wall stickers peel off easily. So girlish motif's such as butterflies and rainbows can be swapped for more mature and funky polka dots later without compromising the rest of the scheme.
10. Focus on a fun bed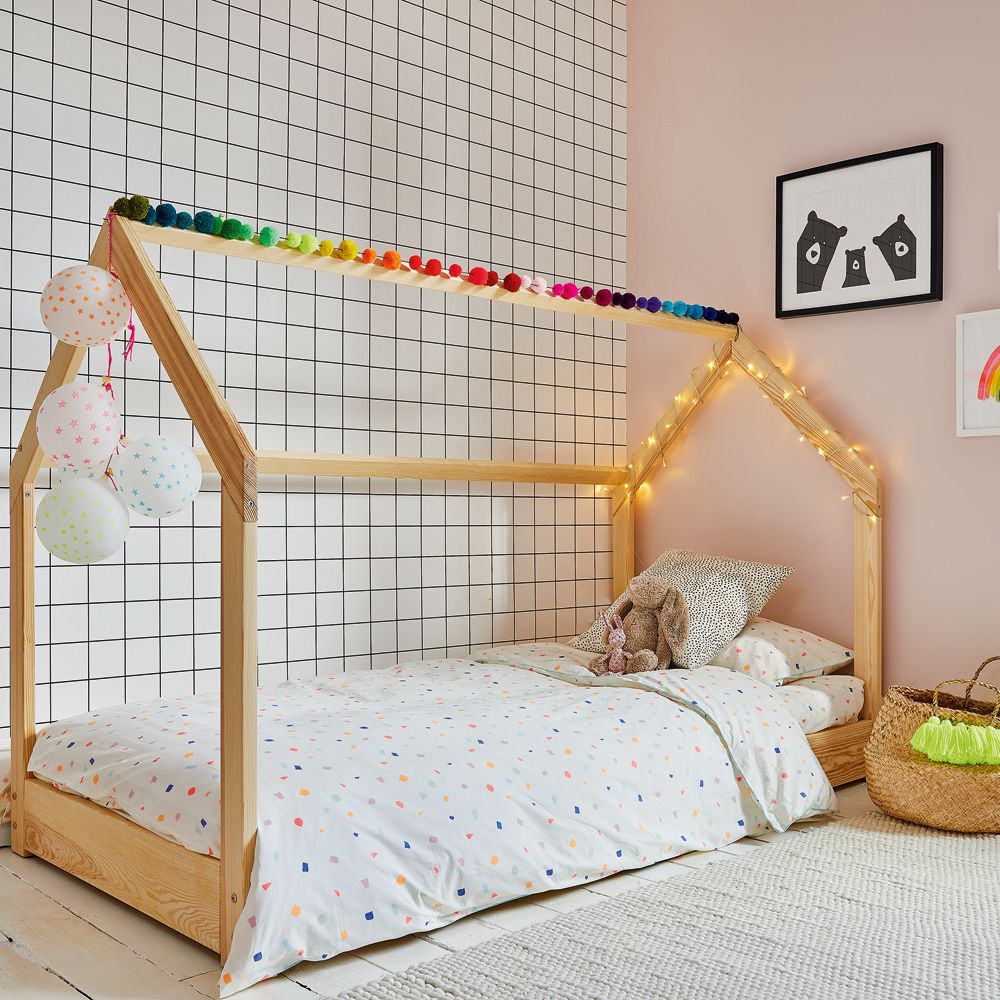 Inject a touch of Scandi cool into your girls bedroom ideas with a minimalist house-shaped bed. The roof-shaped frame becomes even more of a stunning feature when decorated with fairy lights and colourful pom poms. A low-level option makes a smooth transition when moving from cot to bed.
11. Fall in love pretty vintage looks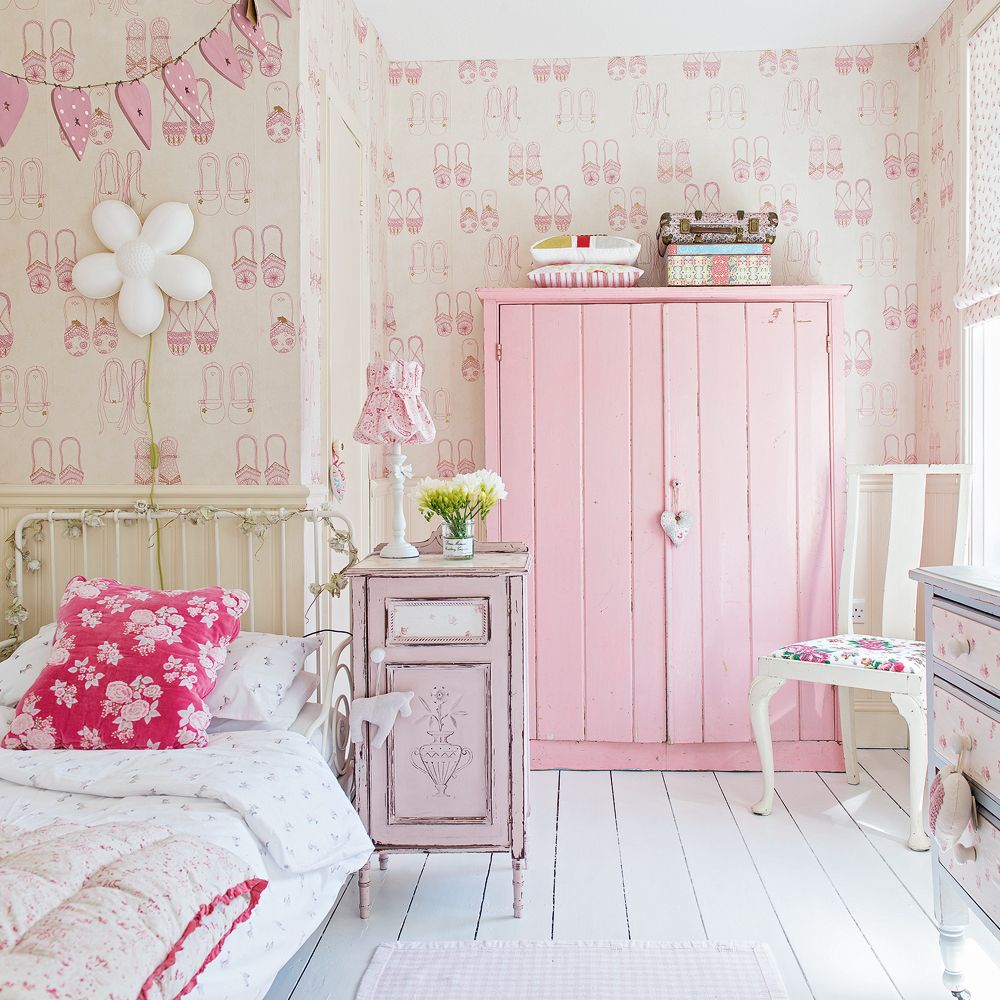 Bring a touch of country charm to your little girls' bedroom with shabby chic furniture and chintzy rose prints. It's a girls bedroom decorating idea that will suit both younger and older girls so makes a safe choice that will last.
Here, it's only the cute silhouette shoe and slipper wallpaper that might need replacing as a quick weekend job later.
12. Light it up in style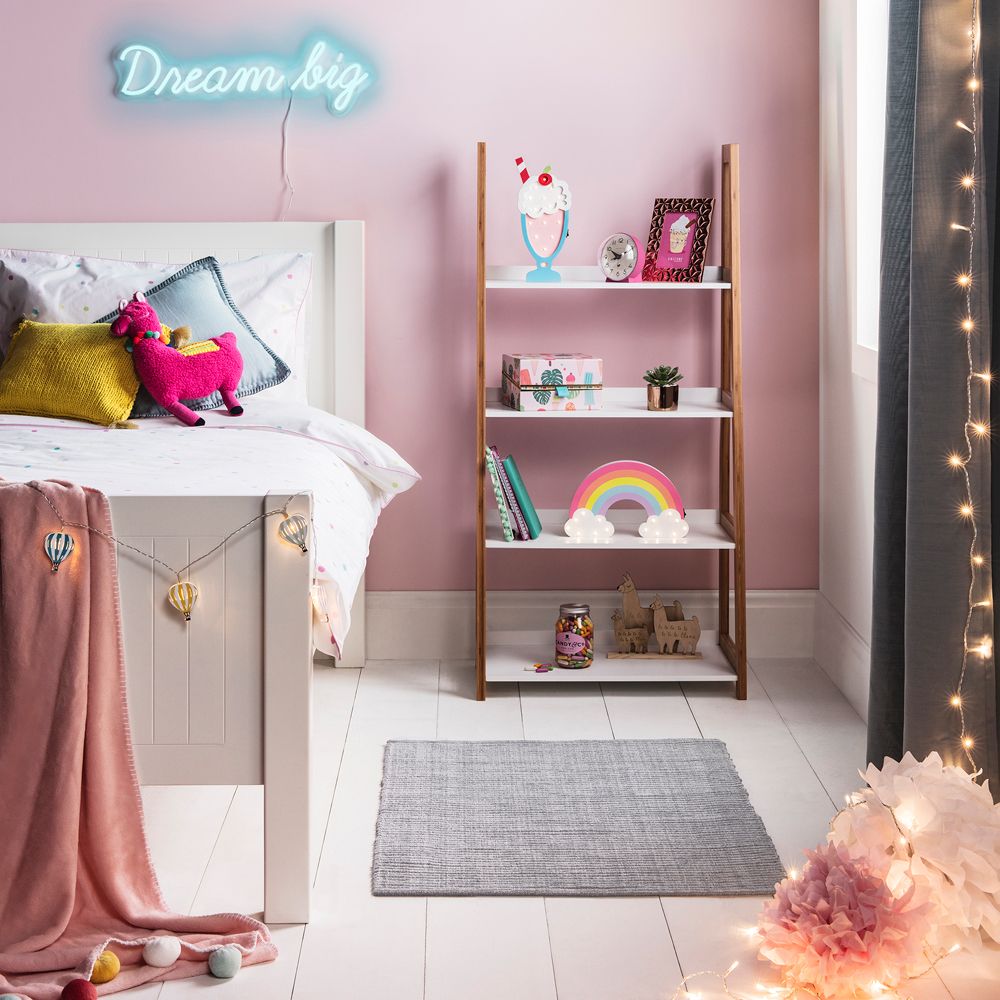 Transform your girls' bedroom ideas into a wonderland full of twinkling lights. There are so many great bedroom lighting ideas available now from typical fairy string lights that look stylish draped at the window to cool ice-cream sundae-shaped lamps that double as cool accessories.
Or, why not keep them ultra inspired with decorative light up 'words of wisdom' on a wall? Whether they need bright lighting for homework or a cosy glow to fall asleep to fun layered lighting will enrich the space with atmosphere and character in an instant.
13. Use a monochrome colour scheme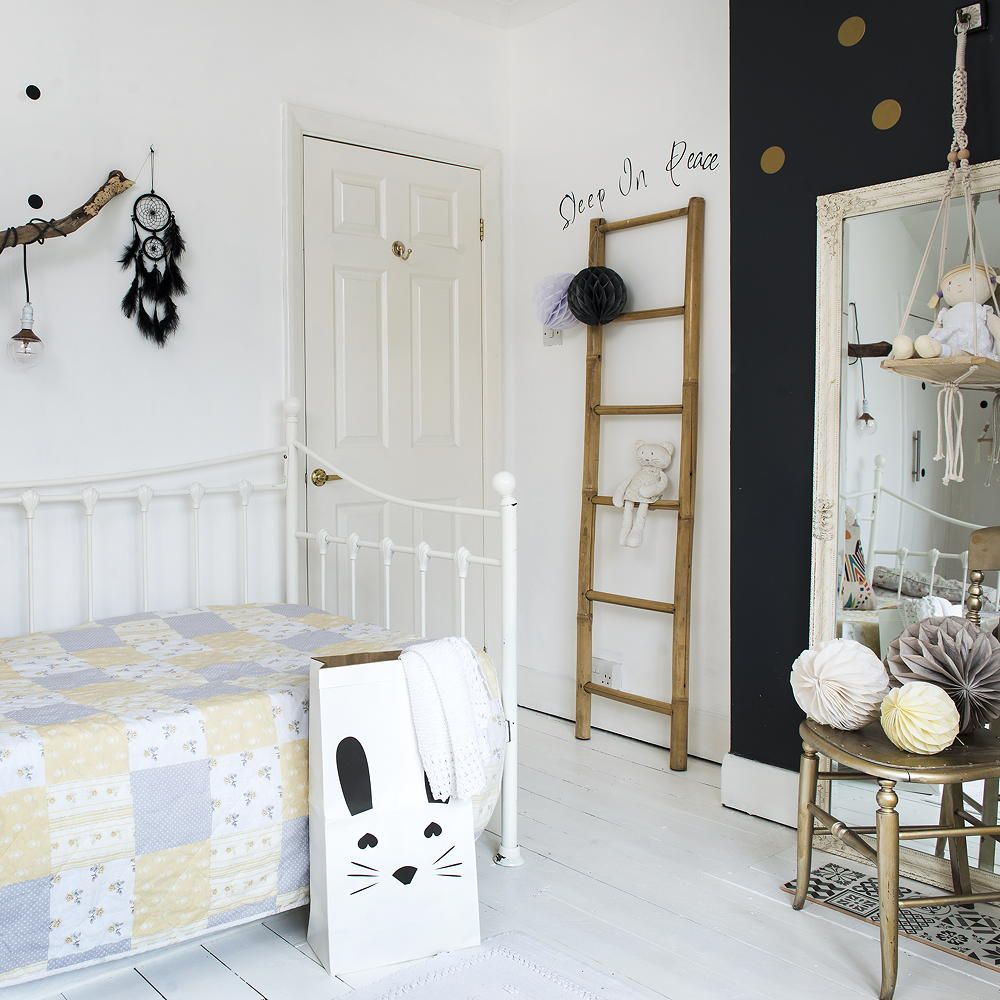 A monochrome colour scheme is perfect is your daughter isn't a typical girly girl. It is a simple way to create a neutral room, without sticking to a stereotypical white bedroom idea. Keep the black to one feature wall so that it doesn't overwhelm the room.
A few clever accessories like the light fitting made from the branch and dolly swing seat mean this space can grow with your daughter. As she moves from a young child to Instagram obsessed teen, simply swap the doll for a houseplant.
14. Take the plunge with a bright wall colour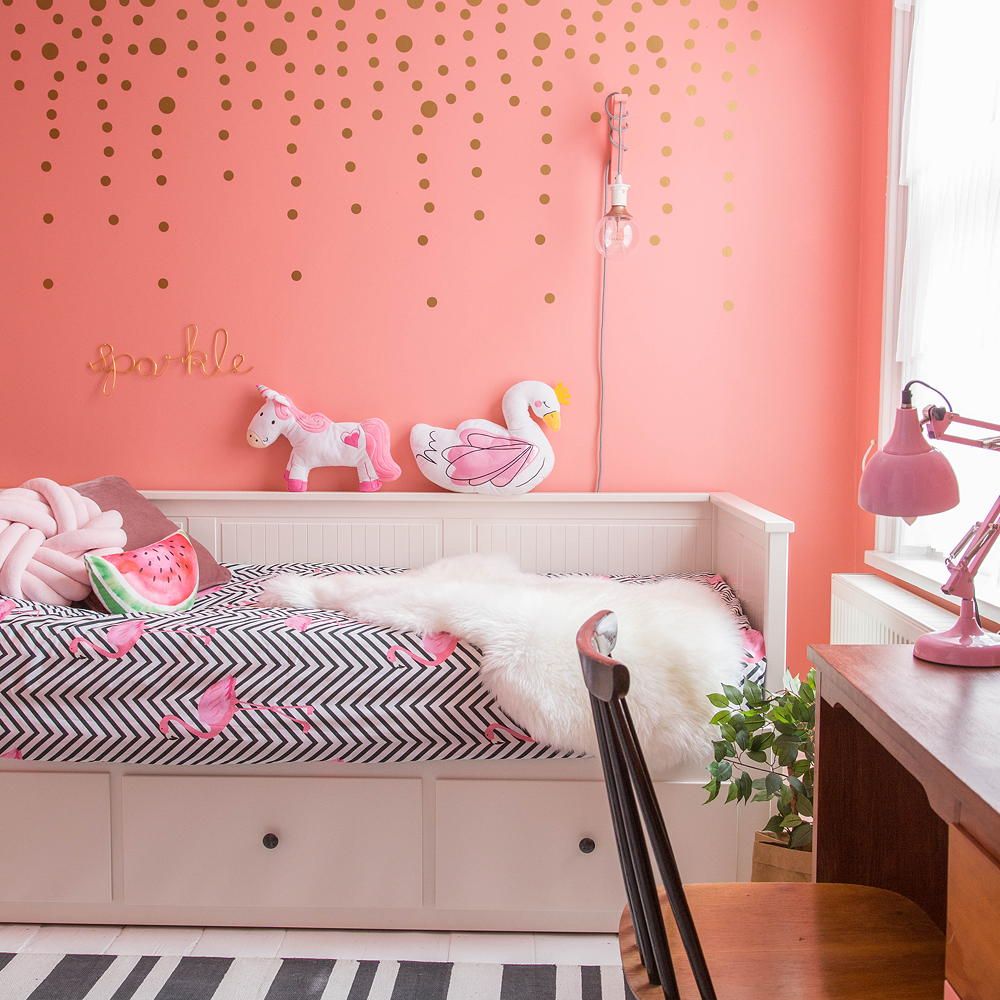 Without a doubt there is a very strong chance your daughter will long for nothing more than a bright pink bedroom. Pick a vibrant coral or blush shade that will satisfying her pink craving but hopefully lasts into her teen years.
These gold circle wall stickers are perfect for spicing up a simple pink bedroom wall decor. However, if you find that your little girl does grow out of the pink shade don't worry, simply peel off the stickers and paint over the walls.
15. Choose a wallpaper that will grow with her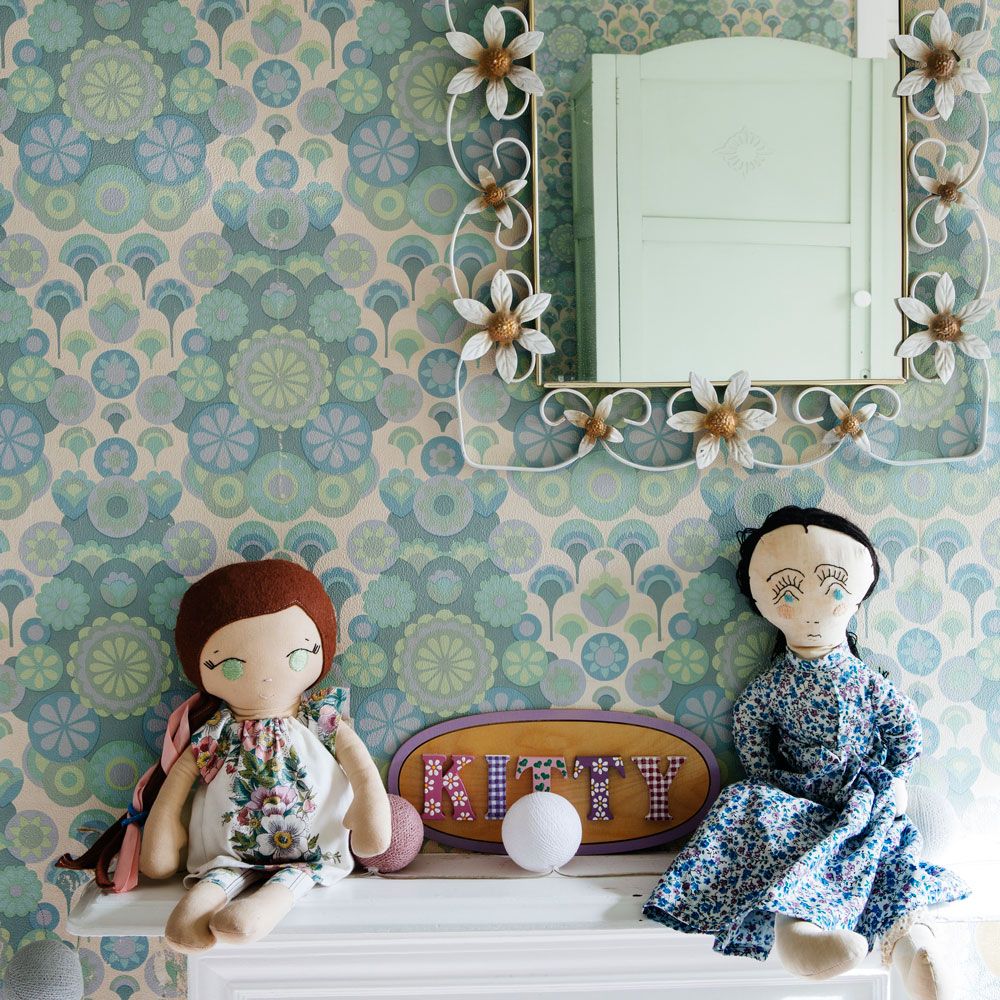 This is the sort of wallpaper that will grow with your daughter as she become a young woman. The playful retro print will be as magical to her now when she's singing along to Frozen, as it will when she's rocking out as a teenager.
All this room needs to make this leap is simply a switch from rag dolls to photos of friends.
16. Showcase personality with a gallery wall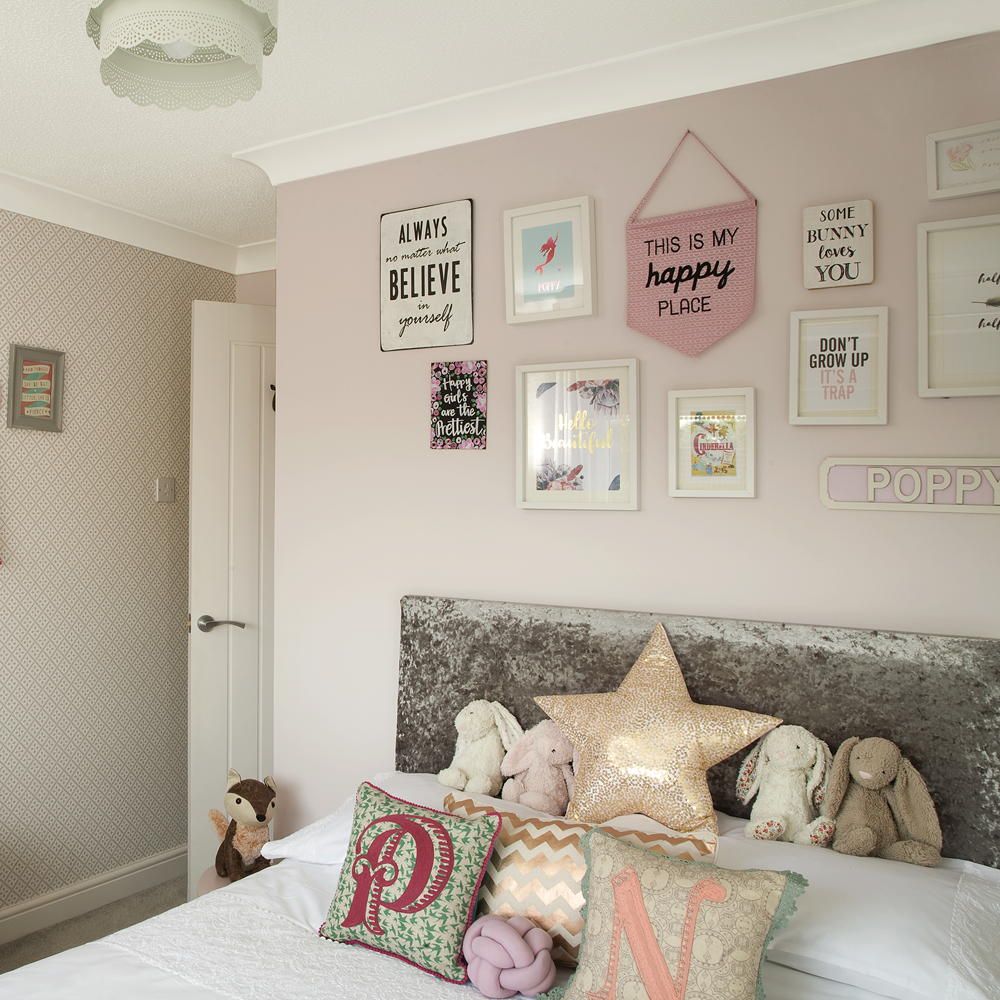 Whatever their age, add some personality to their space with an art gallery-style wall display idea. For younger girls framing their favourite fictional characters, quotations or posters will make them more emotionally drawn to the space.
Likewise for older teenage girls the same can be said for framed photos of loved ones. It's all about making sure the space reflects their developing personality.
17. Build a den for bedtime stories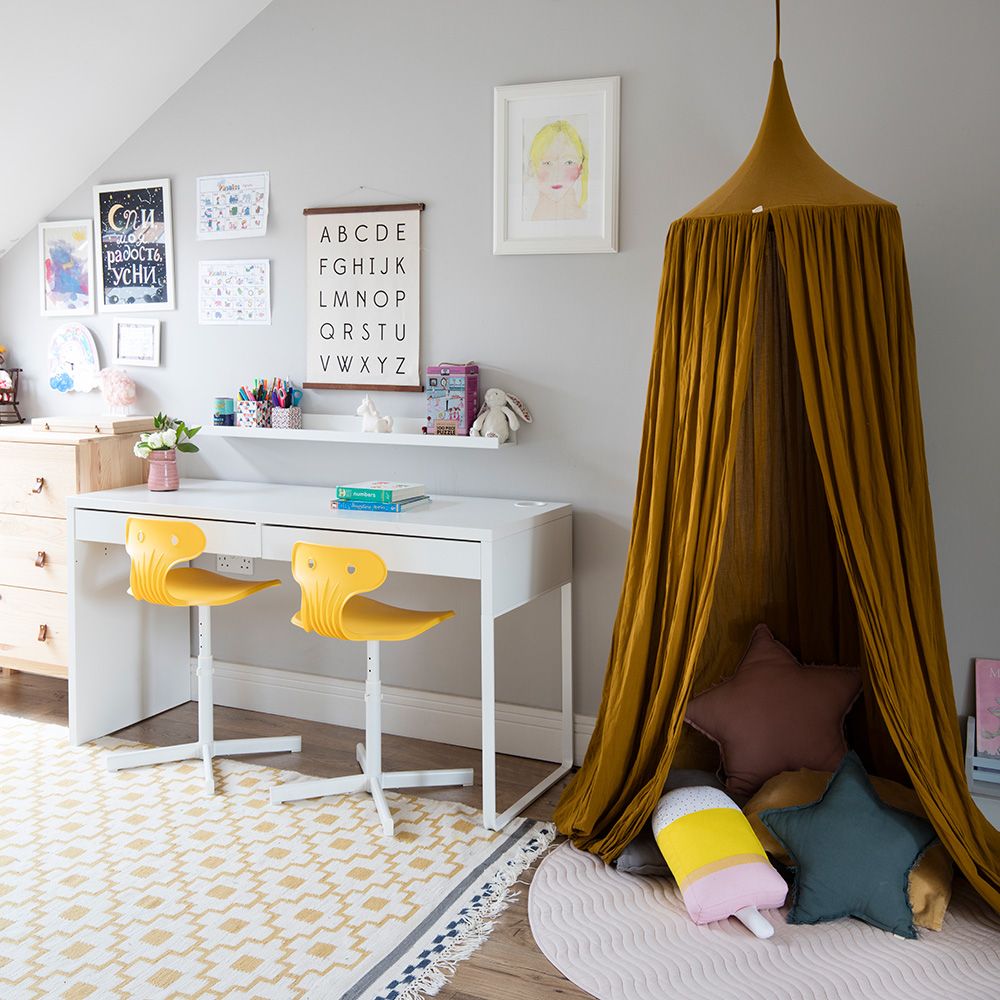 This shared loft room has areas for sleeping, reading and art. Grey walls are easy to update with colourful accessories when your little girl wants a change.
However, the crowning glory of the space is the hanging canopy, which makes a great reading corner idea for bedtime stories. Add a rug and cushions to cuddle into.
18. Turn a chest of drawers into a work of art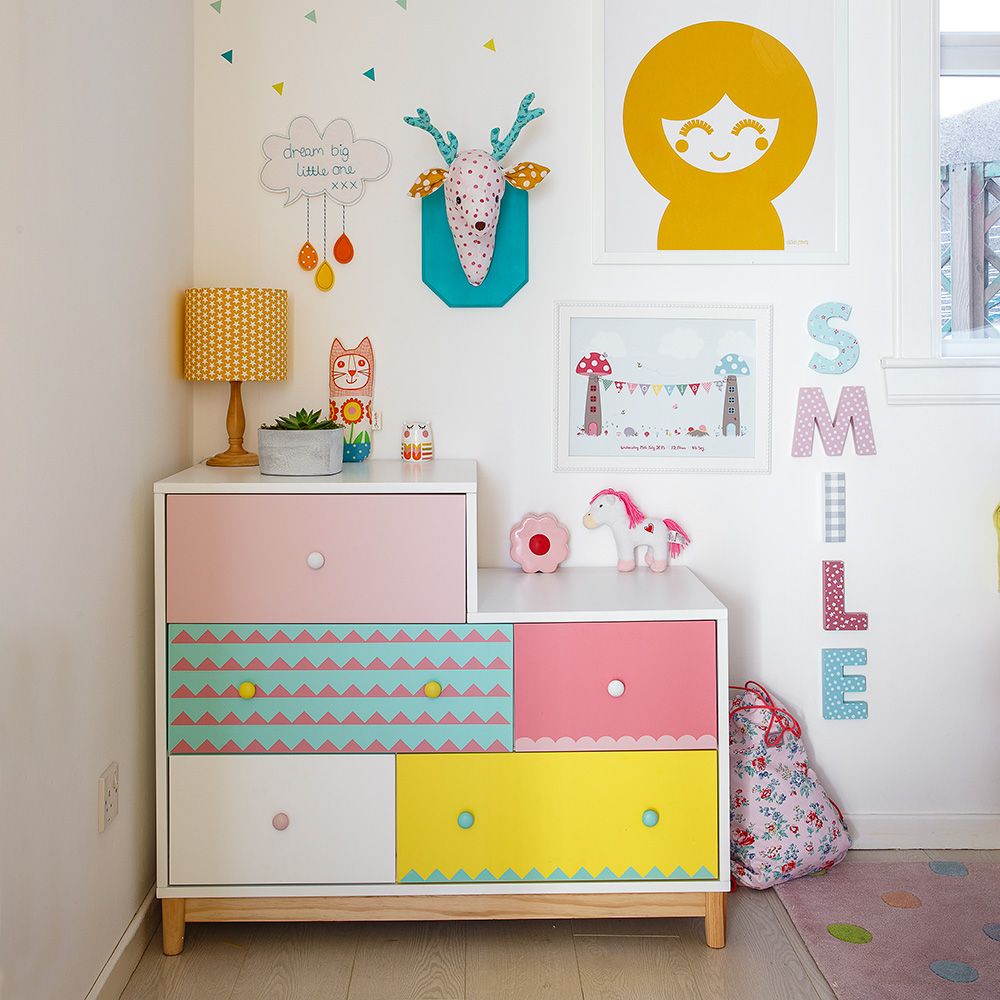 Pick up a simple untreated chest of drawers – if you're buying new, try Ikea's TARVA range, otherwise check out local furniture shops and flea markets. Then pick out some tester pots, but stick to a palette or no more than four or five shades.
Paint freehand – or make life easier by creating a stencil from stiff card in simple geometric patterns.
19. Pick a grown-up theme she can grow into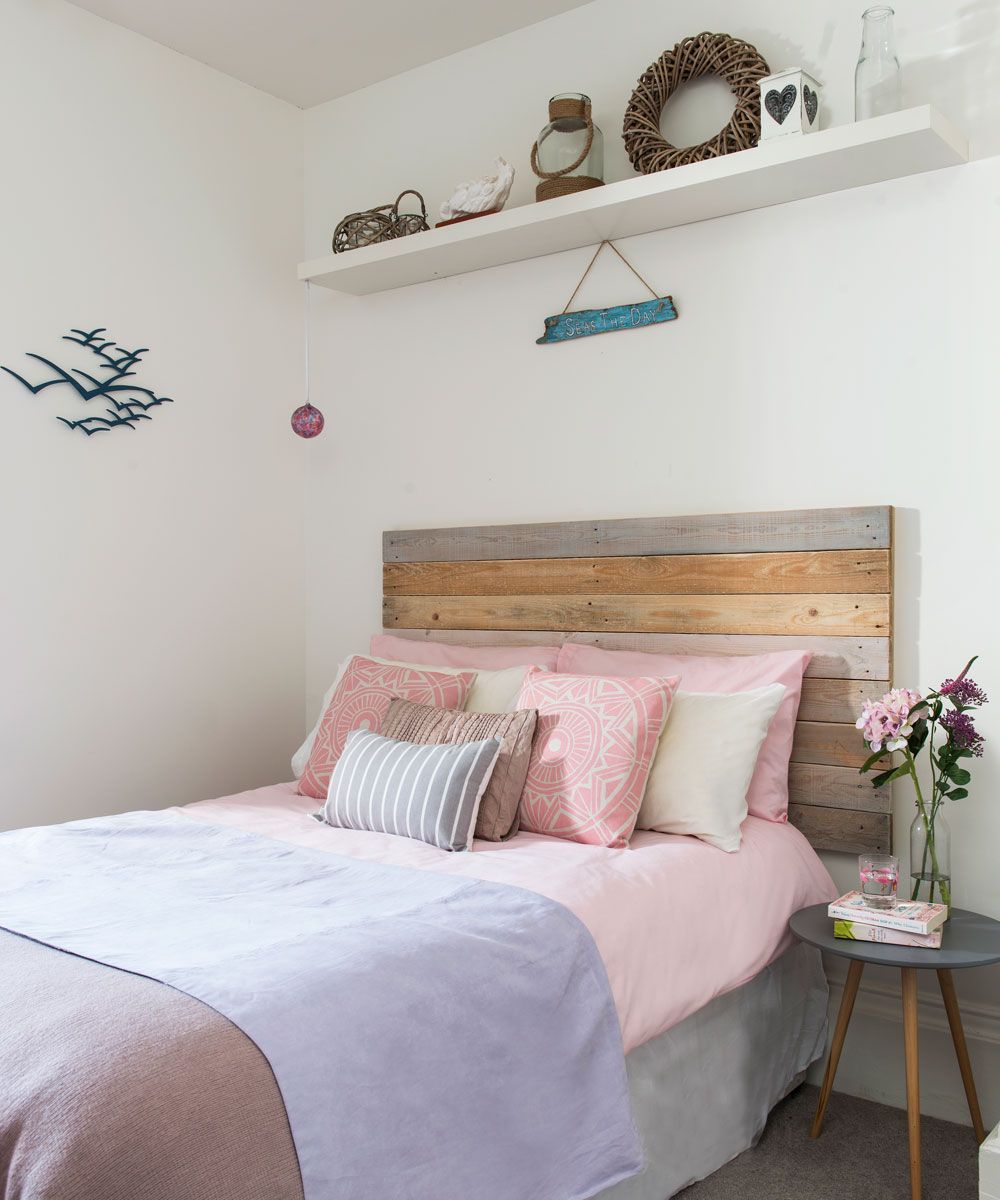 She may have grown out of the pink fairy look, but that doesn't mean your daughter is ready for boring beige. Give her scheme a touch of grown-up glamour with weathered wood furniture and Scandi-style accessories.
This simple DIY headboard idea can be easily recreated with pallets and different coloured wood stains.
20. Paint a backdrop to imaginative play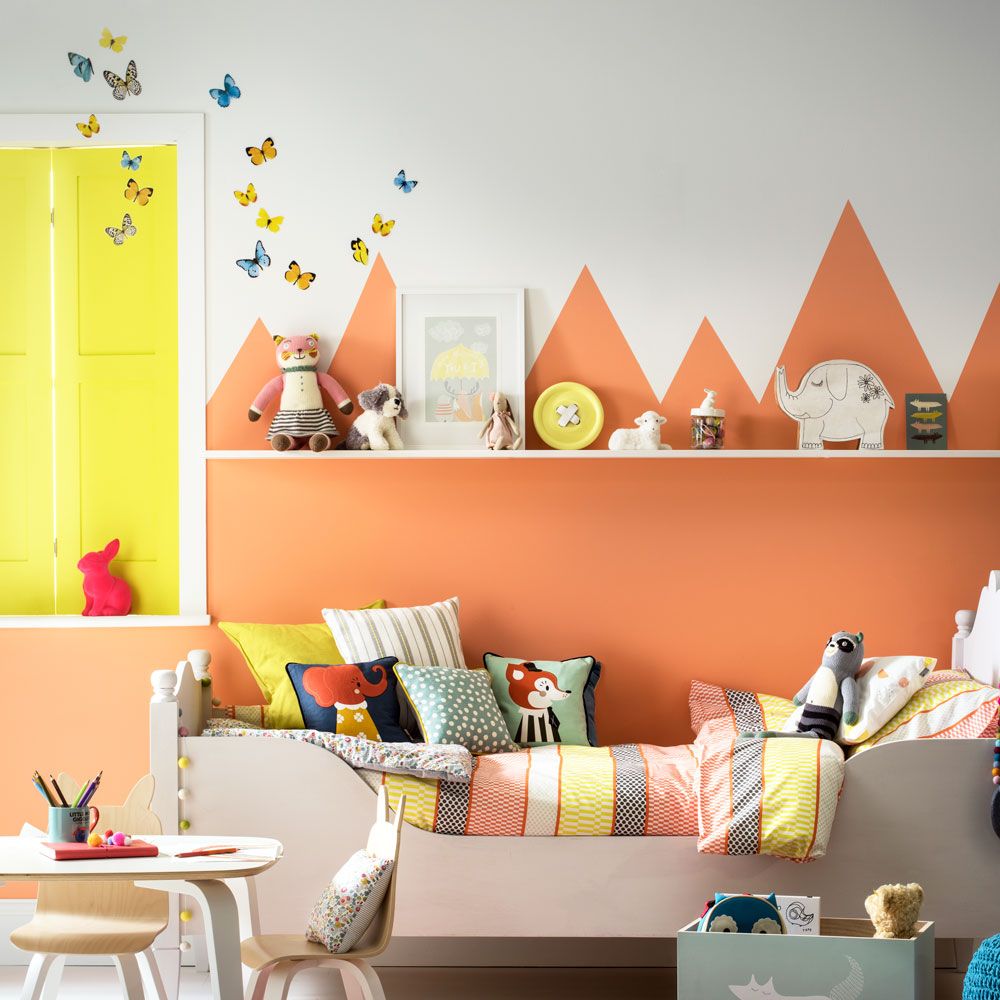 You don't have to have amazing art skills to paint a wall mural that will stimulate your little girl's imagination. Use Frog Tape to mask off triangular 'peaks', throw on some orange or green paint, and suddenly, you're up in the mountains thanks to this fun paint idea.
21. Add clever storage for clothes, toys and more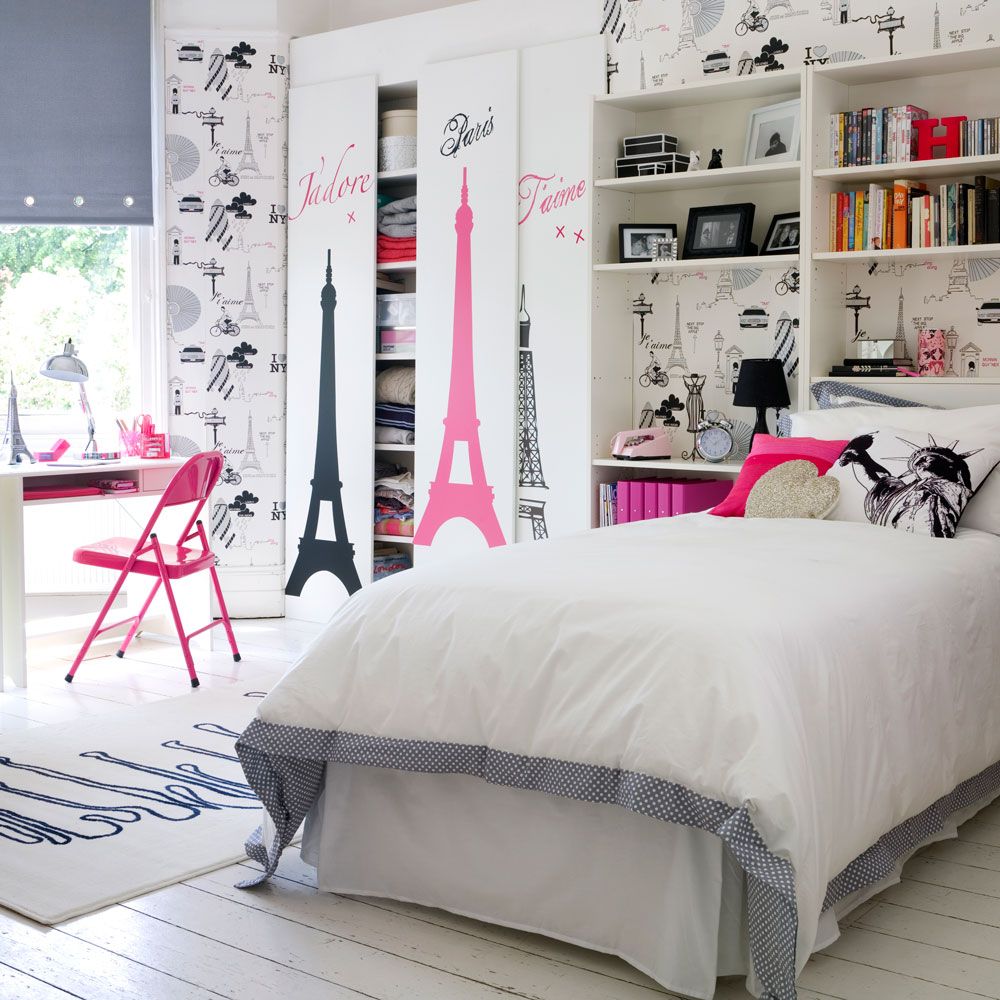 Girls come with a lot of stuff, so fitting as much children's room storage into the space as you can is essential. Build shelves in alcoves with flat, sliding doors to conceal what lurks behind.
Shelves behind the bed double as a bedside table and provide room for books and shoes. If it's time for a new bed, buy a divan with storage drawers under it.
22. Accessorise without blowing the budget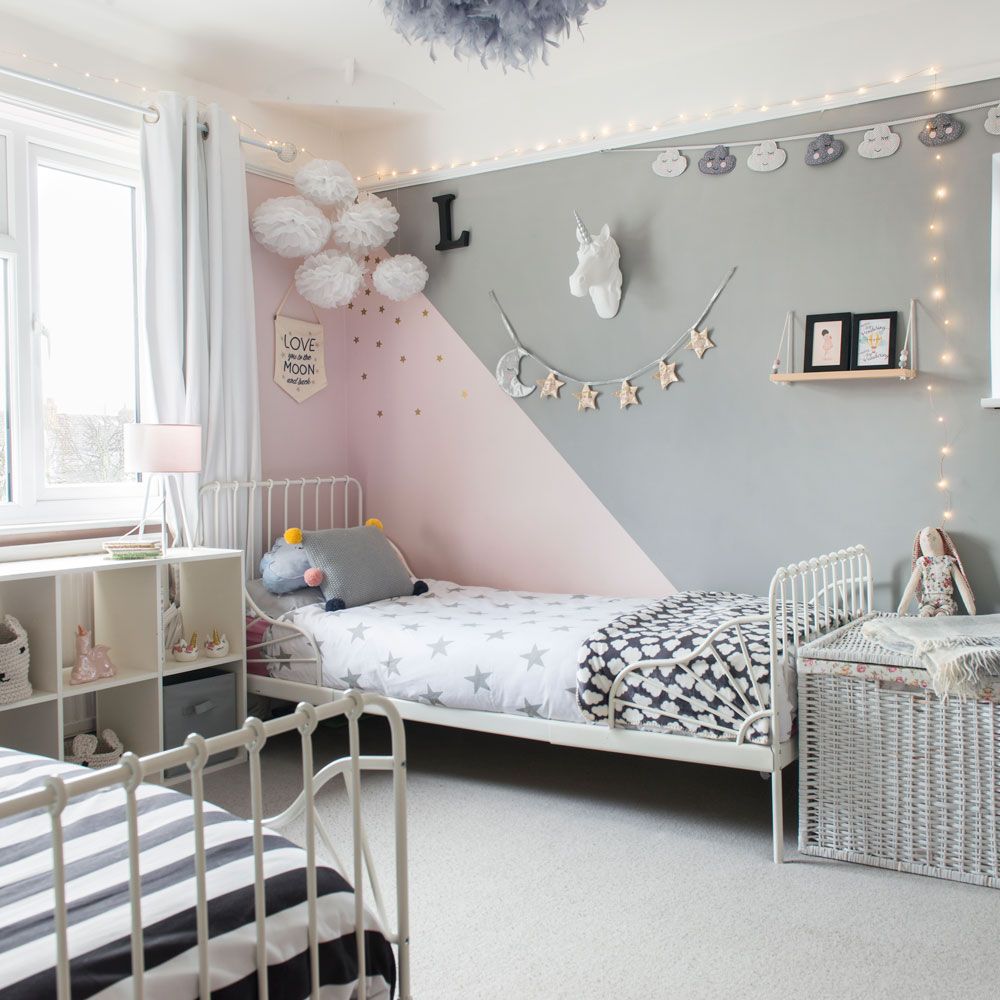 If looking for girls bedroom ideas on a budget, go for inexpensive accessories that you won't mind giving to charity shops when she wants a new theme for the room.
Keep the look classy by sticking to a simple colour palette, such as greys and blush pinks, so the room exudes city chic, not tourist tat.
23. Add a roll-out bed for sleepovers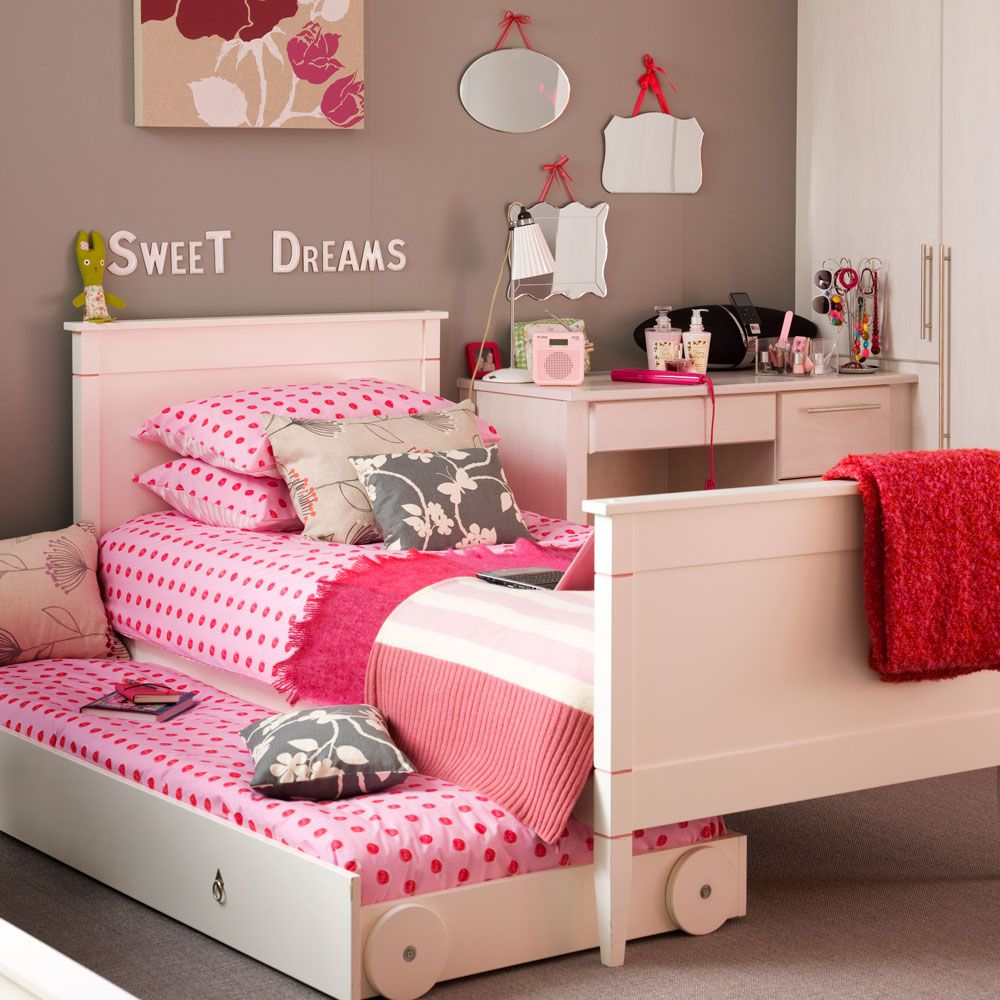 If space is an issue, a bed with drawers underneath works really well as you can never have enough storage in a child's bedroom.
Alternatively, one that incorporates a pull-out bed underneath is ideal for sleepovers. If space is tight, try adding mirrors above a desk to give the illusion of more space.
24. Stimulate their senses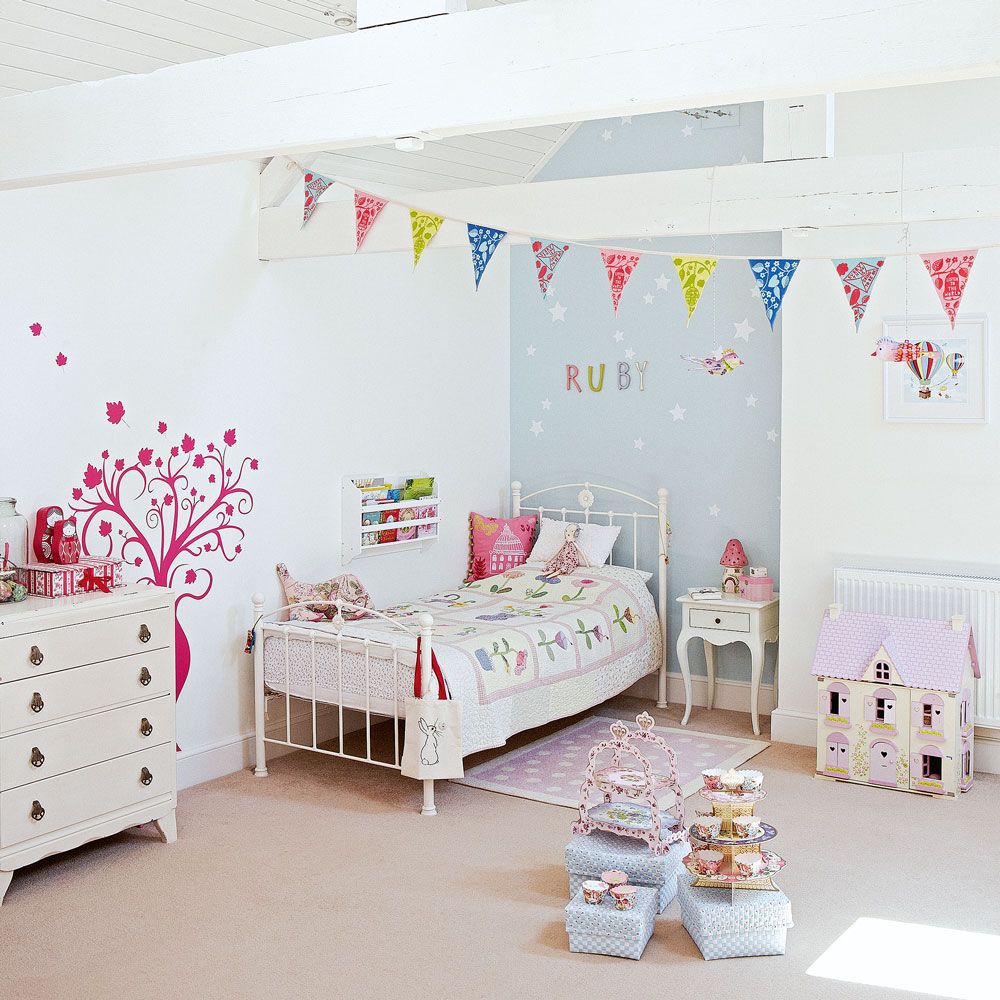 Imaginative play can help bring a sense of fun and fantasy to a children's bedroom. Keep some role-play toys, such as mini kitchens and shops, within reach, so children can spontaneously decide when to use them.
How do I decorate a girls bedroom on a budget?
The first element to think about is the walls. 'Keep them pared back or age-neutral so the backdrop can remain as girls bedroom ideas change as they grow through themes and interests,' says Rachel Homer, interiors writer and mum of two. 'When it comes to furniture invest in a set that will again last them into their teens or update pre-loved furniture in their favourite colours.'
Think about ways to update the space with things you already have at home. Left over paint can be utilised to create a feature wall or 'headboard' on the wall. Excess fabric can be used to make new cushions for the bed and pieces of furniture that might not be quite right in other rooms of your home, might work better in your little girls room instead.
How do you make a girls room pretty?
There are lots of ways to add pretty through girls bedroom decorating, like with cute accessories or with hanging lights. Opt to use floaty or embroidered fabrics for curtains and on cushions. Hang delicate fairy lights from walls or over the bed to create a twinkling canopy. Frame cut offs of floral wallpapers to create a cute gallery wall.
How do you style a girls bedroom and add character?
As it is their room, ask them to get involved. Start a girls bedroom ideas board on Pinterest (or ask them to show you how). That way you can teach them how certain colours and themes work together. Personalise the space with their own photos and framed artwork.
Look for interesting alternatives that will create a feature such as a striking bed or window treatment idea. Chrissie Harper, Customer Experience Manager at California Shutters explains, 'Brightly coloured shutters make a great alternative to a feature wall, and a vibrant shade can bring a playful touch perfect for children's bedrooms.'
'Bold statement colours such as yellow, blue, orange and pink are ideal for creating a focal point. Use a matching paint colour on the surrounding walls or add a statement wallpaper to make a real impact.'
How do I keep a girls bedroom tidy?
As well as usual storage such as shelves and furniture, make organising exciting by making fun labels with them for storage bins. Decorate and display pretty sweet or candy jars on open shelves to hold little 'knick-knacks' and accessories.
Another fun angle of girls bedroom ideas is to make belongings part of the decor, for instance, hats and jewellery will look decorative hung in a line on peg rails. Lastly, make storage easily accessible so your child can easily clean up on their own when asked.
Get the Ideal Home Newsletter
Sign up to our newsletter for style and decor inspiration, house makeovers, project advice and more.
Jennifer is the Deputy Editor (Digital) for Homes & Gardens online. Prior to her current position, she completed various short courses a KLC Design School, and wrote across sister brands Ideal Home, LivingEtc, 25 Beautiful Homes, Country Homes & Interiors, and Style at Home.