40 Christmas living room decor ideas to transform your home for the festive season
Take inspiration from our round up of seasonal styles for your living room, to ensure your home is the best dressed ready for the holidays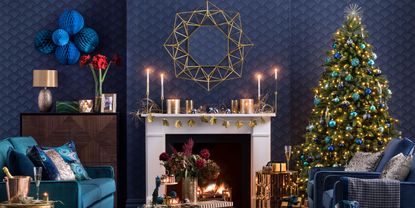 (Image credit: Future Plc/Dominic Blackmore)
Our living rooms tend to be the hub of most homes come the holidays so if you're looking for Christmas decor ideas to ensure it looks it best for the festive season, you can rest assured that we've got all the inspiration you'll need.
After all, it's the room where your Christmas tree lives, where you cosy up to watch Love Actually for the upteenth time, and where you collapse on the sofa after one too many bites of cheese. Creating the perfect Christmas living room decor idea is not only a fun afternoon for all the family, but will give you a space to bask in the holiday spirit all season long.
Christmas living room decor ideas
Whether it's designing a daring colour scheme, matching your living room to the Christmas decor ideas around the rest of your home, or simply adding subtle touches to the shelving, there's a way to make your living room as inviting as Santa's grotto.
Give your home some festive flair this holiday season with our gorgeous Christmas living room decorating ideas to find the perfect way to decorate your lounge this Noël.
1. Opt for sophisticated neutrals
Nothing says Christmas more than glittering golds and shimmering silvers, both of which go beautifully with a neutral colour scheme. Swap out sofa cushions and replace with embellished and beaded options, all in burnished shades of pewter and rose gold.
When it comes to Christmas tree ideas, choose a frosted fella and add decorations of icy pinks and muted golds nestled among lengths of warm white fairy lights.
Make a simple centre piece for your coffee table by displaying additional baubles and decorations in a large mercury-effect bowl, and pop tea lights in glass jars beside it.
2. Plump for Peacock
For a luxe look that doesn't shy away from the limelight, opt for shades of cobalt blue, teals and deep navy, paired with plenty of bright golds. Dec the tree with embellished baubles in these same shades and accessorize your space with candles of all shapes and sizes.
Elegant taper candles lined up along a mantelpiece will throw twinkling candle light onto glittering decorations while mirror-topped side tables will also create a feeling of high-end luxury.
3. Add impact with pops of colour
One of the many wonderful things about decorating for Christmas is that there really is a theme for everyone. Some people love to go all-out, while others prefer a slightly more subtle approach. The majority of us are probably somewhere in the middle, and there are so many ways to go middle of the road without sacrificing on style.
If you have a white colour scheme, a few carefully considered pops of colour will make all the difference in creating the perfect Christmas living room decor. Choose larger than average cherry red baubles to punctuate the tree, filling gaps with white or clear decorations.
Follow the red through onto the Christmas mantel decor. Or even choose to finish your gifts with a red ribbon. By simply adding pops of green foliage elsewhere, you've easily achieved a perfect Christmas scheme without redoing the entire room.
4. Use shapes for cohesion
There are so many ways to create cohesion in a space, but the main three are colour, texture and shape. The first too are fairly explanatory, but shape can be harder to work into a scheme. Apart from, that is, at Christmas.
Choose your favourite festive shape - stars being our choice as repeat this over different elements of your Christmas living room decor. Think wall hangings, tree toppers, ornaments and wrapping. Some of the best Christmas lights also come in a variety of festive shapes. We especially love the Osby Star Light Trio, £39.99, Lights4Fun.
5. Decorate from top to toe
Creating your Christmas living room decor is one of the few opportunities you really have to go all out. Make the most of the fun by decorating from the floor right up to the ceiling.
Set larger decorations you might otherwise use on shelving on the floor, alternating and varying heights to create interest. Take the eye upwards by draping a garland across the top, and down the sides of the window frame, rather than the traditional mantel. Finally, finish the look by hanging statement decorations from the ceiling.
Sticking to paper options, like these gorgeous Hanging Paper Decorations, £15, at Dunelm, which can be gently attached without damage using washi tape or light command hooks, means you don't have to worry about decs falling or paint chipping. Perfect for Christmas wall decor ideas to make a seasonal statement.
6. Have a living room disco
Bring disco to your front room to set the scene for Christmas party ideas for hosting the best festive soirées. There are two main ways you can achieve this. Firstly, you can go for an all-over, mirror-balled, glitter-laden look in every spot.
On the other hand, by lavishing all your party magic simply on the tree you won't be overwhelmed or get tired of the theme too quickly. Plus, it will have more impact as it becomes the focal point. Easier and delivers the most. Win.
When creating this kind of Christmas tree, although it may seem like there's just everything everywhere, when you look closer you'll see that a few simple tricks help it stay chic.
'I recommend winding warm lights around the trunk of the tree to give a wonderful glow,' advises Jason Billings-Cray, Christmas Buyer at John Lewis & Partners. 'Then additional lights around the outside of the tree will add sparkle and help light up all the beautiful baubles.'
'A good rule of thumb for a balanced tree when adding baubles is to work with around six of the same decoration and zig zag them down the tree starting with plains and then working in the more decorative pieces and your favourites last in your eye line,' adds Jason. 'Clips, stems and unusual shapes are another great way to give your tree texture and interest.'
7. Keep it cohesive
Be easy on yourself when considering your Christmas living room decor. There's no need to take down everything non-festive, or hide it all away behind fairy lights and ivy galore. Instead, find beauty in the eclecticism.
Rather than moving around your favourite pieces on your bookshelves, simply add in pretty Christmas extras. To enjoy the differences without having too much of a clash, look to more abstract shapes. Think paper waffle spheres, geometric cut outs and coloured pyramids which hint at the shape of a Christmas tree.
This is an easy way to create a strong look, but also it's a fab budget Christmas decorating idea, too.
8. Go for deep but muted tones
Jewel tones and dark schemes are always a glam way to go for Christmas, but they're not for everyone. The brighter ruby shades and sapphire moments may be overwhelming to some, especially around the rest of the year.
A great alternative is to take everything just that bit duskier. Think a garnet-esque maroon wall, a slightly paler emerald on the upholstery. These shades are also easy to find both in decorations and in festive plants, so you can co-ordinate without issue.
As it's a slightly more grown-up look, ensure you tie in your fireplace too, to make sure it's a properly finished and cohesive space.
9. Choose a green theme
Green is going absolutely nowhere in interiors- from walls, to furniture to accessories, it's a popular shade across all living room ideas for a reason. Not only does it look great, but because it reminds of as nature, it's actually said to make us calmer and even more creative.
Put that creativity to use in a green room by using it as the basis for your Christmas living room decor. Match your baubles, decs and wrapping to the shades already in the room. Metallics and whites are great to pair with this for a contemporary look, but stay away from adding reds unless you want to take things in a more traditional direction.
10. Mix whites and blues
The white tree and muted, Christmas colour scheme is a popular one, but why not mix it up a little.
Embrace white across the tree, tree skirt, walls and lights to set the scene. The difference comes by adding unexpected moments of soft, pastel blues. This creates more interest in the look, but as the two colours aren't miles apart in the colour wheel, they appear gentle to the eye.
11. Embrace rustic style
In more rustic, country-style living rooms, make sure your Christmas decor enhances the theme. Traditional Christmas decorating ideas are a great place to start from when designing your look.
'For understated style, hundreds of fairy lights and a handwoven wicker tree skirt are all you need to enhance the natural beauty of the tree while adding festive sparkle,' says Sandie Wallman, Founder of Nordic House. 'If you're keen to introduce decorations, hang different sized glass baubles in a classic colour such as red, green or even transparent to increase the luxe factor while maintaining a gentle and elegant appearance.'
12. Find comfort and joy
A great way to add festive cheer without going completely overboard is to introduce lots of sumptuous textures. Add depth to your living room by adding rich velvets, plush comfy tweed and a super soft rug to warm tootsies up.
A luxe look in a living room calms the soul, especially when there's a touch of timber to bring it back to the country vibe. Tones inspired by nature help to get the look relaxed and effortless. A black wall, graceful furniture and refined details create a dark and handsome backdrop for select gatherings.
13. Embrace paper crafts for decorating
Paper crafts are a great way to involve the whole family, by making your own paper decorations. Fun and budget-friendly homemade paper decorations can be used to finish off any Christmas decorating scheme. From tree toppers and stars to jazz up the mantelpiece, to playful honeycomb balls to place around the base while there are no presents. The possibilities with paper are endless. Paper chains, garlands and more, there are plenty of ways to add a homemade touch with paper crafts.
14. Add a pretty touch with pastels
Make a style statement by matching your decorating scheme to the colours on the walls. This approach to seasonal decorating allows an understated scheme make a statement, without overpowering the rest of the decor. Pretty pastels are a key trend for Christmas decorating in 2021.
15. Layer your favourite brights
Wave tradition goodbye by embracing your favourite rainbow bright colours, even at what is often a very classically styled time of year.
Use a bright wall as inspiration for when it comes to layering up the rest of your living room. Punchy Christmas cards, wrapping paper and wall hangings will creates a fun, energetic and carefree look. Sticking to a handful of colours, such as pink, orange, green and white, will allow you to create this theme without it becoming too clashy and unattractive.
16. Mix and match metallics
'As Christmas was very different for many last year, we can expect shoppers to be a little more extravagant with their decorating in 2021 to make up for lost time.'
Emma predicts. 'An easy way to add a bit of glamour is through metallic touches. Mixing metallics such as yellow gold, silver and rose gold helps create an eye-catching look while adding a sense of luxury by elevating standard decorations.'
'Opposing textures have also been a big trend in 2021, and combining metallic decorations with natural materials, like traditional greenery and faux furs, provides a stunning contrast.'
17. Go for all-white Christmas decor
An all-white living room can be the perfect gift when it comes to Christmas decorating. Simply add colour, play with a white-on-white palette, or, which has been done here, keep the space monotone and natural.
Take Ivy cuttings from the garden and curl them around mirrors and fire mantels, over pictures and along one or two shelves. Add a festive ambience with scented candles.
Emma Parry, Head of Seasonal Buying at Tesco suggests, 'To keep white furnishings and accents from looking flat, bring life to this trend through interesting textures, like sequins or soft fabrics, or pieces inspired by nature, such as faux flowers and trees.'
'Soft furnishings like throws and cushions also help to bring a cosy feel to a room that could otherwise feel quite cool. Create a true winter wonderland by adding height to your interiors with tall statement furnishings and trees covered in white decorations or faux snow, helping to create an enticing and illustrious ice palace feel.'
18. Set up a temporary bar
An elegant sideboard is the perfect spot to serve drinks from, plus it's perfect for tucking away all manner of paraphernalia. Be sure to have a lamp or candles to create a pool of diffused light.
If you've chosen vibrant colours like this aquamarine armchair or a purple rug, add coloured glass or ornaments to echo the tones and create a harmonious finish.
19. Get moody with monochrome decor
The graphic power of black and white is always arresting. White card wreaths and a modern tree keep this festive living room scheme looking minimal and contemporary.
20. Hang a statement wreath above the fireplace
Wreaths aren't just for the front door, they look wondering over fireplaces or in pride of place on a feature wall. This supersize copper version makes a statement with foliage woven with fairy lights, eucalyptus, dried orange slices and berries. Not only does it look beautiful, but it will make the room smell gorgeous, too.
21. Decorate the alcoves
Anchor the rest of the living room decorations by way of styling the alcoves. Using the shelving either side helps to balance the decorations on the mantelpiece. Embracing the extra space, to add simple decorative touches to tie in the focal Christmas decorations, stops the decorations look at odds with the rest of the room.
You don't need to go OTT with this idea, it's incredible what a difference a few simple lights and hints of foliage can make.
22. Create a warm welcome with jewel tones
Accentuate the ambience of a roaring fire by decorating with warm spiced tones and jewel colours. Warming shades of seasonal clove, nutmeg and cinnamon helps to enrich the look and bring a touch of sophistication to your living rooms festive decor. Adding hints of precious metals helps to reflect the colours further. Pairing with vibrant coloured furniture anchors the whole scheme.
Against a fashionable backdrop of brooding dark paint the colours pop all the more.
23. Keep things natural with foraged foliage
Make the most of a rustic living room by bringing the outside in with branches of fragrant evergreen and pine cones. When choosing where to position your decorations think about where the focus of the living room will be – the tree, fireplace or coffee table – and plan around it. Here the coffee table is the focus of the room, laden with foliage, baubles and a pillar candle.
Why not add a bowl of homemade potpourri? 'Tie bundles of cinnamon sticks and pop them in a bowl with pine cones and a sprinkling of cloves for a festive pot pourri,' Tara King, Style Content Editor at Country Homes and Interiors recommends.
Emma Parry, Head of Seasonal Buying at Tesco adds, 'Garlands and rattan decorations are easy and affordable ways to introduce this trend into the home, as both utilise natural materials and textures.'
'In terms of colour scheme, classic Christmas hues layered together are central to this theme - forest green and berry red evoke scenes of evergreen woodlands synonymous with this time of year.'
24. Give a dark room a golden glow
The tree, candles and cut glass champagne glasses are the only Christmas touches in this room, and while relatively minimal they are more than enough to add a merry look to the space. The tree has been placed in a black streamlined pot to tie in with the dark grey walls. Warm white fairy lights give the tree a soft yellow glow that brings out the golden yellow tones in the cushions on the sofa.
Paper decorations have been layered with glass baubles and silver dipped pine cones to create a tree that is literally dripping in texture. Even the gold and navy wrapping paper has been colour coordinated to compliment the room.
25. Set the scene with a simple centrepiece
You don't have to make a big show of decorations to make an impact, a simple display on a coffee table can set the scene perfectly.
Simple items you may already have on display, such as a hurricane lantern can be made to feel festive with the simple addition of some twinkling lights and a cluster of rustic pine cones. A small tree ornament can be added to the display to cement a truly Christmas vibe.
26. Pair panelling with a traditional colour scheme
If you have a traditional living room, perhaps with wall panelling ideas, complement it with a traditional berry red and green colour scheme. The beauty of this mis-matched traditional decorating style is that you can easily add to your collection of ornaments over the years, layering them together to create an eclectic but elegant tree.
Scatter bunches of eucalyptus and red berries along the mantlepiece. Make the most of a high ceiling by wrapping foliage around a piece of string and hanging it down the wall ready to attach Christmas cards to.
27. Embrace a neutral base with baubles in white and silver
Stay true to your neutral decorating style by going for a paired back look with your decorations that add just the right amount of sparkle. The owners have decorated their tree with statement large baubles, which are set to be a big trend. They have stuck to a silver and white theme so that they complement rather than rally against the living room interior.
The foliage hung over the mantlepiece adds a splash of vibrant green, whilst keeping to the naturally chic theme.
28. Create a festive feature wall
This woodland wallpaper is beautiful at any time of year, but teamed with festive mantel decorations and a real tree, it's a stunning Scandi-style backdrop to your Christmas celebrations. With a nod to a more refined Nordic style, this look blends neat furnishings with painted and light-toned woods, wicker and woven textures.
29. Go for glamour
The crucial element here is plush texture, so pick a velvet-covered chair, a brocade curtain, a silk cushion... or all three! Furniture should be metal and glass, but if wood works for you, go with dark walnut. You could also paint existing pieces dark grey to make them fit in.
30. Match your decs to your furniture
Mismatched colourful sofas are all the rage right now. If you have them at home, try dressing your tree in the same shades as your upholstery to bring the whole room together. Add votives in these colours, too.
31. Introduce a midas touch
Don't be afraid of a little bling! From soft, aged tones to brassy and rich bronze shades, gold adds warmth and elegance. It's a no-brainer at Christmas, but gold can be used as an accent colour all year round to lift and finish a simple room scheme.
32. Add in some winter warmers
Layer up the cosiness with woollen blankets and cushions for fireside armchairs. Keeping additional throws close to hand in baskets or blanket boxes will allow your guests to snuggle up on sofas, armchairs and window seats without having to ask. Look for Christmassy designs in keeping with your furniture and your tree for a room scheme that looks effortlessly co-ordinated.
33. Don't forget the holly and the ivy
Give your living space the traditional Christmas treatment and opt for a classic red and green colour scheme. A real tree is a must for a modern country home, festooned with deep crimson baubles and folk-inspired paper ornaments.
Continue the theme onto the walls with a sage green matt paint and dress with a red berry wreath. Add a few mismatched cushions in winter florals, a cosy scarlet throw and framed prints to finish the décor.
34. Let it glow!
Use warm honey-coloured Christmas lights, ornamental candles and firelight to create a deeply rich and cosy scheme. Even a pared-back traditional room will come to life with a festive ambiance when dressed in toffee colours and yellow gold.
Black and white baubles add contrast and crispness to the look. Stick to your monochrome and metallic palette when wrapping your presents for the ultimate finishing touch.
35. Go far out with foliage
Be bold with fresh foliage to make a big impact in a white modern living room. Stick with evergreens such as eucalyptus and ferns for fragrance and longevity, then go supersize for a playful twist on the traditional festive wreath. The simple colours evoke the snow-topped forests of Scandinavia, working well with the soft grey sofa and faux fur throw. A few festive ornaments finish the look while retaining a laid-back feel.
36. Make it yourself for a crafty Christmas
Get creative and craft rag garlands and card strings to decorate a cosy fireplace. Mix the colours of a countryside Christmas in pine green and holly red along with ditsy florals and traditional tartan in stockings and throws. Carve rosy apples into tea light holders for another shot of red and dress the mantel with cheery cyclamen and eucalyptus.
37. Transform an old favourite
Create a festive focal point by taking over a bookcase with a display of Christmas curiosities. In this modern white living room, alphabet mugs spell out a message to Santa while stags, cats and bird sculptures peep out from behind ornamental trees and deep green glassware.
Magical touches such as the crown and a white owl bring a hint of Narnia to the scheme that will delight children. Finally add shape and texture to your Christmas living room decor with a cluster of honeycomb paper spheres in a variety of sizes.
38. Decorate with copper and rose gold
Tap into the colour trend of the year with rose gold accessories and tree decorations. Create a beautiful focal point at the over mantel mirror with an abundance of long tapered candles in different metallic finishes. A few generous copper baubles will tie the tree in to the whole room's décor and create a harmonious festive feeling without dominating the room.
39. Make more of a mantelpiece