35 cosy living room ideas to create the ultimate snuggle-down spot
Amp up the hygge levels with these cosy styles and expert advice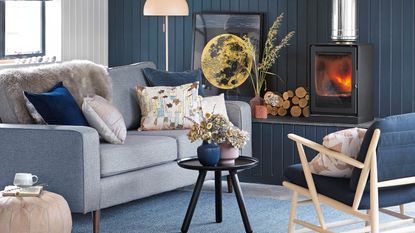 (Image credit: Future PLC/Simon Whitmore)
Baby, it's cold outside. A list of seriously cosy living room ideas, then, is an absolute must – especially if you're getting into cocoon mode already.
Far more focused on how a room feels than how it looks, as is so often the case with more traditional living room ideas, creating a cosy space to hunker down in is all about celebrating those little details.
From gentle lighting to scented candles, oh-so-tactile materials to warming wall colours, the aim here is to use a bevy of cosy living room ideas to create an indoor sanctuary. One that's perfect for nestling up in, say, with a pot of tea and some hot buttered toast...
Cosy living room ideas
You don't need lots of space (or money) to play with when it comes to making cosy living room ideas a reality; just the willingness to make a few key changes to your space.
'Texture, colour and lighting are key to creating a cosy living space,' says Nadia McCowan Hill, Resident Style Advisor, Wayfair. 'The overall scheme or colour palette will have a big impact on the final impression. A room you want to curl up and relax in comfort needs to have plenty of soft textures, complementary colours and patterns and mood lighting.'
With that in mind, then, let's dive on in...
1. Opt for a warm colour palette
When it comes to cosy living room ideas, one of the quickest ways to make a space feel more inviting is to employ the warmest of living room paint ideas.
'Warm colours have the ability to lift the level of cosiness in any room and can make you feel like you're being greeted by a comforting hug from someone you love every time you enter the space,' says Marianne Shillingford, creative director at Dulux.
'Warm paint colours are yellows, oranges, pinks and reds. But warm tones of blue which contain hints of red, like Dulux Heritage DH indigo (available at Homebase), and warm greens which contain hints of gold, like Overtly Olive (available at Wickes), can give your room a snug feel, too.'
2. Create a sofa cocoon
One of the cosiest of cosy living room ideas, Mrs Hinch's sofa cocoon has inspired all of us to try and transform our humble three and two-seaters into hibernation destinations.
Basically, you'll need to create a human sandwich out of two outrageously fluffy blankets, layer up some faux fur cushions, and a footstool to prop your tootsies up.
And, while Mrs Hinch sticks to a strict neutral colour palette, feel free to have fun with yours: think rich reds, dark greens, and toasty chocolate browns, to help get you started...
3. Create a gallery wall
When it comes to cosy living room ideas, you really don't have to redecorate to add warmth to the space: instead, you can get clever with some living room wall decor to add depth and impact.
'You don't have to spend a fortune on original paintings either – create an eclectic gallery wall of framed prints by your favourite artists, exhibition posters, vintage finds and the kids' masterpieces from school,' say the experts at John Lewis.
This is a particularly excellent idea if you're renting, as you can take your cosy feature wall with you to your next home.
4. Try your hand at scentscaping
Plenty of people have been inspired to give their home a signature scent of late – so why not make the most of this sensory experience to add some oomph to your cosy living room ideas?
Cinnamon, nutmeg, frankincense, and sandalwood are all deliciously spice scents that are inspired with warmth and cosiness.
If you prefer a less overpowering smell, however, Laura Rich, product design lead at Furniturebox, says the bold oaky or waxy scents that a fire or candles give off will fill a room, making it feel more intimate and inviting.
'This is known as scent mapping and can help give your living room more personality,' she says.
If you don't have a fire or aren't a fan of candles, choose a signature scent with the best home fragrance from reed diffusers to room sprays.
5. Embrace hygge with natural materials
Rikke Blaeside, Design and Range Manager, JYSK, says one way to achieve warming cosy living room ideas is to embrace all things Hygge.
The Danish tradition is centered around creating a sense of joy and cosiness through home interiors and lifestyle, by making small changes that have a big impact.
Rikke says layering a variety of textiles to conjure up feelings of contentment and relaxation. Home accessories in natural materials such as wicker, rattan, and wood can add contrast and are an easy way to bring a sense serenely rustic living room ideas into the home.
'Combine practical and pretty wicker baskets and wood accessories with hints of metal and glass for a natural expression,' she suggests.
6. Stick to a palette of grounding earth tones
'Warm tones are the key to making living rooms feel cosy,' comments Aaron Markwell, Colour Guru, COAT. 'In brighter living rooms, choose light taupes and earthier tones for your interior scheme.'
'In more shadowy spaces, go for deeper beiges or buff pinks to add warmth without it feeling too grey,' Adam suggests. These shades are also great for adding warmth without overwhelming small living room ideas.
The colour expert explains that choosing furnishings and flooring in complimentary tones will maximise warmth while creating an elevated monochromatic look.
7. Cleverly layer textiles
As we've said, layers of soft furnishings are great for bringing the right vibe for cosy living room ideas, but keep things looking cohesive and warm by balancing patterns and plains. This will also keep your cosy space on the right side of modern living room ideas.
'Layer plains and patterns carefully,' advises Debbie Leigh, Design Manager, ILIV. 'When using bold patterns on upholstery it is best to keep the cushions plain or go for a plain fabric for the upholstery and experiment with a mixture of colours and patterns on scatter cushions.'
8. Fill open spaces with homely touches
It's not all about textures and layering when it comes to how to design a living room (although we'll never say no to a boucle armchair and knitted blanket).
Lisa Slack, Head of Product, Thomas Sanderson points out that most cosy living room ideas essentially boil down to reducing the amount of open space in the room.
'Add a shelving unit in an open space and place family photos on each self to bring a sense of nostalgia and make the room feel homely,' she recommends.
9. Make the space feel lived-in but loved
'For me, cosy living room ideas is about making it feel lived-in but loved,' says Laura from Furniturebox. 'Many modern living room trends, though stylish, can make a home feel empty and a little soulless.'
Allow as much natural light as possible, keeping your living room blind ideas open during the day so the sun cascades across the room and onto the sofa where you sit. Fill the space with your favourite books, plants and upcycled pieces of furniture.
10. Cocoon with colour drenched walls
If you're looking to introduce the latest paint trends, like colour drenching, to your living space, be bold with how you use them. 'We are seeing a move towards deep, saturated shades, darker tones that create a sense of intimacy and comfort,' explains Andy Greenall, Head of Design, Paint & Paper Library.
'This move to a cocooning, sheltered warm feeling sees colours such as blackened denim 'Kigali', charcoal toned blue 'Squid Ink' and rich and welcoming brownish-red 'Masai' rising to the fore, and being embraced not only on walls, but on ceilings and woodwork too.'
11. Create ambience with colour blocking
Get creative with on-trend paint shades. In this stylish lounge area, the room has been divided into two halves. Recreate this simple living room paint idea by using masking tape to create a division.
The brooding dark shade of blue fills the lower half of the room, great for cosy evenings in, anchoring the space. The top half is a softer aqua shade that offsets the darker blue beautifully and keeps the space airy in the daytime.
12. Keep extra layers handy with multifunctional storage
Consider smart living room storage ideas so you always have extra cosy layers at the ready. This sumptuous burnt orange footstool not only adds a plump extra seat or place to pop your feet up, but it also provides the perfect place to keep blankets.
Having a supply of layers is essential for making a living room feel cosy. Pull a throw over your legs while you watch a movie or boxset and feel the warming benefits in an instant.
13. Adjust the lights
'There are two key things to remember when trying to create cosy living room ideas, and that's lighting and textures,' says Kelly Collins, Interior Design Expert, Swyft . 'Both can be done on relatively small budgets.' Kelly recommends keeping it low level, so switch off the overhead lights and flick on lamps.
Whether a large or small space, the right living room lighting ideas can create a softer, more intimate feel. Table lamps placed on side tables and sideboards provide atmosphere and functional task lighting, for reading in an armchair for example.
While floor lamps overhead can create pockets and pools of warm light, illuminating quiet corners, and giving the space definition. Always go for dimmable lighting so you can adjust it to suit the mood.
14. Set the scene with candlelight
Nothing creates a cosy ambience quite like candlelight. If your living space doesn't have a real working fire you can cheap the feel with a curated display of candles.
Fill a central point of focus with lanterns and assorted pillar candles to create a warming glow. Always be fire safe when using candles in the home, and never leave them unattended.
15. Balance alluring tones of grey and blue
Blues can create a slightly cooling effect in a room but by combining them with gentle grey tones and plenty of texture and accessories, you can create an alluring sense of depth.
The balance of striking blue against soothing grey highlights creates an effortlessly chic cocooning decor perfect for curling up in.
16. Embrace comforting textures
If decorating isn't an option, you can still transform living room colour schemes with some new accessories. Not even new, in fact; you could choose to swap decor from another room to switch things up and make it feel more sustainable. Use warming colours in your living room to awaken the scenes.
White living room ideas can be surprisingly hygge, just add some eye-catching colour through soft furnishings, cushions, throws and a rug. Look for tactile textiles: velvet, linen and wool all have a cosy quality.
The tassels on the throw draped across this sofa above feels almost scarf-like, a design that instantly makes you think of warming layers.
17. Gather round with statement seating
This L-shaped sofa makes a big statement while offering plenty of seating for the whole family and guests to kick back and relax in.
The same convivial effect can be created by placing two sofas at right angles. Arrange some snacks on a coffee table within arm's reach and you've got a cosy evening in.
18. Insulate with window treatments
Window treatments not only provide a decorative feature but they also help to insulate a room. When you shut the outside world out, making the space feel enclosed you automatically begin to lead in to cosy living room ideas.
Lined blinds and living room curtain ideas will also add a layer of valuable insulation against the glass window panes, preventing drafts and chills from entering.
19. Go for carpet underfoot
Consider changing your living room flooring ideas to something more cosy. Carpeted living rooms will always feel warmer by nature because carpet looks more comforting, exuding a sense of warmth.
Carpet of any kind is an insulating material because it provides a protective layer on top of an underlay that covers floorboards. Any potential drafts through original floorboards are covered and therefore the room feels warmer – cosier than other flooring options.
20. Layer rugs
Don't fret if you have fashionable wooden or on-trend polished concrete flooring in your living room, you can simply add rugs to welcome extra warmth underfoot. Rugs can provide a short-term fix to making the space feel cosy, dressing the floor with tactile designs that feel sumptuous between your toes.
To add an extra cosy factor, layer rugs on top of rugs to ensure the floor is ultra cosy, and inviting for pets to curl up on too.
21. Find a warming focal point
Whether your living room features a fireplace or not, anchor your furniture around a central point. Bring your sofa in closer for the colder months to create a more intimate space – to huddle closer and create warmth.
If you have a fireplace this is ideal as a warming focal point. If not try a cluster of lanterns and candles to get the same element of natural heat.
22. Snuggle into oversized pieces
Nothing provides a sense of comfort quite like an oversized armchair or corner sofa that gives you an inviting 'hug' to snuggle into.
If you have the space, choose a love seat to take over a corner of the living room, providing a solitary space to curl up with a good book and a cup of something warming. Alternatively, don't be shy to go big with a sofa in a living room for your full family to cuddle up in. Just make sure you are smart with vertical storage to avoid taking up too much floorspace and turning your living room into an obstacle course.
23. Sit beside the fire
Wood burner ideas are always on people's list of cosy living room ideas, as they instantly evoke feelings of comfort, and, because we all draw near to a warm fireplace, it will become the focal point of your room. Move your seating in noticeably closer during the colder months to benefit further from the immediate warmth.
'Nothing makes a living room feel cosy like a wood-burning stove,' comments Jon Butterworth, MD, Arada Stoves. 'A lit fire can dramatically lift our mood. On a cold, dreary, winter's night, there's nothing more appealing than cosying up by the open flames.'
Due to their design it's safe to get closer to a log burner, because the flames are behind safety doors – with an open fire always remain at a distance and have a fireguard in place, to avoid spitting embers.
If you don't have the space or funds for a fireplace, check out all of the flickering fireplace wallpapers for your Smart TV; it's a great way to add some crackling embers (sans the smoke) to your home.
24. Dress seating with extra layers
Adopt a Scandi approach to your cosy living room ideas by dressing seating with inviting layers of extra comfort, such as sheepskin rugs and faux furs.
Easy to add seasonally, these tactile layers can instantly welcome touch of indulgence and warmth to make nights in front of the TV feel all the more cosy. Chic grey walls and smart furniture create a modern country feel in this stylish living room.
25. Seek comforting shapes
Shape and texture are just as important as colour when trying to create an inviting and cosy living room idea. This pair of upholstered wing armchairs with squashy cushions are a classic example: their rounded high-backed forms look comfortably padded and the wool fabric begs to be touched.
26. Make a white scheme feel cosy
Think an all-white colour scheme doesn't work with your cosy living room ideas? Think again.
Team slubby linens with aged teak and matt paint for a more grounding feel, appealing to the senses by creating a calm space to relax. Low level lighting from lamps will enhance the warm undertones of the best white paint shades.
27. Display firewood
Make a feature of any living room fireplace essentials to let your sense know heat is on hand. A curated log display goes a long way to set the scene for a roaring fire, where the mere thought is enough to adjust a mindset to feel cosier.
28. Introduce luxe touches with metallics
Metallic touches, such as burnished bronze and warm copper, add a warm quality to any colour scheme, particularly contrasting dark paint colours.
A metallic finish on lighting, furniture and tabletop accessories will gently reflect light back into the room – emitting a warm glow to create a cosy living room idea.
29. Welcome rustic elements
To create a cosy living room idea, choose colours and patterns that offer a rustic country aesthetic.
Country living room ideas, for example, are ideal for creating a snuggly retreat, as they tend to lead to a place filled with natural colours and textures to create a sense of calm. Unpainted beams, a log burner and wooden-legged furniture continue the rustic theme.
30. Add warming accent colours
Blue walls give this country-style room a cheerful feel while the more fiery, spicy shades of burnt orange infuse the space with warmth. Flashes of metal furniture and metallic accessories also help to add a warming reflective quality to this cosy living room idea.
31. Enrich with warming reds
Want a truly cosy living room idea? The effect of red walls is instantly warming. White woodwork and accessories freshens and sharpens the look. A rich leather sofa helps to invite warming tones, to reflect the effect of warming walls in a captivating red living room idea.
32. Pick berry shades
Select a rich mulberry tone for your walls to create a warm, intimate cosy living room idea.
Interestingly, the same hue can feel cool and calm in summer, so it really is a colour for all seasons. Layer aubergine and crimson shades with soft furnishings, from curtains and cushions to artwork and throws.
33. Enhance cosy cottage vibes
Try to create a cosy cottage living room, albeit with a few modern touches.
As seen in the cosy living room idea above, an inglenook fireplace and exposed beams can set a rustic tone, while squashy sofas, metallic occasional tables and a bold mustard wingback armchair have stylish appeal.
Dark furnishings and soft textures, meanwhile, create an intimate space for entertaining.
34. Plump for cushioning designs
Upholstered, button-back furniture is another way to create a warm and cosy living room idea. A rocking chair is also an ideal way to provide restful additional seating for a living room, to gently embrace a comforting rocking motion.
Furniture like these classic pieces can sometimes seem prohibitively pricey, so it's worth exploring home furnishing discounts to try and keep the look within budget.
35. Welcome country pattern and prints
Adding prints that are synonymous with cheerful country style (aka cabincore vibes) can be another simple way to make your cosy living room idea feel more inviting.
Choose either floral or checked prints to give your room a more traditional feel, or combine both for a more relaxed, boho style. Layer the scheme with cosy tactile textures to enhance the look.
FAQs
How can I make my living room look cosy?
You can achieve cosy living room ideas through very simple styling measures. Firstly turn down the lights, creating a more intimate ambience. 'Incorporate soft lamps and lights that are easily dimmable.
This is so you can reduce the brightness when you have completed a task, allowing for a cosy, relaxed environment to socialise in,' says David Amos, CEO, Amos Lighting + Home. Candlelight welcomes a soft light to any decor and also offers a budget idea for creating a cosy living room with minimal effort.
What colours make a living room cosy?
Warmer tones such as creams, taupes, oranges, reds and even darker greens can help create cosy living room ideas. 'All these colours will make you feel warm and cocooned in the space,' says Kelly from Swyft. 'They can either be used sparingly as a feature wall or maybe even inside of a bookcase or if you are feeling brave paint all the walls.'
'Warm tones enrich our homes and create cosy sanctuaries away from the outside world,' explains Joa Studholme, Colour Curator,