Best Christmas lights to make your house merry and bright this festive season
Let there be (Christmas) light!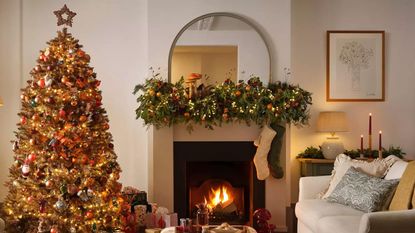 (Image credit: John Lewis )
It's never too early to start thinking about Christmas lights, especially as the nights are getting darker. That's why we've rounded up some of our best Christmas lights on the Ideal Home team's radar to turn your home into a magical wonderland.
Incorporating Christmas lights is one of our favourite (and festive) budget Christmas decorating ideas, and they'll instantly give your home a merry and bright makeover. You can decorate everything from your fireplace to your best artificial Christmas tree with these twinkling lights, and there are so many different options out there.
Yes, traditional fairy lights are definitely on the menu. But if you're on the lookout for new indoor Christmas lights that break away from the mould, we've got them covered, too.
The best Christmas lights for 2023
Why you can trust Ideal Home Our expert reviewers spend hours testing and comparing products and services so you can choose the best for you. Find out more about how we test.
Best Christmas lights
Where to shop for the best Christmas lights
Got a specific twinkly style in mind? If our top picks above haven't made your Christmas dreams come true, then this is our round-up of the best places to shop for Christmas lights.
How to choose the best Christmas lights
If you're on the hunt for the best Christmas lights, but you're not sure how to choose the best of the best, there are a few questions you can ask yourself:
Do they fit your aesthetic? Christmas decorations are extremely subjective. While some people go bold and mish-mash, there are others who like everything to match their home decor perfectly. Because of this, you need to ask yourself whether the Christmas lights fit your aesthetics and your dreams for your festive home.
How are they operated? Indoor Christmas lights normally fall into two categories: mains-powered or battery-operated. This will rarely change the aesthetic or the look of the lights, but they may affect how practical they are - and, of course, the price. While mains-powered lights will up your energy bills, battery-operated lights will require you to buy batteries (unless the lights come with batteries included).
It's also important to note that battery-operated Christmas lights will also be portable, whereas mains-powered Christmas lights are restricted to being near a plug socket. So, think about where you want to put the lights and decide from there.
Can they be used indoors and outdoors? It's highly likely that you're going to buy more Christmas decorations before the big day arrives, which is why opting for Christmas lights that can be used indoors and outdoors can be a great advantage. This way, you can move them in and around the house without having to commit to using them inside the house. Of course, if you're confident that you won't want to put them outside, there's no need to buy Christmas lights that can also be used outside.
Do they have a timer? Timers are extremely handy when the festive months come around. By placing your Christmas lights on a timer, you can make sure that your energy bills don't suffer too much. Many Christmas lights now come with these timers as standard, but some don't. So, you may need to buy one separately.
How much are they? Christmas is a time to celebrate with your loved ones and enjoy some much-needed rest, which is why many people save up all year to spend lots of money on presents and decorations during this time of the year. However, we'd always suggest setting yourself a budget when it comes to Christmas lights. While we wouldn't encourage you to buy the cheapest options on the market (as the quality might reflect the price), we also wouldn't encourage you to spend too much. After all, you'll only be using them for a few weeks.
FAQs
Which type of Christmas lights are best?
It's generally considered that Christmas lights with LED bulbs are the best, as these are more energy efficient and higher quality. In fact, they last considerably longer than alternatives, which will allow you to use your Christmas lights year after year.
You also need to consider the colour of these bulbs. In our humble opinion, warm lights create the cosy ambience many people are looking for when it comes to the best Christmas lights. However, there are others who prefer the ice-white bulbs reminiscent of a winter scene.
Are LED Christmas lights worth it?
Yes - especially if you want to save a bit of money over the Christmas period. While LED Christmas lights use considerably less energy than alternatives on the market, they don't scrimp on quality.
If you want to fill your house with festive cheer this Christmas, the best Christmas lights are definitely the way to go.
Get the Ideal Home Newsletter
Sign up to our newsletter for style and decor inspiration, house makeovers, project advice and more.
Tamara was Ideal Home's Digital Editor before joining the Woman & Home team in 2022. She has spent the last 15 years working with the style teams at Country Homes & Interiors and Ideal Home, both now at Future PLC. It's with these award wining interiors teams that she's honed her skills and passion for shopping, styling and writing. Tamara is always ahead of the curve when it comes to interiors trends – and is great at seeking out designer dupes on the high street.