How to embrace the joyful decor trend that's taken social media by storm
Tablescaping is all about beauty for beauty's sake, and we love it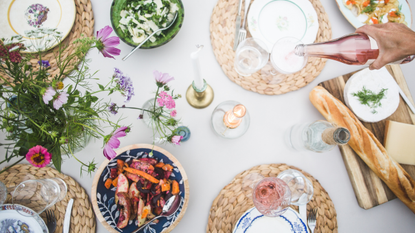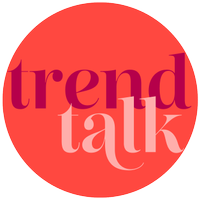 (Image credit: Getty)
To tablescape, or not to tablescape? It's no longer a question if the countless photos of beautifully decorated table-tops shared all over social media are to be believed, that is.
Of course, it's not hard to see why the tablescaping home decor trend has taken the world by storm: it is, after all, one that is synonymous with friendship, good food, and unforgettable moments. It asks that, before sitting down to enjoy a meal with the people we love, we treat our tables as blank canvases – and that we carve out some time to intentionally and creatively cover them with crockery, glassware, the best candles, floral arrangements, and swathes of material in order to set the tone and mood of the event.
Essentially, then, tablescaping is a prime example of beauty for beauty's sake – something that we do for others, to inject a little extra magic into the time they spend with us.
Or, as writer and home decor influencer Megan Murray puts it, 'tablescaping is about creating something special and out of the ordinary.'
Intrigued? Here's what you need to know to nail the trend...
What is tablescaping, in a nutshell?
'Tablescaping refers to beautifully decorated dining tables,' explains Nic Shaw, the Senior Head of Buying at Urban Outfitters. 'It can be a feast for your eyes from coordinated vases, flowers and centrepieces to considered details like place cards, piled plates or napkin holders.
'It's a great way for people to express their creativity and enjoy their own spaces, as well as a wonderful way to boost your mood. Exploring new colourways or material and experimenting with objects allows us to feel more for the things we enjoy.'
A decorative plate, like this floral-edged clay number from Urban Outfitters, is an easy way to add some flair to your tablescape.
Anton Studio Designs Empire Tumblers
These elegant handmade glass tumblers will reflect the light across your table – making them functional *and* beautiful tablescaping additions.
Why has tablescaping become so popular?
Tablescaping has been bubbling away as a kitchen trend on social media for the past few years, but it is recently that it has really taken off alongside the trend for home entertaining according to Pinterest's kitchen trend predictions and our own research.
Future, our parent company, conducted a new piece of research on Home Trends – or, more specifically, the changing face, use and feeling we have towards our homes – and discovered that more of us are hosting casual occasions at home than ever before.
'The way people spend their time at home has changed [since lockdown], and so has the way they will decorate and design their living spaces,' the report notes, adding that 76% of those polled wanted to create a special 'feel' in their room or space, in order to imitate the premium out-of-home environments they once frequented.
'Before the pandemic, only a handful of people were up for hosting casual lunches, dinners or celebrating special occasions at home,' it continues.
'The British loved to go out and "outsource" this job to a restaurant or a pub. But now, things have changed. Many are planning for casual catch-ups, birthday parties, or watching sports events together. Couples are also planning romantic dinners, and parents are setting up playdates for their kids. All this happens more and more frequently at home.
'So apart from being the "safe haven", our houses have also become restaurants, cinemas, playgrounds and bars. People nowadays are no longer forced to stay at home, but they clearly want to.'
Kate Fairlie, the creative force behind Truffle Tablescapes, agrees wholly with the above.
'The pandemic showed us all how precious it is to socialise with our loved ones and creating a tablescape that sets the scene can make the time you have together even more special,' she says.
'Tablescaping is also an extension of one's own fashion aesthetic – it provides the opportunity to experiment with colours and styles. With tablescaping it's possible to let your creative juices flow without boundaries – if the style doesn't work, you can simply set the table differently next time!'
How do you make a perfect tablescape?
Just like any other artform, there is no one way to tablescape: rather, it's all about authenticity and the soul which the creator infuses into their design.
'I have a very specific personal style, so my decor and fashion tastes heavily revolve around pastel colours, handmade-style ornaments, and Parisian influences,' says Megan, offering herself up as an example. 'So, obviously, my tablescaping aesthetic matches this.'
Kate, meanwhile, says her own style is seriously maximalist. 'I love mixing clashing patterns and complementary colours to create a vibrant and eye-catching tablescape,' she shares.
And Nic agrees, noting: 'While I personally love a mismatched style of unique trinkets, others might prefer to keep things minimal with neutral tones and organised schemes. It's all about finding your individual look.'
Still, though, the trio have some top tips to share with those who are new to the art of tablescaping:
1. Look online for inspiration
'Tiktok, Pinterest and Instagram have been a huge forum for tablescaping,' says Nic, explaining that social media is full of 'tips, tricks and hacks that have enabled everyone to experiment more.'
Megan agrees, adding: 'I do think that looking at how other people mix and match colours, patterns, textures and finishes has helped me to develop my own look.
'Some of my favourite tablescapers include @kirthanaa, @iamlaurajackson, and @lukeedwardhall.'
2. Find a key item to work around
'A bowl filled with fresh produce like rustic lemons and clementines makes for an easy centrepiece,' says Megan. 'Personally, I love Matilda Goad's giant pink clamshell.'
This is where you get to decide if your dish is the key item or is the focal point is going to be a piece of beautiful tableware.
3. Introduce some interactive pieces
'I like to make a feature of my salt, pepper, and oil using quirky holders,' Megan explains, noting that she themes hers to her centrepiece.
'I visit the local fishmonger and pick up an old shell, which I then fill with salt so that guests can pinch at it themselves.
'Pepper goes in an old-fashioned grinder, and I decant olive oil into trinket-style bottles.'
4. Don't scrimp on the details
'Details are very important and are what guests will remember,' says Kate.
'Using interesting textures (seagrass, rattan, shells), adding beautiful details such as pearlescent finishes and embroidery, and mixing vibrant patterns (I like to choose my colours according to the season) will take your tablescape from basic to beautiful.'
She adds: 'Don't scrimp on those little touches – add pretty bows to napkins, handfuls of pinecones at Christmas, bowls of seasonal fruit in summer and colour coordinated candles to ensure your table is filled with interesting (and fun!) details.'
5. Consider the food on offer
'I always love to think about what I'm cooking and how it can influence my tablescapes,' says Nic.
'At the moment, I'm inspired by southern France and Mediterranean culture, which means my table is filled with pops of colour and raw edged tablecloths, and large serving platters so that guests can help themselves.
'I also include touches of texture or colour using glassware, lay out plenty of baskets filled with bread, and add an extra something using bud vases.'
There are two options with placemats: you can pick one that blends into your tablescape, or you can select something so striking that you build your design around it. This fan-shaped beauty is the latter.
6. Play with height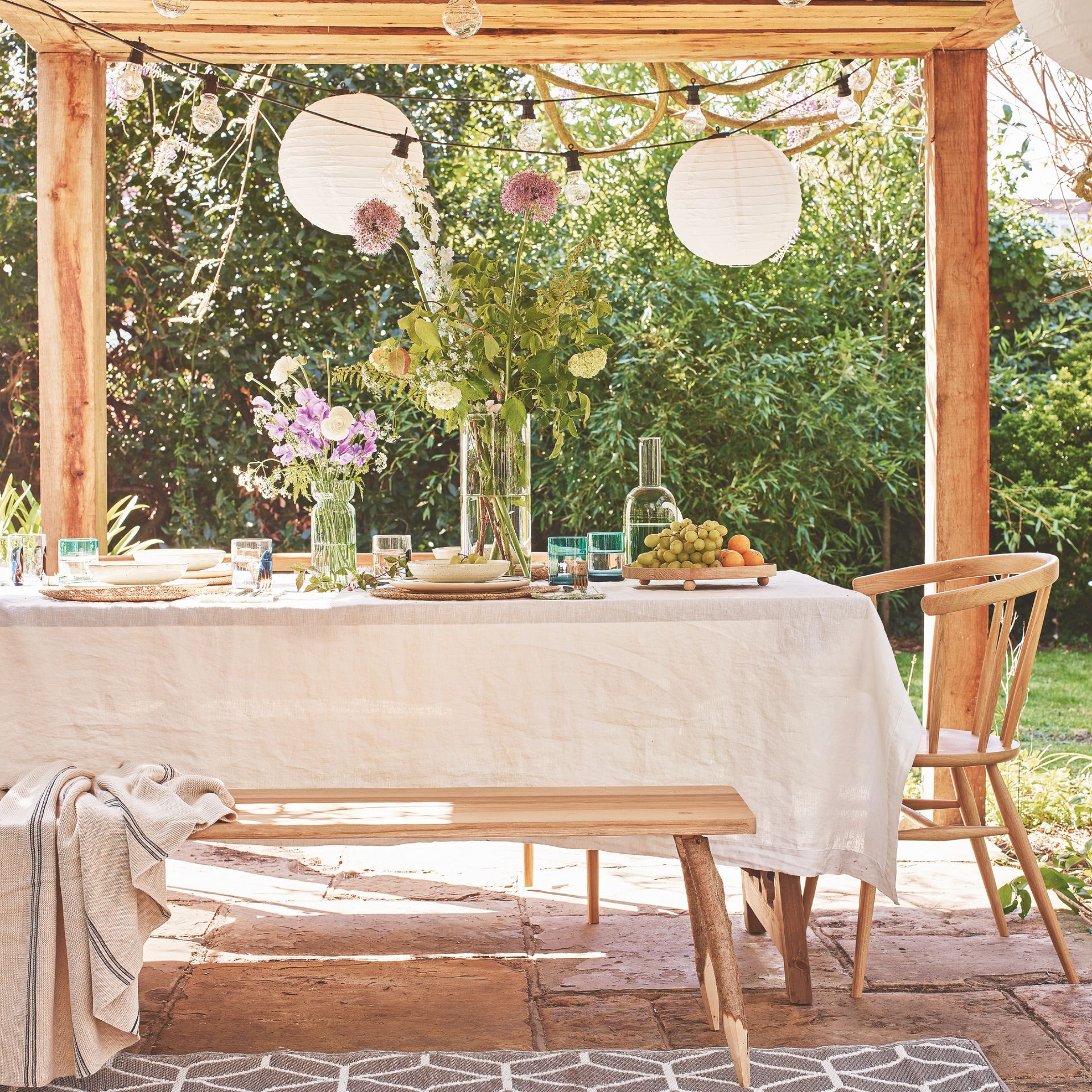 'You don't want everything to sit at the same height, so look out different sized candles and vases,' says Megan.
'When it comes to flower arrangements, let the stems be a little wild and mismatched. And use elevated dishes to present sides and decorative produce.'
6. Don't forget the linen
Kate says: 'Invest in quality, classic tableware that can be used time and time again and use accessories to elevate the style of each tablescape.
'One of the easiest ways to change the look of your table for different occasions is to use patterned or brightly coloured table linens. Choose an Indian block printed cotton tablecloth or napkins (or both for a maximalist look!), then pull out an accent colour from the pattern using tableware accessories (embroidered placemats, tapered or twist candles, mini bud vases, coloured glassware etc.) to make a very stylish table statement.'
7. And remember: less is more
'Try not to think too much about what it is you're putting together,' says Nic, urging people to instead 'take a step back and remind yourself of your inspiration'.
What kind of occasion calls for tablescaping?
It's always lovely to have some time to experiment with your aesthetic and really work out how you want it to look. Which means, yes, it's fun to plan your next big tablescaping moment around a key date in your calendar.
'My favourite time to tablescape is my birthday,' shares Megan, explaining how she uses the occasion to envelop her friends in her world for the evening. 'I pick out my favourite flowers, use a scheme of my favourite colours, and usually take inspiration from my favourite films or paintings.
'It's all about colour and sparkle, and I've even been known to ask my friends to dress up as me for the night!'
Still, though, when it comes to tablescaping, the world really is your oyster… or designer clamshell, if you prefer. You might want to go all out for a summer dinner party, a celebratory brunch, or take the action outdoors for an extra-special picnic – the kind that features wicker baskets and gingham blankets aplenty.
'Being outdoors doesn't mean you can't create as beautiful a look as you would in a dining room,' says Kate.
'I like to create looks that feel elegant without being overly formal. Outdoor dining often has a more laid-back feel so incorporating soft linens, floral motifs, woven seagrass and foraged, seasonal flowers will create a table that exudes relaxed sophistication.'
Or maybe, just maybe, you might fancy bringing table scaping into those everyday moments.
'Sitting down after work and sharing a meal with a partner or a friend can be made more magical just by lighting a few candles, putting some stems in a trio of bud vases, and adding a napkin or two,' says Megan.
'When the atmosphere and aesthetics have been given some thought, I enjoy the moment even more.'
Get the Ideal Home Newsletter
Sign up to our newsletter for style and decor inspiration, house makeovers, project advice and more.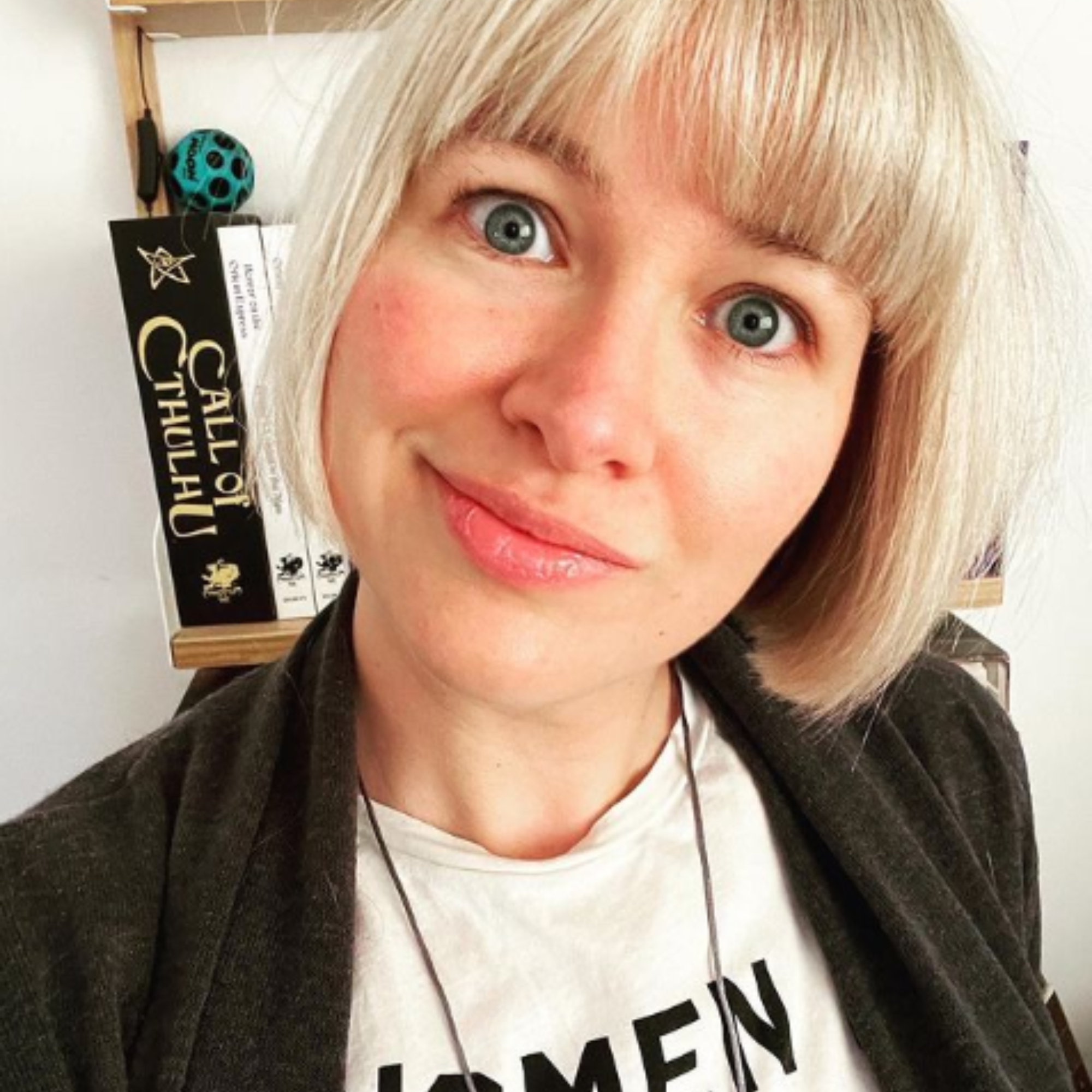 Kayleigh Dray became Ideal Home's Acting Content Editor in the spring of 2023, and is very excited to get to work. She joins the team after a decade-long career working as a journalist and editor across a number of leading lifestyle brands, both in-house and as a freelancer.