The best places to buy Irish linens
Soft, natural and timeless, Irish linens are beautiful fabrics that make a wise investment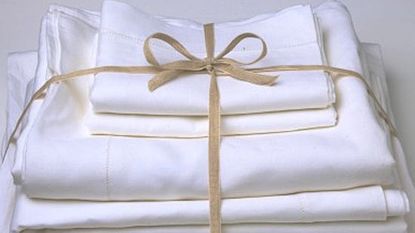 (Image credit: TBC)
Ideal Home Newsletter
The Home Of Great Ideas For More Than 100 Years
Thank you for signing up to . You will receive a verification email shortly.
There was a problem. Please refresh the page and try again.
Irish linens are renound for their quality. If you're looking to pick up some beautiful linens for your home, we've rounded up our favourite retailers to start your search.
COPELAND LINENS
www.copelandlinens.co.uk (opens in new tab)
If you're specifically looking for embroidered linens, this is the company to contact. A looser weave makes it the perfect material for embroidery, and Copeland has traced linen tablecloths and napkins, cross-stitch sampler kits and linen by the yard. The latter is available in cream, white and beige, and comes in a choice of widths. This is a long-established Irish linen company whose other speciality is ecclesiastical linens.
GIVANS
www.givans.co.uk (opens in new tab)
This small business prides itself on offering traditional, high-quality merchandise with a traditional service to match. Two catalogues a year feature an excellent selection of bedlinen finished with hemstitch and cord decoration, damask table linen and discontinued lines at sale prices. Manager Charles Wickes says, "If it's available on the market we will endeavour to get it for you." This is borne out by unusual items in stock such as kitchen roller towels, linen scrim and bolster pillowcases.
IRISH LINEN COMPANY
www.irishlinencompany.com (opens in new tab)
Established in 1875, this family business has a Royal Warrant and recently relocated from Burlington Arcade to Buckinghamshire. It specialises in luxury bedlinen with generously sized sheets made to order and makes fine linen guest towels as well as the widest range of handkerchieves in Europe.
JOHN ENGLAND
www.johnenglandtextiles.com (opens in new tab)
"We are small, adaptable and can do labour-intensive things the bigger boys can't do" is how director Richard Saunders describes his company. Buy linen furnishing fabrics in different weights, suitable for drapes through to upholstery. Choose from 18 beautiful colourways and innovative finishes. Minimum order five metres.
LIDDELL
www.liddell-linens.com (opens in new tab)
Simple elegance and understated style are the hallmarks of Liddell's ranges of plain and damask table linen and woven bedlinen. Sheets and pillowcases can be edged with one or two rows of cord or hemstitched, as can the Oxford duvet covers. Liddell supplies to the contract market so the cloth is hard-wearing to cope with commercial laundering.
THE LINEN CUPBOARD
21 Great Castle Street, London W1G 0HY, 020 7629 4062
An Aladdin's cave of bedlinen, table linen and towels, including a comprehensive range of Irish linen at discounted prices. The collection includes best-quality huckback towels, smooth and extremely absorbent pure linen towels, and textured friction towels made in 67% linen/ 33% cotton, which are absorbent and invigorating. Also worth a mention are the hand-embroidered tablecloths and napkins and best pure Irish linen kitchen glass cloths. Mail order on request.
THE LINEN PRESS
www.thelinenpress.co.uk (opens in new tab)
Established seven years ago by Christine Thornborrow to sell linen bedding and tablecloths from Ireland, The Linen Press now also offers linen from other sources in Europe, but Christine maintains that "Irish linen is a bit special." The bedlinen is available in natural and pure white, and there are fitted as well as flat sheets in standard up to superking sizes, three sizes of pillowcase including square, and table linen in any size to order. Carriage costs £4, whatever the order, with next-day delivery at no extra cost. Free catalogues and fabric swatches on request.
PURPLE AND FINE LINEN
www.purpleandfinelinen.com (opens in new tab)
Set up four years ago, this company offers pure plain linen tablecloths, place-mats, napkins and runners in fabulously rich colours such as red, damson, chocolate and black. It also stocks coloured patterned damasks and plain and custom-made tablecloths, available in larger sizes. Bedlinen is kept in stock, allowing for next-day delivery and competitive prices; a bespoke service is also offered here.
THOMAS FERGUSON IRISH LINEN
www.fergusonsirishlinen.com (opens in new tab)
Known for its fine craftsmanship, Thomas Ferguson has been weaving linen in Ireland since 1854. Favourites include intricate damasks, exquisite hand-drawn threadwork decoration for the table and classic bedlinen designs in white, natural or black. Special commissions include in-woven cresting, dyeing to shade and bespoke sizing. Thomas Ferguson's sister company, Brownlow Linen, www.brownlows.co.uk (opens in new tab), supplies more traditional linens.
ULSTER WEAVERS
www.ulsterweavers.com (opens in new tab)
Irish linen is naturally absorbent and does not lint so it is perfect for glass cloths and tea towels. Ulster Weavers, founded in 1880 to produce damask and household linens, now specialises in kitchen textiles and was awarded the Royal Warrant in 1995. It stocks a comprehensive selection of motifs, from roosters, cats and sailing boats to William Morris designs from the V&A, and fruits, flowers and foliage courtesy of the RHS.