16 firepit ideas to turn up the heat in your garden - whatever size space you have
Upgrade your alfresco entertaining with an enticingly cosy firepit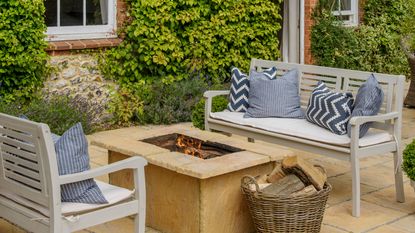 (Image credit: Future PLC/Polly Eltes)
There's really nothing quite like gathering around firepit ideas as the sun goes down. Just about every sense is activated, from the visuals of the flames, the crackling of the logs and that evocative smoked aroma.
When it comes to choosing a firepit you may be looking for one which stands alone or perhaps complement your outdoor kitchen ideas. Whatever your garden style or size there are happily many different designs and solutions available.
'You will need to research what sort of fire pit suits your outdoor space best,' advises Andy Baxter, Managing Director of outdoor furniture brand Maze Living. 'Those with larger spaces may want to create a new section within the garden including outdoor seating and a central fire pit, whereas those with smaller spaces may find it more suitable to have the firepit and dining set all in one.'
Firepit ideas for your garden
'The popularity of fire pits has increased tenfold over the last few years,' says Declan Kingsley-Walsh, managing director at Morsø UK. 'We are seeing both freestanding and permanent structures and in a variety of different materials, such as concrete, metal and cast-iron.'
But we are also wanting our firepit ideas to work hard too, working with our best BBQs to create new entertaining zones. 'They will create a new section in your garden in which you can surround with seating and outdoor furnishings, expanding the use of space for you and your guests,' adds Andy from Maze Living.
1. Create an outdoor fireplace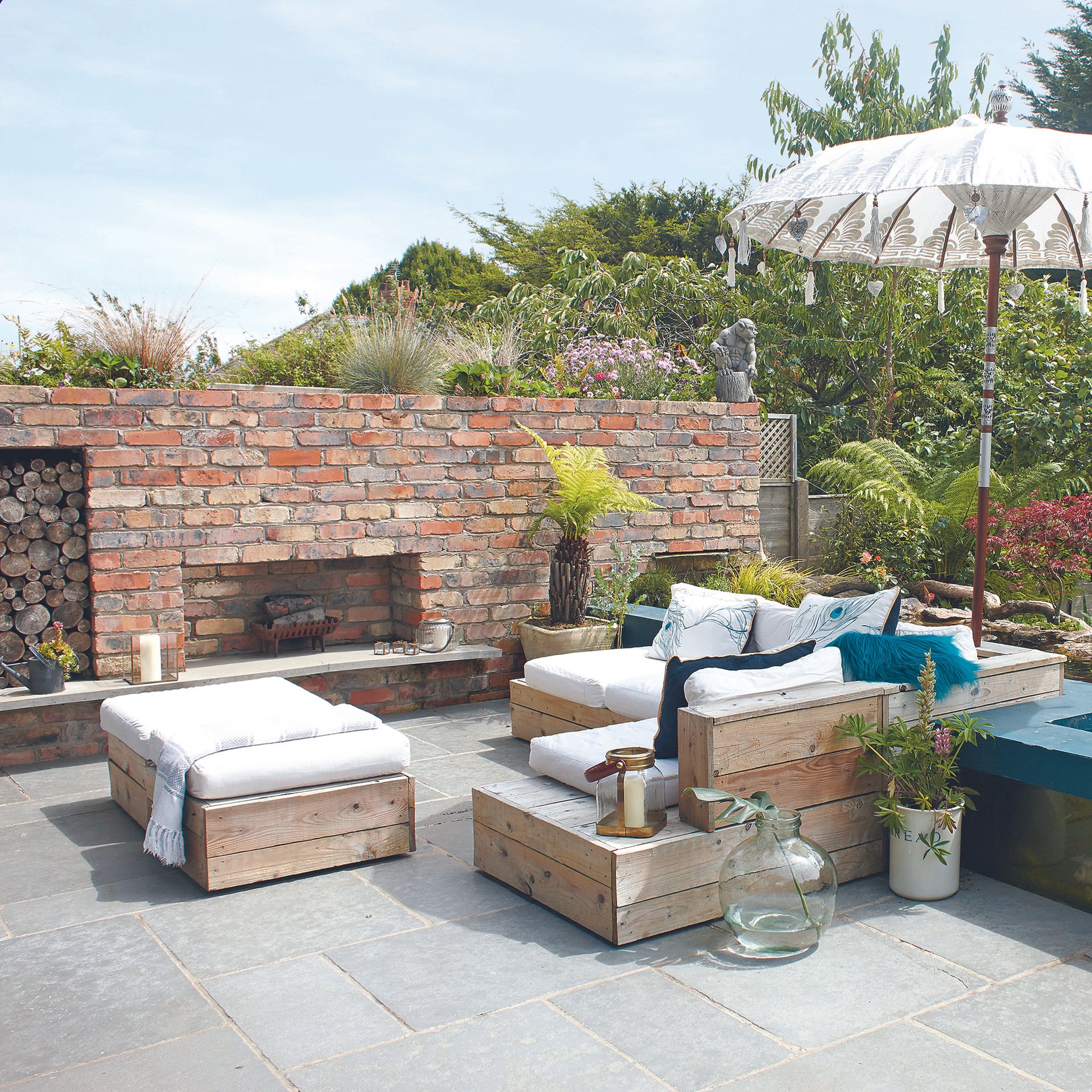 The difference between a firepit and a garden fireplace is the ambience that you want to create. Traditional firepit ideas have an instantly cosy atmosphere, evoking fireside chats and camp outs. However, a garden fireplace has a more formal look, and it is usually built into a faux wall that demarcates an outdoor living room.
Use reclaimed brick to construct a fireplace wall, with an open basket-style firepit for your very own outdoor living room. Create a log stack in an alcove, just as you would inside, while a floating concrete shelf provides space for display.
2. Go tabletop
Incorporate a firepit into your garden table. When choosing outdoor furniture, consider a design like the Firepit Dining and Lounge Sets from Maze Living, where the fire element easily hide away when not in use, meaning you aren't compromising on table surface area when entertaining a crowd.
'The glass side panels mean nothing can fall into the fire, in addition to protecting hands reaching across the table,' adds Andy from Maze Living. 'As our firepits are powered by gas, there is a simple on/off switch, allowing for a stress-free time sitting around the fire and not needing to worry about it becoming out of control.'
3. Build your own surround
What you choose to build your firepit ideas from will depend on what you intend to burn in it. Regardless, it is important that you opt for fire-resistant material that can withstand high temperatures – the average firepit can easily exceed 900°C. It is important to line both the sides and base of this DIY project. 'Use a bed of sand or gravel under the base to prevent shifting or cracking,' says Neil Thomas, Co-owner, Firepit.co.uk.
'Fire bricks, also known as refractory bricks, are an ideal choice for lining a firepit. 'These bricks are designed to withstand high temperatures and are heat resistant. Another option is to use natural stone to build your firepit, as many types like granite and limestone can withstand high temperatures.'
4. Work a pit seamlessly into your scheme
Your main option when it comes to a built-in firepit is whether you create a raised design, in which bricks form a wall around the flames, or a sunken design with the firepit constructed below ground in a purpose-built depression.
'Raised firepit ideas will be easier and cheaper to construct, and can made using materials to match your existing garden décor,' says Neil from Firepit.co.uk.
5. Think low level
Taking your firepit ideas down a level may seem counterintuitive when it comes to boosting the warmth, but remember one key thing... exactly - heat rises. A lower firepit will allow the heat to warm you perfectly whether seating or standing.
Plus, you can stay reclined if you're toasting marshmallows - which is a bonus if you're trying to keep little ones away form the flames.
6. Try a traditional layout
Position your garden furniture at right angles to your garden's heat source for a social space that still allows guests to benefit from the heat from the fire while chatting.
A chimenea is a great choice for a more rustic garden. It will provide a lovely visual hit of warmth while containing the ash. If you have a sunken or overlooked garden, then there are things you can do to avoid smoking out neighbours' properties. Look out for a taller flue or chimney part to your chimenea.
7. Consider your surfaces
'Most fire pits are safe for most decking and entertaining areas, however, it does depend on the make of the fire pit, so always check with where you bought it from first,' advises Jon Butterworth, Director, Arada Stoves. 'Try and keep your fire pits away from the lawn, as it may scorch the grass and ruin the look of it.'
8. Incorporate wood storage
Some contemporary firepit ideas nearly look sculptural in their design. As well as meaning they look equally striking when not in use as when lit, you can often fins niches in these which work perfectly as log storage, meaning you can keep the [party going for longer without having to traipse around the garden looking for fuel.
9. Create a cosy corner
Even the smallest garden seating idea can become a cosy place come sunset. Go mini with an open firepit that can burn just three or four logs. Keep the design simple, especially in a contemporary garden. A simple bowl on cast iron legs is ideal.
10. Build in surrounding seating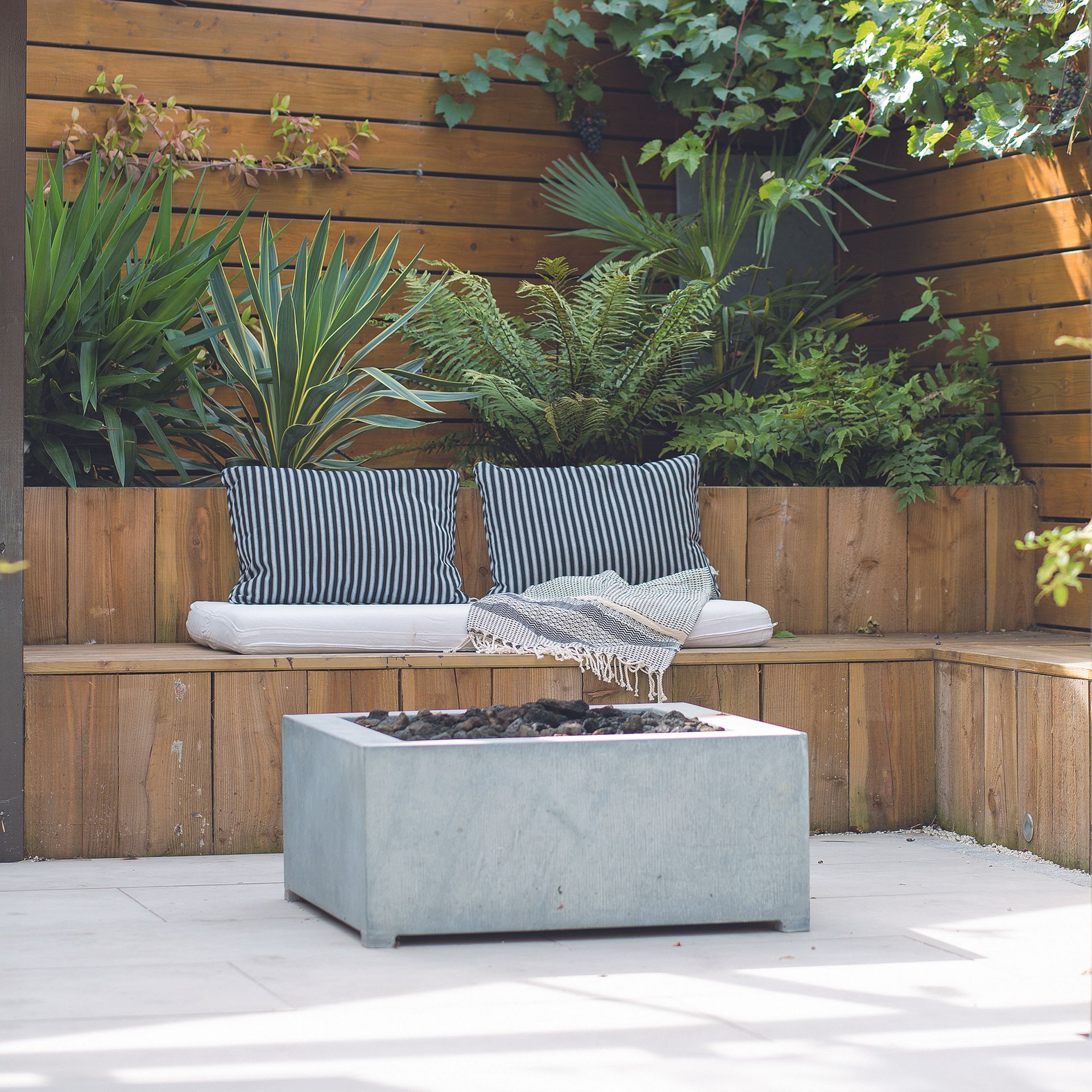 Transform an often-under-used area of your garden into an extra seating zone surrounding your firepit ideas. Reclaimed timber can be used to create a bench seating area – a brilliant DIY outdoor furniture idea.
To make this space work even harder, incorporate log storage into the benches. Planting behind the seating area helps often the expanse of fence, adding to the intimate and cosy feel.
11. Work an industrial look
A cast iron firepit will take on a lovely, weathered patina after a few summers-worth of use – perfect for an industrial-vibe garden.
'Cast iron is a really popular choice for a fire pit because it heats up quickly and is a more affordable alternative to copper and steel,' says Chris Bonnett founder of GardeningExpress. 'Warm soapy water should work just fine for cleaning these, but instead of using a sponge, you'll want to use steel wood.'
12. Pick multi-purpose
'I am a big fan of a firepit,' says multi RHS gold medal winning landscape architect and designer Victoria Wade.
'There's nothing lovelier than sitting around a real fire with good friends and a cheeky G&T (or two!) on a summer's evening. If you want to take things one step further, then look for one with a clever swing arm BBQ for the best of both.'
13. Gather round a brazier
As the sun sets, light up a brazier or fire bucket – you could even have a few dotted around your garden, creating pockets of warm where guests can congregate. Choose a cut-out design like the Black metal firepit bucket, £34.99, Lights4Fun and you'll get some interesting shadows cast onto your patio ideas, too.
14. Cover up
Worried about pets and children? Choose a design with a spark guard lid, and then it will contain the worst of any sparks. The La Hacienda Alexia, £105, B&Q also comes with a removable grate, meaning you can use it as a BBQ in a pinch;
Over time, steel firepits will rust, which is completely normal and adds to the firepit charm. You can use hot soppy water to clean the inside. Have a cleaning session and plan how to clean a BBQ at the same time. Make sure to allow a steel firepit to dry completely to prevent the inside from rusting. A thin layer of vegetable oil applied after each burn will also help preserve your firepit ideas.
20. Warm up small spaces with a fire lantern
Combine heat and light with this Scandi-style fire lantern, £99.99, cuckooland.com. Powered by gas, it's easy to move to wherever you're gathered in the garden. And a 190gr gas cartridge should give around six hours of burn time – plenty to last you throughout the evening.
21. Choose a flexible option
Choose a transportable size of firepit ideas like the Ignis, £249, Morso, so you can set up a cosy area wherever you desire, perfect if the number of guests enjoying the space varies. Remember to take the time to ensure you've chosen a safe spot, however.
'It is important to keep the firepit a safe distance away from any flammable materials, such as decks, buildings or trees,' advises ' says Neil from Firepits.co.uk. 'A distance of at least 10 feet is recommended.'
What can I put my firepit on?
'If you are using portable firepit ideas, in that it's not a permanent feature in your garden, then you should really find a hard surface,' says Pip Probert, garden designer and RHS multi-award winner at Outer Spaces. 'It's important to remember that they get extremely hot, and it could burn, mark or create problems to the surface below.'
'If you have an old paving stone or even a fireproof board that the fire pit can stand on, it reduces the heat touching your paving. Gravel is sometimes a better option and then any soot or ash that is dropped can be washed away via the loose stones.'
Pip also says to avoid placing one directly on a lawn idea. ''Think back to the last time you used a disposable BBQ, or you had Guy Fawkes burning away on a bonfire. You'll probably remember the burn mark on the lawn below.'
Should I choose a firepit or chiminea?
Firepits have become more popular over the years as they tend to be more affordable. Smaller in size, freestanding fire pits also take up less space and so are ideal for compact outdoor areas and small garden ideas. 'They can also be portable meaning that you can create the same cosy ambience that you would at home at the beach, the park or on a camping trip,' adds Declan from Morso.
'Chimeneas on the other hand tend to start at a higher price point because they are larger, more sophisticated products. They are ideal for those who love to be outdoors all year around as they aren't easily moveable. The firepit is a more practical option for those who spend less time in their outside area as they can be quickly transportable and moved around.'
Can I make my own firepit?
Making your own firepit ideas come to life is a great low-cost alternative for budget garden ideas, although there are a few practicalities to bear in mind. 'If you are handy with the tools, then there's no reason why you can't build one yourself,' says Pip from Outer Spaces.
'We tend to build them in block, with a small footing and a solid base (but make sure you have a drainage hole, otherwise it will fill up with water when it rains).'
Internally, Pip lines a firepit with fireproof bricks, using fireproof cement and a layer of fireproof render. 'This is the most expensive part of the feature, but you need it to ensure it can withstand the direct heat.'
'On the outside you can match up with your surrounding materials, maybe a tile to clad or a decorative brick, with matching coping Firepits can be contemporary or rustic, fitting in with any scheme.'
Get the Ideal Home Newsletter
Sign up to our newsletter for style and decor inspiration, house makeovers, project advice and more.
Jennifer Morgan is an award-winning editor, writer and stylist, with over 25 years' experience writing, styling and editing home interest magazines. Jennifer was the deputy editor of Ideal Home from 2008-2010, before launching Ideal Home's sister title, Style at Home in 2010. Jennifer went on to launch several craft magazines and websites, before going freelance in 2016, with a client list that includes John Lewis, Dunlem and Nordic House. Today, she writes for Ideal Home, Real Homes, Waitrose, Woman & Home, Sainsbury's Magazine and Homes & Gardens. But it was during lockdown that Jennifer realised her dream of publishing her own magazine – Simply Scandi.