Pizza oven stand ideas - how to create the ultimate pizza making station
Create an Italian-inspired alfresco set-up with the best pizza oven stands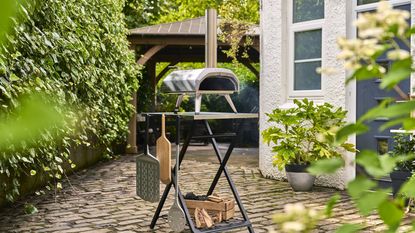 (Image credit: Ooni)
Searching for a pizza oven stand that will help you create the perfect alfresco cooking zone? We've rounded up the best options so that you can get your pizza-making station up and running.
A functioning cooking station will require a number of elements, but primarily it must be sturdy enough for the pizza oven itself, and any equipment. Surface space is the number one thing to look for, but bigger doesn't always mean better. Instead, think about the garden space you have available and where your outdoor kitchen will be best situated. You'll also need somewhere to store a gas canister, wood, and even a pizza tray.
It's also wise to think about how often and how easily you want to use your pizza oven. If the cooking station requires lots of setting up, you might be less likely to get it out on a whim. You might also not have anywhere to store it, in which case a pizza oven stand that withstands the elements is key. Above all, you want your outdoor living room to be utterly stylish, so we've considered this in all of our recommendations to ensure your cooking space is ready for hosting.
Safe and stylish pizza oven stand ideas
If you love hosting or just relish in alfresco dining, an outdoor pizza oven set-up will elevate your garden. They can be used all year round and will deliver restaurant-quality pizzas in no time at all.
'The ideal pizza oven table needs to be sturdy, heatproof and big enough to house all your pizza-making tools and ingredients,' says Leigh Start, operations director at The Metal Store. 'From easy-to-assemble to more bespoke set-ups, there are many options to choose from.'
1. Pizza oven stands with wheels
Flexibility in an outdoor kitchen is essential. When entertaining different party sizes, you might want to reorganise the space with different zones, for example, a spot to cook, eat, and socialise.
Having a pizza oven stand with wheels allows you to achieve just that. You can easily manoeuvre it to where is best to cook, so if you're a chef who still wants to join in with the fun you won't need to worry.
Wheels also mean you can cart it into a garage or shed for storage when the sun goes down. The last thing anyone wants when the rain starts to pour is to spend additional time deconstructing a table, so having wheels means you can quickly pack away when the party is over.
'To ensure safe pizza making and easy access to indoors, choosing the right spot for your pizza oven station is key especially if you're entertaining guests outside too,' advises Patrick Carney, head of customer support at Ooni.
'The size of your garden will play a big part in where it's positioned, but try to pick a spot with enough clearance around the sides for safe pizza making.'
Firefriend BQ-6325 Gas Barbecue Trolley
Although technically a BBQ stand, there's no reason why you couldn't use this for a pizza oven. Two large wheels and a metal bar will make it easy to pull across uneven terrain, and to stand anywhere in your garden.
Casa Mia Pizza Oven Trolley Table
This black wooden pizza oven is study and has everything you could need. A bottle opener, hooks, and a space to store the gas cannister will make summer entertaining simple.
3. Wooden pizza oven stands
If style is at the forefront of your outdoor kitchen design, then the wood could be the ideal material for your pizza oven stand. Coordinating a cooking area with your garden furniture, for example, if you have a wood table and chairs, will make a garden feel well-curated and like an extension of your favourite restaurant.
If your pizza oven is on legs, you won't need to worry about the heat either. Opting for a large wooden table means you will have plenty of room to prep the dough and your favourite toppings, as well as a drinks zone where guests can help themselves.
COSTWAY Storage Trolley on Wheels
Simple yet effective, this trolley has the classic wood appearance with modern black legs. It's affordable and has everything you need, including wheels to make manoeuvring simple.
If you want to create a mini outdoor kitchen that stays up throughout the year, then consider this outdoor bench. The elevated platform is great for resting tools on and you can easily style it up for a proper cooking set up.
3. Folding pizza oven stands
Whether you only have a small garden to work with or you want a pizza-making station that is super easy to set up, a folding table could be a clever solution.
Trestle tables are popular for summer dining, as they can be popped up within the blink of an eye, and take up virtually no room to store. If you're keen on prepping for your pizzas inside, then a smaller folding table will have just enough room for the pizza oven itself, without dominating your garden.
'I'm a huge pizza oven fan after roadtesting a couple of different brands at home, but living in a London flat means that garden space is hard to come by. I don't have space for a full cooking set-up alongside a dining space, so combining the two with a folding table has meant I still have plenty of room for pizza making,' says our Head of Reviews, Millie Fender.
Weber Lumin Compact Foldable BBQ Stand
Not all folding tables have to be metal. Weber is renowned for their BBQs so you can guarantee that this stand will be durable and easy to put together.
If you're an Ooni fan, then why not complete the look with a dedicated pizza oven stand too? This will be perfectly sized for the oven and sturdy enough to withstand the weight of it.
4. Metal pizza oven stands
If you're after an authentic pizza-making experience that mirrors a restaurant-esque kitchen, a metal pizza oven stand might work for you. Many of the top brands have metal stands that are sturdy enough to withstand the weight of a pizza oven, and super easy to wipe down when sauce spillages inevitably occur.
They also offer ample room for laying out your toppings and pizza stone, as well as any necessary equipment.
'Having your pizza-making tools, fuel and equipment nearby makes the pizza cooking process much easier,' recommends Patrick.
'Make sure you've got the essentials at hand, including pizza peels to safely place your pizza in and out of the oven, rakes and brushes to move wood in the oven, and a decent pizza spinner and cutter.'
Outdoor Table With Wheels For Pizza Oven
If you love the look of the Ooni stand but want something a little bit more affordable, then we love this B&Q option. It lacks the hooks, but has two roomy shelves.
TORVA Movable Pizza Oven Trolley
An entirely stainless steel pizza oven stand might not be your thing, and we love the balance of the black in this design. It has a tray perfect for storing seasonings, and it will be easy to wheel around your garden too.
What should you stand a pizza oven on?
Safety is the most important thing when creating and using an outdoor cooking space. Pizza ovens are intuitive to use, but you should still exercise caution in where you're placing them and pay attention to your surroundings.
Pizza ovens will heat up quickly, but they are often designed with legs that help the heat to escape. With this in mind, you should be careful about placing a pizza oven directly on a wooden surface, but with most designs, you shouldn't need to worry.
'Ideally, a pizza oven stand would be made from stainless steel as it's heatproof and practical when preparing pizza dough,' advises Davide Corsetti, export manager at Alfa Forni.
'You would also benefit from having space for storing wood underneath and have a bottle opener and hooks for hanging pizza tools!'
How far should a pizza oven be from the house?
It's tricky to know just how far away you need to be from the inside of your home when using a pizza oven. If you only have a small garden, this can be even harder to plan your outdoor entertaining space with enough room around the oven.
Patrick Carney, head of customer support at Ooni says that 'it is important to leave a 1 metre (3 feet) clearance from any structures or plants and to leave at least 1 metre clearance from the top of the chimney to the top of any structures.'
He also advises that 'all ovens should also be placed on a stable, level surface', so choosing the right pizza oven stand is key.
Get the Ideal Home Newsletter
Sign up to our newsletter for style and decor inspiration, house makeovers, project advice and more.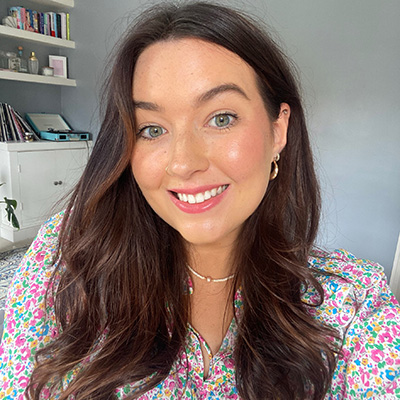 After starting out her journey at Future as a Features Editor on Top Ten Reviews, Holly is now a Content Editor at Ideal Home, writing about the best interior ideas and news. At Top Ten Reviews, she focussed on TikTok viral cleaning hacks as well as how to take care of investment purchases such as lawn mowers, washing machines and vacuum cleaners. Prior to this, Holly was apart of the editorial team at Howdens which sparked her interest in interior design, and more specifically, kitchens (Shaker is her favourite!).