How to make a narrow hallway look wider with paint tricks and clever styling
Make a narrow hallway look wider and more spacious with these design tips and storage hacks that will update your entryway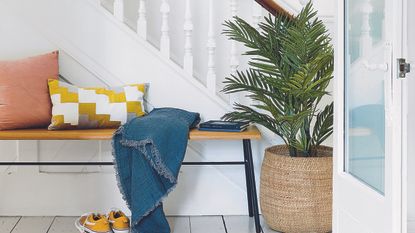 (Image credit: Future PLC)
Some areas of the house are tricky (if not impossible!) to physically make bigger, so discovering how to make a narrow hallway look wider can be the key to cheating your way to extra space.
First impressions count, which is why it's important to get your hallway right. Whether it's for your own benefit or to impress visitors, balancing practical storage with stylish hallway ideas can be tricky, even more so if you're dealing with a long, narrow, and dark hallway. You want your home to feel as bright and spacious as possible, especially when arriving back after a stressful day.
Luckily, there are plenty of ways to make a narrow hallway look wider. From optical illusions that draw your eye outwards, to clever decluttering solutions that make an entryway feel organised yet pared-back, these narrow hallway ideas offer easy updates to make. If a sheer lack of surface area is your home bugbear, then these small hallway ideas will give you tips on how to optimise every inch of space.
How to make a narrow hallway look wider
Problematic small hallways are the perfect space to experiment with more daring paint ideas. 'To avoid the feeling of being hugged by an over friendly bear in a narrow hallway you need to keep the colours pale and the light source multi- directional' advises Marianne Shillingford, Creative Director at Dulux.
'Pale colours make small spaces appear bigger.' However don't fret if your are looking to go for on-trend saturated colours, the right paint idea can make darker tones work just as well.
Whatever your style and colour palette, a clutter-free entry that makes you smile every time you arrive home is the ultimate goal for any hallway. Read on to find out how to make a narrow hallway look wider and more generous in size.
1. Go big with art
When styling a narrow hallway, it's easy to think that a minimalist scheme is best. Instead, adding personality can distract from the width of the space so that the focus is instead on the art itself.
'A small hallway may feel more inviting and less constrained by adding a touch of individuality and style,' notes Charlotte O'Neill, Home Designer at Raison Home. 'Consider hanging artwork or photographs around the walls to create a gallery-like atmosphere.'
'Choosing objects with bright colours or distinctive patterns can capture the eye and take attention away from the space's narrowness.'
Whether you decide to incorporate gallery wall ideas into your space or one large piece of art that takes up a similar amount of room, focus on a singular wall so that it doesn't feel enclosed and will instead help with how to make a narrow hallway look wider.
2. Focus on flooring direction
Focussing on creating optical illusions in a narrow hallway is one of the most effective ways to make the space feel wider. Work with the bare bones of your entryway with this hallway flooring idea that works with the width of the room so that it draws the eye outwards, rather than in.
Whether you want to max out on pattern with playful tiles or keep it pared-back with wood, consider whether the layout is lengthening or widening your hallway. With wooden planks, it's best to lay them horizontally, to make the area feel as spacious as possible.
'Choosing a lighter-toned wooden floor gives the illusion of more footprint,' agrees Natalie Mudd, Creative Director at The Wood Flooring Co. 'The direction of the flooring makes an immense impact on the flow and spatial feel of a room. It's recommended to place the planks parallel to the widest wall. This will create an elongated look by drawing attention to the longest portion of the space.'
3. Stick to one wall
Just like positioning your art, it's important to not overdo storage in a narrow hallway. Of course, you want plenty of room to house coats, shoes, and general day-to-day clutter, but consider keeping it to one side of the hallway to not overwhelm the entrance.
It can be tempting to add in stand-alone storage units or built-in models in any available space, but opting for one side of the hallway will create the key balance between style and functionality and help with how to make a narrow hallway look wider.
It's also great for zoning your layout, as it will form a natural flow for entering and exiting your home smoothly - while keeping it as tidy as possible. Adding under stairs storage ideas to any uniquely-shaped gaps in your hallway could also offer an ideal wall for sticking to.
4. Remove any wires
Reducing any visual clutter is key to creating a hallway that feels airy and fuss-free. This doesn't have to be done through paring-back furniture or accessories, sometimes it's actually the minute details like loose wires that have the biggest impact.
'Cables can make a narrow space look messy and eat into valuable space, so think about a portable light that can be charged elsewhere or a wall light,' advises Patricia McGinnis, Co-Founder at Maven.
Instead, think about adding a cabinet with an enclosed back, or even wireless lamps that you can quickly tap on and off when you walk by. Battery-operated lamps also give you plenty of flexibility when it comes to styling, so you can accessorise an area of your hallway that doesn't have access to a socket.
5. Bring it to life
Achieving a hallway that feels bright and spacious is sometimes less about the proportions, and more about the props you bring in. Indoor plants are a quick and affordable way to breathe colour and life into an entrance point, and is an easy way for how to make a narrow hallway look wider. They offer an abundance of well-being benefits too, so if you're looking to make the start and ends of your day that little bit more positive then indoor plant ideas are a no-brainer.
'Introducing natural elements into a narrow hallway can give the area a sense of freshness and airiness,' says Charlotte from Raison Home. 'To add a touch of greenery, place potted plants or hanging planters throughout the hallway. Plants not only offer visual appeal, but they also serve to filter the air and create a peaceful atmosphere.'
6. Give the hallway a bold focal point
A narrow hallway has a limited amount of space to work with, but by using clever distraction techniques it's easy to trick the eye and make the hallway appear wider than it actually is. A great way of doing this is to create a focal point at the far end of the space, that draws you in and takes attention away from the lack of width.
Try painting the end wall a bold shade that grabs the eye as soon as you walk in the door. Keep the side walls neutral so that they fade into the background. Alternatively, if there's a staircase facing you as you enter the hallway, try painting the stair risers a bright colour or opt for a bold stair carpet that will catch the eye and take the attention upwards and away from the narrow space. When considering your options, make sure to avoid common hallway decorating mistakes like the wrong paint finish.
'Try some tricks, such as having a paler tone on side walls, and a deeper tone on the end walls, which will visually pull the end walls inwards and push the side walls out,' says Justyna Korczynska, Senior designer at Crown. 'Bold colours will work wonderfully in hallways – think about using them on the wall that runs up the stairway. This can then be surrounded by an off-white or a neutral colour.'
7. Paint the front door a perky colour
Another way of diverting attention away from a narrow hallway is to paint the interior of the front door a bold shade for your hallway colour scheme. This has a similar effect as painting an end wall a contrast colour, helping to create a focal point that grabs the attention when you're entering the hallway from the opposite direction, with the lack of space overlooked.
Painting the inside of the front door a darker colour and leaving the side walls in a soft white or calm neutral has the effect of pushing the side walls away and making the space feel wider and squarer, rather than narrow and constricted. Paint woodwork and trims to match a pale wall colour so that everything else will blend seamlessly in.
8. Use mirrors and glass to bounce light around
Corridors are often dark and gloomy with little natural light, so maximising whatever light you do have is key for how to make a narrow hallway look wider, brighter and more spacious. As well as good hallway lighting ideas, keep glazed doors, panels, fanlights or hallway windows uncovered so that any natural light flows through the space. Avoid ornately-decorated glazing too and opt for clear or frosted panes that will create privacy while still letting plenty of light in.
Adding a large wall mirror is another way of making a narrow hallway feel wider. It will reflect back any light there is and make the space feel brighter and more airy. Opt for a frameless design or a mirror that isn't too big or bulky so that it won't protrude into the hallway and eat up more space. Bringing in extra lamps and additional sources of light will also help boost light levels and create a cosy glow that will be reflected in a mirror after dark.
'It's a classic tip but you can never go wrong with a few mirrors. They're not only practical but can help narrow spaces feel expansive,' says Wil Law, Partner and Home Design Stylist at John Lewis.
9. Put the focus on the floor
Hallways tend to be spaces that we pass through, rather than dwell, so are the perfect place to experiment with a bolder pattern or colour choice. Opting for a patterned carpet or tiles for your hallway flooring idea can make a bold style statement and will detract from the dimensions of the space. Avoid a design with a border, which will only draw attention to the edges, and opt for a continuous pattern throughout with skirting painted to match for a seamless look.
Go for horizontal lines, chevrons or bold geometrics to square-off hallway space and make a narrow hallway feel wider. Running flooring vertically in a long, narrow hallway will only elongate the effect and emphasise the narrowness of the space. If any existing floor boards already run vertically, then add a coloured runner on top which will interrupt the flow and prevent the hallway from feeling overly long and skinny.
10. Don't overcrowd the space
Cramming a narrow hallway with too much furniture or cluttered surfaces will only make it feel crowded and hemmed-in. Avoid over-filling a hallway, by keeping furniture to a minimum and choosing slimline pieces that can be butted against the wall without taking up too much floor space. This is important when choosing your hallway storage ideas.
If hallway space is super-tight and furniture will obstruct the flow too much, then use the wall space as an alternative. An extra-long shelf or narrow ledge running along one wall makes a neat alternative to a hallway console table and provides display space and storage for key essentials. Try adding a couple of hooks underneath to give space for hanging keys and dog leads.
11. Keep hallway floors clear of clutter
When hallway space is at a premium, try to leave floors as clear and uncluttered as you can - the more floor you can see, the more spacious the hallway will feel.
If you've a busy family and some kind of hallway storage is a must, utilise wall space instead of floor space and add a long run of floating cubbies to keep shoes and other essentials in check. Drop-down cabinets like these can be arranged to fill a run of wall and have no doors that might obstruct the way in. Paint walls in a toning colour so that storage subtly blends in.
12. Choose calming colours
When it comes to colour options, take account of the other rooms leading off the hallway before deciding on a shade. If there are views into lots of other rooms, try to keep hallway walls tonal so that the colours don't jar. Shades of lilac, lavender and pink are prettier than neutrals and have a soft, soothing effect that can help to calm down a busy hallway.
Try a two-tone paint treatment that will add interest to a plain, narrow hallway, by painting the walls in two complementary colours. You could also bring in a hallway wallpaper idea to introduce subtle pattern at the same time as colour. Using a paler shade on the lower section of walls will create a feeling of space in a narrow hallway, while painting the upper section of wall a darker colour will help to cosy-up a high-ceilinged space.
'Be guided by the natural light,' recommends Wil at John Lewis. 'It's often best to go bright if you have a light-flooded hallway, as you'll create an uplifting space that illuminates and energises - or go deep and dramatic if you have little light to make a moody, colour drenched space.'
13. Incorporate hidden storage
Freestanding furniture can eat up a lot of floor space and interrupt the flow in a narrow hallway, so opting for built-in storage can be a better way of utilising space and giving the hallway a neater, more streamlined look.
Make use of wasted gaps and alcoves or empty space behind and around doors to create built-in shelves, cubbyholes or cupboards for housing coats, shoes and other essentials. Understairs space is another prime spot for storage so be creative with under stairs ideas, whether a simple shoe bench or console tucked neatly underneath to bespoke built-ins sized up to fit awkward understairs angles.
14. Stretch the space with continuous colour
Keep continuity by using the same paint colour throughout a narrow hallway, carrying it through to skirting, doors and trim as well as walls. Having continuous colour, with no harsh line breaks in-between, will trick the eye and solve how to make a narrow hallway look wider. Choosing flooring in a similar colouring will also add to the effect and make the hallway feel more spacious.
'By enveloping a small space in a colour, the focus shifts from noticing the size of that space to just appreciation of the shades that surround us,' says Justyna from Crown. 'You could even think about upcycling old furniture, by painting it to tone or match with the walls, so that it blends into the background.'
15. Go big with statement lighting
While keeping everything low-key and pared-back is the general advice when it comes to small spaces, in a small or narrow hallway it can pay to go 'big' when it comes to lighting. A statement chandelier or oversized light pendant makes a great distraction in a small hallway that takes the attention away from the general lack of space.
'Hallways are the first impression when entering a home. They should not only be welcoming but should also be the starting point for conversation,' says Julian Page, Head of Design at BHS Lighting. 'A statement light in an entranceway creates a focal point and for those with smaller spaces, it helps to lead the eyes up making the room feel larger.'
'A ceiling pendant light not only creates a sense of cosiness, especially when hung low, but also acts as a statement piece. Wall lights are another great lighting option. Not only do they light up larger areas such as hallways or staircases but can highlight interesting features in the space such as art or family photographs.'
16. Drench the space if going for dark colours
If choosing trending dark paints shades, such as navy blue, almost black and charcoal greys it's best to go all-in. by this we mean 'colour drenching', a term which has emerged time and time again with current paint trends. It simply means painting all surfaces, walls to skirting boards and even ceilings.
'Dark colours can have magical effects in a hallway if you drench everything from floor to ceiling in the same colour,' advises Marianne from Dulux. 'Have great lighting and loads of artwork to bring it to life.'
'The visual effect blends all the corners and walls together and so you feel like the space is endless. It's not for the fainthearted though and so if you are not a huge fan of dramatic impact, proceed with caution and opt for mid tone rather than really deep shades.'
17. Declutter to add a sense of space
A tidy space will always feel bigger in size, especially in a narrow entranceway where too many items can block the path navigating through.
Of course the more streamlined a hallway space the better the light quality too, which goes a long way when it comes to how to make a narrow hallway look wider and more forgiving.
Opt for minimal storage first, and avoid any tables or racks you don't deem 'essential'. Hallway shoe storage is obviously important, so keep items concealed within whatever storage you choose to ensure coats and shoes etc don't distract the eye when entering the narrow hall space. Elevate storage where you can to keep the entire floor visible to enlarge the floor plan.
18. Create a waist height divide with contrasting colours
Using two contrasting colours to divide walls is a classic interior designer trick to push the ceiling away – affectively creating the illusion that the space is bigger than it is. Renowned interior designer Kelly Hoppen favours this genius idea for painting narrow hallways – to make the space feel bigger. Recommending, 'paint along the hallway but only to your waist level,' Kelly expertly advises.
Going on to explain the theory behind why you only paint the bottom half the wall in a narrow space, 'by doing that you're framing it (the space).' This smart use of colour helps to break up a solid corridor of walls.
In a particularly narrow hallway paint the lower half of the wall slightly less than waist height – especially if using a dark colour. This will avoid the darker tone from overpowering and having the reverse effect to making the corridor-like space feel more open. Make your decorating task easier by following instructions for how to paint a two-tone wall.
19. Go all-white with the colour scheme
If in doubt with bolder colours when it comes to how to make a narrow hallway look wider, then follow the failsafe advice offered by Marianne from Dulux and keep the colour pale.
Nothing is better than the best white paint for a bright white hallway idea, determined by how much natural light the narrow hallway gets throughout the day. Add multi- directional light sources to enhance the all-white colour scheme after the daylight has faded.
20. Paint the wall furthest away in a richer shade
Get creative with an alternative feature wall idea. 'A great trick for making a long narrow corridor bigger is to paint the walls in a really pale colour (or white) and the farthest wall in a much richer colour,' suggests Marianne from Dulux.
'The deep colour visually attracts your attention and jumps towards you, making the space feel much grander and expansive.'
This also works as an opportunity to tie the hallway design into the rest of your home, so consider opting for a colour that reflects the decor in your living room or kitchen for a cohesive design
21. Add reflection and light with a mirror
Mirrors are a great design solution for many interior problems, especially when it comes to making small spaces feel bigger. A hall mirror idea is a simple yet brilliantly effective way to welcome light to a hallway space. The lighter and brighter a narrow hallway feels the less enclosed and small it will appear.
A simple mirror also welcomes a reflection back into the small space, which can help to wider the perspective of the limited area.
'Placing mirrors opposite rooms or in corners that need brightening up is a fantastic solution to expanding the light of a room in a natural, non-intrusive way,' says Vicki Foster, Interior Stylist at ScS. 'One at the end of a hallway will bounce any light back into the room, making the whole space feel bigger.'
22. Choose cool shades of blue and green
Consider a cool colour scheme to open up the space. 'Cool shades like soft blues and greens make it look bigger still because they visually recede' says Marianne from Dulux. 'This means the walls they are painted on look a little further away from us.'
This tromp l'oeil effect will alter the perspective, and shows how to make a narrow hallway look wider and more generous in size. Be sure to keep the accessories and storage elements to a minimum, to avoid covering too much of the cool coloured walls.
23. Give one wall depth with panelling
Another way to take this paint trick even further is to add an on-trend wall panelling ideas for hallways. On just one wall is most effective, as this hallway example shows - it helps to shift the balance of the narrow space. As if pushing one wall away from the other, the decorative detail is tricking the eye into thinking the space between the two walls is far greater.
24. Illuminate the space well
A well lit space will always look better for having the right lighting in place. A well-planned hallway lighting scheme will ensure your success in how to make a narrow hallway look wider, more inviting and generous. For immediate hallways, with a corridor like feel aim to place lighting centrally in the ceiling, to create a pool of light in the middle of the space. This idea is to almost push the walls outwardly from the lightest point, making it feel wider.
If the narrow hallway goes immediately up the stairs so the lighting is visible, try wall lights. Lead a path up the flight of stairs with lights on either side to frame the space. The light cast strongly each side is drawing attention and highlighting the stairs. Whereas an overhead light might cast shadows on the walls which in turn draws them in, rather than pushing them away.
25. Try a calming colour combination
'Try a colour combo like Cornflower White on the top two thirds of the walls and ceiling with a lower band of Bright Skies for the ultimate space expanding experience' suggests Marianne from Dulux.
Combining two light shades, in whichever way you choose, will ensure the space is bursting with personality but also in brightness – which helps to open up a narrow hallway space.
Can you widen a narrow hallway?
When it comes to how to make a narrow hallway look wider, it doesn't necessarily mean knocking down walls and creating more physical space. Widening a narrow hallway can also involve visual trickery that makes the space feel wider, brighter and bigger without any actual building work involved.
Painting the wall at the end of a long, narrow hallway a bright colour, bold shade, or wallpapering it in a vibrantly-patterned wallpaper will create a focal point that draws the eye in, so that the emphasis is not on the hallway's lack of proportions.
Clever positioning of mirrors is another way that can help make a narrow hallway feel wider. A mirror can reflect light from incoming windows or overhead lights, that helps to better illuminate the space and make it feel brighter, airier and more spacious.
What colours make a hallway look bigger?
'Tones of white will obviously be a suitable colour for a bright hallway and can look super stylish – especially if you think about painting woodwork something like a pale grey to give definition,' says Justyna from Crown.
'Injecting bolder colours that we love into our homes can also give us a boost of positive energy and improve the comfort in the spaces we live in,' adds Justyna. 'Colour drenching, especially when using darker brave colours, works best in small spaces like a hallway or corridor. By enveloping a small space in a colour, the focus shifts from noticing the size of that space to just appreciating the shades that surround us.'
Get the Ideal Home Newsletter
Sign up to our newsletter for style and decor inspiration, house makeovers, project advice and more.
Tamara was Ideal Home's Digital Editor before joining the Woman & Home team in 2022. She has spent the last 15 years working with the style teams at Country Homes & Interiors and Ideal Home, both now at Future PLC. It's with these award wining interiors teams that she's honed her skills and passion for shopping, styling and writing. Tamara is always ahead of the curve when it comes to interiors trends – and is great at seeking out designer dupes on the high street.