Hallway colour schemes – 16 ways to make a stylish entryway
Update your hallway colour scheme with these stylish and playful combinations to greet you everyday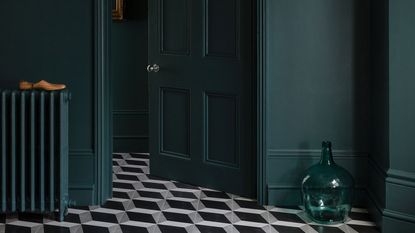 (Image credit: Future PLC)
Entryways can be tricky places to decorate, but carefully choosing the right hallway colour scheme can take a small and dark area into an inspiring space. There are generally two routes you can take - either embrace the lack of natural light and go moody or employ a lighter tone to brighten things up. The option is all yours.
The ideal entrance point invites you to take off your shoes, hang up your coat and relax in the comfort of your own home. And hallway paint ideas will play a huge role in creating the aesthetic you're after. Do you want muted, soothing shades to welcome you in after a long day? Or would you prefer it to be a burst of energy with statement colours and patterns? There are so many combinations to choose from, as well as both large and small ways to make an impact.
Hallway colour schemes to inspire
Be inspired by our pick of the best hallway ideas when it comes to colour schemes. And once you've decided on the kind of first impression you want to create with your hallway colour ideas, there are some practical steps you can take so you're not touching up chipped paint a year down the line.
'Hallways are by their nature intensely high traffic areas and so a durable washable matt paint is always a smart choice,' says interior designer Shanade McAllister-Fisher. 'Dulux easy-care is perfect for neutral colours but I would tend to choose Farrow & Ball estate emulsion or Little Greene Intelligent matt emulsion when using colour as they offer a richer depth of colour.'
1. Envelope the space with colour drenching
Put the white paint away and go for one wrap-around colour for woodwork, walls and even the ceiling. This will draw attention away from the edges and make the space feel larger.
'Colour drenching, especially when using darker brave colours, works best in small spaces like hallway or corridor,' says Justyna Korczynska, senior designer at Crown. 'By enveloping a small space in a colour, the focus shifts from noticing the size of that space to just appreciation of the shades that surround us.'
2. Create a pink palace
With Dulux revealing their colour of the year 2024 as a sweet, dusky pink, it's safe to say that this shade is top of our radars for an on-trend update. It makes a great choice for a hallway as it's light enough to feel like a neutral, while still adding a playful taste that hints as to what's to follow.
The best pink paints will provide you with plenty of inspiration for which shade will suit your home, depending on whether you want to go bold or as pale as possible. It's also super easy to accessorise with light wood and plenty of plants for an inviting entryway.
3. Opt for a new neutral
'New neutrals' are shades similar to beige and grey that offer a versatile base look with a little bit more interest. Khaki and mushroom tones are the latest in this offering as they'll be simple to add to your interior while also making a hallway look expertly designed.
It's also a straightforward way of achieving a modern hallway idea without sticking to a clean white palette. Opting for the latest paint trend of earthy shades will instantly upgrade an entryway.
4. Pick a pastel combination
Stuck between two (or more) shades? Don't worry about making a decision, just go for both! There are so many colours that pair perfectly together, particularly pastel tones that will give you a sugary sweet greeting every time you arrive home.
As well as combining multiple colours, using colour drenching will elevate the look even further and make a narrow hallway feel larger. 'One of the benefits of colour drenching is that it can help to blur the line where the walls and ceiling meet,' adds Michael Rolland, managing director at The Paint Shed. 'This creates the illusion of more height and makes the space feel more open.'
5. Create a calming aura with sage green
A hallway forms the entrance and exit between indoors and outdoors, so connecting the two areas through colour will help to make it a seamless transition. Green is not only an on-trend choice but it also exudes a calming aura - essential for busy mornings spent rushing in and out of the house.
'Hallways are the first space that greets us when we come home, and they can set the tone for the rest of our day. That's why it's important to create a hallway that is both welcoming and calming,' says Michael.
'One way to do this is to use shades of green to create a seamless transition from the outside in.'
6. Maintain a pared-back all-white look
Keep things simple with some timeless white hallway ideas. Give all walls and woodwork a fresh lick of the best white paint for a look that's clean, modern and bright. You could also use a matt finish halfway up the wall and a gloss finish on the top to create an interesting textural contrast, all while sticking with basic white. As this room shows, white doesn't have to be boring and makes this downstairs loo look intriguing.
7. Embrace bursts of fiery red
Make a statement with a daring hallway colour idea, like this rich red hallway with red and white checkerboard floors. 'This year people are making bolder colour choices in their homes, and you cannot get any bolder than bright, hot, dramatic red,' says Annie Sloan.
'Use this statement shade in hallways and landings – short bursts of fiery reds work fabulously here and you'll certainly intrigue the postman with your bold colour choice. Contrast red with mellow and luxurious chocolate browns.'
8. Take it upstairs with patterned wallpaper
If you generally prefer neutrals but want to add some interest, why not make a feature of the wall that leads upstairs with hallway wallpaper ideas? The staircase is a transitional space; it's not somewhere we tend to sit in for hours as we do in the living room. So you can afford to be more playful and daring with your hallway colour ideas without worrying that you'll go off it. Blue wallpaper with a white palm-leafed print here really brightens up an otherwise neutral scheme.
9. Be bold with colour combinations
To make that 'wow' first impression the key is to be brave with colour combinations and even pattern. As this stunning hallway proves, an accent pop of sunshine yellow looks striking when paired with black.
To keep the look focused try using the accent colours purely on woodwork within the hallway, keeping the main mains in a neutral shade.
A patterned floor works well for combining a paint colour scheme, plus a patterned hallway flooring idea is ideal as it shows up less dirt than a block colour solution.
10. Take an accent colour to waist height
An ideal way to use colour in a hallway is to use a heavier accent colour on the lower portion of the wall leaving the top in a bright white. Balancing the use of colours helps to prevent the space from feeling overwhelmed by the stronger of the two colours. It will also lighten a dark hallway by drawing the eye upwards.
Painting along the hallway but only to waist level frames the space, breaking up a solid corridor of wall. By doing so you're creating a Trompe-l'œil effect that can give a different perspective, making the space feel bigger and the ceilings higher.
11. Showcase the stairs
An imaginative staircase idea can do wonders to transform a hallway in an instant. Liven up a white hallway with the addition of an accent colour painted on the stairs.
Less is so much more with this modern approach to a hallway colour scheme. Go for any colour you love, painting it on staircase risers and drawing attention to them with brilliant white treads and backdrop.
12. Pick out the woodwork in contrasting colours
There are those that say never paint the original woodwork on a stairway but we say when it looks this good, why not?
Picking out the woodwork on a staircase in a bold contrast colour is a great way to modernise your hallway scheme. In this stylish hallway a black wood stain makes the banisters and spindles stand out for all the right reasons.
Going one step further, the design team at Dulux have introduced softer accent colours on the stairs, which works beautifully in the space.
13. Create a refreshing blue entrance
Traditionally homes have small and narrow hallways, often lacking space and light. So select a shade such as Dulux's White Mist to open it up. With a clean slate to work with, you're then free to add a unique flourish, which is where painting the ceiling, the door, its surrounds and a stripe down one wall comes in.
Dulux's soft blue Mineral Mist keeps things fresh and conjures up a subtle coastal theme in the process. Both of these shades are taken from Dulux's Easycare Washable & Tough range. This paint is more likely to withstand scuffs and marks, which in a high-traffic area like a hallway, is a huge advantage.
14. Opt for on-trend shades of calming grey
A calming, soft grey shade will offer a timeless look. Create a restful feel with dove grey hallway ideas by using two shades on the wall for contrast. Helen Ashmore, Head of Design at Laura Ashley agrees that dove grey is a perfect choice for a hallway. 'This neutral shade features an underlying hint of red, that will add some warmth to your colour scheme.
'Break up your hallway by creating an architectural feature such as a drop picture rail or a mid-dado rail so you can add depth of colour with a stronger shade. To create tonal variation within the scheme, add a lighter more subtle tone on the main part of the wall.'
Lighten the look with white or cream furniture and glass accessories. It's incredibly versatile, too. Look for shades that have subtle hints of blue or pink, and dress them using luxe metallics or natural textures.
15. Make an impact with purple
Create a comforting, cosy vibe with beautiful rich tones, such as the berry colour on this panelled wall. This look is super snug and wintery, and if you add a draft-excluding curtain it will keep your home wonderfully warm, too.
Switch curtains, cushions and other soft furnishings with the seasons to keep the feeling relevant and fresh. Use home decor discount codes so you can buy your new items without adding double to your budget.
16. Indulge with opulent tones
To create a luxurious feel in your hallway, Amanda Telford from CTD Tiles recommends going for opulent dark tones from ceiling to floor. 'Incorporate moodier colours through materials such as paint, wallpaper and tiles. 'To add intrigue, choose tiles with a touch of pattern,' Amanda suggests.
What colour is best to paint a hallway?
'Whether you're looking to emphasise just one feature of your hallway or wanting to transform the entire space, choosing a lighter palette is a great option as it often creates the illusion of natural light in dark and cavernous areas,' advises Charlotte Radford, Senior Product Manager at Valspar.
Charlotte says a dark hallway isn't always a bad feature, and that dark navy blue can create a calming space for greeting guests. 'Painting with a mid-sheen will also create a light-enhancing effect in your hallway, as these finishes will naturally reflect any light present in the space,' she adds. 'It's important to remember, however, that these more reflective sheens can accentuate any blemishes on your walls, so make sure you are working on perfectly smooth surfaces.'
What colours brighten a hallway?
Chelsea Clark from I Love Wallpaper comments that many households opt for a neutral colour palette as this ensures often dark and narrow spaces feel light and airy. 'For those wanting to add a little personality, injecting light and mid-tone shades of pink, blue, yellow and green will instantly add an uplifting and mood-boosting feel to any space,' she says.
Should hallways be lighter or darker?
'I love a dark hallway,' comments interior designer Shanade. 'Many don't have windows or natural light so why not embrace this and create drama with shades of rich deep colours?
Get the Ideal Home Newsletter
Sign up to our newsletter for style and decor inspiration, house makeovers, project advice and more.
Jennifer is the Deputy Editor (Digital) for Homes & Gardens online. Prior to her current position, she completed various short courses a KLC Design School, and wrote across sister brands Ideal Home, LivingEtc, 25 Beautiful Homes, Country Homes & Interiors, and Style at Home.