Small hallway ideas – simple decorating tricks to maximise a small space
Embrace the phrase 'small is beautiful' with these welcoming small hallway ideas that are sure to make the most of a tiny space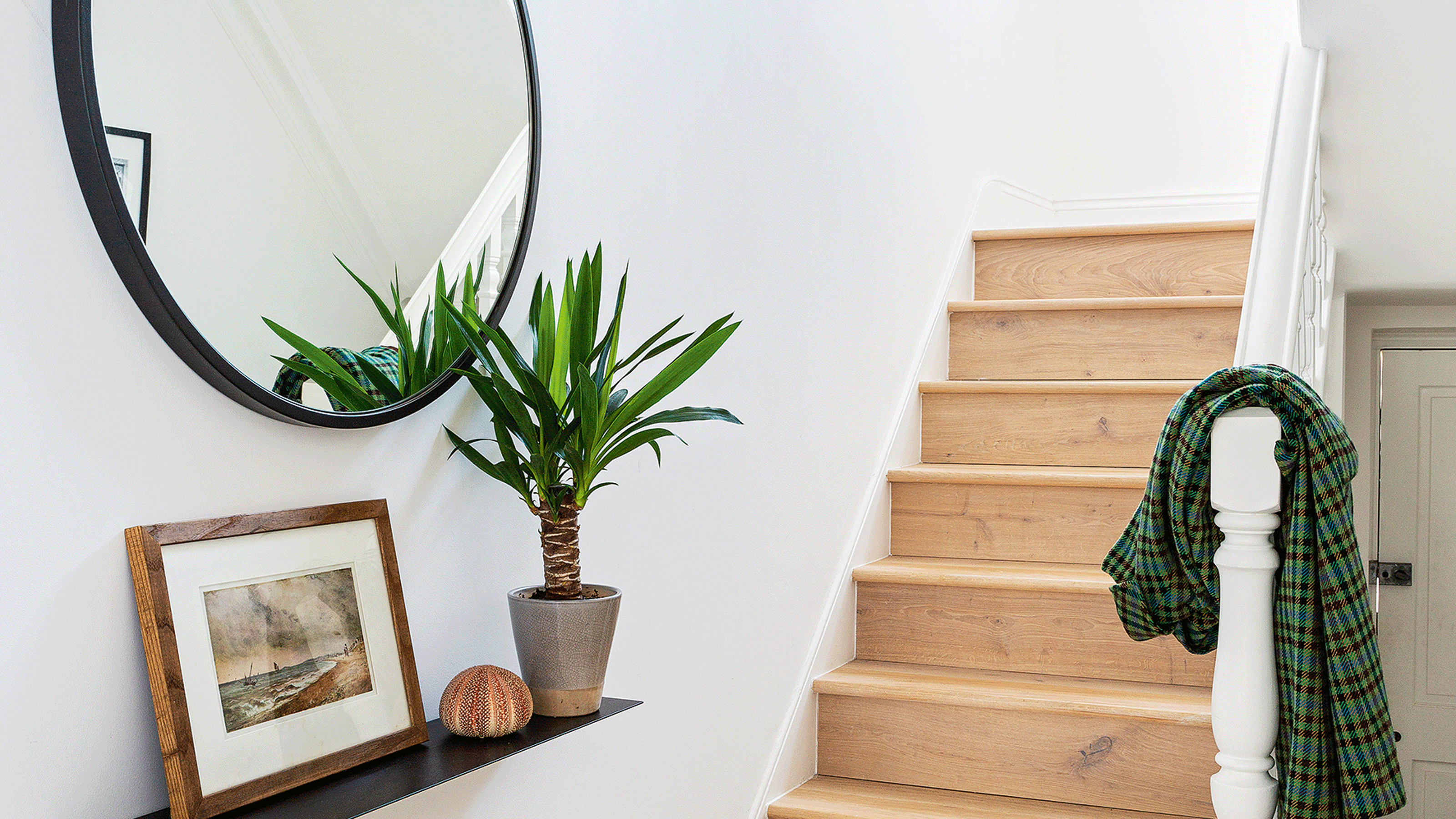 (Image credit: Future PLC)
Faced with a compact entryway that is leaving you stuck on how to style it? The best small hallway ideas will take your entrance from cluttered and cramped to a well-designed zone that is both functional and in line with the rest of your interior.
A hallway is the first part of our home that we lay eyes on, and also the last area we use before rushing out of the door. Therefore, it's vital that it acts as a wider reflection of the rest of your decor, as well as practical. The best hallway ideas encompass both fashion and function, whether that be innovative storage solutions that optimise unused space or ways to accessorise that don't create extra mess.
'Hallways are the first impression when entering a home', says Julian Page, Head of Design, BHS. 'They should not only be welcoming but should also be the starting point for conversation.'
Don't be put off by having a smaller space to work with, either. It can offer just as much potential as larger entryways and can act as the ideal opportunity to go bold with your choices. Just like with small living room ideas, there are plenty of ways to lean into a warm and cosy feel or to expand on the ambience with clever optical illusions. So, before you get frustrated with stray shoes by the front door or lost keys that don't end up in a dish, consider trying out the best small hallway ideas within your own home.
Small hallway ideas
Just like with long hallway ideas, small hallway ideas will help you maximise the potential of your home's entryway by utilising the space you have. 'A lot can be done in a hallway, and it's important to not limit your design creativity just because it's not a proper room', says Yvonne Drury, Co-Founder, MissPrint.
'Hallways always look best when they're treated like a proper room, adorning the space with various decor pieces and vibrant coloured walls.'
1. Think pink
Pink is finding its way into many rooms around our home, so it's only natural to add a touch to your entryway. The barbiecore trend has seen all shades of pink appear in our furniture and furnishings, so consider brightening up your small hallway with a hint of the famed shade.
You might want to try a small nod to the trend via artwork, or perhaps you're ready to make a bigger commitment by picking a pink storage unit - no matter your level of dedication, pink is a surefire way to make your small hallway shine.
Design and Build Expert, Gabrielle Blackman, emphasises 'Don't be afraid to be bold with colour and pattern in your hallway, it's lovely to make a bland transitional space into something unforgettable.'
2. Go for half height
Built-in storage is one of the best ways to maximise the space you have available in an entryway, and of course, keep clutter hidden away. By opting for half-height built-in storage, your small hallway will feel much more spacious by creating an airy look where your eyes naturally fall.
This also means that it can double up as a bench to pop your key dish, or even somewhere to sit as you lace up your shoes.
Vicki Foster, Interior Stylist at ScS, notes 'It's also important to make full use of any space that's already there whether it's understairs storage or a small nook, and be brutal when deciding how much you're going to allow to stay in your hallway.'
So, if you've got an odd gap that you aren't quite sure what to do with, consider adding a half-height storage system to make use of the space.
3. Work in wood
Small hallways can often feel cramped, drab, and in need of a sense of life. Bringing the outdoors in will provide an instant lift to a compact area, but to add a more permanent touch that you don't have to worry about watering, consider wood panelling.
It has a warm look that will take a small spot from stuffy to cosy, so you are hit with a feeling of relief when you walk through the door after a long day. By taking the panelling from floor to ceiling, the height of the room will feel far more spacious too. If you're looking for a quick small hallway refresh, you can try this DIY wood panelling hack for under £120.
4. Restyle with a radiator cover
Styling a small hallway means you will likely need to make the most out of every potential storage and style opportunity. Instead of leaving your radiators bare, consider investing in a radiator cover or learning how to make your own radiator cover to inject personality into the entryway.
By boxing the radiator out, you're also provided with a ledge to either style up with on-trend accessories or use as a convenient spot to store your essentials. Radiator covers are easy to DIY too, so you can easily add a rattan touch.
Charlie Avara, Managing Director of All Done Design, also recommends 'opting for a larger radiator which is a single panel and doesn't stick so far out of the wall, so you can help reduce the space taken up.'
5. Create space with a console table
When you're dealing with a small hallway, one of the biggest compromises will be balancing storage with a clutter-free look. Console tables fall right in the middle of that debate, providing an opportunity to house your daily essentials and outdoor gear, while still maintaining a minimal appearance.
The thin legs of console tables mean that the flooring area of your hallway will look neat, but it still creates a zone in your entrance that makes it feel like a room of its own. The open bottom is also a handy place for baskets - you'll be able to house hats and scarves out of sight but within easy reach for quick door dashes.
6. Max out on art
A small hallway doesn't mean you have to skimp out on wall fixtures - instead, consider maxing out on art. Gallery walls are a great way of adding ample personality to an entryway, but focusing on one or two larger pieces of art will make an impact when you walk through the door.
Choosing a piece that fits the majority of the wall space available will provide a bespoke look that appears well thought-out - despite only needing to decide on a single print or painting. You can also use this as a chance to tie in colours or themes from around your home so that your hallway acts as an extension of other rooms and has a cohesive effect.
7. Dedicate a space for shoes
Shoe storage is often a hotly-contested topic in most households. If you're lacking a dedicated place to tidy them away, stray shoes can often end up in the middle of a hallway, waiting for you to trip over. In short, this is exactly what you don't want in a small hallway. But if you don't have a larger built-in coat cupboard, then what's the next best option?
Slimline wall units are great hallway shoe storage ideas, as they're easy to access in a rush and allow you to keep each pair in its dedicated spot. This means there's no way to lose one-half of a pair at the back of a dark cupboard. It will also free up floor space, which is key when there isn't much to work with.
8. Make storage baskets a stylish feature
Storage baskets don't have to just serve a practical purpose. Use them to reduce visual clutter but also as a stand-out feature to add interest to your small hallway ideas.
'Baskets are perfect for hallway storage of items like hats, gloves, scarves or even trainers – they're probably the only 'breathable' type of box storage so are really useful to get the air flowing', says Craig Sammells, Country Manager UK & Ireland, Orthex Group. 'They're really handy too for items you want to grab as you're going out of the door, like tissues, sunglasses or wipes.'
Place a mix of storage baskets under a console table or coat peg. Rattan baskets will bring in earthy, natural textures and maintain breathing space around the items you store inside them. Choose baskets of different sizes and colours to add visual interest.
9. Two tone the walls
Small hallway decorating ideas will benefit from a two-tone colour scheme, an easy way to inject some personality into the space and create the illusion of a bigger space.
'Make a small hallway look good by working two contrasting colours into the walls', says Rudolph Diesel, Interior Designer. 'For instance, allow the base of the wall including the skirting board to be one colour, up to say a height of 900, and change to another colour above that.'
'You could also try having a paler tone on side walls, and a deeper tone on the end walls as a two-tone scheme', suggests Justyna Korczynska, senior designer at Crown. 'This will visually pull the end walls inwards and push the side walls out.'
If you're feeling particularly bold consider splitting the wall with a statement wallpaper on the top half in a complementary colour.
10. Paint any existing furniture
Any furniture in a small hallway such as a console table or shoe rack should blend in with the rest of the space and avoid sticking out too much, as this will instantly make the space look more cluttered. Furniture in neutral, soft wood shades are ideal, but if you don't want to go shopping for new pieces, try painting what you already have so that it blends better with the space.
'Think about upcycling old furniture by painting it to tone or match with the walls, so that it blends into the background', says Justyna. 'Rub down the furniture, apply a primer, and then top with a gloss or satin finish for the best result.'
11. Add window shutters to free up wall space
If your small hallway has a window, shutters are a space-savvy alternative to curtains, as they are fitted within the recess of the window space and therefore don't take up any space on the surrounding wall.
'When working with a small hallway, shutters can elevate the look of the space instantly, particularly when painted', says Sally Denyer, Digital Marketing Manager, Shutterly Fabulous. 'They will draw attention to the window, making the space feel lighter and more elegant.'
Window shutter ideas can be transformative in a small hallway, and will encourage you to ditch the curtains in favour of a more space-savvy and stylish alternative.
12. Consider a statement hanging light
The importance of good lighting in small hallway ideas has already been established, so why not capitalise on this by adding a statement hanging light, serving as both an eye-catching focal point and a way to brighten up the space.
You can have fun with this, and pick a light that suits your style while tying into other hallway decor. 'For those looking to incorporate ceiling lighting into their hallway, a larger statement hanging light is the perfect option as it provides both functionality and ambience', says David Amos, CEO, Amos Lighting. 'Flat rectangular panel luminaries are particularly popular and can be dimmed down to create more of a relaxed atmosphere.'
13. Rely on multifunctional pieces
Small hallway spaces will benefit a lot from multifunctional furniture pieces. Look for units with both hidden and open storage, such as a console table with drawers and open shelving. Keep this backed against a wall and opt for pieces that utilise height over width to save on floor space.
Alternatively, consider adding a storage seat or ottoman. 'Ottomans offer ample storage space, as well as bring warmth to a space, especially when paired with a high-pile rug', says a Domu Brands spokesperson. 'Plus they can be extra hallway seating as you kick off your shoes after a long day.'
Place the ottoman at the foot of the staircase, where the eye is naturally drawn. It's a sweet little addition to the hallway and doubles up as extra storage space.
14. Warm things up by layering textures
Layering different textures can really maximise the cosy potential a smaller hallway offers. Though we may think that layering textiles should be reserved for larger spaces, they can instantly bring a homely touch to small hallway decorating ideas too.
'Regardless of space, cleverly layered textiles not only create a cohesive look but help to create a feeling of luxury', says Debbie Leigh, Design Manager, ILIV. Have fun experimenting with different textures and patterns in rugs, cushions and throws. Adorn the floor with a rug that matches your colour scheme and cosy things up with a chunky knit throw on the staircase banister or ottoman.
15. Stick to warm neutrals
Like with small bedroom ideas, sticking to a neutral colour palette will help smaller hallways feel more spacious and airy. Off-whites, warm greys and soft beige tones will create a minimal, pared-back feel that counter any feelings of clutter and claustraphobia.
Complement a neutral colour scheme with natural materials, like wood, rattan and wicker. Make sure you opt for warm lighting to prevent the space from feeling stark and bare. Decor pieces such as coffee table books, cushions and a nice candle will add interest and make the space feel more welcoming.
16. Create a convenient office space
Hallways typically serve little practical purpose other than to welcome visitors into the home, and store outerwear so we can easily grab it before leaving. But small hallways can also be a perfect working from home space if you don't have a dedicated office.
'A small hallway can double as an office if it is well-lit and organised', says Barry Gray, CEO, The Tools Square. 'Try using large furniture pieces instead of tiny chairs and purchase flexible workstations that make switching between tasks easy.'
Console tables can easily be used as a desk, as demonstrated by the smart black one here. Paired with a white ottoman and desk lamp, it's the perfect hallway come office space.
17. Conceal clutter from sight
Firstly it's important to clear the clutter. Concealing all items will instantly help to make a narrow hallway look wider, simply because your eye won't be distracted. Coordinating storage with the wall colour will ensure the small space is kept streamlined.
'For smaller hallways, it's important to keep clutter in the space to a minimum', says Ash Read, Interior Design Expert, Living Cozy. 'So while paintings on the wall or complimenting accessories will make the space feel homier, any clutter on the floor or the surfaces will enclose the space, making it feel even smaller.'
18. Choose plenty of practical storage
Invest in some practical hallway storage ideas and solutions such as a seat with built-in storage, a console table with handy drawers, boxes or baskets, and of course a hanging rail or pegs for the coats and hats.
There is a wide range of choices available, from modern streamlined furniture to antique trunks. So whatever style you are looking for, you are bound to find something to cater for your needs.
'Adding clever storage to your hallway makes it easier for everyone to make that stress-free dash out of the house,' says Clotilde Passalacqua, Interior Design Manager at IKEA UK and Ireland.
'Two-in-one furniture, like the PINNIG bench with shoe storage really comes in handy when you want to optimise a small hallway, whilst wall-mounted hooks will help you take advantage of the full height of your ceiling.'
19. Welcome more light with a mirror
It's one of the oldest styling tricks in the book, but it's a proven winner! Positioning a mirror on one wall is a good trick as it will bounce the light around and help make the space feel larger. This idea works most effectively in a white hallway or any other light space, because the pigment will better reflect the light.
'If your hallway has no windows, choose a mirror that's cut and framed to mimic one, like a large arched, window-style mirror', suggests an expert from Domu Brands. 'It will provide a unique focal point and prevent a sense of claustrophobia typical of tight entryways.'
Plus, any hall mirror idea is always a welcome addition to check your appearance one last time before you leave the house.
20. Add wall lights to widen the space
'Lighting can transform a room, and the more light there is, the bigger the space looks', says interior designer Ash. This is what makes lighting especially important in small hallway ideas, so the compact space can feel as roomy as possible.
In a narrow hallway consider wall lights to add more ambient lighting to open up the space. 'Wall lights can light up larger areas in hallways or staircases as well as highlight interesting features in the space such as art or family photographs,' Julian, BHS says.
Staggered wall lights will draw the eye outwardly to the point of focus as if stretching the walls to feel further apart. Pair wall lights with directional overhead lights to ensure the space is well lit.
21. Make a feature of coats and boots
Embracing the 'clutter' makes a small space feel less encroaching. A fun peg board-style hallway wallpaper idea creates a sense of purpose on one wall. Paired with a simple peg rail and attractive baskets the space becomes immediately identifiable as the place to store garments, nothing more.
A handy bench provides an elevated seating area, where the baskets can be neatly stowed underneath making the best use of limited space.
22. Revel in the practicality of smart shelving
A simple shelf, above concealed storage units, provides the perfect place for keys, welcoming vases of flowers and family photos to give your small hallway a touch of personality.
Mirrors are always a great idea for small spaces, to reflect light. In a hallway they become even more valuable to quickly check your hair before you leave the house. A mirror with a shelf in a hallway, well that's just magic! You get the light, the reflection and a place to pop things to remember or keepsakes to display. Win, win.
23. Maximise space with bespoke storage
Maximise the decorative potential of storage by choosing built-in open units instead of those with doors. Place against a wallpapered wall – here, a grey geometric pattern not only makes a fresh backdrop, but turns each section of the storage unit into an attractive separate storage zone.
Introduce a zingy secondary colour for added up-to-date style. And why not get the children involved with low level hooks just for them? Alongside signature yellow, use black and white accessories to make the space homely.
24. Single out a wall for pattern
Add a summery feel to your hallway with a splash of sunshine. The area under these stairs would be a dark, uninteresting space if it wasn't for the uplifting flash of yellow wallpaper that cheers the room up no end.
A yellow bin, cleverly used as shoe storage, adds a modern twist. Mix the tones from sunflower to sand with a standalone bench and coat hook in warming beech wood.
25. Add a sense of depth with a stair runner
Hallways with steps that have a solid wall rather than open balusters can be among the trickiest of spaces to decorate, but a simple way to make the most of this space is to add a stair runner.
'By choosing a striped runner you can help create the illusion of space; the eye is naturally drawn upwards and the staircase appears extended, lengthening the overall perspective', explains Julian Downes, Managing Director, Fibre Flooring. 'Or, try pairing a bright runner with deep, contrasting painted woodwork and you can create a striking backdrop with a splash of colour'.
26. Step up with colour
When it comes to hallway paint ideas, don't just think about the walls. You can liven up a small hallway by adding a fresh coat of paint to the staircase. Less is so much more in this modern scheme. Go for striking blue paint on staircase risers and draw attention to them with brilliant white treads and a backdrop.
Bring in a contrasting accent shade and use in just two places: a single riser at the top of the stairs and a feature pendant light. This works particularly well in vibrant, life-giving yellow. Finish with a large gilt mirror. Perfect.
27. Utilise every inch of space
Use the dead space at the end of a narrow hallway to house an inviting bench. This clever idea makes great use of otherwise unused space. Build a straight bench, or take the opportunity to use the space for storage by adding a hinged lid.
It's perfect for hiding away unsightly shoes and also visually elongates the small space. Cover a cushion pad in a subtle pattern to blend in with the neutral scheme.
28. Turn small into cosy
Maximise the 'snug' factor in a narrow hallway. For a country feel, bring furniture and storage together for a look that suggests relaxed rather than cluttered. Separate two tones of soft blue on walls with a classic unpainted dado rail that picks up on the natural wood finish of a bench for a rustic edge.
Soften with textured cushions and hang traditional hooks for coats and hats so they can be seen rather than hidden. Use the space under the bench to display authentic accessories to complete the intimate scheme.
29. Fake a window with a view
Small hallways often lack windows, so use an interesting mirror display to counter this. 'Mirrors create the illusion of extra space by reflecting light around the room, crucial in what tends to be the narrowest, dimmest part of the house, explains an expert from Domu Brands.
Popular window pane designs help to add to the illusion by enhancing the surrounding natural light. The design breaks up the sections of the mirror so it becomes less obvious than a standard mirror.
30. Make a statement with artwork
Small hallways will benefit from an interesting staircase, which you can easily achieve by hanging artwork along the wall. Paint the area immediately behind the pictures in brilliant white, sure to draw the eye, then hang your chosen collection of framed prints.
Choose a mixture of gilt, white and black frames to reflect the diversity of your collection. Arrange the art so that is interesting but organised; you don't want to make the space overly chaotic.
31. Tap into cherished country
Combine three wood finishes to give a hallway simple yet elegant style. Line walls with white painted tongue-and-groove panelling to keep the space bright and open. Then bring in an easy-on-the-eye oak chest of drawers and a classic black painted coat stand for vintage charm.
Give the space personality with personal accessories and a pretty jug of colourful flowers.
32. Realise the potential of plants
If your hallway is too small to house large pieces of statement furniture, you may still have the space to fit a narrow console, ledge or shelf – or make use of a windowsill if you have one. Think about the decorative possibilities of potted plants. Select them according to their sculptural shape and size and use pots and planters for the colour elements.
Create a line of jolly specimens that will be as pretty as any picture. What's more, you can swap and change individual plants or pots when the mood takes you.
33. Aim for easy elegance
Initiate a warm welcome with a stylishly simple decorating scheme. Create an inviting hallway with a backdrop of soothing green walls and tasteful cream woodwork.
Pick out typical hallway furniture, like the mirror, console and decorative hallway lighting idea shown here, to work in unison to create a familiar and homely vibe. Continue the co-ordinated scheme with cream accessories, such as a jug and lantern.
How can I make my hallway look more expensive?
'For an expensive hallway aesthetic, ensure that you opt for a more pared-back and neutral scheme', says Yvonne, MissPrint. 'The space must contain quality decor pieces and materials, such as a statement pendant light or an elegant console table.'
You can elevate the look of small hallway ideas without breaking the bank. Soft furnishings like cushions, throws and blankets will make a hall look effortlessly chic, as will a sstatement mirror hung on the wall. Try and position the mirror so that it captures and reflects any natural light coming from the front door.
'Make a small hallway look more expensive by using higher-quality materials and fixtures', says Barry, The Tools Square. 'These can include luxury carpets, solid wood doors or frames, or artwork that reflects your taste.'
What can you do with a small hallway?
Aside from adorning your hallway with furnishings that make it feel cosy and inviting, you can get quite creative with how you use this space. A storage unit could help keep items like letters, accessories, and umbrellas organised whilst doubling up as a desk, creating a cosy working nook.
You could also use your hallway to create a workout space. 'A small hallway can be perfect for creating a home gymnasium by divvying up the space into separate workout areas', says Barry.
Keep this really simple by just leaving enough floor space for a yoga mat to be rolled out whenever the mood takes you. Use any storage cupboards to store workout equipment such as dumbells and skipping ropes in.
'An overhead light in the hallway will mean you can easily workout at any time of day', Barry adds.
How do you make a small hallway look good?
'We are all familiar with the saying 'first impressions count' and a hallway is no different!' says Emmie Brookman, Interiors Expert and Creative Director at Silver Mushroom. 'Often hallways are the most neglected room in our homes because they lack natural light and tend to be on the smaller side.'
'Adding a large mirror is one way to create the illusion of a larger space, and also reflects any natural light coming in,' she advises.
'Hallways are there to be used, so thinking about the practicality of storing your items is important. Console tables are great for hallways as they're thin and handy for popping keys and post on. This can then be decorated with a vase and some flowers to brighten it up.'
Adding thoughtful paint colours and a decorative wallpaper will work wonders to make a small hallway look good. Just ensure colour and pattern are balanced within the small space to avoid it feeling even smaller.
Will you be trying any of these smart, small hallway ideas?
Get the Ideal Home Newsletter
Sign up to our newsletter for style and decor inspiration, house makeovers, project advice and more.
Jennifer is the Deputy Editor (Digital) for Homes & Gardens online. Prior to her current position, she completed various short courses a KLC Design School, and wrote across sister brands Ideal Home, LivingEtc, 25 Beautiful Homes, Country Homes & Interiors, and Style at Home.