Narrow hallway ideas – 24 ways to maximise a hall that's short on space
Expand on space and style with our narrow hallway ideas, with optical illusions and practical storage solutions to make the most of your entryway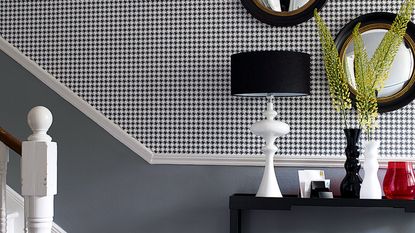 (Image credit: Future PLC / Chris Everard)
Utilising narrow hallway ideas can take an entryway from enclosed and drab to feeling spacious and airy. Hallways can easily become a dumping ground for coats, shoes, and other miscellaneous items you pile up for 'later', so it's important to incorporate handy storage systems that are quick to navigate, and of course, you'll want it to look good.
Whether you're faced with a Victorian property that has a lengthy entranceway that takes you straight through the home, or a new-build flat with tricky proportions, these practical and style-focussed narrow hallway ideas will expand your entry point so that it's a joy to walk into. The best small hallway ideas also include simple switches to storage, lighting, and décor so that you can expand the feel of your compact space.
If a design update is what you're after, considering some new hallway ideas will help you to broaden your horizons before assessing how to apply these to a space that is limited in width.
Narrow hallway ideas to open up small entryways
Amy Wilson, interior designer from 247 Curtains and Interior Design Masters on BBC One says, 'When working with a more narrow space, it may be tempting to steer away from larger items. However, one of my favourite tips for giving the illusion of a larger hallway is to add in an oversized light.
'Not only will this help create a feel of grandeur but also makes the space feel larger as opposed to making the room feel restricted by opting for smaller accessories.' The designer also says simply switching up the paint can help make your hallway appear larger. Her top tip is to paint halfway up the walls, either to the dado or to create the illusion of there being one. 'This popular painting style helps to draw your eye lengthways, taking you down into the rest of the house,' she says.
1. Benefit from built-in
In a narrow hallway, and a busy home, storage is sought-after. However, you might find that many units and console tables simply take up too much surface area in an already limited space.
This is where built-in units come in. Maximising every inch of usable space under stairs or in otherwise tricky spots can be a game changer for making your narrow hallway work for you. When you're dealing with a cramped entryway it's important to have practical hallway storage ideas at the front of your mind, so that using the area is easy.
As Al Bruce, Founder of Olive & Barr, echoed 'Asides from creating a place to hang coats and shoes, it provides ample amounts of storage to house those everyday items like umbrellas, hats and other accessories.' So, whether you're looking for a place to pop out-of-season outdoor gear or your daily essentials, built-in storage will cleverly keep clutter at bay.
2. Step up your design
It's easy to assume that wallpaper should be used exactly where you would imagine - on your hallway walls. However, incorporating wallpaper onto the baseboard of your stairs is a fun way to mix up your décor and draw the eye upwards through a narrow hallway.
It allows you to keep the walls pared-back to create an airy feel, while ensuring that you keep personality and colour at the forefront of your home.
Peter Bowles, Founder of Original BTC, notes the importance of a hallway as "the point of entrance and departure, what architects refer to as the 'circulation space', connecting all the rooms of the home. The hallway should feel like a path through your home, leading you from one welcoming room to another."
Not only do wallpapered stairs add visual interest to a narrow hallway, but they also hint to a continued style throughout a home.
3. Look to lighting
One of the simplest ways to work with a narrow hallway is to create a focal point in the space. Adding a pendant light will draw attention to the height of the room, as opposed to the width, which is particularly eye-catching in Victorian homes that benefit from tall ceilings.
'The hallway is the entrance to your home, so it's vital to create a warm, inviting feel the minute you step through the door,' says Peter Bowles, Founder of Original BTC.
'Lighting is a key factor in emphasising the sense of progression from room to room. As hallways tend to be long, narrow spaces lacking natural light, they require specific solutions to provide illumination and increase the perception of space.'
By adding a statement fixture, you're able to create a significant source of light that will not only open up a narrow hallway but also act as a representation of your interior from the moment you walk through the door.
4. Opt for extra seating
Entrances to your home are used daily for putting on, and taking off, shoes, coats and bags - and narrow hallways are no different. Create a place to perch with a lightweight, simple indoor bench that is helpful for those everyday tasks, but also doesn't interfere with the limited space available.
Benches that have an open bottom also allow you to tuck shoes underneath, or even add baskets that can house additional bits and bobs that you don't want on show. As well as putting practicality first, creating a mini seating zone will also add to a carefully curated look.
5. Focus on the front door
When you think of optimising the appearance of a narrow hallway, you might immediately think of flooring, storage, or even the stairs. Essentially, what you see when you first enter your home.
A large part of your time spent using your hallway is actually from the opposite angle, whether that is climbing your stairs to go to bed or putting your shoes on ready to leave the house. With this in mind, consider adding a burst of colour to the inside of your front door to focus attention on the furthest end of the space.
Vicki Foster, Interior Stylist at SCS, notes that 'a bright colour can lift a space instantly and give the light something to bounce off', which is key for a more compact space. Experimenting with different shades is also a great way of adding character to an otherwise minimal scheme, or even to tie in tones that you use around your home for a cohesive approach.
6. Mix and match patterns
When faced with a small space, it can be tempting to default to a minimalist scheme as to not overcrowd the area. It can actually be just as beneficial to max out on colour and pattern instead, for example, on your stairs, floors, or walls too.
Combining multiple patterns through flooring or wallpaper takes the emphasis away from the narrow hallway itself, and instead allows yourself and guests to hone in on the overall design value. You might want to stick to one colour scheme, or go one step further with a playful palette that will brighten up the entryway even more.
You could even continue the design with choosing similar kitchen floor tile ideas, creating a flowing hallway to living space plan that makes a home feel more expansive.
7. Choose a Scandi-chic aesthetic
Opt for crisp white on walls, woodwork and doors for the 'envelope' of your hallway, and then layer in in natural materials to create a minimalist and Scandi-inspired scheme. Taking inspiration from Nordic interiors will help to create a calming entryway even if space is tight, while warm wood tones, a woven jute rug and dried flowers will bring texture and cosy vibes.
You can keep things pared-back while still displaying a selection of your favourite vases and prints on ledges or on top of slimline hallway shoe storage ideas. A concealed shoe rack like this one is perfect – space-saving but provides practical storage so your hall isn't littered with trainers, boots and school shoes.
8. Distract with patterned wallpaper
Create a great first impression with a show-stopping wallpaper that's so striking that the width of the hallway becomes irrelevant. Patterned hallway wallpaper ideas are great for creating a sense of depth, visually enlarging the space. Keep the lower part of the walls in a clean white shade of paint and then take a bold wallpaper all the way up the stairs for a small hallway idea that packs a punch.
This creates the illusion of an airy, clutter-free floor area, which is key to making the entrance to your home feel calm and ordered. It instead draws the eye towards the height of the room, making a narrow hallway instead feel expansive and expertly-designed.
9. Bring personality with a gallery wall
There's simply no better place for family photos than the hallway – it's good for feng shui and instantly makes the space feel more personal and homely. Hang framed pictures all the way along the walls to keep the eye-line focused up, visually drawing the floor away from the ceiling. Elevate the ceiling height through clever tricks like this and you'll make a narrow hallway look wider.
Use this gallery wall idea along the full length of the narrow corridor space to help to elongate the wall and invite guests to have a nosey. Make the artwork of choice treasured family photos to make the space feel welcoming and cosy, rather than restrictive and soulless.
10. Keep things organised with hooks and catchalls
When it comes to narrow hallway ideas, the more you can use your walls the better, as it'll keep your floor space free and prevent the feeling of walking in through the door and tripping over clutter. Wall storage organisers, like the HULTARP rails and hooks from IKEA with little baskets and buckets, will give you lots of places to put keys, travel cards, post and other bits and bobs.
'Storage that is chic but also space-saving will help you utilise the space in your hall without getting in the way,' agrees Simon from A Place For Everything.
11. Use a blackboard
If you're a Virgo who loves a list, why not dedicate a space in your narrow hallway to reminders and to-do lists? Keep your hallway light and bright and hang a blackboard above a white console table to keep everything together. Here, a retro telephone adds character and the plants bring natural shape and texture.
A blackboard is also a handy collaborative spot for families to contribute to, so whether it's a reminder for your kids to pick up their sports kit or a haphazard shopping list, you can be sure to keep your life, and hallway, as organised as possible.
12. Hang a mirror to open up the space
Hanging a generous mirror in a hall is a smart aesthetic solution to make more of a narrow hallway space. A mirror works by reflecting light, which opens up the space. It also fakes a sense of depth by extending the wall because it mirrors the view.
There is a range of hall mirror ideas to choose from depending on your hallway size and decor. But it's always a very handy addition in any hallway space, so you can carry out a last-minute appearance check before you dash out the door!
'If your front door has a glass panel, position a mirror so that it can capture the natural light and reflect this into the hallway,' comments Peter Legg, Lead Designer at där lighting. 'If you don't have a natural light source, try a mirror with a lit frame to create an inviting aesthetic.'
13. Elevate the ceiling height with clever painting
Try a clever paint trick to make your narrow hallway colour scheme feel more characterful. Choose a colour you love and paint along the length of the hallway but only to your waist level.
The theory behind painting to waist height in a narrow hallway space is to break up a solid corridor of wall, creating a Trompe-l'œil style optical illusion of interest that can give a different perspective. This smart use of colour frames the space, giving it extra depth and interest.
14. Keep clutter at bay
'Two-in-one furniture, like the a bench with shoe storage really comes in handy when you want to optimise a small hallway,' suggests Clotilde Passalacqua, Interior Design Manager at IKEA UK and Ireland.
'Whilst wall-mounted hooks will help you take advantage of the full height of your ceiling. The PINNIG rack (above) with hooks means you can easily make good use of awkward spaces, like the wall surface over your radiator. And a bonus is that your wet clothes dry faster!'
Buy now: Pinnig Coat Rack, £75, IKEA
15. Let the sunshine in
Maximise the natural light that can come through windows and your front door, and add a mirror, too. Keep things light and bright by painting a narrow hallway in an all-white colour palette to offer a blank canvas.
Choose the best white paint to suit the light quality. Is it south-facing and bathed in warm natural light or north-facing and cold? The right undertones of white will enhance the warmth, in turn making the space feel brighter and airy. A fresh lick of paint can make all the difference, so if a quick hallway refresh is all you're after then it's worth getting out your paintbrush and zhuzhing up the walls.
16. Adopt an immersive colour scheme
If you're not looking to decorate with white, the best way to overcome a problem narrow hallway is to make it feel like part of a wider layout.
Incorporate the colour scheme from an adjoining downstairs room that leads off the hallway to create a continuity to the flow – in essence preventing the narrow hall from feeling small in comparison to the linking spaces.
A dark wall colour is a great way to create a cocooning ambient feel for a welcoming entranceway. Soonaz Nooranvary, Interior Expert on BBC's The Repair Shop, even recommends 'painting the ceiling and skirting in the same paint colour' to make the room feel higher.
17. Add a decorative rug to dress the floor
Don't feel like the decor has to be limited just because the space is. A long thin runner can actually help to make the space feel better dressed, making a hallway feel more considered.
This alternative hallway flooring idea helps to make the narrow corridor-like space feel more generous, because you're highlighting the space rather than glazing over it.
Interior Design Expert, Anna Elkington, from Melody Maison, recommends to 'use a rug with bright colours in order to lighten up the space, this can be a great non-permanent solution for tackling dark flooring that may be constricting your hallway'.
A decorative runner or rug helps to lift the decor and give the space more of a homely vibe, essential for a welcoming entrance to any home.
18. Go for large patterned flooring
Whether you're using tiles, peel and stick tiles or paint, try a supersized checkerboard pattern for a new hallway flooring idea to create a classic yet contemporary look. Larger squares, as pictured above, will work much better in a narrow space than lots of tiny squares that are likely to feel too busy. A diamond pattern generally emphasises the width of a space.
Natalie Mudd, Creative Director at The Wood Flooring Co. notes that "The direction of the flooring makes an immense impact on the flow and spatial feel of a room." Therefore, by placing tiles with a pattern facing towards the outside of the hallway, you're drawing the eye outwards.
19. Stack vertical storage
The key to successful hallway storage ideas is to capitalise on vertical wall space. If you really want to maximise your hallway, a tailor-made unit with built-in shelves and drawers will fill the available space intelligently and look great too.
Like this slim but multifunctional storage unit that scales the wall from floor to ceiling, to ensure the storage doesn't impact on valuable floorspace. Having such plentiful storage also in turn helps to open up a narrow hallway space, alleviating the area from being overrun with shoes strewn on the floor and stray bits and bobs left with nowhere to go.
If you have more than one wall to pick from when it comes to positioning storage, Jonathan Clark, Creative Director for Shelved, recommends to 'keep storage to one wall only with floor-to-ceiling units.' And if you do want to add to your opposing walls, go for 'open shelves to keep decorative items within reach.'
20. Illuminate a central point of focus
If you have a long narrow hallway, use clever hallway lighting ideas well to elongate the space. Centrally placed overhead lights, such as these pendant lights used by IKEA, will cast pools of light one after the other to naturally invite guests into the rest of the home.
Poor hallway lighting is one of the common hallway decorating mistakes to avoid, so make sure all bulbs are working and light it fully with overhead lights and perhaps a table lamp on a timer to welcome you home. A central strip of light helps to create a central focus of illumination that highlights and celebrates the narrow space, rather than making it feel limited.
21. Hide an unattractive radiator
Don't let an unsightly radiator becomes the main focus of a small narrow hallway. An elegant radiator cover hides a multitude of sins and helps to add a polished finish to a space that could easily be overlooked in the style stakes. Plus it provides a handy shelf ledge to keep keys and display photos and flowers – adding a more homely touch to the decor.
You can also pick from a multitude of different styles, as well as learn how to build a radiator cover yourself, so you can make your entry point a customised area that truly reflects your taste.
22. Aim high for shelving
Placing floating shelves and wall-mounted storage units high will naturally free up the space below, to make it feel more open. A high shelf rack is a useful spot for coats and scarves and ensures precious floor space is kept clear. If the top of the shelf is slightly above eye-line, this will also help with keeping any clutter hidden from immediate sight when you walk through the front door after a long day.
'Wall or overhead storage solutions – whether that's floating bookshelves or wall mounted coat racks – will help make your space go further,' agrees Simon.
23. Welcome a slim console table
Console tables are a great place to allow family belongings to accumulate, with drawers to hide away all those delivery menus and loose change.
Opt for a slim design, especially in narrow, corridor-style spaces to preserve a sense of openness. Wicker baskets placed at the side or underneath are a useful place for hiding away other knick-knacks. There are a whole host of different styles of console table to pick from, so whether your interior taste is coastal-inspired or ultra minimalist, it's easy to continue the scheme of your home through to your hallway.
24. Make storage multipurpose
Adding a mirror and handy storage at the same time is a win-win, as shown in this white hallway. 'Multifunctional storage is also a clever way to store items without sacrificing the decor of the room,' says Simon Glanville, managing director of A Place for Everything.
'A mirror can add a lovely touch to a narrow hallway and can double up as a box for shoes or bags.
Buy now: Hallway Storage Mirror, £85, A Place For Everything
How do you get the most out of a narrow hallway?
A slim hallway has more potential than you might think, and you can totally make it into one of you favourite parts of your home. Just because you can't fit furniture into a narrow hallway doesn't mean it has to lack display surfaces, as Ideal Home Style Editor Nicky Phillips points out. 'Using picture ledges means you can create a gallery of prints and photos but you can also add small vases, candle sticks or trinkets along its length.
'Cup hooks can be added on the underside for hanging keys, dog leads and even scarfs. If you have enough room for narrow furniture, try wall-hung shoe cabinets to keep storage super shallow and again use the surfaces for a small lamp and pretty accessories to add character and charm,' Nicky suggests. Making the most of a narrow hallway means balancing the practical with the pretty details.
How can I improve my narrow hallway?
The easiest way to improve a narrow hallway is to clear the clutter – remove surplus shoes, coats and outerwear that can comfortably live elsewhere. Look for savvy storage solutions that are slimline to avoid taking up valuable spaces. Also look for multipurpose storage solutions that work harder to make the space more practical.
'We all live busy lives, so adding clever storage to your hallway makes it easier for everyone to make that stress-free dash out of the house,' says Clotilde Passalacqua, Interior Design Manager at IKEA UK and Ireland. 'As well as creating an inviting entrance to come home to'.
'Wide striped wallpaper in a neutral colour makes the space seem larger,' comments Joanna Wood. 'A statement lamp or piece of eye-catching art will also draw attention away from the size of the space and you can maximise 'the beyond' either with a colour or a strong pattern.'
What colour should I paint my narrow hallway?
A failsafe colour to paint a narrow hallway will always be white. This light neutral creates a sense of space by bouncing light around the small space. Lighter wall colours reflect more light, a great quality when in small or light-deprived spaces such as hallways.
Interior designer Caroline Cobbald agrees that choosing light paint colours for the walls will usually be your best bet in a narrow hallway. 'Don't pick out the woodwork – ceiling, skirting, doors, architraves for example,' she says. By painting doorframes, doors and skirting boards the same colour, you'll prevent the space from looking busy and cramped.
Having said that if the space already feels small and enclosed it can sometimes benefit from a dark colour. On all walls and woodwork bold colour cocoons the space – leaning into the fact it's small and cosy. A brooding dark charcoal grey hallway or even navy can actually be very sophisticated and create a stylish entrance. The key to decorating with dark colours is to be sure everything matches. Ensure storage units are in the same colour palette to prevent them leaping out and jarring – overwhelming the limited space.
Get the Ideal Home Newsletter
Sign up to our newsletter for style and decor inspiration, house makeovers, project advice and more.
Tamara was Ideal Home's Digital Editor before joining the Woman & Home team in 2022. She has spent the last 15 years working with the style teams at Country Homes & Interiors and Ideal Home, both now at Future PLC. It's with these award wining interiors teams that she's honed her skills and passion for shopping, styling and writing. Tamara is always ahead of the curve when it comes to interiors trends – and is great at seeking out designer dupes on the high street.