Give your home office a touch of Scandi glam
Revamping your desk area? Then check out this elegant new range of stationery and accessories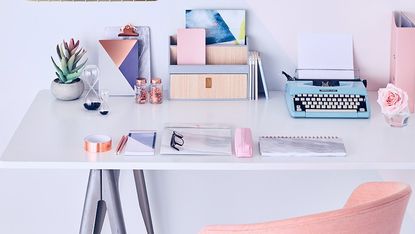 (Image credit: TBC)
Revamping your desk area? Then check out this elegant new range of stationery and accessories
Promotional Feature
However small our living space, most of us appreciate having a specific area to store our paperwork
and use our laptops. It keeps everything in one place, helps us stay on top of our complicated lives – and, if we make it enticing enough, will help us to be super-organised (well, in theory).
If you work from home – which many of us do these days – it's even more important to create a truly inviting workspace. That may be just a small table tucked neatly into an recessed area, a desk in the corner of the living room, or, if you're lucky, a whole room to set up as a study with shelves and a filing cabinet.
Whichever option works best for you, the new Sainsbury's Ethereal collection has a fresh Scandinavian feel that's really stylish. What's more, there is a stunning stationery range that's very affordable. You'll find smart geometric notebooks, an elegant noticeboard, a retro wooden calendar and a practical planner, as well as essential files, wallets and storage drawers. Even basics like paperclips and binder clips come in rose gold with matching gold-topped jars.
And because desks aren't all about work, you'll want to add some finishing touches for when your work is packed away. With the Ethereal collection there are also co-ordinating picture frames, inspiring hanging plaques, geometric vases and an elegant wall clock. Get organised this spring and treat yourself to some beautiful new stationery and home office accessories.
1/10 Write it down
Keep track of what was said in every meeting with this smart notebook. We love the fact it has a marker ribbon, so you always know where you are.
A5 Geo Notebook, £2
2/10 Picture perfect
Keep loved ones in mind. The kids may have driven you mad this morning with their tardiness in getting out the door, but their cute faces beaming out from a photo will surely make you smile later.
Blue Frame, £12
3/10 Cross it off!
This practical clipboard will help you stay on top of your 'To Do' list. And because it has a firm base you won't always be searching for a table or shelf to lean on.
Clipboard Planner Marble, £5
4/10 Which day is it?
We just love this retro calendar. Everything about it is stylish – from the warm wood to the traditional italic type to the cool colour shades.
Date Block, £8
5/10 Words matter
Get inspiration by hanging these wall plaques above your desk. After all, it's true – you ARE wonderful!
Ethereal Framed Hanging Plaque, £3
6/10 Time out
There's nothing more likely to make you stick to your deadlines than watching those minutes tick away. Or maybe you're just keen to know when it's lunchtime!
Ethereal Grey Wall Clock, £12
7/10 Getting the hang of it
Don't lose stuff! Clip anything and everything to this noticeboard and you'll be able to find the key receipt to return that dress you thought you liked (but now don't).
Ethereal Noticeboard, £14
8/10 The language of flowers
Treat yourself to a bunch of flowers and display them in this stylish vase.
Geo Glass Vase, £10
9/10 Plan ahead
Keep on top of both your workload AND your family life with this weekly planner. So that'll be the last time you miss a school meeting then…
Marble Wiro Desk Planner, £3.50
10/10 Stock up on supplies
Used up all the clips on your noticeboard? Make sure you have a handy jar of extras stashed in your desk drawer.
Rose Gold Binder Clips, £2
Get the Ideal Home Newsletter
Sign up to our newsletter for style and decor inspiration, house makeovers, project advice and more.