Explore this detached Victorian house decorated in calming neutrals
With three children and hectic jobs, the owners have busy lives, so creating a tranquil home with timeless appeal was their top priority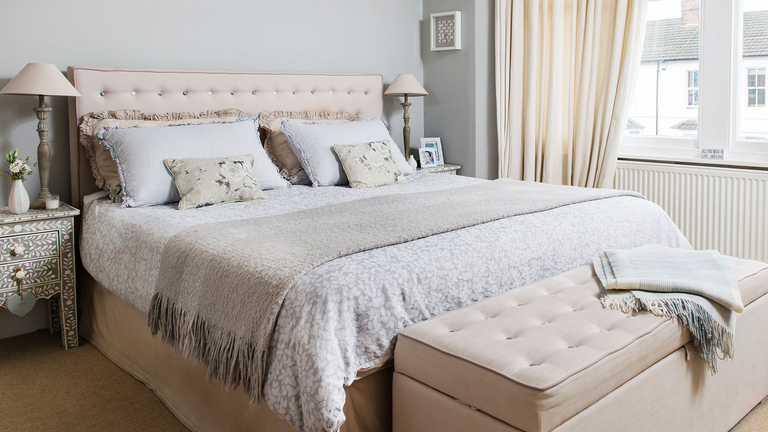 (Image credit: TBC)
When the owners moved into their detached Victorian house in Surrey ten years ago, they knew that they'd be able to do what they wanted with it. 'We've always gone for period properties because of the light, the high ceilings and beautiful decorative details, such as original cornices, skirtings and fireplaces,' they say.
The house had recently been renovated by developers (to be turned from two flats back into one house), so it needed no structural work and was freshly painted throughout. All they had to worry about was the decor.
One of the owners has a job in interiors and spends her days overseeing decorating photo shoots - perfect for doing her own place up, one might say. However, she insists that styling her own space is a very different experience. 'You have much more freedom on set than you do in a real home,' she says. 'There's so much to consider - different-sized rooms, awkward areas, budget constraints, husband, children, pets! On set, anything is possible.'
Detached Victorian house exterior
When it comes to her own home, the owner's golden rule is to stay true to herself. 'I've always been drawn to calm neutrals and soft, muted colours, rather than anything too bright, bold or busy,' she says.
'Whether it's decorating my home or the clothes that I wear, I've learnt what does and doesn't work for me and I'm confident in my own style.'
Living room
The owner fell in love with this floral wallpaper when she used it for a photo shoot. 'I wouldn't have been brave enough to have it on all the walls,' she says. 'But a panel in each alcove adds just the right amount of pattern.' The paint on the other walls has been colour matched to the wallpaper's background.
Buy now: Zephirine wallpaper, £71 per roll, Designers Guild
Kitchen
The oak kitchen was newly fitted when the family moved in and they haven't made any changes. 'We love the island and it's a nice area to work or chat in,' they say.
Dining area
The owner has used the stylist's trick of painting a wall in a dusky shade of grey to make a collection of black-and-white photos and vases stand out. A row of basic cabinets hung on the wall saves floor space and holds stacks of tableware. 'Every surface is a styling opportunity,' she says. 'Odd numbers always work better than even, and varying the heights of things adds interest, too.'
Study corner
At the end of the dining space is a handy little study area that is ideal for working from home or for the kids to do their homework. The furniture is a mix of pieces from the owner's previous home and new buys. 'You can't just ditch everything and start again when you move house,' she says. 'I enjoy the challenge of working out how to use things again in a new space.'
TV room
Through the windows is a TV room. Ikea units have been hung by a carpenter to give the appearance of bespoke fitted furniture. 'Before I even think about decorating, I plan what storage and furniture is needed first,' says the owner. 'Get that right and everything else should just fall into place.'
Entrance hall
The same stool has been used as a table in the hallway. It's ideal for propping up pretty accessories and creating a welcoming feel.
Main bedroom
The owner wanted to create a cosy feel in the main bedroom and took her time finding a grey with enough warmth in it. 'It took me ages to find the perfect shade,' she says. 'The wall was covered in different paint swatches so I could get a feel for what the colour looked like in situ before I painted the whole room.'
A vintage mirror placed above a painted chest creates a stylish vanity area on the other side of the main bedroom.
Girl's bedroom
Pink walls and a patchwork of pattern make for a pretty scheme. A slim shelf above the bed is a great place for favourite treasures.
Boys' bedroom
In the boys' bedroom, bunk beds make the most of the space. For a fun touch, the owner has customised the cupboard doors with a coat of chalkboard paint. It's great for reminders - and doodles!
This house tour originally appeared in Ideal Home, June 2017.