Take a tour around this north London flat
This owner took on a small flat with bland decor and transformed it into a spacious home packed with style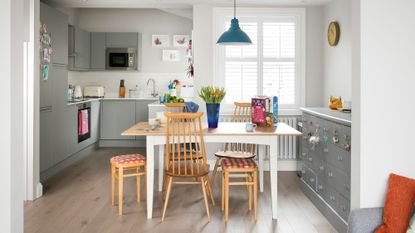 (Image credit: Furture PLC/David Giles)
Ideal Home Newsletter
The Home Of Great Ideas For More Than 100 Years
Thank you for signing up to . You will receive a verification email shortly.
There was a problem. Please refresh the page and try again.
'Finding a place to have a cup of coffee and a piece of cake led us to this flat,' says the owner. 'My husband and I were looking to move from a rental and buy our own home. We searched various areas in north London and ended up in a Crouch End café on New Year's Day, six years ago. We decided to explore the area and this led to finding this three-bedroom flat 
in an Edwardian conversion, which offered much more space than all the other properties we'd viewed.'
See more house tours in our real homes section
The previous owner was a builder who had taken the flat on as a project and had tidied it up. The decor was basic with 
an old wood floor, cheap carpet, white undercoat on the walls and an Ikea kitchen. So when the couple moved in, there was nothing major to do apart from laying 
a new floor and re-carpeting.
They knew there was potential 
to increase the square footage but initially dismissed this, knowing it would require considered planning as they live within 
a conservation area. 'Even after our daughter came along, we were still quite comfortable with the layout,' says the owner. 'Our motivation for change was realising that if we had another child, there would not be enough family space – we needed another bedroom (or the children would have to share) – plus there was no room for 
a dining table in our tiny kitchen and the living area was too cramped.'
The couple looked at several different options to improve the layout of the flat – from small to major changes – and spoke to a few construction firms for practical advice. One of these contacts introduced them to an architect, Johanna Ahrberg Jackson of Ahrberg Jackson Design, who they commissioned 
to come up with ideas and oversee the planning process.
Exterior
It was clear that if they wanted to create more space in the flat, the only way forward was to convert the loft. However, the attic's ceiling was too low to even stand in, and due to the local restrictions they knew that it wouldn't be possible to increase the head height. 'Johanna was logical and inspirational and showed us that by lowering ceilings in our living room, below, we could get the required headroom,' says the owner.
After two applications for planning permission were turned down, the couple eventually got the go ahead for a small loft conversion, with a compromise of a part-dormer window. While the eaves had to be retained, there was still enough space for a bedroom and small bathroom.
Dining area
The couple totally reworked the downstairs layout. The second bedroom has become the sitting area and the separate dining room is now their son's bedroom. 'We definitely saved money by keeping the kitchen in the same position, and by removing three chimney breasts, we now have a wonderful alcove area, plus space for a dining table, a large chest of drawers, and a sofa and chair,' says the owner. 'I've collected Fifties pieces for years and they add much-needed character and style to 
a modern conversion.'
Get the look
Buy now: Alba dining table, £336, John Lewis (opens in new tab)
Kitchen
The owners opened up the old galley kitchen to create an open-plan area with plenty of room for a dining table. The kitchen is clean and neat, with grey cupboards brightened up with bold accessories. A noticeboard shelf gives the owners a creative place to keep their keys.
Living room
'I like to create a clean and cosy interior with unusual, colourful one-off pieces that tell a story,' the owner says. 'While I love fabric and patterns, I've had to make some compromises when it came to my style and made decisions based on what would suit the home we have – so I would say, our home is about 70 per cent my personality and 30 per cent sacrifice. I look on Google every day for new ideas and plan to introduce more colour to the living space (more yellows, definitely) and will also look into buying a bright sofa.'
Get the look
Buy now: Slate 1958 three seater sofa, £1,095, Oliver Bonas (opens in new tab)
Buy now: Slate 1958 armchair, £585, Oliver Bonas (opens in new tab)
Master bedroom
Ceiling height was a challenge when it came to converting the loft. The couple's architect came up with a solution – lowering the ceiling in the living room below gave enough headroom in the bedroom. 'I was nervous about fitting in my extensive wardrobe – working out the eaves storage space was vital,' the owner says.
Get the look
Buy now: Similar Pink Fields lambswool throw, £113.95, Avoca (opens in new tab)
Kid's room
Now the couple's two children each have their own bedroom. Plenty of storage keeps the room clutter free. 'My starting point for a room is usually one colourful piece, like this Arabian rug,' says the owner.
Get the look
Buy now: Similar Bakero rug, £37.99, Wayfair (opens in new tab)
Bathroom
The bathroom is a simple space. 'We covered all the walls in white metro tiles, for a bright and smart look,' says the owner.
Try another tour: Take a look around this eclectic family home in Kent
'Refurbishing this flat has fundamentally changed how we live and creating the extra space we needed for our family has meant that we can now stay in London,' says the owner. 'I'm glad I was able to project manage the entire renovation. It was definitely a big challenge but I really enjoyed the whole process. What I have learned is that this project may never 
be truly finished, and as my ideas keep changing and developing, it will be a constant work in progress. But that's what makes living here so much fun.'
Heather Young has been Ideal Home's Editor since late 2020, and also edits its sister title Style At Home. She is an interiors journalist and editor who's been working for some of the UK's leading interiors magazines for over 20 years, both in-house and as a freelancer.