These scents are the secret to making your small kitchen smell totally gorgeous
Counteract and mask everything from cooking smells to odorous bins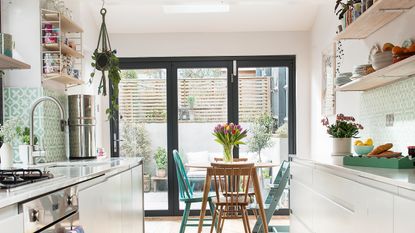 (Image credit: Future PLC/Colin Poole)
Our kitchen can experience quite a few different smells throughout the day. From lingering cooking and grilling scents, to our bins and dirty dishes having a bad odour in the warmer weather, this can be exacerbated in small kitchens.
Often there isn't a great amount of airflow in kitchens anyway, which is why scents – whether they are pleasant or unpleasant – tend to stick around longer than other areas in our homes. And if you have a smaller kitchen, the fragrances can almost get trapped in this confined space.
We're all for opening our windows and turning on an extractor or cooker hood as we cook and prepare food. However, that doesn't always help to get rid of these scents completely. Or leave us with the most fragrant room.
But how do you go about counteracting and masking those smells? Well, have you considered implementing and embracing some home fragrances in your kitchen?
Just as how to fragrance your living room, we've spoken to fragrance experts to suss out which scents work best in a kitchen – and how you can implement them in your own kitchen. And we've got a feeling at least one, if not several of them, will be ones that will instantly transform the way that your kitchen smells.
The best home fragrances and scents for small kitchens
'The best home fragrances/scents for small kitchens are pleasant, not overwhelming, and complement the cooking odours rather than overpowering them,' outlines Alex Hall, founder at Born of Botanics.
And these are the fragrances that came up time and time again from the top fragrance experts.
1. Citrus scents
MyJobQuote.co.uk's interior design expert, Ryan McDonough, outlines, 'citrus scents can help to neutralise unwanted kitchen smells, leaving behind a clean, fresh aroma.'
'Many cleaning products come in citrus scents, and there's a good reason for it. Citrus is great for neutralising smells, making a space feel much cleaner and fresher.'
Opt for lemon, orange, lime or even grapefruit based fragrances to add a clean, zesty and fresh scent to your kitchen.
'A small kitchen can be opened up with the light and bright mood of an uplifting candle with citrus ingredients,' concurs Michelle Feeney, Founder of Floral Street. The 'Floral Street grapefruit bloom is perfect as it brings a burst of upbeat optimism by way of pink grapefruit, bergamot, pomegranate, and passion fruit. This will uplift that space and feels like freshly squeezed juice in the mornings.'
While NEOM's founder, Nicola Elliott, has a specific recommendation. 'I love Feel Refreshed in the kitchen,' she affirms. 'It's an energy boosting essential oil with Sicilian lemon and fresh basil so works well when you're whipping around cooking!'
2. Herbaceous scents
'We often recommend the herbaceous notes of rosemary, thyme, or basil, sometimes accented with zesty lime or refreshing peppermint,' advises Aluxury's founder, Andrew Gaugler.
'These natural essences harmonise to neutralise cooking odours, while also promoting a sense of freshness as if you've stepped into a herb garden. Your kitchen, no matter its size, should be an aromatic haven enhancing the joy of cooking and dining.'
And this type of scent can also be carried into the dining room too, as Jo Malone London's Fragrance and Lifestyle Expert, Emma South, recommends. 'For dining situations we always recommend citrus based candles and diffusers.'
Just switch to unscented candles when you're actually dining, otherwise your flavour palette can be affected.
3. Bakery scents
If, like us, the thought of your home smelling like your favourite baked goods or freshly brewed coffee from your favourite coffee machine all day long sounds like a dream, then it's time to embrace some bakery scents in your kitchen.
For example, did you know that you can get candles that smell exactly like croissants, pain au chocolats and even cinnamon rolls?
'Home fragrances that mimic the smell of freshly baked cookies, pastries, or bread can give your kitchen a comforting and inviting vibe,' suggests Alex from Born of Botanics.
'Candles with coffee notes in the scent are also great for this room. The scent of coffee is great for lifting your spirits,' says interior design expert Ryan. It's also one of the stronger fragrances to use, making it ideal for both coffee lovers and those looking to mask cooking smells.
Should I opt for a diffuser or candle in the kitchen?
'When choosing home fragrances for your small kitchen, consider using natural essential oils, soy-based candles, or reed diffusers,' affirms Alex from Born of Botanics. 'These options are less overwhelming than artificial or chemical-based air fresheners.'
As long as you don't leave it completely unattended, candles can be a great choice for small kitchens. The same can be said for reed diffusers, which can essentially be left to work their magic for much longer periods of time. Just don't forget to rotate the sticks every so often to give the room a refresh.
Are there any scents I should avoid using in a small kitchen?
Interior design expert Ryan recommends that you, 'avoid using floral-scented candles in the kitchen, as these do not mix well with food smells.'
'Fresh and bright scents will increase the sense of light and space in a small area, while heavier floral and woody aromas can easily overwhelm,' agrees Tajinder Banwait, founder of Urban Apothecary London.
Get the Ideal Home Newsletter
Sign up to our newsletter for style and decor inspiration, house makeovers, project advice and more.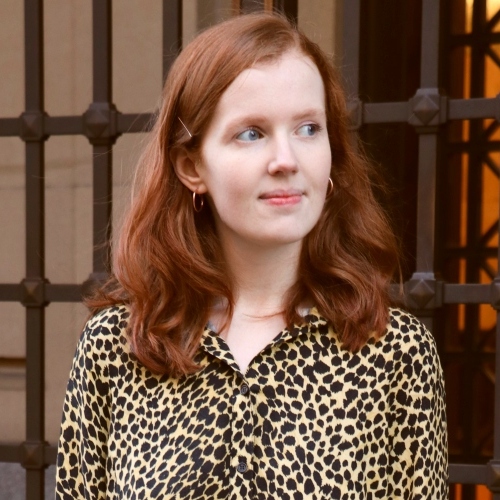 Ellis Cochrane has been a Freelance Contributor for Ideal Home since 2023. She graduated with a Joint Honours degree in Politics and English from the University of Strathclyde and between her exams and graduation, started a lifestyle blog where she would share what she was buying, reading and doing. In doing so, she created opportunities to work with some of her dream brands and discovered the possibility of freelance writing, after always dreaming of writing for magazines when she was growing up.
Since then, she has contributed to a variety of online and print publications, covering everything from celebrity news and beauty reviews to her real passion; homes and interiors. She started writing about all things homes, gardens and interiors after joining Decor & Design Scotland as a Freelance Journalist and Social Media Account Manager in 2021. She then started freelancing at House Beautiful, Country Living and in Stylist's Home team. Ellis is currently saving to buy her first home in Glasgow with far too many Pinterest boards dedicated to her many design ideas and inspirations.