Don't fall for these 10 kitchen storage mistakes, warn professional organisers
Is your kitchen packed full of storage mistakes that are making day-to-day use a nightmare? We asked professional organisers for their top tips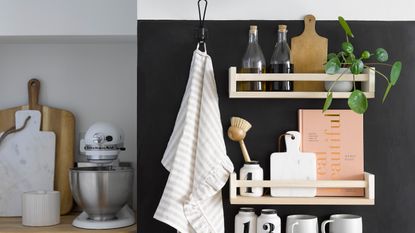 (Image credit: Future PLC/Max Attenborough)
On the surface, your kitchen may resemble a place of calm and order, but behind closed doors might reveal a different story. If you're guilty of a few kitchen storage mistakes you could be facing over-stuffed cupboards, badly organised drawers and food allowed to go past its best because you can't see – or access – it.
We asked the experts to share the most common kitchen storage mistakes and how to overcome them. Many are simple and easy to fix, while others might need a few modifications to your kitchen storage ideas, or even your lifestyle.
Kitchen storage mistakes
APDO President and founder of Sorted! Siân Pelleschi says that, 'one of the biggest mistakes is keeping items that are regularly used too far from where they are actually used.'
Whether you approach your kitchen storage project in one go or plan to organise your kitchen cabinets one at a time, start with a little inspiration on kitchen storage ideas, and then get started!
1. Buying before you declutter
'It's so tempting to jump straight to the fun part and buy lots of kitchen storage products,' says Elizabeth Grant of Declutter on Demand.
'However, taking a step back and decluttering first, then arranging items in situ before buying products means that you can decide on exactly the right storage product to fit the space (remembering to check measurements), which will save you time and money.'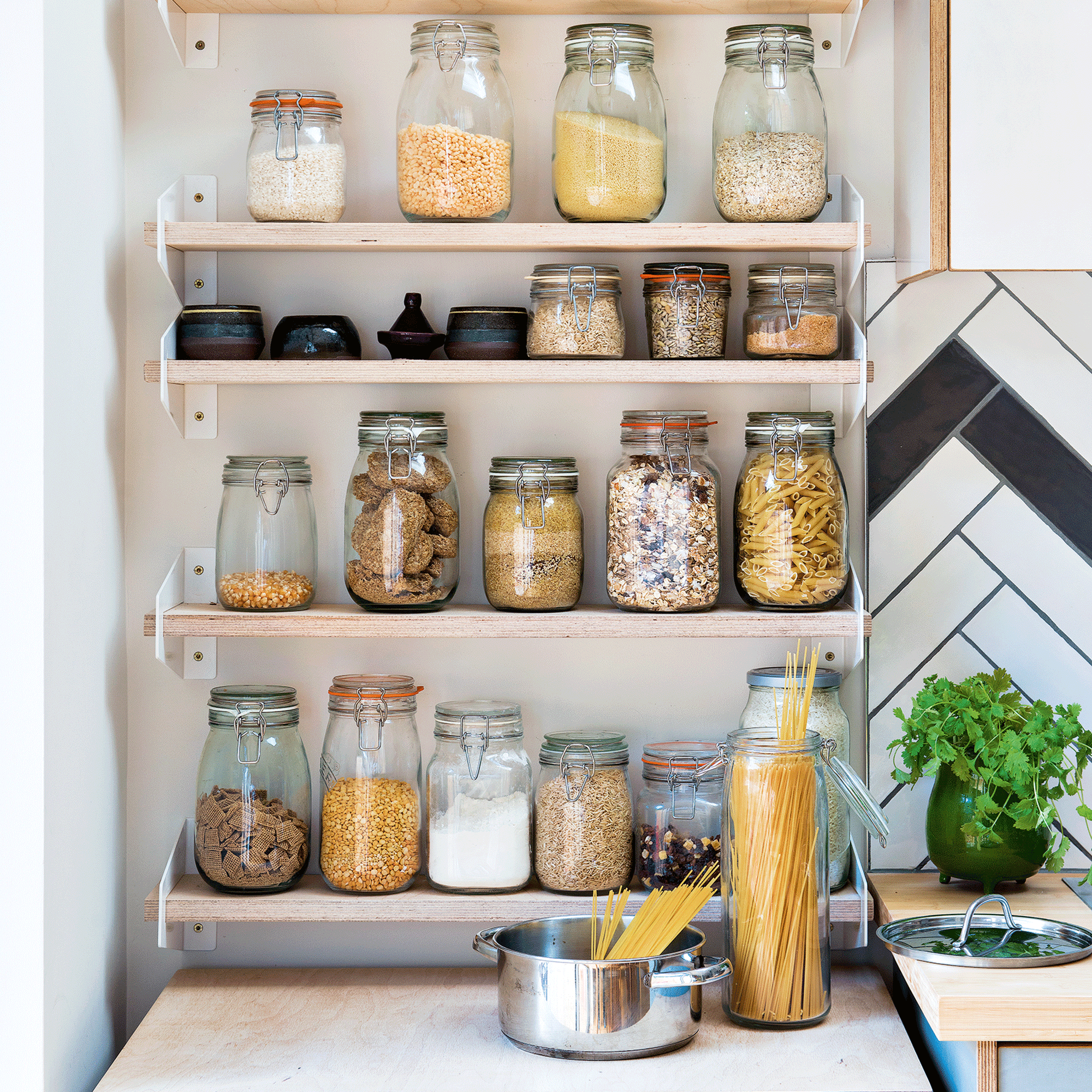 2. Falling for beautiful storage jars that's hard (for many) to maintain
While you might dream of kitchen pantry ideas, with beautifully labelled jars, don't get carried away. 'Decanting into beautiful glass jars always looks picture-perfect on social media but isn't always as neat in reality,' says Katherine Blackler of SortMySpace.
'It's an extra task in the process so won't suit everyone's natural tendencies. Grains and pastas don't always come in matching volume sizes, so you still need to have an overflow area for the opened packets.
'You also need to decide whether you always empty a jar fully before topping up to ensure you don't leave very old produce at the bottom. And do you need to keep the cooking instructions or dietary info? You may find you just have a few jars out on display with bright and cheerful contents solely for aesthetic purpose to skip these dilemmas.'
3. Keeping all utensils in a drawer
While you might want to keep like-with-like, think about the practicality of shapes of things too. 'You know that the potato masher and soup ladle are going to stop any utensil drawer from opening without a fight, so why not consider putting them in a pretty storage jar, or hanging from the inside of a cabinet door if you don't want them out on display,' shares Heather Tingle of Untangled by Tingle.
Talking of utensils, Amanda Manson of Orderly Office & Home says; 'Just because an item comes with a stand does not mean you have to store said item on the stand. Removing cooking utensils from the stand storing in a jar or drawer may be far more practical if space is limited.'
4. Not having zones
'I've helped reorganise clients' kitchens where the kettle is on one side of the kitchen, teabags and coffee on another and cups in a drawer on the opposite side of the kitchen,' shares Janine McDonald of Clear the Clutter Now.
'By talking to clients about how they use their kitchen helps me to create small zones for it to work more efficiently – such as the kettle on the worktop and the cups, tea and coffee in the cupboard closest to the kettle.'
Likewise, Siân says to think about how many stages or steps are needed to reach or store items. 'If it takes too long to get it, it's generally not used.' For example, if you love coffee keep all your accessories together in one easy-to-access coffee station idea.
5. Missing out on potential shelf space
If you are working out how to organise a small kitchen, you've likely overlooked this brilliant way to get the most out of your storage space. 'Adjustable shelves or free-standing shelf dividers and under-shelf baskets are an absolute must when it comes to maximising kitchen storage,' says Elizabeth.
'They are a quick solution (without the need for DIY and a drill) to use the full height of the space on your shelves. Too often we see clients who have kitchen cupboards where a lot of space is lost, and these solutions fix this easily.'
'Top shelves of wall-mounted cupboards can house taller items like cereal packets, squash bottles or spaghetti jars because, as long as you can securely grasp the base of the item, you can comfortably reach and return those items,' says Katherine.
6. Filling up your 'prime property' with non-essential items
'Consider the lowest shelves of any wall-mounted cupboards, your countertop and the upper shelves of under-counter cupboards as "prime property", essentially all the areas you don't have to crouch down or overstretch to reach,' explains Katherine.
'These should hold the most frequently used items or food products. See if you can allocate a cupboard and drawer near the dishwasher (or sink) to easily put away the clean crockery and cutlery.'
7. Not grouping similar items together
'Housing similar items together is one of the simplest yet most effective storage tips for kitchens,' shares Elizabeth. 'However, which things should be grouped together depends on how you cook: for one person it may make the most sense to have ingredients together that they use in one type of cooking eg everything for making Mexican food in one place; for another person, it may work better to just have broader categories for ingredients, eg grains, flours, sauces etc together.
'Similar items should be housed together but in a way which best complements the way you cook and use your kitchen so you can easily find things.'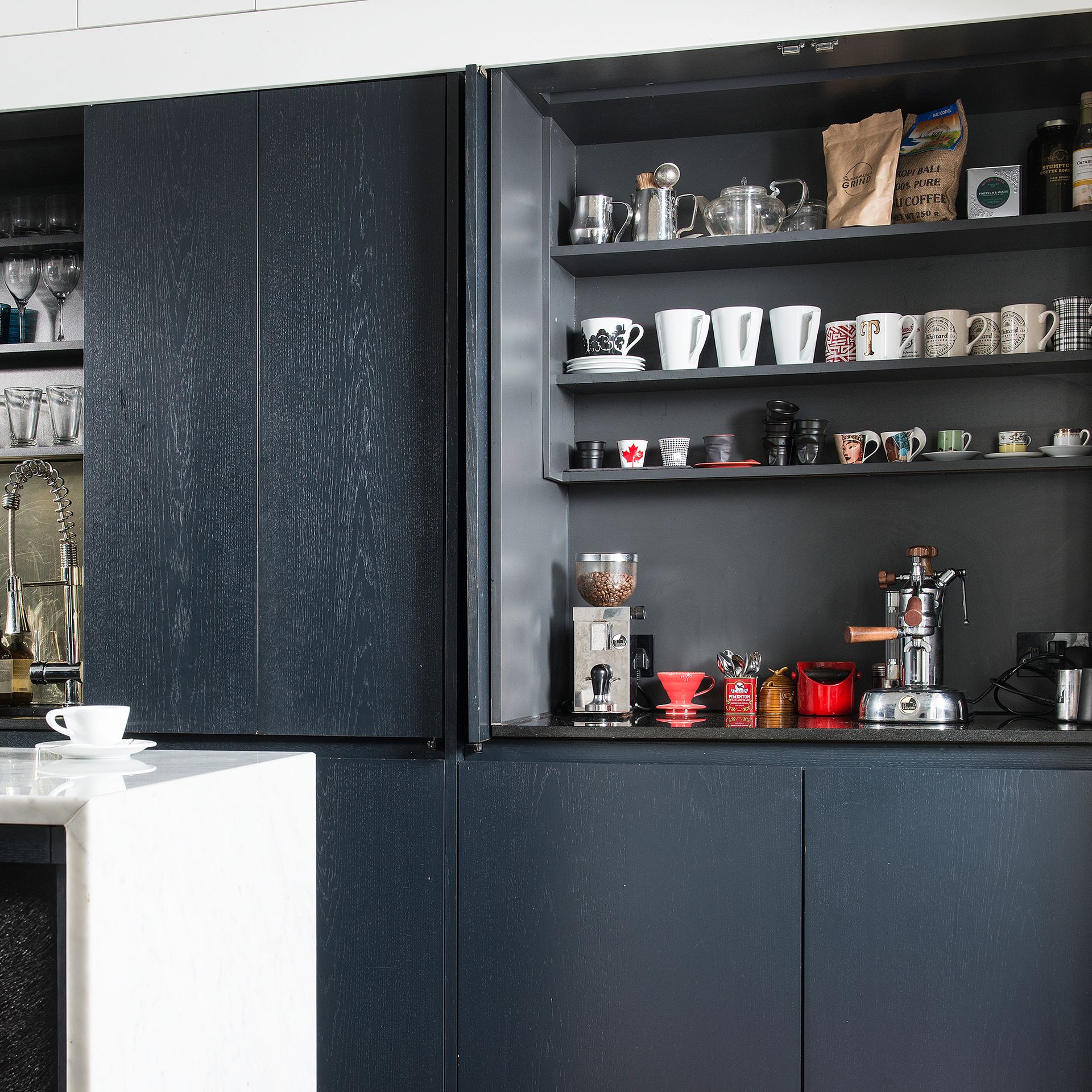 8. Allowing under-the-sink to become a dumping ground
'How often do you just open the door and not actually look where you are placing something?' asks Janine. 'Ask yourself how many spray bottles do you really need? I recommend emptying everything out and take stock of what you actually have – this way you won't overbuy. Placing items in a plastic container makes it easier to see what you have and they're less likely to fall over.'
'Containerise and group items together wherever possible, so you're only sliding a few containers out rather than lots of random mess helps too,' says Heather. Consider this your marching order not to neglect looking into how to organise under a kitchen sink.
9. Keeping things 'in case they are handy'
Container cupboards can be the stuff of nightmares. 'Avoid keeping takeaway containers as they may come in handy; Try to follow a 'one new item in, one old one out system'.
'Avoid stacking all tupperware with lids separate – it's better to store them with the lids on, or better still invest in a range of different sized tubs that uses all the same size lids,' says Heather.
10. Not using your best china
Whether it was a habit passed down from your gran or your mum, wasting space on 'fancy' plates you only use on special occasions needs to stop now.
'I've been in far too many kitchens where people lose valuable storage space to dinner services that only get used maybe once a year if that,' says Amanda. 'If you've something special, you should enjoy using it regularly and show it off in your home, or consider, freeing up, immediate storage space and storing elsewhere, if you can.'
What should not be stored in kitchen cabinets?
Of course, what you store in your kitchen cabinets will depend on a number of factors, including how much storage space you have elsewhere, but there are a few don'ts, as Jessica Barclay of The Lifestyle Coach UK shares: 'Medicines should be stored in a cool, dry place away from heat and moisture. Storing them in the kitchen cabinets can expose them to heat and moisture from cooking or steam,' she says.
'If heavy appliances such as mixers, blenders, etc, need to be in the kitchen make sure these are in the under-counter cupboards, as wall cabinets are often not designed to support their weight.
'Pet food should not be stored in kitchen cabinets, as it can attract pests like ants and rodents. Oily or greasy items like cooking oils can go rancid if exposed to heat and light, so it is best to store them in a cool, dark place away from the oven or hob.'
What is the proper way to store food in a kitchen?
'Different foods have different storage needs,' says Jessica, 'some need airtight containers while others need light and air. It also depends on the time of year and the climate you live in.' Jessica's tips include keeping a scrap of fabric to line glass storage pots for salad leaves, leafy greens and any type of berries. 'This absorbs extra water and makes them last longer,' she says.
'Eggs are a controversial one, as many fridges come with egg trays and you can also buy a variety of plastic holders for them, but the box is the safest option or with a tea towel under and over.
'Tomatoes lose flavour in colder temperatures, so are better suited to a slightly sunny windowsill. Don't forget that the fridge doors get the most fluctuation in temperature, as they are often opened and closed, so avoid storing highly sensitive food in them and opt for food items that might benefit from not being quite so cold.'
Garlic, potatoes and onions like dark, dry spaces, with a fabric or paper bag ideal (use a separate one for each food type. When it comes to dry foodstuff, group similar items together and keep the things you use regularly within easy reach. Have a regular sort-out, checking those use-by dates.
Get the Ideal Home Newsletter
Sign up to our newsletter for style and decor inspiration, house makeovers, project advice and more.
Jennifer Morgan is an award-winning editor, writer and stylist, with over 25 years' experience writing, styling and editing home interest magazines. Jennifer was the deputy editor of Ideal Home from 2008-2010, before launching Ideal Home's sister title, Style at Home in 2010. Jennifer went on to launch several craft magazines and websites, before going freelance in 2016, with a client list that includes John Lewis, Dunlem and Nordic House. Today, she writes for Ideal Home, Real Homes, Waitrose, Woman & Home, Sainsbury's Magazine and Homes & Gardens. But it was during lockdown that Jennifer realised her dream of publishing her own magazine – Simply Scandi.