Neutral living room ideas for an effortlessly stylish scheme
Sometimes basic is best - find brand new inspiration from these neutral living room ideas for a sophisticated space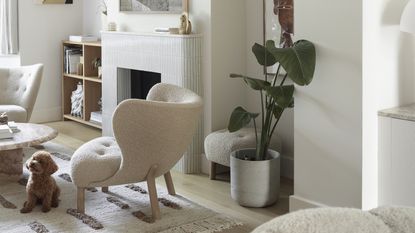 (Image credit: Future PLC)
Wondering which colour scheme to choose for your living room? There's a lot to pick from, but a neutral living room idea could be just what you need to set the tone for a stylish space.
With the opportunity to layer with accent colours, rich materials and a plethora of accessories, a neutral scheme has plenty of scope for customising to suit your home - no matter the style. A living room is one of the most-used rooms in a house, so it's important to get the aesthetic just right to fit your taste, lifestyle, and emerging trends that you want to make the most of in the future.
So, what is considered a neutral colour? Essentially, neutral means without colour. Neutrals such as beige, ivory, taupe, black, grey and shades of white appear to be without colour. But in many applications, these hues often have undertones that need just as much thought as when decorating with colour.
Neutral living room ideas
A living room is built for sitting back and switching off, and one way to enhance this is through a pared-back colour scheme. A neutral living room full of varying shades of cream, beige and grey offers a versatile foundation for decorating, whether your taste is more modern, traditional or country.
Picking a living room colour scheme can be a challenge, with so many shades and opportunities to pick from. Sticking with a minimal palette is a failsafe option, offering the chance to add pops of colour or trend-led accessories that will update the space with less commitment.
'You can separate neutrals into two families which are defined by visual temperature,' explains Marianne Shillingford, Creative Director at Dulux.
'Warm neutrals contain hints of pink, gold and yellow whilst cool neutrals contain hints of blue, green and violet. Choose warm neutrals to create cosy and inviting interiors, especially in north facing rooms and cool neutrals to creating tranquil, sophisticated interiors especially in a south facing room.'
Here we pick our favourite neutral living room ideas, and explain how to create the look in your home.
1. Drench in a neutral tone
A neutral colour scheme doesn't mean that there's no creativity when it comes to paint ideas. Although the shades you might be using are light, you can still experiment with where you paint in the room to achieve an upgraded design.
In a living room especially, you likely want to achieve an inviting, lived-in look while still keeping the scheme minimal. One way to do this is by colour drenching the room, which means painting shelves, skirting boards, and built-in cupboards in the same colour as walls for an enveloping effect.
'Colour drenching is taking one colour and painting everything from your walls to your woodwork in it. Think skirting boards, radiators, doors, window frames, picture rails and ceilings. Colour drenching your home creates less contrast to distract your eye, which can make a space very visually appealing and like you're being enveloped in a big hug,' advises Tash Bradley, Director of Interior Design and Colour Psychologist at Lick.
2. Add comfort underfoot
Layering texture and pattern will make a neutral living room feel expertly put together. Ultimately, a living room should be a spot to relax in, and adding underfoot comfort is a surefire way to ensure you find time to switch off.
Adding a patterned (but still neutral) rug will provide depth and dimension in a pared-back space, without overwhelming it with colour. Pick a Moroccan-inspired design or an antique flat-weave print for a sophisticated and cosy living room scheme.
3. Go for quiet luxury
One way to make the quiet luxury trend stick around is in a neutral living space. A cream colour scheme is the ultimate place to make the most of the best quiet luxury homewares, with understated premium buys that will enhance a front room.
The classy aesthetic, which borrows themes of muted colours, subtle gold features and ample texture, will also make a living room look more expensive on a budget. So if you want an affordable and simple way to upgrade your home, consider giving quiet luxury a go.
4. Find vintage treasures
With a high quantity of vintage furniture coming in neutral tones, you can make a neutral living room feel entirely unique and antique-inspired with some secondhand shopping.
The hunt is often more time-consuming than buying new, but it's also much more satisfying when you score a special find. There is so much high-quality furniture to add to a mid-century living room that will last for years to come, and the wood tones will enhance a neutral scheme.
'Save searches (eg bench or console table) on Facebook marketplace so you get notified when items are listed items will often be free for pick-up,' advises Claire Douglas, interior stylist.
'Alternatively, speak to friends and family, they will likely have items, materials, or furniture they plan to donate or ditch that you could use or upcycle.'
5. Play with shapes
Adding dimension to a neutral colour palette through accessories is key to making a living room feel complete. By carefully selecting vases and decorative objects with interesting shapes, a living room will look well-styled without appearing cluttered.
'Having different sizes, textures and three-dimensional sculptures will take the eye off the concept of space and refocus on the design of the room, adds Madison Popper, founder of Chill Casa. Whether it's on a sideboard or upgrading your living room shelves, positioning shapely decor will update a minimal aesthetic.
6. Use colours inspired by nature
Wild Wonder, by Dulux is a warm neutral that evokes barley or wheat just before it has ripened. The colour changes under different lights thanks to its undertones of gold and green. It'll look green on one wall, and gold on another. This layering effect welcomes a connection with nature to a neutral living room.
'If you imagine a freshly dried cardamom pod, it's got that beautiful golden-green colour to it,' says Marianne Shillingford, Creative Director at Dulux.
7. Welcome warm with natural materials
Keep a scheme neutral but beautifully intriguing with warmer accents through natural materials and pops of colour via accessories.
'I've always thought that 'neutral' is such a boring word to describe some of the most versatile and beautiful colours in the world,' says Marianne.
'Neutrals are the most loved and familiar of nature's true palette. They include the soothing colours of stone, clay, sand, wicker and wood, basically the colours of the raw materials from which we build and furnish our homes.'
8. Keep it cool and calm
A gentle palette of warm, mixed neutrals gives you the freedom to play with different accent colours and interesting textures and finishes as your room scheme evolves.
A modern, square style sofa can be tucked into a corner or used to zone a seating space in a larger living room. A design with a movable footstool section and removable covers gives you flexibility. A style-neutral, straight-legged sideboard in classic oak will work in other rooms and with various decorating schemes.
9. Add depth with wall panelling
Give more definition to neutral walls with an on-trend wall panelling idea. Reinvigorate your sitting room with a fresh and soothing colour palette of limestone, lichen and sage. Choose a subtle shade of limestone coloured paint for walls then layer different but tonal shades of soft green and warm wood through furnishings to create a restful scheme.
A chalky white sofa will add a punchy highlight to the room, layer it with cushions depicting natural motifs. Bring the garden indoors by mixing faux plants with fresh seasonal blooms and accessorise with striking oversized botanical prints.
10. Go for a tone-on-tone scheme
Pure, harmonious shades of white and cream are a timeless decorating theme. Mix textures and abstract patterns inspired by nature to make a fresh modern living room that would be at home in town or country.
Mix touches of natural wood on shelves and table tops with natural woven material to welcome a grounding feel to the overall look.
11. Make it feel rustic
A paired-back neutral colour scheme lends itself beautifully to a rustic living room idea. Shades of milky white and bone warmed by deeper accents of taupe blends a harmonious country colour palette of calming colours. Simple additions of raw wooden furniture and tactile fabrics helps to layer a cosy and inviting feel, to prevent neutral from feeling cold and uninviting.
12. Dress the walls to add interest
Neutral walls provide the perfect backdrop for shelving, for displaying artwork and accessories or simply as a practical living room storage idea. Soft, chalky shades on the walls prevents the space from feeling overwhelmed by too many decorative elements.
Like with an art gallery, a neutral wall enhances the items placed against it, allowing a grounding effect.
13. Welcome coordinated pops of colour
If introducing accent colour, be sure to keep it streamlined to ensure the overlook is well coordinated and cohesive. In this neutral living space pops of vibrant yellow add touches of warmth, while black furniture and small accessories add a striking contrast to give a more monochromatic look.
14. Set a neutral backdrop for an entertainment station
Neutral living room paint ideas create a smart yet totally chilled out space. Worried it may look too bland? Pick out areas of the room like a TV storage point or chimney breast to colour block in a darker shade and use a number of different textures and tones in cushions and accessories to create an effortlessly stylish backdrop.
Neutral shades of taupe and mushroom avoid overwhelming an already busy wall of storage and TV sets.
15. Future-proof your living room with timeless neutrals
The hero piece of this room has to be a super-squashy sofa in a versatile colour. Put a warmer neutral on the walls for a cocooning feel and add a big, jigsaw-friendly coffee table that everyone can reach, rather than cluttering the space with side tables. Create an inviting feel by opting for neutrals in truffle hues to add warmth.
16. Introduce florals for natural pops of colour
Give some wow factor to a neutral scheme by packing it with flourishes of florals. From soft floral fabrics to real life foliage, a neutral living room can provide the ideal backdrop to enhance the natural pops of colour that comes with beautiful flowers. In certain lights the colours of nature will be seen reflected in the neutral on the walls to add depth to the shade.
17. Add warming shades through furniture
Choose a neutral wall colour with warm undertones that can be enhanced by hits of bold accent colour through furniture and accessories. The burnt orange of this armchair is a fine example of how a neutral living room can be lifted by simple furniture additions in bold colour, making the chair stand out even more thanks to the calming backdrop of neutral colour.
18. Pick truffle for warmth
With its pinkish tones, warm truffle is our go-to shade when we're looking for a neutral that can also add warmth. Plus, you can easily cosy things up or cool things down with fabrics and accessories. Try velvet upholstery and bronze accessories if you're all about cuddling up, or pare back a little with shades of grey.
Combine delicate ceramics with milky glazes and the pattern of lace with smart contemporary glass and wood pieces.
19. Throw in additional colour
From the French grey window frames to the soft oak coffee table and engineered floorboard, this space is a masterclass in effortless neutral decorating. And it's easy to update, too, just by adding cushions and throws. These daffodil yellow and soothing blue soft furnishings are perfect for spring.
20. Pile on the texture
A room without texture can feel dull and lifeless, so add tactile surfaces for warmth and interest. Get the linear look with narrow-gauge shirt and pyjama patterns – perfect for smart-casual sittings rooms.
Layering up voiles, cotton, cord and canvas twill on upholstery, soft furnishings and curtain treatments brings warmth and cosiness in spades. This may sound like an expensive endeavour, but you can find deals using home decor discount codes which should help.
Timeless 'chino' tones give this look an easy style, while country stripes get a modern makeover in different widths and scales. Mixing styles like this injects rhythm into a room.
21. Go for calming shades of grey
Warm, but not oppressive, grey living room ideas are ideal for cosy spaces. These light grey shades have either a touch of yellow in them, giving them a brownish tint, or a touch of red, which gives a pinkish tinge.
This colour is great for east and west-facing rooms for diffused light at sunrise or sunset respectively, while adding warmth at other times. Team ochre to yellow-tinged greys, or try a dark, earthy green. Pink-tinted greys will look great with coral and peach.
22. Pick the perfect prints
Get a high end feel with key pieces from different eras. Shades of linen and taupe gently blend with a wonderfully ornate stone fireplace and period coving in this subtly extravagant living room.
A pair of elegant armchairs catch the light of the bay window which highlights their feminine paisley-print upholstery. The mid-century chair with iron frame makes a fashionable juxtaposition to the more traditional pieces.
23. Think about a striking accent colour
Give a neutral living room scheme definition with hits of dramatic black. Add some sharp, contemporary styling in a mainly neutral living room with black living room ideas. Keep touches minimal to keep the overall scheme relaxed and understated but with a more edgy loft apartment style.
Adding black to a rug border or smart charcoal borders and piping to neutral cushions adds a striking accent touch without looking heavy or overworked. Use Graphic prints with slim black frames and monochrome canvases in clusters on a wall. Use subtle accents of black with lampshades, ceramics and patterned glass.
24. Inject pattern with a neutral print
Use a beautiful living room wallpaper idea to add interest to an all-neutral decorating scheme. A pattern in the same tonal palette adds a decorative touch without breaking the constraints of the colour scheme.
Layer up texture and white on white patterns on sofa cushions. Choose different tones of white and natural in relaxed country linen. Showcase art work and collectibles in an eclectic mix of box shelving and different styles of frame on walls.
25. Work a theme
Wow with a woodland theme by using colours taken from nature. Add hints of sophisticated modern romance combined with old fashioned glamour in a sitting room with subtle shades of soft rose, blush pink and warm putty tones. Include touches of wood and straight-legged furniture for a mid-century take on this feminine look.
26. Evoke a sense of nature
Bring pebble colours and natural materials together to create an elegant coastal living room scheme. This palette is reminiscent of the chalk cliffs of Sussex with ivory, cream, white and pale stone shades in different textures.
A loose-covered linen sofa and French doors dressed with floaty voiles that move in the breeze add a little laid-back comfort. The natural materials of the bamboo chair, woven mat and bamboo blinds bring the outdoors into the scheme, while hand-blown glass and rustic ceramics introduce an artisan feel.
27. Add a country house feel with design classics
Enrich a backdrop of creamy walls with the addition of statement design classics. Rich claret and crimson shades are matched with the warmth of worn leather in this country living room idea.
Blooms are exquisitely depicted on tea-stained linens; beautiful curtains show off the pattern to best effect. A soft button-back leather sofa adds to the country house feel, while elegant, vintage-style lamp bases and mirrors hint that pieces have been acquired over time.
How do you make a living room neutral?
The simple way to make a living room neutral is by choosing a dependable shade for decorating the walls. A soft linen off-white or warm oatmeal shade will go a long way to making the room feel inviting for layers of pattern and colour via accessories.
A neutral backdrop allows you to play with accent colour through statement furniture pieces, rugs, windows treatments and accessories.
Neutral walls will ensure the room feels timeless, with the option to add seasonal colour with how you dress the space.
How do you add colour to a neutral living room?
Accessories and furniture are the easiest ways to add colour to a neutral living room. The serene stillness created by neutral walls allows the freedom to add pattern and colour without distracting from the plain backdrop.
Given the versatility of neutral cream, beige or light taupe walls the accent colour possibilities are endless – it very much depends on the overlook you wish to achieve.
Marianne Shillingford, Creative Director at Dulux recommends mixing neutrals with natural materials to add colour. But she also comments, 'You can also include greens in a neutral palette too because like all neutrals they work with every other colour you choose to decorate with.'
Will you be using these neutral living room ideas to create your dream space?
How to decorate a neutral living room
Creating a neutral living room doesn't mean you can't have fun with decorating. While you might want to keep the aesthetic as minimal and pared-back as possible, accessories will be what makes a room feel chic and well-designed.
'If the space or aesthetic is minimal, utilise your decor. It's important to add layers, like through art. Having different sizes, textures and three-dimensional sculptures will take the eye off the concept of space and more about the room. To make it feel inviting, add another layer by throwing in textures with your throws and pillows,' adds Maddison.
'Lighting is key as well and utilising the scale of lighting with taller or longer lampshades will also make the ceilings feel less short. If you don't have room for large pieces of furniture, using a pouffe as a coffee table and seating gives you the freedom and space to move it around.'
Get the Ideal Home Newsletter
Sign up to our newsletter for style and decor inspiration, house makeovers, project advice and more.
Jennifer is the Deputy Editor (Digital) for Homes & Gardens online. Prior to her current position, she completed various short courses a KLC Design School, and wrote across sister brands Ideal Home, LivingEtc, 25 Beautiful Homes, Country Homes & Interiors, and Style at Home.