Living room wall art ideas - imaginative ways to display prints, paintings and more
Find the best spot for artwork whatever its size or style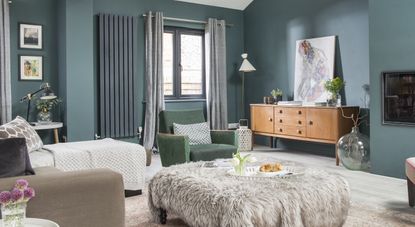 (Image credit: Future / Colin Poole)
The right living room wall art ideas will bring personality to your space and complete your room. And while art should be bought for its own sake and because you like it, you'll likely want it to sit well with your living room wall decor too.
'Living rooms are the warm heart of a home, a place to create a relaxing space in which to wind down and the art you hang sets the tone and feel of the space,' says Helen Armon-Jones, founder, The Art Buyer
So whether you have a much loved piece to hang, or an empty space to fill, there are a multitude of ways to display favourite prints, posters and paintings.
Living room wall art ideas
Wall art can span a medium of materials - from framed photographs to large canvases. Beyond different styles of wall art, how you style your living room wall art ideas can either make the subject of a piece shine through or diminish it, so it is important to give both aspects careful consideration.
1. Go for a grid format
Symmetry is always pleasing to the eye and looks smart when displaying artworks, especially when they are similarly themed like these beautiful botanical prints.
'For an elegant architectural look that adds height to a space, try hanging a collection of smaller works with a unifying frame in a grid format,' says Helen at The Art Buyer. 'Allow uniform spacing and plan this out using measuring tools and tape for a clean symmetrical finish.'
2. Hang different sized pieces
For a more casual and relaxed look, mix different sized prints and paintings. Mixing portraiture, typography and other styles adds an eclectic feel. However, to make it work do keep some consistency.
'We find white and black wood frames are popular choices to keep the focus on the artwork and set it off without detracting attention,' says Erica Davies, co-founder, Murus.
Here the black and white monochrome tones in the prints and frames are repeated in the accessories, such as cushions and living room lighting ideas.
3. Prop a print on a sideboard
Art doesn't have to make a grand statement, or even be hung in a prominent place. A simple print or sketch casually propped on a sideboard, chest, or even the floor, can enhance the mood of a room.
'Sideboards can be brought to life with art,' says Erica at Murus. 'When leaning a print or artwork it's great to experiment and place your loved piece in an unexpected spot to showcase it in a unique way, this can really make the art feel part of its surroundings.'
4. Create a gallery wall
Gallery walls are a popular way to display a collection of art, photos, posters and other pieces. It is just one of the great ways to decorate the wall behind a sofa as it does here.
'If you're looking to hang works in different sizes and frames, it's best to group them together,' says Helen at The Art Buyer. 'Plan your gallery wall by laying everything out on the floor. Once you've found a grouping that works well together, measure your wall and use decorators tape to plot your arrangement out on the wall before you start making holes.
'This will also allow you to make any tweaks necessary and ensure you create a grouping that is balanced and works well. If an eclectic and vibrant feel is what you're after, then mix mediums and opt for unmatched frames. For a more calming and contemporary take, then use the same frame throughout and pay particular attention to the spacing.'
'Start with a large art print as the focal point and add the smaller prints around to create a structured gallery wall,' suggests Annica Wallin at Desenio. 'Usually, we would recommend spacing the prints 5-10 cm (2-4 inches) apart.'
5. Mix patterned wallpaper and prints
Art buffs often favour white walls, as they let the works stand out, much like they would in a gallery. However, if living room wallpaper ideas are more your thing, this can still act as a beautiful backdrop for your prints, posters or paintings.
'When choosing artwork to hang against patterned wallpaper, there are two main considerations. The colour scheme and 'busyness' (or repeat) of the pattern and the framing,' says Helen at The Art Buyer.
'If choosing a print to sit against a 'busy' pattern, seek out calming tones and simple lines or a piece with a clear focal point. Then give the artwork some 'breathing room' by opting for a wide mount and a very sleek and simple frame.'
6. Consider the mood your artwork creates
If you're choosing art, a great place to start is to think about the mood you're trying to create in your living room. Are you looking for something bold, to lift the room and create impact, or would you prefer to create a calming feel?
'Thinking this way helps to narrow down your search,' says Erica at Murus. Consider graphic and abstract styles for something bold and landscapes or botanicals for a calming mood.
'Colour is also a great way to narrow down your search by focusing on a couple of colours that compliment your living space.'
7. Go big and bold with a statement piece
There will be a number of great spots in your living room for art, depending on the period and style of your property. So find a prominent place and hang a piece that's big enough to fill it, it is a brilliant way to break up a large wall in a living room.
'One perfect spot is above your sofa, the mood you create here can really set the tone for this room,' says Erica at Murus. 'Scale here is key as this may be one of the largest walls you have. So use this space confidently, as you will be looking at the piece you hang here every day.'
8. Make the mantle a focal point
Too often the TV can become the focal point in a modern living room. However, your room will feel far more calming if you let the tech take a back seat, and allow art to come to the fore as part of your mantel piece ideas.
'A fireplace is another great focal point for a statement piece,' says Erica at Murus. 'Traditionally, a mirror would be a safe choice above a fireplace, but art looks great hung above or leaning on a mantlepiece.'
9. Jazz things up with a wall-hanging
Fancy something colourful and textural for your living room walls? Opt for a wall-hanging instead of a print or poster to create a no-commitment living room feature wall idea.
'A graphic wall-hanging is an easy and affordable addition to a living room,' says Ann Marie Cousins, founder, AMC Interior Design. 'It can make an incredibly striking statement, which will naturally draw the eye of you and your guests.
'Rather than committing to painting or wallpapering an entire room in the same colour or pattern, a wall-hanging allows you to show your personality, and if you're unsure about it later down the line, you can easily swap it for something else without it costing the earth.'
10. Fix a picture ledge
A great alternative to hanging wall art is to place your chosen prints on a picture ledge, or incorporate artwork into your living room shelf ideas. This gives greater freedom and flexibility than wall hooks.
'A picture ledge is a great way to showcase your favourite pieces, which can then be easily taken down or switched around,' says Ann Marie Cousins of AMC Interior Design.
'If you are somebody who likes to rearrange their art or make seasonal changes to their decor for example, the art can simply be lifted off the shelf and replaced with something else.'
What wall art ideas work for grey living rooms?
Grey living room ideas makes the perfect blank canvas and allows you to build your own curated look.
'Grey walls invite you to be bold with colour, either by adding a statement with an energetic modern abstract painting, or by celebrating the zen of your living space, with soft calming palettes,' says Helen Armon-Jones, founder, The Art Buyer.
'A landscape painting can make a gentle focal point and raise the eyeline, thereby adding height to a room. It can also act as a 'window' to a view, for example of your favourite sea vista or beauty spot.
'For simple, cost effective updates to your living room, start with more affordable, limited edition prints. If a forever feel is what you're after, then you can't beat investing in an original painting.'
How do I choose wall art for my living room?
'Our clients often seek out one large piece of art that unifies the colour scheme of their living room, taking a cue from the living room sofa ideas and rugs to unite the feel of the space,' says Helen at The Art Buyer.
'For this I recommend hanging one large landscape format painting centrally over the sofa, with the centre of the painting hung just above the average eye height. For a warm, lived in feel I favour paintings with a variety of colours and lovely visible texture.
'Seascapes and landscape paintings are the ultimate 'dreamy' canvasses and will never date. But stunning, airy abstract paintings can be the perfect formula for the heart of the home – tying in aspects of your scheme or simply creating an arresting, but not jarring focal point.'
How do I arrange my living room wall art?
'There are a number of ways you can display wall art in a living room, but the most important thing is to be bold and adventurous as art is designed to stand out, rather than sit quietly in the background,' says Ann Marie Cousins, AMC Interior Design.
'Whatever you go for, make sure the art gives depth to a space. This can be done by including wall art in different sizes, combining bigger pieces with smaller prints for example, or introducing colour through you wall art.'
Get the Ideal Home Newsletter
Sign up to our newsletter for style and decor inspiration, house makeovers, project advice and more.
Jacky Parker is a freelance interiors & lifestyle journalist, specialising in modern interiors, design and eco living. She has written for Future's interior magazines and websites including Livingetc, Homes & Gardens, Country Homes & Interiors and Ideal Home for over fifteen years, both as a freelance contributor and inhouse, with stints as Acting Digital Editor, Livingetc and Acting Style Content Editor, Country Homes & Interiors. Her work also features in national and international publications including Sunday Times Style, Telegraph Stella, The Guardian, Grand Designs, House Beautiful and more. With years of experience in the industry Jacky is privy to the insider view and the go-to places for interior inspiration and design-savvy décor.