20 living room feature wall ideas to make a statement in your lounge space
Offer your living area a new burst of energy with a clever and creative feature wall to anchor your space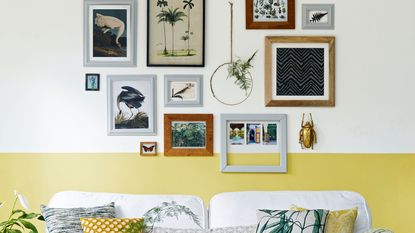 (Image credit: Future PLC/Jo Henderson)
Contributions from
Ideal Home Newsletter
The Home Of Great Ideas For More Than 100 Years
Thank you for signing up to . You will receive a verification email shortly.
There was a problem. Please refresh the page and try again.
Living rooms, as the name suggests, are somewhere we spend a lot of time, but don't too often get around to redecorating. Find the loophole by adding a new lease of life with living room feature wall ideas rather than revamping the whole space.
These focal points can also be integrated from the beginning. For a cohesive scheme you might want to align your feature walls with your living room ideas right from the off.
Either way, a cleverly chosen addition will bring instant impact and some serious style to your space. And it doesn't stop with a pop of colour or a hit of wallpaper.
'There is so much you can do with a feature wall, aside from the classic wallpaper pattern or accent colour,' says Michele Rodriguez-Wise, Co-Founder, L'una Design (opens in new tab).
'You could adorn a feature wall with wood panelling, create a gallery feel with a number of paintings, or even use your most prized possessions to create a shelving feature wall,' explains Michele. 'Just be sure to not clutter the shelves and carefully plan out where each possession will sit, particularly the pieces you want to stand out.'
Living room feature wall ideas
Finding the perfect living room feature wall ideas for your space is more important than you might think.
'Walls are the largest surface area in your home so adding interest and expressing personality here is key,' advises Martin Waller, Founder, Andrew Martin (opens in new tab).
1. Panel over a mural for double the impact
Murals are a classic way of creating a feature wall. Few rooms can cope with a mural that continues on every wall, so it lends itself naturally to becoming more of a focal point.
But why stop at the mural? When considering how to design a living room with a mural, get double the impact by adding wall panels over the top. This will add an extra dimension to the surface and create a whole new look. For a united feel, make sure you paint the panels in a tonal shade to a secondary colour from the mural itself.
2. Add a wall of mirrors
A selection of mirrors does more than the average living room feature wall ideas might. As well as adding interest to the space, the mirrors will boost light levels and make the area seem larger. This makes it ideal for small living room ideas, and darker snug-like spaces in a home.
Play with sizes of mirrors to keep things electric, but try and stick to one common shape to keep things cohesive.
3. Mix and match wall hangings, artworks and decor
'A gallery wall can act as a memory bank for pictures that have been passed down generations or a special piece of art sourced from your favourite antiques market,' says Suzanne Duin, Founder, Maison Maison (opens in new tab).
'It is an opportunity to hang all your sentimental souvenirs together. Mix in objects that are three-dimensional to give the display more depth and interest, creating a real statement feature.'
This may seem like one of the more simple living room ideas, but it is incredibly effective.
4. Tile your chimney breast
'Although there are no set rules when it comes to choosing a feature wall, it's worth looking for architectural clues, like fireplaces,' suggests Michele from L'una Design. 'As these will typically indicate the focal point of the living room.'
A floor to ceiling chimney breast is a dream location for your feature wall. For modern living room ideas, set down the wallpaper and get tiling. Glazed options work especially well as they'll bounce sunlight around and gently reflected candlelight in the evenings.
5. Use a large scale wall hanging
If you're renting, or are just looking for living room feature wall ideas which don't involve as much commitment as others, then a wall hanging is the way to go. Choose a print, pattern or mural-esque design depending on your personal tastes.
You can, of course, buy hangings, but they're also one of the more easy DIY projects out there.
6. Make a bold statement
If you're willing to push the boat out decoratively, you can combine lots of different effects to make a stunning style statement. There's no need to choose between living room wallpaper ideas, paint and panelling - combine them all for a maximalist feature style.
To stop things going overboard, do restrict yourself to a limited colour palette, otherwise the space can quickly become overwhelming.
7. Paint a stylish mural
'Today's feature wall can take many forms, shapes, textures, patterns and materials,' explains Justyna Korczynska, Colour Consultant, Crown (opens in new tab). 'Using paint is still one of the quickest and easiest ways to create a feature wall.'
'If you find you have various paints lying around unused but are not sure how to use all of them, consider creating a feature wall by painting a mural,' adds Emma Bestley, Creative Director & Co-Founder, YesColours (opens in new tab). 'Most would assume they'd need to have an artistic flair, but that isn't the case.'
'There are no rules when it comes to murals for living room paint ideas, you can make it as abstract as you like,' continues Emma. 'Start by painting in small sections and building it out as you find your preferred shapes.'
8. Channel a monochrome look
Calming, yet effortlessly striking, a monochrome scheme can create impact without feeling too overpowering. A monochrome gallery wall is also a guaranteed winner if you're looking to create a striking feature wall as every piece is tied together effortlessly using the unified colour scheme.
Furthermore, a black and white gallery wall is also a solution for how to hide a TV by making it blend into your scheme. 'Feature walls draw the eye, so it usually makes sense to zone in on the wall that already has a lot going on,' says Lisa Honiball at Honey Interior Design (opens in new tab). 'None of us want the big black box that is the TV to be the feature; luckily there are ways to conceal it.'
9. Co-ordinate feature wallpaper with your paint
Love the idea of a wallpapered feature wall but worried it may overpower your room? Dilute the look ever-so-slightly by framing the paper alongside plain painted walls. Choose a shade that features within the wallpaper pattern for a coordinated effect.
10. Try some texture with exposed stone
For a lasting effect that makes an instant impact, exposed brick or stone walls can't be beaten. They add a layer of texture that is far more inviting that a plain white wall, while lending an industrial vibe to a scheme.
Exposed stone walls do come with a caveat though. Unlike paint and wallpaper, which can be easily replaced, you shouldn't commit to it unless you're really sold on the idea. 'Exposed brick and stone walls make a room feel lived-in', says Bethan Harwood, Partner & Home Design Stylist, John Lewis (opens in new tab). 'But one can take a lot of maintenance and are difficult to update when redecorating.'
11. Build out your chimney breast for a whole new look
A clever way to conceal an unused chimney breast is to build it out and transform it from fireplace ideas into living room feature wall ideas. Extend the chimney breast either side to create a false feature that includes clever shelf cubby storage. Adding panelling to the newly extended wall makes an instant feature of this new area.
'Panelling is an easy way to add texture, depth and interest to the walls,' says Mariana Ugarte, Co-Founder, Interior Fox (opens in new tab). 'Great for all types of properties, especially new builds as it helps to add character and interest when architectural features are minimal. This technique is ideal for small rooms when used vertically, as it makes the walls appear taller.'
12. Play with paint effects
'Paint effects have moved on from ombre or patterned walls to colour blocking and mimicking traditional dado and picture rails,' explains Bethan from John Lewis.
'Colour blocking is a great way to highlight – or feature – areas of the room, such as a cosy corner or framing a sofa area. You can be creative as often it's just a smaller area of paint. Try injecting splashes of yellow or taking the colour blocking from the feature wall, up and over the ceiling.'
13. Put up a picture gallery
Fill empty wall space behind a sofa with gallery wall ideas.
'If you're looking to hang works and prints in different sizes and frames, then it's best to group them together,' recommends Helen Armon-Jones, Founder, The Art Buyer (opens in new tab). 'Plan your gallery wall or grouping of artworks together at the earliest stage by laying your works out on the floor.'
'Once you've found an arrangement or grouping that works well together, then measure up your wall and use decorators tape to plot your arrangement out on the wall before you start making holes. This will also allow you to make any tweaks necessary and ensure you create a grouping or gallery wall that is balanced and works well.'
'If an eclectic and vibrant feel is what you're after, then be sure to mix mediums and opt for unmatched frames for a fun and bold look. For a more calming and contemporary take, then use the same frame throughout and pay particular attention to the spacing.'
14. Get colour blocking
Give a featureless wall some decorative detail with a simple colour-block treatment. Keep to two colours of a similar tone for a subtle, understated look. Divide your blocks using the colour that covers the rest of the walls in the room, for a cohesive link to the space at large.
15. Give panelling a modern twist
Add architectural detail to a plain living room by installing timber wall panelling ideas over one wall. Paint woodwork a flat, matt eggshell finish, continuing the colour on skirting, architrave and doors to create a rich immersive feel throughout.
Break up dark tones by adding statement artwork. One oversized canvas or large framed print will add more impact than several smaller pieces.
16. Line a wall with floating shelves
Combine a feature wall with smart living room storage ideas. A stack of floating shelves run wall-to-wall will give an abundance of display space for artwork, picture frames, books and decorative pieces.
'Incorporating shelves in open areas and bare walls ensure you are making the most of empty spaces,' notes Mariana from Interior Fox. 'Floating shelves or a tall bookshelf that extends to the ceiling will provide ample amounts of storage and a place to showcase decorative items. This is where you can add real depth and interest to your living room.'
17. Two tone your wall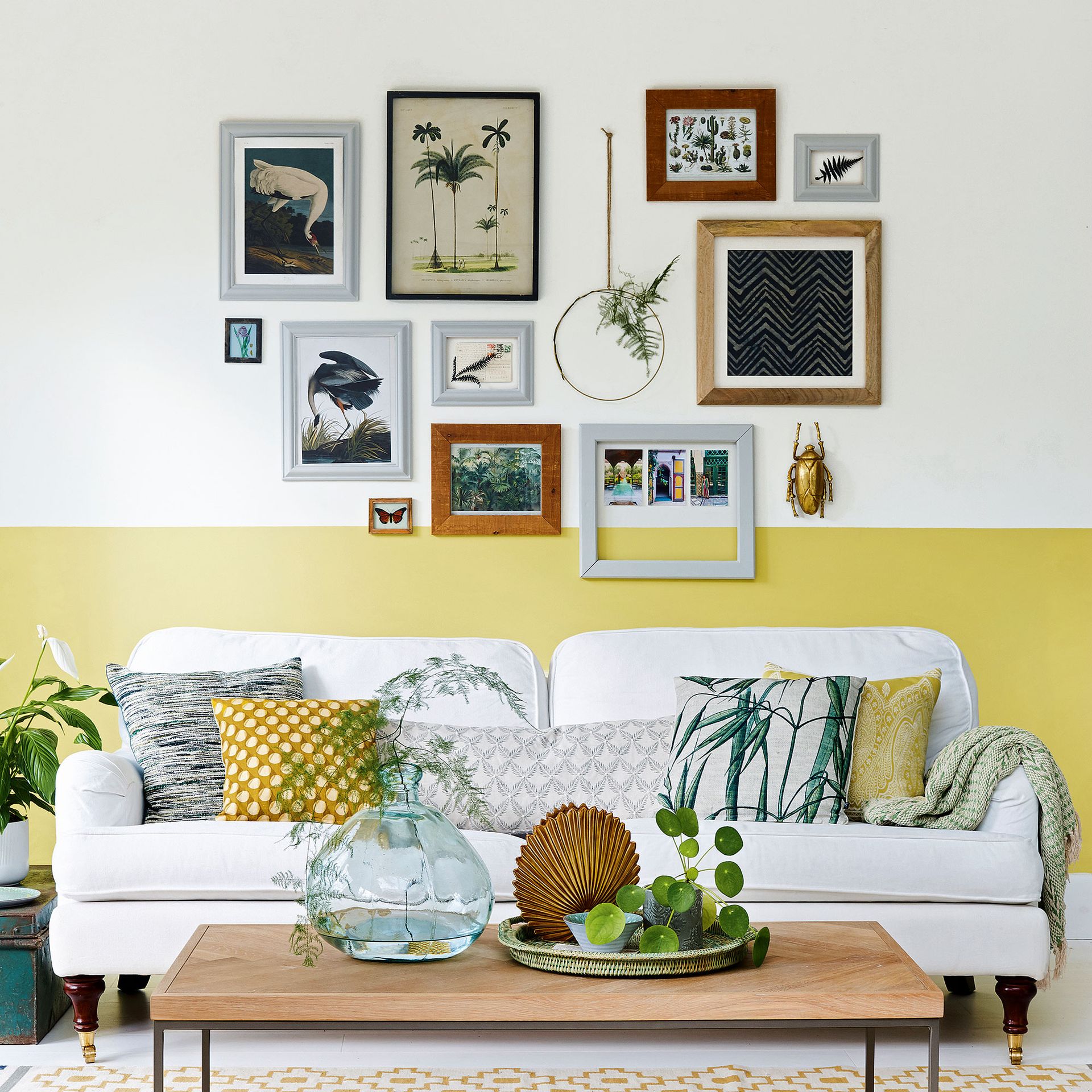 Get a hit of bolder colour without committing to a whole room redo by trying a half-and-half paint treatment on a feature wall. A bight colour on the lower half will add impact and provide a cool way of decorating the wall behind the sofa.
For a considered approach, ensure the top half is painted in the same colour as the other walls in the room.
18. Be inspired by a living wall
Revitalise a tired living room by adding an indoor living wall. Houseplants and greenery not only add colour but can boost air quality and well-being too. Just choose ferns and succulents that don't require frequent watering.
Use the wall behind a sofa or a sideboard for your display. Pocket planters that are attached to the wall on brackets make a great alternative living room wall decor ideas solution.
19. Supersize the scale
Supersize a favourite floral print and repeat it on a floor-to-ceiling mural to create living room feature wall ideas with a serious wow factor. Paint adjoining walls in the same dark background colour to make your feature wall really zing.
20. Create an easy-change picture gallery
Line a living room wall with narrow picture ledges that can be filled with favourite prints or framed family photographs. Shelves are not only one of the budget living room ideas but are super-easy to rearrange if you have new additions or simply fancy a change at a later date.
Paint shelves to match your walls for a chic look - it'll make art work stand out more. Add further interest by layering in a few small ornaments here and there to fill in any gaps between pictures.
Which wall should be a feature wall in a living room?
'Deciding which wall to transform into a feature wall can be a tricky decision, but fear not, we have a trick to help,' says Ross Taylor, Co-Founder, The Curious Department (opens in new tab).
'Imagine that you are taking a photo of a friend and you want the photo to look really good, where in the room would you have them stand or sit? It sounds silly but your living room feature wall ideas should become a backdrop to create a beautiful vignette in a room, a space that you want to highlight. And by picturing that photograph it helps you determine the most appropriate area for a feature.'
'Avoid creating feature walls around TV's or windows, it can be distracting to have high impact patterns around a point of focus in a room.'
What do you put on a feature wall?
'There are many good living room feature wall ideas that can be really effective and help finish the design scheme in the room,'says Samantha Wilson, Interior Designer and Founder, Collection Noir (opens in new tab). 'A gallery style layout for art works, prints and photographs will add an element of fun and bring colour to the room whilst allowing you to show off your personality. You can be as bold and daring or as minimalist as you like with the art you choose to hang.'
'Similarly, you could introduce a bold patterned wall covering or wall mural which will make a real statement. This can then be layered with art and wall lights to add depth and warmth to the space.
'Wall panelling is another great option as it'll create a chic and timeless look, whilst adding character to the space. You can then play with colour and keep it light and airy with warm neutrals and greys, or add drama with a deep blue or green shade. '
Lisa is a freelance journalist who has written about interiors for more than 25 years and has worked on all the major homes titles, primarily Ideal Home, but also including Homes & Gardens, Country Homes & Interiors, Style at Home, Livingetc, Woman & Home, Easy Gardens and Good Homes magazines. Homes and interiors have always been a passion and she never tires of nosying around gorgeous homes, whether on TV, online, in print or in person, as well as being a serial shopper/bargain hunter.