How to hide a TV – 12 clever and stylish ideas for disguising your telly
Enjoy TV time without it impacting your interior design with these stylish ways to hide a TV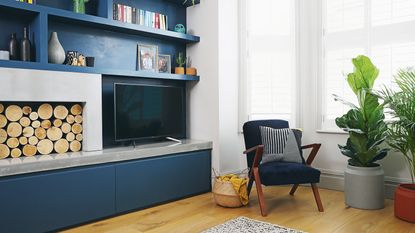 (Image credit: Future PLC / Katie Lee)
Televisions are essential to most living rooms, whether it's for weeknight series catchups or cosy movie nights where duvets are brought to the sofa, but they're not often aesthetically pleasing. So, being able to hide a TV will turn your living room from techy to trendy, and allow you to switch off from screens when you want a break.
The best TVs on the market are sleeker than ever before, but screens are getting larger and larger. High-definition viewing will allow you to create the cinema experience in the comfort of your own home, but this does mean that TVs can be quite imposing. Luckily, there are lots of clever (and stylish) ways to hide a TV, or at least minimise its impact.
How to hide a TV
Despite their mysterious absence in the shots of homes we see on Instagram, most of us have a telly somewhere in our home. Whether you want ways to conceal a TV above a fireplace, or to better incorporate one into your small living room ideas, keep reading for our top tips from designers and the Ideal Home team.
1. Distract with artwork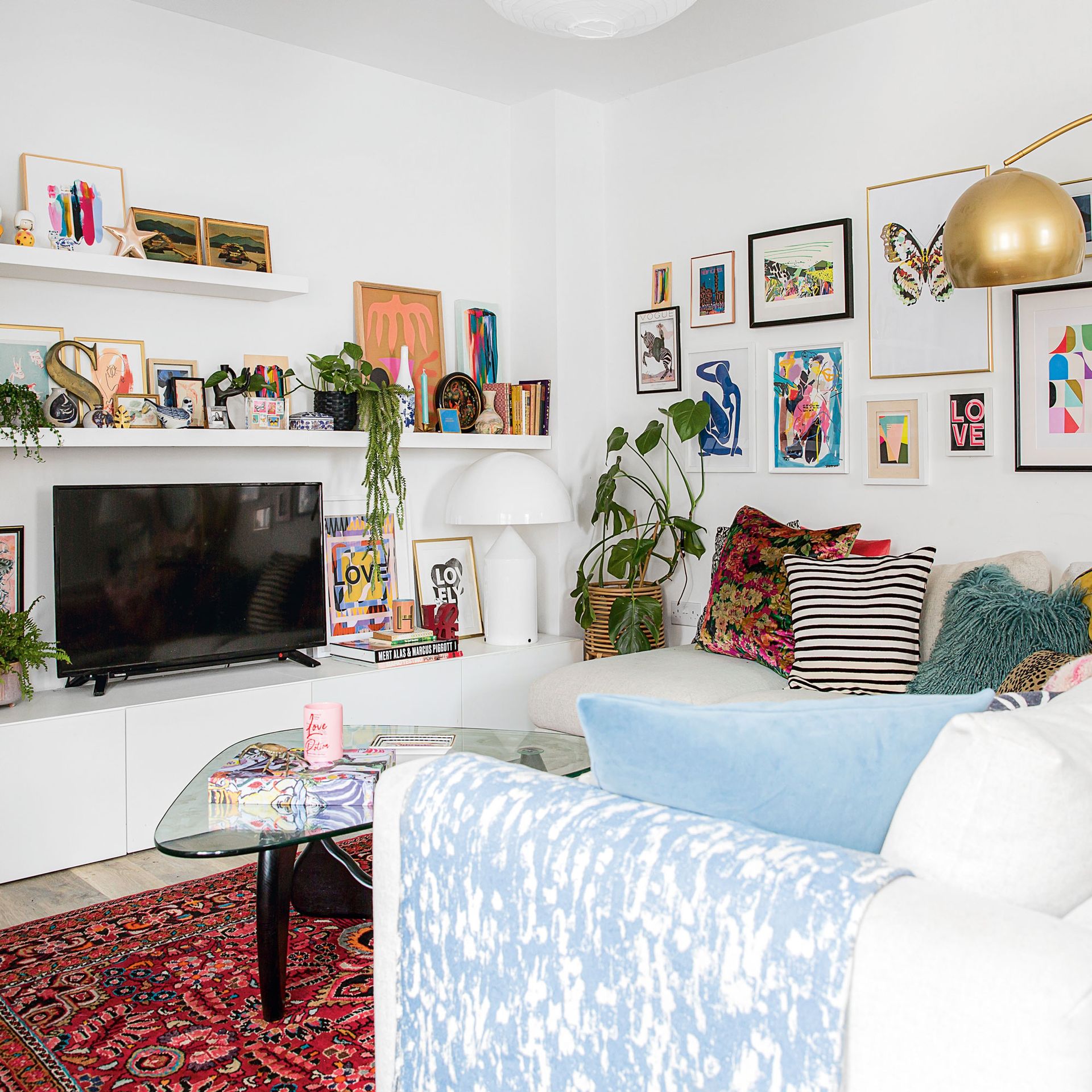 A quick, renter-friendly fix is to hang up lots of artwork and photographs near the TV to distract the eye. 'To draw attention away from the TV, cluster artwork in a relaxed, uneven way around it with uneven spacing between,' says Abigail Ahern, designer and owner of Atelier Abigail Ahern.
Gallery wall ideas will make a statement and bring colour, pattern and personality, making the TV less of a focus. Put the YouTube fire on in winter and all of a sudden the TV is much less noticeable.
To help it blend in further, interior designer Ann Marie Cousins recommends a monochromatic scheme for your gallery wall. 'Pair your TV with monochrome abstract artwork and black and white photographs, complemented with black and white frames,' she says.
2. Paint the wall behind it a dark shade
Navy blue living room ideas are having a moment right now, so a dark navy wall will feel on-trend and it'll make your TV disappear. Ideal Home Deputy Editor (digital), Rebecca Knight suggests painting the wall behind the telly a dark shade, as well as thinking carefully about placement.
'I have a navy feature wall in my flat and it helps my 50-inch TV blend in. Set against a white wall it would feel a lot more overwhelming,' she says. 'The TV isn't right in the middle of the room either, which stops it from stealing the show.' Positioning the TV low down rather than up on the mantlepiece or chimney breast also has a big impact.
3. Invest in a smart TV
It's an investment, but a smart TV, such as a Samsung Frame, is a great modern living room idea that will make your TV less obtrusive. If you're a confident DIYer, you could always fake it by creating a gold frame and displaying artwork on your telly.
'A TV is essential to most homes and can often become a focal point of a room. However, it doesn't always compliment the surrounding interior design and getting that balance right isn't easy,' says Zeena Hill, director of TV/AV at Samsung UK.
'The principle behind the Samsung Frame TV is that it gives you the ability to blend the TV seamlessly into the aesthetics of a room whether that's through artwork, family photos or matching it to your interior colours or wallpaper. With its slim design and interchangeable borders, you can utilise the TV to compliment the room, moving the attention back to the overall features of your home and without compromising on your entertainment.'
4. Choose a curated look
Disguise your TV by surrounding it with a carefully curated display of decor pieces, from vases and ornaments to wireless lamps and books. The gold, glass and ceramic items displayed in this built-in wall storage unit give the eye lots to take in, making the TV fade into the background.
The symmetrical arrangement of the shelving and furniture gives the space a balanced and calming look, inviting you to take a book, mix a gin and tonic and recline in an armchair.
5. Put it in the corner
Rule number one of hiding your TV is not putting it right in the middle of the space, or above the mantlepiece, as this puts the TV far too high up in your living room hierarchy. Slot it into a corner, as shown above.
'Avoid hanging the TV in the centre of the room, as this can dominate the space,' agrees Alexandra Fryer, Home Design Stylist at John Lewis. 'If you can, position it to the side in an alcove amongst shelving, and paint the surrounding area a deep colour, allowing the TV to blend in.' If you're planning to have some built-in living room shelving ideas, incorporate some space to contain your TV.
6. Don't point all your furniture towards it
How you arrange your furniture can influence how prominent your TV feels. Rather than angling everything towards the telly, which makes it really feel like the focus, position your sofa and chairs together to create a convivial setup, so that when people come over they can chat comfortably. The TV is still 100% visible, it's not the focal point of this living room.
7. Blend it into a grey shelving unit
'A great way to detract your eye from focusing in on a TV is to install it within a beautifully fitted media unit,' says interior designer Shanade McAllister-Fisher. 'This will help blur the lines between the TV and your decor.'
Opting for a smaller TV and embedding it into a shelved media unit is a great solution. Unless you're a total film fanatic and need a bigger screen, don't rule out having something more compact. The proportions of this TV are in keeping with the rest of the shelving, and you can still enjoy a Netflix series or have something on in the background without a big TV looming down on you.
8. Build into the wall
If you want your TV to make less of an impact on your living room, but still want a large screen that sits in the middle of the space for optimal viewing - consider recessing it into the wall.
By building into the wall, the TV will sit flush so that it limits the amount of visual clutter. The result is a living room design that looks super sleek, plus you can hide any wires by hiring an electrician and builder to build it into the wall.
9. Focus on furniture
One obvious way to make sure your set doesn't play the starring role is to transfer focus to living room storage ideas like a TV unit. By opting for a unique storage solution for underneath your TV, attention won't be drawn to the TV itself but rather the furniture that sits below it.
Rattan furniture will make your TV area look less techy and more trendy, softening the overall appearance of the devices. Plus, it's easy to DIY as an easy IKEA hack if you're after a more affordable solution.
10. Get a bed with TV storage
If you're a box-set addict, you may well have a TV in your bedroom. Well, it beats waking up on the sofa at 2am with an imprint of the remote on your face.
But if you'd rather hide a TV – perhaps you don't want it cluttering up a dressing table or a chest of drawers – get yourself a bed with hidden storage for it. It's also a great teenage boys bedroom idea as it provides them with some privacy to watch TV in a spot teenagers love the most - their beds.
11. Mix your TV with shelving
If you've not got the cash to splash on new furniture, why not take a decorative approach? Surround the TV with a mix of framed pictures and shelving in the same colour as the bezel of the screen, as shown in this rustic living room idea. This will make your set look like a deliberate part of the display and is also a savvy storage solution for a small space.
12. Buy a screen that's just the right size
Don't forget to check the size, or you'll struggle to find ways to disguise a TV. A common mistake is to buy a screen that's too big. Ideally, the centre of the screen should be just below eye level when you view the television. This is because when we relax our heads tend to drop a little, so don't mount it too high.
'If you have a screen that's too large, it's a bit like sitting in the front row of the cinema. You can't view the entire screen comfortably without moving your head,' says Gavin Sykes at Bang & Olufsen's bracket supplier STB Brackets.
'The size of screen is not determined by the size of your room. It's actually more important to consider where you plan to sit. Even if you have a huge space, you may not sit at the other side of the room to watch TV. So, as a general rule, you should try to sit four times the distance from the screen as the screen size.'
FAQs
How do you hide a TV in plain sight?
'For most, the TV is a central part of the living room. At the same time, a TV in the living room has a difficult time functioning as a natural part of the interior design of the room,' say the experts at Jysk. 'You can choose to let the television function as the eye-catcher of the room, or you can try to hide the TV in your living room design. Ultimately, it comes down to your own style.'
Or why not hide a TV by placing it in a recess so the screen is flush with the surrounding wall surface? 'While this doesn't hide the TV, it does make it feel much more seamless than if it were simply mounted on the wall,' says Hugo Tugman, an architectural expert from Architect Your Home.
'The depth of a flatscreen plus the mounting bracket is likely to be around 200mm. So a recess can be difficult to form as it means cutting away so much of a wall. Instead, you can "thicken" the wall where the TV is to be mounted by dry lining with plasterboard,' Hugo says.
How can I hide my TV in the bedroom?
Another neat trick to hide a TV in a bedroom is to find a space within bedroom storage like fitted wardrobes. Sure, you'll have to sacrifice precious handbag or shoe storage, but it's a price worth paying not to have a big black box dominating your space.
Distraction techniques like hanging artwork around the TV will also help blend it into your bedroom scheme, and covering the screen with a blanket can also make the space feel more restful.
The days of the TV dominating the room are over!
Get the Ideal Home Newsletter
Sign up to our newsletter for style and decor inspiration, house makeovers, project advice and more.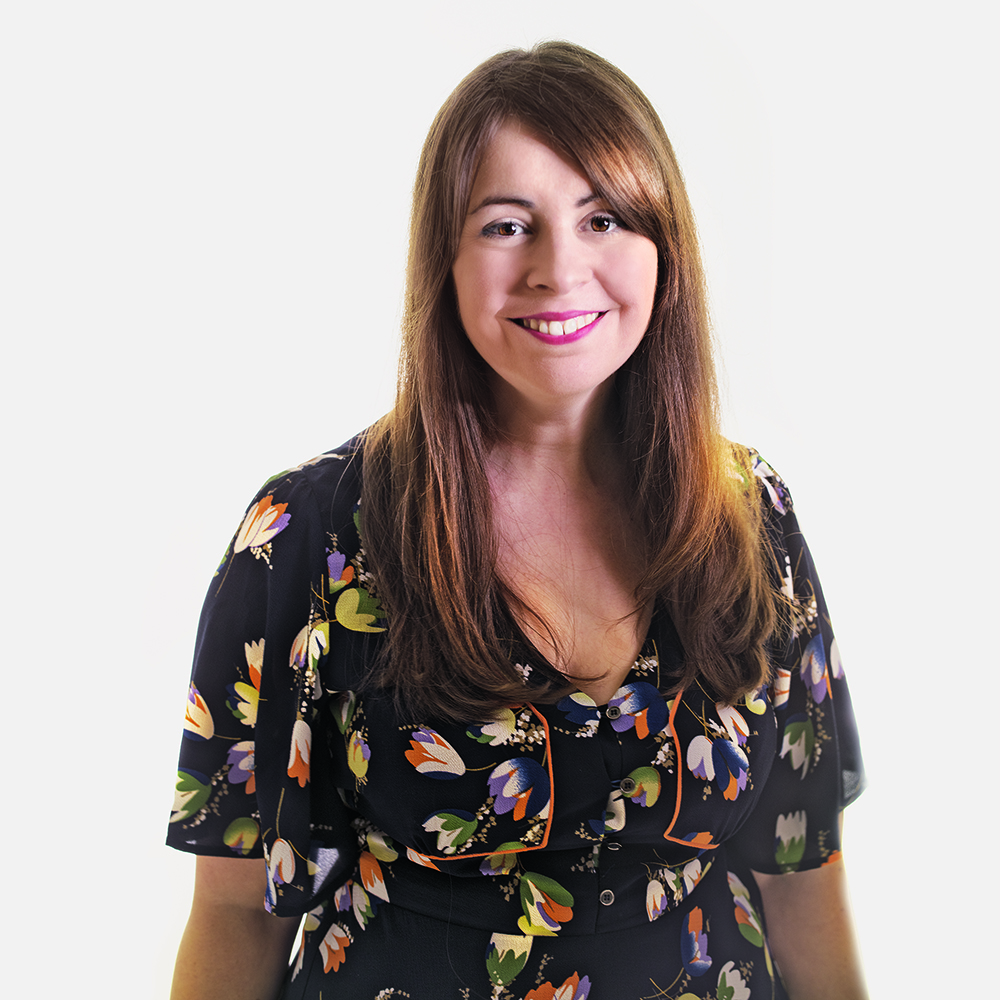 Amy Cutmore is an experienced interiors editor and writer, who has worked on titles including Ideal Home, Homes & Gardens, LivingEtc, Real Homes, GardeningEtc, Top Ten Reviews and Country Life. And she's a winner of the PPA's Digital Content Leader of the Year. A homes journalist for two decades, she has a strong background in technology and appliances, and has a small portfolio of rental properties, so can offer advice to renters and rentees, alike.