26 living room storage ideas that balance style and functionality
Organise your living room with these tips that keep the clutter at bay and bring the calm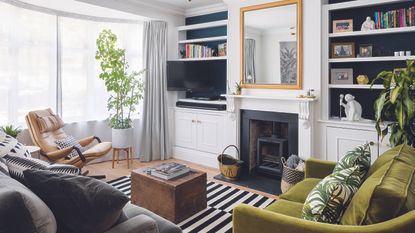 (Image credit: Future/Chris Snook)
As one of the busiest rooms in the house, it's no wonder that sometimes our lounges can house a lot of 'stuff'. While decluttering is always welcome, there are plenty of things we do just need in this space, which is why living room storage ideas are so important.
One of the reasons our living room ideas are so in need of carefully considered storage is that, these days, the lounge is a truly all-use space. From home offices, to playrooms, to home gyms and gaming marathons, our living rooms are no longer reserved for relaxing, but must serve a multitude of purposes.
Since space so so often at a premium, a great place to start is with multipurpose pieces. 'Maximise space in a compact living room by first considering investing in multifunctional furniture,' advises Jenna Choate, Co-Founder, Interior Fox. 'An ottoman footstool is a great place to start, it works as additional seating for when guests visit, creates extra storage, and best of all, a place to put up your feet at the end of a long day.'
'Add shelves to open areas to make the most of empty spaces,' continues Jen. 'Floating shelves or a tall bookshelf that extends to the ceiling will provide ample amounts of storage and a place to showcase decorative items. And then, of course, the possibilities are endless when you go bespoke.'
Living room storage ideas
"When it comes to lounge design, living room storage ideas is one of the most important factors to consider,' says Emma Deterding, Founder and Creative Director, Kelling Designs. 'This is in order to keep your living room organised and a place in which to relax and spend time with loved ones.'
1. Make alcoves work harder
'Built in storage is one of the best living room storage ideas,' says Ann Marie Cousins, Founder, AMC Design. 'Make sure to take advantage of all the available space, especially when working with small living room ideas. In a period property, there are often gaps either side of the chimney breast which make for great open shelves or cupboards.'
Don't stop at adding storage shelving to alcoves, however. Make this space multifunctional by including a lower, wider shelf which can double as a home office as and when needed.
2. Make low-level storage a feature
A single run of matching units, placed wall-to-wall across your living space, has a more cohesive look than a combination of freestanding shelving units and cupboards.
Paint its doors the same colour as the walls so that they visually recede, and top them with a slab of quartz or marble (or a laminate alternative) to elevate the look. This works especially well in a white living room to form a brightening and spacious feel.
3. Put curated collections on display
Turn practical storage into a stylish feature by arranging items such as glassware or serveware (perfect for kitchen storage overflow) in a glazed display cabinet. Create groupings of similar items and add in accents to break them up. Here, the black ceramics add depth and contrast to the glassware on display.
It's a clever way of displaying different living room trends without fully committing to an entire aesthetic. Instead, showcase a slither of the latest trend and refresh as your taste changes.
4. Paint inside shelving to add interest
Shelving units don't have to be boring. Painting their interior is an easy and budget-friendly way of revamping a simple structure. Alternate tonal colours for a extra design hit ideal for modern living room ideas. Then use this backdrop to display your items to perfection.
'The shelving should be filled with items that spark memories that you treasure,' says Emma from Kelling Designs. 'Be sure to use objects and ornaments of different sizes across the shelving so you have movement. Grouping a larger item with a medium and smaller item will not only keep the grouping, but will create a flow for your eyes to travel with.'
5. Add a pole for handy hanging
Think outside of the box (or shelf) with living room storage ideas. Adding a slimline metal pole to your wall can give you more creative ways to stash and display your items.
Hang houseplants, baskets or wire boxes with simple S-hooks and you're good to go. As well as being space saving, this area is easy to dress up and change with the seasons and as living room trends change.
6. Blend it in
When working out how to design a living room, remember that storage doesn't always have to shout about its existence. If you have a rather busy or maximalist room, you might want to disguise, rather than highlight, your storage.
Take your cabinetry either up high or down low and paint to blend in with your walls. If up near your ceilings they might appear as an architectural feature, and down low they can double as a bench or surface.
7. Use contrasting colours for impact
'Built-in joinery in the form of shelving is ideal for making the best use of oddly shaped rooms, alcoves and recesses,' says Emma from Kelling Designs. 'Not only does it use the space to its best potential, but it also gives you ample storage for everyday items, as well as decorative elements too.'
'From a style perspective, I always recommend choosing a beautiful colour for your joinery that complements your interior design scheme.' With living room feature wall ideas you may want to paint the back of the unit in the same colour and highlight the shelves with the colour of the other walls.
8. Take over a wall
'Use floor to ceiling storage units to maximise storage space,' advises Suzanne Duin, Founder, Maison Maison.
'An exposed unit can be styled with books and design ornaments and provide a lovely space to inject some colour into a room.' Colour drenching a space in one statement shade will take your living room storage to the next level, so it acts just as much as a design feature as it does for practicality.
9. Make the most of bay windows
'If you're working with bay window ideas, think about building a window seat with storage underneath,' suggests Ann Marie from AMC Design. 'This is a great way to make use of potentially wasted space, whilst also doubling as another form of seating.'
Building in drawers will create extra storage and are much more practical than a lift up lid. Use the angled end section as a built-in side table and add cushions on top for comfort.
10. Combine open and closed storage
Style out your living room with smart shelving that is both open and closed. Create a display opportunity by making a modular shelf unit the focal point of your space.
Then arrange your open shelves with a mix or books and decor, reserving the covered shelving for the more practical things - or just the less attractive pieces!
11. Use fluted glass to hide clutter in style
Glass cabinets look super chic, but aren't the best if you have clutter or daily essentials to hide away. Replace your glass frontage with a fluted option which will blur and help disguise the interiors. You'll still have a general idea of the shapes within so do try and stack and sort neatly.
12. Build storage into seating
If your living room is on the smaller side, you'll want to make the most of every inch of space. A great way to do this is to forgo a traditional sofa and opt for a built-in bench instead, adding storage below and to each side.
Painting the whole thing in the same colour as your living room colour schemes will mean it will blend seamlessly into the room and it won't be obvious it's storing a multitude of sins!
13. Utilise architectural features
Make the most of every nook and cranny for your living room storage ideas by adapting existing architectural features.
Clad an unused chimney breast by building out a frame, slightly wider than the chimney breast and covering it in two styles of wall panelling ideas. Dividing the panels at dado height will provide a small ledge for storing and displaying art work, while slim storage cubbies can be used to keep books, accessories and knick knacks.
14. Hide away WFH clutter
Your living room is already working hard as a space for relaxation, entertaining and playtime, so the last thing you need is paperwork littering every surface, too.
Choose clever freestanding furniture for your home office ideas so you can hide away all the workday essentials come 5pm, like a cupboard-cum-desk. A bureau will blend nicely in a living room too or a coffee table that extends out to become a desk, could also be a great option.
15. Go for bespoke media storage
Go for multifunctional TV and media storage that will house all your essentials in one hit.
'Creating a bespoke, floor to ceiling unit will help maximise living room storage ideas,' says Philipp Nagel, Director, Neatsmith. 'When organising the unit, consider the items and the space they require. Deeper items should be stored at the bottom and shallower items higher up so the unit isn't too heavy or encroaching on the room unnecessarily.'
16. Choose side tables with 'secret' storage
Find a home for remote controls, coasters or any other essentials you need within grabbing distance of the sofa but don't want cluttering up your table tops.
Look for neat nesting tables can be used separately, or when nested together, the smallest becomes a handy hideout for odds and ends.
17. Stash cushions and blankets in an ottoman
Opt for stowaway storage so you can stash living room essentials out of sight. A roomy ottoman with lift-up lid is brilliant for hiding away spare cushions, bulky blankets or children's toys.
Choose one that colour co-ordinates with your living room sofa ideas or seating arrangement, or choose a standalone piece in a contrast colour or neutral leather.
18. Take storage from floor to ceiling
Use every inch by taking your storage from floor right up to the ceiling. It's best to go bespoke, built-in here so you have a perfect fit for whatever alcove or corner you're making the most of. Opt for a combination of shelves and cupboards to give space for display and somewhere to hide the less-lovely stuff.
19. Make shelving mutltipurpose
Create a spot where you can sit at the laptop or sort admin, without ruining the aesthetic of your living room. Once you know how to put up a floating shelf you can easily create a wall of storage and display space with paperwork hidden away in box files.
Make sure the lowest shelf is at a desk height and is wide enough to hold your WFH essentials. Keeping it wider than the ones above won't disrupt the sleek look.
20. Hang easy-access wall baskets
Target clutter hotspots by installing easy-access storage that will encourage even the youngest family members to put things away. Fix a few sturdy metal hooks on the wall at staggered heights and hook a handled basket on each.
Willow baskets are great for quick end-of-day tidy-ups for toys, books, magazines, iPads and other stuff that tends to lay about. Plus, they work beautifully as living room wall decor ideas, which is always a plus.
21. Turn shelving on its side
Turn an awkward alcove into a storage opportunity with a custom-built arrangement. Use regular wooden cubes or box shelving, but instead of fixing to the wall in a straight line, position shelves in a diagonal arrangement. Paint shelves the same colour as the wall for a chic, streamlined look, then fill with your favourite books.
22. Style for your shelfies
Soften the hard lines of a dark shelving unit with a selection of plants. Choose trailing varieties and frothy foliage, mixing different heights and shapes to bring the look to life. Selecting a coherent colour scheme really helps when displaying your collections - three to four colours is perfect.
'Remember plants and greenery will add life to your shelving, so be sure to include them to bring a sense of the outdoors in and help ground the space,' advises Emma from Kelling Designs.
23. Add in floating shelves
Floating shelves are a simple way to achieve sleek and streamlined living room storage ideas. Paint the shelves in the same colour as the wall to disguise them, or a contrast shade to make them sing in the space.
24. Use a combination of storage
Prevent your space from feeling too cluttered by adding baskets to your shelving. This double use of storage helps to keep things organised and makes the room at large seem less busy.
Plus it's perfect if you're a stickler for a colour scheme and the daily odds and ends look a bit too chaotic in combination with each other.
25. Get IKEA hacking
We love discovering IKEA hacks - and they work perfectly for living room storage ideas. Pushing together a bank of Ivar units creates an unobtrusive, inexpensive storage and display space for all your living room clutter.
Rattan is the latest way to make your living room look perfectly on trend, and it's super easy to add as an insert to most IKEA units. Simply paint in your favourite shade, upgrade the hardware and you'll have a super chic set-up.
26. Frame a window to utilise space
Make best use of space by framing windows with bespoke storage. Realise the full potential of unused wall space, especially up high, with built-in storage solutions.
Window seat ideas provide the perfect place to sit and make you feel that little bit closer to the outside.
How do I maximise storage in my living room?
There are plenty of ways to increase the volume of your living room storage ideas, starting with swapping out old furniture for multipurpose pieces.
'Your sofa should work for you, not the other way around,' points out Dani Burroughs, Head of Product, Snug. 'So if you find you're tight on space think about looking for sofas with storage options. Great for those who are a minimalist rather than clutter collector, a sofa that has the option to lift the seats to reveal ample amounts of storage is the perfect way to keep everyday items stashed away.'
'A storage footstool is another great multi-functional option, ideal as an occasional seat, or as a place to pop a serving tray,' continues Dani. 'The handy hidden storage beneath is the perfect spot for magazines and additional cosy throws.'
Built in storage and shelving is a must,' adds Juliette Thomas, Founder, Juliettes Interiors. 'Living rooms are often spaces for entertaining so keep the floor clear and tidy, and hide items away that aren't used everyday into statement storage. Whether it's built into the alcoves or a stunning free-standing bookshelf, it can be a beautiful feature to be admired.'
How do you organise a cluttered living room?
Start by pinning down the rooms main purpose. Is it a living room and also a play area? Is it a place you need to work in? Perhaps it's a space to unwind and read in. For most of us these days, our living spaces have multiple purposes but try to nail down what the room is used for to work out what living room storage ideas you need in relation to what you actually need to store.
'Sort the items into categories,' advises Rob Ellis, Head of Design, dwell. 'Favourite items to display, items that are used everyday (such as remote controls, laptops) and others which can be put away that are rarely needed.'
'Consider packing away the objects that you don't need on display into cupboards,' continues Rob. 'Display your favourite pieces like books, vases or photographs on a beautiful bookshelf or freestanding shelves, that also offer easy accessibility. For everyday items, manage them into zones such as a tray on a coffee table for a remote control.'
Hiding away any kids stuff will also help to organise a cluttered family living room ideas. 'If like me, you enjoy the look of a more adult room once the kids have gone to bed, ensure you choose furniture with your tastes in mind too,' says Vicky Silverthorn, Professional Organiser at You Need a Vicky. 'You can still buy cube storage very much suited to children's toy storage, just buy it without the characters or in primary colours. Instead choose baskets and boxes in colours and styles that still look smart and sophisticated. '
How do you organise shelves in a living room?
Go for a mixture of open and closed shelves for your living room storage ideas, so you can still give yourself plenty of space to hide away the 'ugly' stuff. Open shelves are great to making a display of books, vases and accessories, but things like extra candles, work-out DVD's, and games consoles will be better suited to live behind closed doors.
Think about balance and symmetry when you're organising your living room shelves, yes they are there as a practical tool to store your things, but they can also look pretty too!
'When it comes to the art of display, you should set the look before you begin so that it is styled randomly, but isn't just a whole host of objects that you have plonked into position,' explains Emma from Kelling Designs. 'You want to achieve a beautiful and balanced look so always plan, test and if you feel like you have one thing too many, then you're probably right and should remove something. Always use uneven numbers and group things in threes or fives - odd numbers help to add balance and are much easier on the eye.'
Get the Ideal Home Newsletter
Sign up to our newsletter for style and decor inspiration, house makeovers, project advice and more.
Tamara was Ideal Home's Digital Editor before joining the Woman & Home team in 2022. She has spent the last 15 years working with the style teams at Country Homes & Interiors and Ideal Home, both now at Future PLC. It's with these award wining interiors teams that she's honed her skills and passion for shopping, styling and writing. Tamara is always ahead of the curve when it comes to interiors trends – and is great at seeking out designer dupes on the high street.