IKEA hacks – 51 ways to give their best sellers an easy update
Transform budget-friendly IKEA buys into trend-led, custom pieces for your home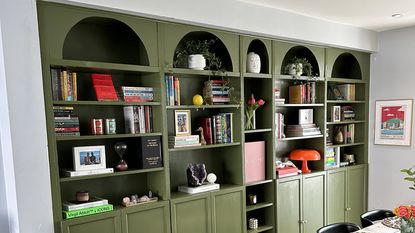 (Image credit: Paul Knox)
Easy to build, affordable, and quick to get your hands on - it's simple to see why IKEA hacks are dominating our interiors. The famous Swedish brand is renowned for the convenience of their flat-pack furniture, and whether you're moving into your first home or looking to upgrade existing decor, there is an easy DIY project for everyone.
While their designs focus on maximising storage and providing a blank slate to suit many different homes, they can sometimes be lacking in creativity. Luckily, the lower price and basic appearance mean they offer the perfect foundation for trying out some new tips and tricks in your bedroom or living room, so you can make your IKEA furniture truly your own.
Some of our favourite IKEA hacks require a few more tools and DIY knowledge than others, but all of them will allow you to create a trend-led look for less.
IKEA Hacks to update budget-buys
Updating a piece of furniture at home is a cost-effective way to achieve the exact aesthetic you're after, for significantly less money. You also get the pride of saying you've done it yourself, which is a huge bragging right when showing guests around your house. It also means that you can update the same piece of furniture over time too, which is great if pink is your thing for now, but maybe not in a few year's time.
Tom Revill, Co-founder at Plank Hardware said, 'Simple and neutral IKEA furniture is the best base for re-imagination. With different pieces of furniture come different possibilities.' By taking inspiration from upcycling furniture ideas, you can create a stylish spot almost anywhere in your home, from your wardrobes to your TV cabinet.
It's easy too - with an image to use as inspiration, a couple of tools, and some paint, you can achieve an entirely new look.
'If you're on a budget and focusing on updates only, Chalk Paint™ works just as well on plastic and MDF and brings a lovely matte finish to Ikea furniture,' echoes colour and paint expert, Annie Sloan.
1. Add curve appeal
Moon-like shapes have been cropping up more and more in our homes, and luckily they're easy to DIY. @crack_the_shutters has elevated the doors on this IKEA BESTA cabinet by cutting out a curved shape, and filling this in with a rattan sheet.
The effect? Right on-trend and premium-looking. Tom also suggests adding 'brass feet and matching brass hardware' just like in this hack to elevate the simple cabinet even further.
DIYing an IKEA unit yourself also offers much more flexibility when it comes to colour. Whether it's on-trend pink, baby blue, or any other shade you can get your hands on, you can match it precisely to your interior.
Our Deputy Editor, Rebecca Knight, recently painted her own cabinet using a bold black Frenchic paint, and said 'if you're looking to change the colour of a piece of IKEA furniture quickly and you're not the best painter like me a matte furniture paint like Frenchic hides a multitude of sins and is one of the easiest I've used for a professional finish. Just remember to use a top coat to keep your paint revamp looking good.'
2. Work in a built-in desk
Working from home can be uninspiring at times, but this clever IKEA hack is bound to get the creative juices flowing. @fromcatterytohome has created a wall-to-ceiling office set-up by positioning BILLY bookcases on top of a desk, offering a place to store paperwork, stationary, and even some decorative accessories to make the space feel like home.
By painting the bookcases to match the walls and base units, it creates the illusion of an all-in-one built-in desk that has been fitted bespoke. This way, you can have a chic home office idea that flows effortlessly into the rest of your home.
3. Create a cohesive design
One way to make a living space look expertly designed is by mirroring the same texture around a room, just like @melanielissackinteriors. This Ikea hack uses the BESTA cabinet, which is the ideal shape and size to fill a gap in a dining room for extra crockery, or in a living room for storing games or electronics.
The added moulding creates a fluted look that aligns with similar wall panelling ideas, and instantly makes the Ikea unit look bespoke. You can also add a marble-look top for a luxe touch which means you can easily style up accessories on the top of the cabinet too.
4. Go bespoke
An IKEA hack that potentially saved £9000? We couldn't believe it either. Paul Knox wanted to achieve the look of a built-in bookshelf to cover the entire wall of his open-plan dining room, but it wasn't within his budget.
Instead, he purchased five BILLY bookcases that fit the exact dimensions of the wall and got to work creating his dream bookshelf, all with minimal tools.
'We bought the matching doors for the standard-size bookcase, hardboard for cutting the arches, and then some MDF sheets for the edges of the bookcase to give the impression they were flush to the wall,' Paul says.
To take the IKEA bookshelves to the next level, Paul and his partner also 'used beading that would usually be used for flooring to top off the bookcase, and then bits of textured moulding to cover the joins of the bookcase.'
5. Perfect a boudoir-style space
The IKEA PAX wardrobes are a popular bedroom storage idea for good reason - they're fully customisable on the inside so you can create a storage system that works entirely for you, at a lower price.
Tom says, 'You can upgrade your PAX in several ways, such as adding further framework to create the covetable built-in look. Laura of @houseproject_36 got creative and sourced TV cabinets that were the ideal dimensions for the height of her ceiling, which she slotted on top of her PAX units. She then added beading, a fresh coat of paint and detailed hardware for the ultimate DIY project.'
By opting for PAX wardrobes as the foundation of this IKEA hack, it means you can easily add to the design if your storage requirements grow, without needing an entirely new bespoke quote.
6. Take inspiration from designers
Obsessed with designer furniture but want to achieve it for less? @lukearthurwells upcycled his IVAR cabinet to give it a new look inspired by premium interiors.
Tom from Plank Hardware says, 'He planned out the layout of the design and cut strips from leftover MDF board, making sure to number each piece. He then sanded down the sides and created a bevel around the edges.'
'Using wood and moulding strips for a consistent gap between each piece, he glued down each block. Then he used furniture paint, which means you don't have to prime. He drilled through two of the blocks for handles, using Plank Hardware PLANE Knobs, the perfect finishing touch. He used a clear matte varnish over the top, for a simple effortless look.'
7. Stencil drawer fronts
Bespoke a plain chest of drawers with a simple chevron stencil, made yourself or bought online. First you might want to give the whole set a new lick of paint to transform it from bland and boring, to something more on-trend. Next, lightly tape your stencil onto the drawer fronts using washi tape, then stipple on furniture paint using a dry, coarse-haired paintbrush. Leave to dry then finish with clear matt varnish and add smart, leather tab handles.
Buy now: MALM six-drawer chest, £120; For similar leather handles, try OSTERNAS leather handles, £12 for two, all IKEA
8. Make a secret shelving den
Instead of placing shelf units against a wall, face them towards each other to create a special reading nook. Suspend floaty fabric over a swing curtain pole for a magical hideaway canopy, letting it drape to the floor for a fairy-tale feel. Or if space is tight, swap one unit for the back of a bed head.
If kids are sharing a room, assign a shelf each, hanging individual hooks at the end for and cherished personal belongings or special toys.
Buy now: BILLY bookcases, £25 each, IKEA
9. Replace solid wardrobe doors with rattan
This is a great Ikea hack that will give you a designer look in your bedroom, without the expensive price tag. Remove the inside wood panels from wardrobe doors and staple sheets of cane to the backs. There's no need to wet-stretch the cane- just pull it tight and fix in place. While cane is hugely on-trend at the moment, you could achieve a similar look with a woven linen or soft slub cotton to add texture.
Choosing sliding doors for wardrobes will help save space if it's tight in your bedroom, plus lidded boxes and baskets can be popped on top for more storage.
Buy now: HAUGA wardrobe with sliding doors, £199, IKEA
10. Top a stool with drawers
Give this simple hack a go for an easy bedroom update by combining two Ikea staples, to make a bedside table. Start by attaching a MOPPE chest to the legs of a TENHULT stool using wood glue. Paint the drawer fronts with leftover emulsion or tester pots, in an ombre formation, starting with the lightest shade at the top, with the darkest at the bottom. Leave to dry, then coat with a matt varnish. Alternatively, swap the paint for decoupage paper or pretty wallpaper offcuts to match your scheme.
Keep surfaces clear and tidy by adding a simple pendent or wall-mounted lamp above the bedside table.
11. Update doors with fluted film
You won't believe how simple it is to achieve these designer-look cabinet doors. Just use glass film to transform a plain display cabinet into an up-to-date storage piece. Measure the size of your doors, then cut the film to fit. Spray the doors with water and apply the film, smoothing out any wrinkles and air bubbles as you go. Don't overcrowd the shelves inside, use stacks of bowls, piles of books and objects with interesting shapes to create balance in your display.
The fluted glass film will also help to prevent chips and scratches, plus you could choose to use a stained glass or patterned window film for a truly bespoke cabinet.
Buy now: RUDSTA cabinet, £115, IKEA
12. Create a craft house
This is one ideal for a kids room or playroom. Make tidying up paints and brushes more exciting by giving them a special home. Wallpapering behind a cube shelf transforms it into a fun little house, that little ones will love to keep neat and tidy... hopefully!
If you have skirting boards, add legs to the unit so that the wallpaper starts at the same level as the shelving.
Buy now: KALLAX shelving unit, £29, IKEA
13. Create wall-to-wall storage in a boxroom
If you have a space that is too small to function as a bedroom, perhaps see it as an opportunity to create your dream dressing area and free up space in your own room too. A wall-to-wall run of chests, painted the same colour and topped with a bespoke-cut piece of wood, will create the ideal space to store all-sorts. Adding a ceiling-hung rail will also make the most of the space and provide a place to hang clothes and accessories.
Adding shelves above the chests would also make a great stop for perfumes and toiletries.
Buy now: MALM six-drawer chests, £120 each, IKEA
14. Make a space for storage in a kids room
Another fab idea for a kids room and one they are sure to adore! Get the most from limited floor space with a built-in high sleeper made from storage units, for a child's room. Here, we added custom-made ply doors to METOD base units and MAXIMER drawers, both IKEA. A step-stool will help younger kids climb up a cosy-reading nook.
Hanging curtains will turn it into a cosy den for young children.
15. Save space with a skinny night stand
This is one of the best bedside table ideas if you're on a budget or even just lacking space. Take two of the IKEA Mosslanda picture ledges, attach one to the walls as 'normal' then take the second and turn it upside down and position on top. Affix this to the wall also, to form a small cubby space to keep bedside essentials to hand, such as books, reading glasses etc.
To enhance the smart nightstand further add an LED strip light, to help shed subtle light on the contents. So you're not feeling around in the dark looking for things.
Buy now: MOSSLANDA Picture ledges, £5 each, IKEA
16. Luxe-up blue furniture with gold detailing
Painting Ikea furniture to turn it into a unique and expensive-looking item has been on our radar for quite some time, but adding metal detailing notches a DIY and decorating project up a gear.
This unit has been transformed with Rust-Oleum furniture paint and finishing Wax to provide a matt finish for projects that require more durability against knocks and stains. With corner plates added for extra wow factor.
Position the corner plates on the edge of the drawers pre-drill small holes, to make it easier when screwing in the fastening screws. Take your flat-topped screws and screw into place to secure the corner plates. Repeat this step to add the handles to complete your project.
17. Built bespoke storage using BILLY bookcases
Think outside the box with the much-loved Billy bookcases. Use a single width bookcase attached to the side of a double width version to create an 'end' so to speak. This then frees up a side panel on which to mount a cut-to-fit vinyl chalkboard sticker – making it even more versatile and useful.
In addition to providing all the storage a busy household needs, there's now a memo board to jot down all the necessary family to-do lists etc.
Buy now: BILLY Bookcase, from £45, IKEA
18. Customise a toy cupboard
Update a basic pine cupboard with a lick of paint to add personality to a playroom idea. With just a few tester pots and a bit of Frog tape the plain pine unit can be transformed to a welcomed colourful addition to any room that requires toy storage. Wall-mount the unit to maximise floor space for play – ideal for a small kid's room idea.
Buy now: IVAR Cabinet, £45, IKEA
19. Turn a slimline bookcase into a bedroom bench
Place a sturdy KALLAX shelf unit on its side to create a bespoke storage bench with cubbies to sit at the end of a bed. Perfect for basketfuls of shoes or spare bedding, cut foam to size and cover in a co-ordinating fabric to make a comfy cushion to sit on. Add gold longline feet at each end for a luxe finishing touch.
Buy now: KALLAX shelving unit, £29, IKEA
20. Create a slimline vanity unit out of a shoe cupboard
Pushed for space in a small bedroom? Make room for a micro-sized vanity unit with this clever hack. Ikea's Hemnes shoe unit measures only 22cm deep, so will butt up against a wall taking minimal floor space. With a handy top ledge to store bedroom essentials, there are four pull out compartments for holding clothes and lingerie. Swap standard drawer pulls for chic leather tabs and add a smart mirror on the wall above.
Buy now: HEMNES shoe cabinet, £75, IKEA
21. Upgrade basic flatpack wardrobes with designer doors
Built-in floor-to-ceiling storage puts alcoves either side of a bed to good use. Give flatpack wardrobes a swish new look by swapping standard doors for an on-trend option with decorative Deco-style fluting and accent gold door pulls.
Co-ordinate bed with wardrobes by adding a full-width headboard in the same colour to give a streamlined shelf for books and other bits. Fill wall space above with a flamboyant wallpaper.
Buy now: PAX standard wardrobe, from £60, IKEA
22. Use simple spice racks to make a mini beauty station
Supplement a crowded dressing table with handy wall storage for hair styling kit and beauty products. Fix a couple of Bekvam spice shelves on the wall to hold bottles and tubes, fixing the bottom one upside down to create a hanging rail. Add a few S-hooks so you can hang hairdryer, straighteners and tongs.
Buy now: BEKVAM spice shelf, £3.50, IKEA
23. Pep up a plain chest of drawers with fancy fretwork
Stick-on fretwork panels are an easy way of giving a simple white chest of drawers a snazzy designer look. Stick directly onto plain white drawer fronts for an understated look or for a colour contrast, try painting drawers a vibrant shade first.
Buy now: MALM chest of three drawers, £60, IKEA
Buy now: Porto fretwork panels for MALM drawers, from £45 for one set, Moonwalk Stickers
24. Turn wall space into a drinks station
If you've no spare room to squeeze in a cocktail cabinet or drinks trolley, why not utilise some un-used wall space instead. Slimline picture ledges sit close to the wall, but are just wide enough to hold glassware and bottles.
Make your drinks station a focal point by painting the wall area behind in a standout colour or go one better and opt for chalkboard paint so you can chalk up your favourite tipples.
Buy now: MOSSLANDA picture ledge, £9, IKEA
25. Put wall space to work with a bespoke pegboard
Swap a shabby sheet of corkboard for a Pinterest-worthy office upgrade. Kit out your desk wall space with a sheet of pegboard painted in a soothing shade to match your scheme.
Add a couple of super-versatile Bekvam spice racks, put to use as mini shelves for holding stationery and office bits and bobs. Paint a complementary colour or in a contrast shade for a standout look.
Buy now: BEKVAM spice shelf, £3.50, IKEA
26. Fashion a work space with painted panel and floating shelves
Create the ideal place for youngsters to work from with this simple hack, a winning small home office idea. Dedicate an area of the room by painting a panel section, cleverly mounting two floating shelves to create the illusion of a wall-mounted unit. Complete the space with a wire memo rack, compact desktop and a chair to provide everything they need.
Adding clever magnetic strips helps to store everything from toy cars to pens – brilliant alternative toy storage idea.
Buy now: LACK Shelf, £9, IKEA
27. Create a simple and stylish media unit
The Bekvam birch step stool is a resident hero in most households (everyone on the team has one!). But never before has it been used to such an extent as this. Thanks to two Fonnes wardrobe doors through the middle a simple pair of steps are now acting as a bespoke media unit. This design could also be made using sheets of MDF, salvaged floorboards or scaffolding boards – providing they can safely support the items placed on top, anything goes.
This clever and not to mention affordable storage solution can be updated further with a splash of paint, to disguise the different elements altogether.
Buy now: BEKVAM Step Stool, £13, IKEA
Buy now: FONNES Door, £12, IKEA
28. Mount a rail to display houseplants
Here's a fine example of when something so simple becomes something so unique. The IKEA Racka curtain pole takes on a new life as a bespoke hanging plant rail. The simple curtain pole, sold complete with fittings, comes in black, white or grey and can be easily used to create a wall display of plants.
Simply affix to a wall and suspend your macramé plant hangers at different heights to create an interesting house plant idea.
Buy now: RACKA Curtain Rod Combination, £7.75, IKEA
29. Hang a handy kitchen roll
The stylish leather cabinet handles are transforming kitchens in more ways than one. Here we're used the attractive Osternas leather handles to fashion a home-made kitchen memo board. Fix two of the cabinet handles to the wall and slip in a wooden dowel to make a stylish holder for the kitchen.
You could also use this quirky idea to attractively store your kitchen towels, baking paper or foil.
Buy now: OSTERNAS Leather Handles, £10 for 2, IKEA
30. Make a bespoke lampshade with a basket
Never have natural materials been more popular as home accessories. This clever hack turns a simple storage basket into a designer-look lampshade with very little effort. We started with an IKE Snidad rattan basket, removed the handles and sprayed it black to instantly transform it. You could leave it in it's natural state to retain a more natural element in your decor.
Drill a small hole in the base to add a bulb and hanging cord and presto – cool basket lampshade complete.
Buy now: SNIDAD Rattan Basket, £25, IKEA
31. Fashion a hairpin-leg console table
Transform shelving units into a sleek hairpin-legged console table for a hallway or living room. Double-stack the shelving units and attach the metal legs to create a one-of-a-kind space efficient and stylish storage solution for a smart hallway storage idea.
Buy now: EKBY Drawers, £44, IKEA
32. Give a chest of drawers an industrial luxe look
For this hack, you'll need a MALM chest of drawers and a bit of confidence with a screwdriver. First attach a set of hairpin legs in your choice of metallic finish – The Hairpin Leg Co has a wide selection. Then paint the strips between the drawers with paint to match – we recommend going for gold for the ultimate glam look.
33. Fake a high-end, marble-topped side table
Glam up a table with metallic paint and marble-effect sticky-backed plastic. Carefully remove the table's glass top, and spray the frame with Plastic-Kote metallic paint, making sure you pick a well-ventilated spot that's protected with newspaper.
Measure the width and length of the glass top, adding 5mm to each side. Cut your plastic to these dimensions (including the mm allowance). Peel and stick the plastic to the top, allowing the 5mm to overhang. Smooth off with a cloth as you go. Finally, trim away the excess with a craft knife and replace the top.
Buy now: VITTSJO Nest of Tables, set of 2, £45, IKEA
34. Hang alternative vertical storage
Being smart with space is always a must for any room, especially in a small home where storage space is premium. Vertical storage helps to keep things streamlined – ideal for brollies and sporting equipment, rather than bulky alternatives.
When affixing to the wall turn the ledges facing inwards, so the lip of the design is not visible from a side view. Choose decorative knobs to attach at the top and bottom of each one. Then using a chosen string or even a colourful flex, securely intertwine around each one to create a fence-like effect.
35. Create a fun cat climbing wall with shelves