Modern living room ideas to create a contemporary cool space
Modern living deserves a contemporary design to match - take inspiration from the latest trends for your living room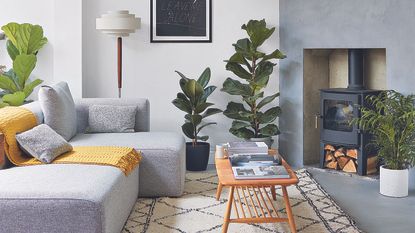 (Image credit: Future/Anna Stathaki)
Modern living room ideas will be the perfect accompaniment to busy day-to-day life. A lounge is where we spend the majority of our time, so it must be functional, on-trend and reflective of your personal taste in order to make it the perfect space to relax in.
Whether you're looking for brand new living room ideas or a few easy updates, there's a way to update your space into contemporary style. Plus, you can dip your toe into modernity or go for full-blown of the moment trends.
Modern doesn't have to mean one thing to one person. Put simply, it's all about creating a vibe that feels relevant and on-trend. From choosing the best sofa for your modern space, to nailing the perfect wall colour. And at the same time you want a scheme that will offer a style that is liveable and enduring.
Modern living room ideas to inspire your decor
Our modern living room ideas are here to inspire you to create a decor that suits your needs and style choices. And best of all, they will offer you ideas that feel timeless and contemporary while hitting the latest living room trends, meaning you'll love them for years to come.
1. Choose a broken-plan layout
If you've been wondering what the next iteration of open-plan living room ideas is then look no further. The layout of the moment, and most applicable to modern living room ideas is the broken-plan look. This is essentially a halfway point between traditional closed off rooms and the recent boom of open-plan. You can separate the rooms with small partitions, screens and Crittal style or pocket doors.
The idea is you can get the best of both worlds. Either open up the two to create one large room when needed, and closed when you're looking for a more intimate atmosphere. With the latter, you're still not fully cut off from other spaces, so you retain the feeling of space and light.
2. Get creative with paint effects
Look to an on-trend paint trick to stamp a modern mark on any space, even small living room ideas. In this stylish living room the walls have been thoughtfully divided by two contrasting aqua shades. The bottom half of the wall is painted in the more saturated blue to create a cocooning feel, where the sumptuous velvet sofa almost camouflages into the wall behind. The softer shade features above the picture rail and onto the ceiling to separate the two halves on the room.
Incorporating the door into the paint effect helps to make the wall feel more seamless. It's a great interior design trick to create a sense of space.
3. Create a high-end look with flooring
The floor is the largest surface area in your home, so opting for a living room flooring idea that enhances the space will have the biggest impact on how contemporary it feels.
Lay patterns are a great way of curating a premium and modern living room design, and you don't need to go bespoke in order to achieve the look. Amtico's LVT range allows you to create a unique pattern and it doesn't come with an extra cost. The effect is an on-trend touch that alters the entire feel of a living room.
'When it comes to flooring, laying patterns can completely change the look and feel of a room,' says Lorna Williams, head of product design and visual creation at Amtico.
'Parquet and chevron patterns remain some of the most popular pattern choices - whilst traditional by design they really work in modern homes - adding a sense of refined elegance and charm to enhance the overall aesthetic and functionality of the space.'
4. Add a modern mural
While living room feature wall ideas have always been around in one form or another, it's easy to upgrade these into contemporary chic. Look for a photorealistic mural for a cool, modern effect.
Double down by choosing a nature print broken up into panels so it appears at first glance to be a window. This will boost the sense of space and light in the room.
5. Curate a shapely collection
When decorating the wall behind the sofa you've got an opportunity to create a stylish focal point within your modern living room ideas. Bookshelves, stand alone or in-built, are the perfect setup to curate a beautiful collection of artworks and objets.
Don't over clutter this area. The negative white space between pieces helps keep it feeling fresh and modern. Mix up shapes, sizes, heights and materials for an eclectic but considered finish. To keep a cohesive thread, choose one strong shape or colour to link between each area, such as black framing, or circular details.
6. Opt for sleek stone materials
Texture is a key aspect of creating a modern living room design. It has an immediate high-end look and adds dimension to a space without overwhelming colour or pattern.
Concrete-effect surfaces will make a living room look expensive on a budget, but without needing to actually fill your home with real concrete. Lime-washing walls with dark grey paint can create a stone effect, while many floor tiles are also made to replicate the appearance of concrete. This way, you can achieve the desired aesthetic while keeping your living space warm and inviting.
7. Create a boutique-inspired look
Many modern living room ideas take inspiration from boutique hotel interiors, but it's not about making your home look like a showroom. Instead, integrate small style tips that make your living space look high-end, but still lived in.
One way to elevate a space is to display books with the cover facing outwards, instead of the usual spine-out style. This creates a shop-like effect and the books act like art pieces, providing a super chic gallery wall.
8. Look to grown-up pinks
Pink living room ideas are going nowhere, but step away from that Millennial Pink! To make this colour sit with modern living room ideas you need to look at now grown-up pinks. Think dusty, almost grey tones. A far cry from sickly sweet bubblegum of a child's bedroom.
Combine with crisp whites, neutrals and contrast with pops of the deepest blue for a cool impact.
9. Rethink traditional furniture
One thing a lounge simply cannot do without is some form of living room seating. Keep things tilted towards modern living room ideas by using this as an opportunity to an unexpected shapes into the space.
Louche, oversized armchairs and U-shaped sofas are a great place to start. It's also a great way to achieve a mid-century living room design, as uniquely shaped chairs will act as a statement piece for transforming the entire scheme.
10. Add a sleek picture shelf
Picture shelves and ledges are the perfect way to modernise a sitting room. Plus, as you need fewer nails than a gallery wall, they're perfect for renters.
Use these living room shelving ideas to curate a selection of photography and artwork that you can switch out or move around with the seasons, occasion or even your mood.
11. Use luxe colours and materials
While velvets, rich colours and opulent metallics are often thought of as being more traditional than modern, it's easy to reinvent these into contemporary chic. Simply consider the usage and colours a little more than you might have otherwise.
Think muted jewel tones instead of brights, tight woven velvets rather than thick pile, and the sleekest touches of metallics to add the perfect amount of glitz. Luxe doesn't always have to be expensive, either. Even if your eye is on the higher end items, keeping abreast of home decor discount codes should help you keep your decor within budget.
12. Be expressive with colour
Make a personal style statement with a modern living room ideas twist on the maximalist trend through the use of unapologetic splashes of the latest on-trend paint colours or living room wallpaper ideas.
'Select the colour of the largest area then choose three shades that work well with it and layer clashing prints and patterns' advises Melanie Archer, Colour Designer, John Lewis & Partners. 'Building from the base up will give the area a sense of cohesive colour purpose.
13. Paint every surface in one colour
Break from the tradition of painting woodwork white. To make your living room paint ideas feel modern and moving with the times adopt the practice of painting all surfaces in the same tone. From walls to skirting boards, fire surrounds and window shutters – choose one colour to paint it all. Colour drenching creates a seamless backdrop, where the eye is not thrown by a bright white skirting board that jars with the cohesion of the room.
Darker colours are especially effective for this method, demonstrate the experts at Paint & Paper Library, because they contrast so heavily against lighter colours on traditional woodwork. Ensure you select the right type of paint for each surface, emulsion for walls and a proper wood paint for skirting boards etc.
14. Curate a modern collection
Let neutral walls be the gallery-style backdrop to a curated display of artwork when looking at how to design a living room. Statement furniture pieces and captivating lighting designs are other key wins. Invest in the designer pieces that will be timeless additions to enhance your personal space.
Allow your accessories to add the wow factor to the room, rather than feeling like the use of colour on walls has to do all the work.
15. Streamline for a minimalist approach
If you love the minimalist modern approach stick to a calming, monotone colour palette. This modern Scandi living room is all-white with touches of wood to add an accent tone, without introducing a definitive colour.
Touches of black on the monochrome rug are the only additional hue, enhancing the stylishly stark scheme.
16. Embrace the maximalist trend
Maximalism is one the biggest interior trends of the year, where the ethos is 'more is more'. British designer and founder of Zoom That Room Benji Lewis, shares his tips on how to achieve the popular maximalist trend in your home.
'The foundations of this aesthetic are based on the principle of grand old country house interior design' Benji explains. 'However, maximalism isn't contained to huge proportions and gives sufficient decorative wriggle room to adapt and include all sorts of elements, regardless of the size of a room. Be bold and think traditional floral wallpaper with a supersized photograph of Jimmy Hendrix playing live at Woodstock'.
'Mix colour, pattern and texture to build up layers of interest accordingly. There is no need to be shy - think floral chintz, woven geometrics, bullion fringe, a traditional table lamp alongside a contemporary floor light.'
17. Look for alternatives to traditional designs
Want a living room fireplace idea but want it to be more 'modern'? It doesn't get much better than this example, with a floating chimney breast with a contemporary stone fire below. The floating design acts as a room divider to separate the living and dining areas.
To create this design you'll need to consult a structural engineer who can advise on removing partition walls and how to leave the chimney breast intact to allow for a cool modern fireplace.
18. Make storage statement
Modern storage solutions make a feature of personal belongings, but in a way that makes them feel curated for display – not cluttering and overwhelming. This smart wall of storage units incorporates everything, from concealed drawers and boxes, open display cubby holes and shelving ledges. And most importantly it houses the TV, making it feel like part of the scheme – rather than a big unattractive black box on the wall.
Of course you can add doors or a screen if you're looking for ways to hide a TV stylishly.
19. Welcome a glass ceiling
Nothing says modern quite like an extension with an element of glass, here in place of a solid ceiling. If your living space is part of a renovation project why not consider making it feel ultra-modern with the addition of a glass ceiling. As you see in this fine example welcoming a window in place of a standard roof floods the contemporary space below with natural light.
'Adding a skylight or rooflight to an existing roof requires a lot of structural consideration' explains Ryan Schofield, Managing Director, Thames Valley Window Company. 'More often than not would require the existing roof to be replaced, or at least reinforced with additional joists or steels to take the weight of the proposed glass roof. It would require a structural engineer to look at it and provide calculations or a suitable design.' Costs start from around £1,500.
20. Seek modern radiator designs
Heating is an essential element to any living room, whatever the decor style. Just because it's essential doesn't mean it has to compromise the decor. In this monochrome living room a contemporary radiator enhances the look of the room, while still being highly functional to create a cosy living room idea.
'When it comes to selecting a radiator there is no right or wrong' says Gordon Riddoch, Rutland London MD at Bisque. 'Some people prefer radiators in muted colours which blend into the existing wall colour.'
'Paint colours from the likes of Farrow & Ball are perfect for muted, calming tones. For those who love to make a statement, opting for radiators in contrasting or complimentary colours is key. We would recommend going one further and carrying the shade of the radiator through to other details in the space for a cohesive, intentional look.'
21. Keep everything elevated
Make the living room feel like a modern, airy space by choosing furniture pieces which are visibly elevated off the floor to make the layout flow in a more contemporary manner. The eye passes under and around the furniture to make the room feel more like an open and inviting modern space.
Floating shelves along one wall to house curios and display objects helps to style the scene, like that of an art gallery.
22. Design around period features
In this period property the homeowners have used the architecture to perfection, but have kept the look contemporary with smart furniture designs. The bay window seat is a fine example of how old and new can work in perfect harmony alongside each other. The clean lines of the boxy seat structure sits in the traditional period feature of the bay window. The smart design also features an extra living room storage idea.
The rest of the room is anchored around this modern window seat design, with a rug to zone the seating area. A contemporary marble coffee table and sleek leather armchair are added to invite a more formal seating area for entertaining.
23. Welcome the outside in
In terms of creating an on-trend look to make your living room feel more of the moment, house plants are a winner! Filling our spaces with the best indoor plants is the easiest way to embrace the latest trend.
Creating a new vibe in your existing living room and adding a pop of lush greenery to the decor. Choose plants that make a statement, placing them at different heights to fill the space from floor to ceiling. Cluster groups of plants with compatible shapes and coverage.
24. Create an art gallery feel with a white backdrop
Adopt an art gallery aesthetic for an effortless modern living room decor by inviting brilliant white walls to create a clean backdrop for accent colours. Allow pops of primary colour through artwork, soft furnishings and furniture to dictate the style of your surroundings.
25. Set up an on-trend bar
Today's living room isn't quite complete without a home bar, with the trend taking hold over the last year like never before. The home cocktail bar has become a must-have for a modern living room idea. Commit to the trend by creating a full scale bar complete with luxe bar stools.
Set up a bar idea in the corner of a living room, to zone a place for entertaining.
26. Venture to the dark side
Brooding dark colours has been prominent in interior design in recent years, only gaining more popularity. It's a great choice for a modern living room to cocoon the room in colour to make it feel fully immersive.
This approach to using colour and on every surface, from walls and floors to window frames and radiators is not for the faint of heart – it's a bold look to embrace with fashionable finesse. Carry the bold vibe over into your living room curtain ideas to ramp up the luxe factor.
FAQs
How can I make my living room look modern?
Interior designer Benji says, 'If you have the space, an L-shape sofa is contemporary and encourages soirees. Work with textures on the upholstered goods - think wool bouclé, velvet, leather and linen in sleek tones of grey, charcoal, tan and ivory - as well as on other furnishings, side tables and table lamps with metal detail - nickel, brass or copper for example.'
'Hints of a strong geometric pattern feel bold and fresh. Accent walls work well for modern living room ideas - use wallpaper or tiles to make a modern statement. Bonus points if it is bold' he adds. 'Play with the shape and form. For example, choose a circular rug instead of a classic rectangle.'
How do you design a lounge?
First things first, establish what you want from your lounge,' Benji advises. 'Do you want it to be centred around relaxing or socialising? This will shape the interior pieces you pick for your modern living room ideas.'
'Plan the furniture around how you want to live. For example, if you want to lounge on your sofa drinking a glass of wine, then position tables close to you so that you can effortlessly put your glass down.'
'Rugs are an essential for creating a feel of comfort and relaxation underfoot but the size of them needs some thought. Choose a rug to fit around your furnishings. There is nothing less cohesive than three legs of the armchair being on the ground and one propped up on a rug.' Rugs are also a good way to zone the space in an open-plan space.
'Living room lighting is key to creating a desired ambience,' Benji points out. 'You need to be able to dim the overhead lights for essential evening relaxation. Don't buy a light without this option. Also, make sure you factor in space for soft side lighting options.'
What does a modern day living room look like?
The most modern living room ideas looks effortlessly stylish, with expressive paint and decor choices.
'As a social space to both enjoy and relax in there are no steadfast rules when it comes to decorating modern living rooms' says Punam Chada, Buyer at Carpetright. 'Although neutrals remain flooring favourites there is an interest in aspirational prints, patterns and colours that bring joy and make a statement.'
Homeowners are increasingly considering their impact on the environment and there have been recent advancements in sustainable flooring; such as our People and Planet collection made from planet-friendly and locally sourced materials.
Whether it's an on-trend spruce up or an entire living room revamp, we think these modern living ideas are guaranteed to make your space feel brand new and destined to sit back and relax in.
Get the Ideal Home Newsletter
Sign up to our newsletter for style and decor inspiration, house makeovers, project advice and more.
Tamara was Ideal Home's Digital Editor before joining the Woman & Home team in 2022. She has spent the last 15 years working with the style teams at Country Homes & Interiors and Ideal Home, both now at Future PLC. It's with these award wining interiors teams that she's honed her skills and passion for shopping, styling and writing. Tamara is always ahead of the curve when it comes to interiors trends – and is great at seeking out designer dupes on the high street.