Best portable BBQs - our 7 tried and tested BBQs for the park, beach or back garden
The best portable BBQs are a solid investment that mean you have the freedom to BBQ anywhere, with gas and charcoal options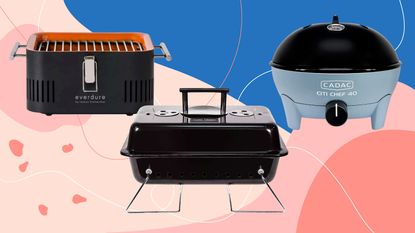 (Image credit: Future)
The best portable BBQs are the perfect way to make alfresco dining possible on a picnic, at the beach or in the comfort of your own home. While our list of the best BBQs has so many variations when it comes to full-sized grills, this list is dedicated to smaller (and often more affordable) BBQs that you can get out and about with instead.
If you're working on a smaller budget, or if your outdoor space is a little more compact, then these show-stopping BBQs are the ones you need to browse. We've tested every single BBQ you'll find in the list below with a range of foods so that you can see how they'll perform in your home.
Keep reading to see how we got on with the wide range of BBQs that we tested below, including portable versions of the best gas BBQs and charcoal models as well as a grill that doubles up as a firepit.
The best portable BBQs
The best portable BBQ overall
1. George Foreman On-The-Go Portable Charcoal Barbecue
The best portable BBQ overall
Specifications
Fuel : Charcoal
Cooking area : 41.3cm x 26.5cm
Weight : 3.7kg
RRP: £39.99
Reasons to buy
+
Cheap, cheerful and great to use
+
Great for camping or gardens
+
Great-sized cooking area
Reasons to avoid
-
It's not the most stylish or flashiest
If you're looking for an easy to use charcoal BBQ that you can use while camping as well as in the garden on hot days, then this very affordable George Foreman number is the one for you.
Okay so the design isn't revolutionary, but it works, with a design that makes packing loads of food onto the grill easy. The quality is also good for the price (RRP £39.99), and there's a built-in temperature gauge which makes following recipes very easy.
I was super impressed with this BBQ when I tried it. The assembly is minimal and straightforward, and the briefcase-looking design and handy carry bag will mean that going off to the park or the beach will be easy. I managed to fit sweetcorn cobs, burgers, sausages and skewers onto this BBQ during testing which is no easy feat, and everything was cooked delightfully. Don't skip this George Foreman pick if you need cheap, cheerful and set to last.
Best premium portable BBQ
The best premium portable BBQ
Specifications
Fuel: Charcoal
Cooking area : 670cm2
Weight: 8.1kg
RRP: £169.99
Reasons to buy
+
That design!
+
Available in a range of colours
+
Compact, easy to store
+
Great for smaller gardens
Reasons to avoid
-
No lid for when you're cooking
-
Not the easiest to keep clean
Our reviewer Annie thought that the Everdure Cube BBQ was a standout buy for anyone who is design conscious and looking for something a bit smaller than one of our favourite BBQs ever, the Everdure Force.
After testing, Annie concluded that this BBQ was 'easy to use, stylish when on display and convenient to take outside of the house, too.' The RRP of this BBQ is pretty high at £179, but you can definitely find it for cheaper online, and the super high quality of the materials means that this little BBQ will most certainly last you for a long time.
Although isn't the easiest to keep clean and doesn't have the biggest surface area, it will be one of the most stylish outdoor cooking buys you can add to your balcony, terrace or small patio.
Another thing that's good to know with this BBQ is that it has a flat base. This makes it easier to cook indirectly on the grill if you want to do more technical cooking, as with delicate pieces of fish or a steak.
The biggest selling point with this BBQ is that it's absolutely gorgeous, with clean lines and a range of colours to choose from. If you can stretch your budget and you're super style-conscious, then don't miss this premium buy.
Read our full Everdure Cube BBQ review for more information.
Best portable gas BBQ
3. Cadac Sky Blue Citi Chef 40 Table Top Portable Gas BBQ
The best gas portable BBQ
Specifications
Fuel : Gas
Cooking area : 38cm2
Weight : 6.1kg
RRP : £119.99
Reasons to buy
+
Super stylish with a great colour range
+
Gas makes it very easy to run
+
Stable thanks to feet with big surface area
Reasons to avoid
-
Pretty pricey, but a solid investment
We're big fans of the Cadac Citi brand here at Ideal Home, which meant we had high expectations of the portable version of one of our favourite BBQs, the Cadac Citi Chef 40 FS BBQ. The Cadac Citi Tabletop BBQ was so convenient to get up and running during testing due to the fact that it's a gas BBQ rather than charcoal, and the wide grilling area means that you can cater to plenty of people too.
It has a lid and built-in temperature gauge to use when cooking and provided some excellent grilling results in our at home tests on everything from burgers to veggie skewers. The heat distribution across the grill was good, and the set up was painless too.
As with all gas BBQs, one of the crowning features of this BBQ is that temperature control is so easy. With a turn of the dial at the centre of the grill you can make cooking different types of meat much easier. You also get a storage bag thrown in, which makes carrying this tabletop around so much easier too. For a BBQ with such a large grilling space, it's also surprisingly light.
Best portable egg BBQ
Best portable egg BBQ
Specifications
Fuel : Charcoal
Cooking area : 27cm2
Weight : 20kg
RRP: £199.99
Reasons to buy
+
A smaller alternative for egg bbq lovers
+
Very capable, even compared to expensive alternatives
+
Great amount of cooking space
Reasons to avoid
-
Pushing the definition of portable at 18kg in weight
If you love the look of Big Green Egg BBQs but don't quite have the budget to stretch to the Big Green Egg Minimax (with an RRP of £795), then this Landmann Kamado is a fantastic alternative for way over half the price. It is however, arguably not really a portable buy, with a weight of around 20kg and a solid build. You could safely carry it to and from your car, but you wouldn't want to walk long distances with it.
During testing, I rated this BBQ as a total bargain for kamado grill lovers, with great results on everything we cooked on it including burgers, skewers, veggies, mushrooms and halloumi. The set up was also very straightforward and not at all time-consuming, with most of the assembly already done for you on delivery.
You only really have space for 2 to 4 people with this BBQ, but the build quality is surprisingly great, with a built-in thermometer and the ability to hold heat for a long time. If you're looking for an egg-shaped bargain, and you've got got a car to ferry it in around in, this is a great shout.
Read our full Landmann GrillChef Mini Kamado BBQ review for more information.
Best BBQ for easy carrying
The best BBQ for ease of carrying
Specifications
Fuel: Charcoal
Cooking area : 35cm2
Weight : 3.7kg
RRP: £162.99
Reasons to buy
+
So lightweight and comes with a carry case
+
Heats up in under five minutes
+
Only needs a small amount of charcoal
All tabletop BBQs are portable and easy to move around, but not all of them are as well suited to taking on adventures as the LotusGrill. Our reviewer Helen was greatly impressed with the mini Lotus Grill, which has stay-cool sides that mean you won't need to sit in the park or at the beach for hours to wait for your BBQ to cool down.
What's more, the fully zipped carry case will also keep all the mess contained until you get home. Another feature that Helen loved is the smokeless design, which your campsite neighbours will be glad of too if you intend to take this BBQ on your holidays.
Very hungry picnickers will be delighted by how fast this BBQ heats up, and the style-conscious among us will love the available range of colours. Helen recommends that smaller foods yield the best results with this BBQ, like foods, like sausages, burgers and chicken portions. That's because the difference in the heat across the grill becomes really apparent when you try to cook long kebabs or bigger pieces of meat.
Read our full Lotus Grill BBQ review for more information.
Best stylish portable BBQ
The best stylish portable BBQ
Specifications
Fuel: Charcoal
Cooking area : 32cm2
Weight : 5.5kg
RRP: £199.00
Reasons to buy
+
Sturdy carry strap
+
Loads of grilling space
+
Clean, stylish design
Reasons to avoid
-
No lid for use while cooking
-
£££
Though the RRP of this BBQ is around the £200 mark, you can find it online for closer to £125. That's still quite steep for a small portable BBQ - but you can't deny that this is a very stylish one.
Our expert reviewer and cooking expert Helen thinks that despite the price, this BBQ performs well enough to offer plenty of value for money. It's portable and easily transported to your favourite picnic spot, especially thanks to its sturdy travel strap. Helen really enjoyed testing this BBQ at home for two people and found it to be less hassle than having to light her family-sized grill.
After testing Helen rates this BBQ highly when it comes to aesthetics, ease of storing and cooking ability as well as cooking space, and would recommend it to anyone with a compact garden. The only downside? You'll need to wait for it to adequately cool down before packing it away again if you're out and about.
Read our full BergHOFF Tabletop BBQ review for more information.
Best portable BBQ & firepit combo
The best 2-in-1 portable BBQ and firepit
Specifications
Fuel: Charcoal or wood
Cooking area : 36cm2
Weight: 8.7kg
RRP: £110.00
Reasons to buy
+
Excellent value for money
+
Great versatility with the fire pit component
+
Eye-catching design and sturdy parts
Reasons to avoid
-
Takes a while to cool
-
Heavy to go long distances with
Our reviewer Helen was very impressed with the performance and versatility of the Wave Hex 2-in-1 BBQ and Firepit. So much so that she would recommend it to any keen camper or caravaner as a great value space-saving buy. She found that the height of it was perfect for grilling and sitting on a camp chair, and she loved that there was no chance of leaving scorch marks on grass once she was finished too.
Though the RRP is steep, you can find this BBQ for under £100 (at the time of writing it's available for the steal price of £69.99), which means that it might just qualify as an excellent value buy too. It's not the most portable as it is on the heavier side (at over 8kg), but it did deliver absolutely excellent results with a range of foods, from cheese to steaks. There's also a large grate for cramming everything on that you need too, which is great for family camping trips.
Read our full Wave Hex Portable BBQ and Fire Pit review for more information.
How we tested the best portable BBQs
As per our testing protocol, we think that the best way to rate our products is to try them hands-on, which is why we have reviewed all of the portable BBQs in our guide, and we're working on reviewing even more.
Testing a portable BBQ mainly follows the same rigorous process as testing full sized models, but also has elements of manoeuvrability to factor in, including weight and features that make carrying it around easier (like straps or a bag).
Wider factors of testing a BBQ then include the overall assembly process, how it cooks cuts of meat and vegetables, and the user experience, encompassing the quality of the build and the overall durability.
Also, we never forget the price tags of BBQs, as we know value for money is more important now than ever, especially for a smaller model which is likely to cater to less people.
Our expert reviewer and freelancer Helen tested the majority of these BBQs during a very sunny June, with our in-house Ecommerce Editor also taking some portable grills on herself. Below you can find out more about who tested which grill and how you can get in touch with suggestions of portable BBQs to test.
Image 1 of 9