This bungalow was 'a mishmash of styles' - now it's the winner in Ideal Home's reader home awards
From confused mid-century bungalow to open-plan Kiwi-style, contemporary home - this stunning home has been completely transformed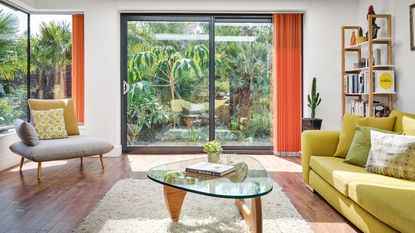 (Image credit: Future PLC/Dan Duchars)
After 15 years in their south London terrace, Susanne and Jeremy Hewson decided to move to a house that offered more space, and scope to take on a creative remodelling project. 'Jeremy began searching online and discovered this interesting-looking detached property,' says Susanne. The pictures were unintelligible, and the house looked very weird, but we were intrigued.'
The couple booked a viewing and fell for the place immediately. The property itself was something they knew could be fabulous eventually, but it was the spectacular garden that came with it that nailed the deal.
Before
Image 1 of 5
'The house was a mishmash of styles, but essentially it was a 1970s chalet-style brick bungalow surrounded by a huge exotic garden,' says Susanne. 'There was no obvious front door and strangely, no doors which opened onto the main garden. The kitchen and living area were separate rooms, which didn't work for us, as we love entertaining.
'Upstairs the rooms were built into low-ceilinged eaves, making them dark and pokey, and the ensuite bathrooms were decorated in garish, seventies pink and green colour schemes.'
After
'Jeremy's dad, Dennis Hewson, is a retired architect living in New Zealand, and during a visit in 2018, after we'd been in the house a year, we sat around after dinner discussing how to make sense of the space,' says Susanne. 'Dennis sketched out a hand-drawn design with watercolour paints and produced his vision to transform the place into an ambitious, Kiwi-style open-plan, modern home, with light pouring in, and views onto the garden.'
The family communicated via Zoom meetings throughout the build, with Dennis advising on and tweaking the design from down under. 'We hired a local firm, Taylored Lofts, to carry out the work. It was an unusual project which took them out of their comfort zone a few times, but they totally delivered, despite Covid, lack of labour and shortage of materials,' says Susanne.
The deck that extends out from house is one of the best design decisions the couple made. 'It's transformed the house more than any other feature,' says Susanne. 'Giving us an outside space in which to hang out, entertain and enjoy the garden.'
Jeremy built the deck himself using Millboard composite decking, a brand that is 100 percent wood-free. 'You never have to clean it and it never goes slippy or slimy. It's sustainable too, and it looks just like real oak.'
'We tackled the downstairs first, tearing out the kitchen wall to create an open-plan kitchen, dining and living room, which we kitted out with a mix of old and new furniture,' Susanne says.
The addition of large picture windows, sliding doors and a rooflight ensure that the open plan living room is flooded with daylight.
'The plain rugs used throughout the house are inexpensive remnants taken from large carpets, that we got cut to size and then edged. I chose the softest, thickest pile, so they are super comfy underfoot.'
The garden room with its many small windows was entirely rebuilt, with the walls pushed out to create a cantilevered corner with huge sliding glass doors that lead straight out to the deck that Jeremy built.
'Rebuilt to exploit the view, the cantilevered corner with sliding glass doors, which have no middle post, gives us uninterrupted views. This element of the redesign transformed the house, and it makes for a spectacular guest room too,' explains Susanne.
'We kept the existing kitchen units (see the kitchen before), and added a peninsular breakfast bar, and a new skylight was needed, as it was quite a shady spot. We laid luxury vinyl wood-effect tiles and extended these out into the living area for a cohesive, pulled together look.'
An open wooden staircase teamed with a glass bannister allows maximum light to bounce around the living room.
Upstairs, the builders removed everything brick by brick, leaving just the ground floor in tact. 'Then winter came, and with it, high winds and lashing rain, leaving us battling the various drafts and leaks,' says Susanne. 'But within a couple of months the timber framework for the new upper floor was in place, a flat fibreglass roof was installed, and we were water tight.'
The new floor features a bedroom, ensuite bathroom and a multi-purpose room, as well as a wide, light-filled landing. 'The landing used to be low ceilinged and dark, but now it's double the original height, with bi-fold doors opening onto a balcony.'
The main bedroom with sloping eaves and traditional windows has been replaced with a modern design, encompassing a porthole window and timber ceiling.
'One interior design decision we particularly love is the cedar ceiling in the bedroom. With the room's plain white walls, the wood makes the room really warm and cosy.'
'Dennis was keen for us to have an island bed, which we had made to measure, with fitted shelves at the back for book and shoe storage, as well as integrated side tables cum drawers.'
'And the dead space in the eaves was extended up and out to make a walk-in wardrobe', Susanne adds.
'In the bathroom, a double vanity unit was essential, but we couldn't find one that looked right, as we were keen for white drawers to offset the cement walls and warm wood, so we commissioned one from local cabinetmaker The Dovetail Joint,' says Susanne.
Not all windows have to be rectangular! The porthole window in the bathroom shows how effective it can be to integrate a different shape into a room's redesign.
'We didn't want tiles, so we decided to cover all the walls with micro cement', Susanne says. 'Our builders were reluctant to handle it at first, but our plasterer was so skilled, and he did the job to perfection.'
Polished plaster or micro-cement makes a modern alternative to tiles and is easy to clean and maintain.
'Despite the potential the house offered, it was the garden that really blew us away. It was so unusual and we were a bit nervous about taking it on,' says Susanne.
'The previous owner was from Jamaica, and he had planted it with all these palm trees, to remind him of home. Initially he had accepted an offer on the plot from a developer who was going to demolished the lot and build six three-storey townhouses with parking on it. The neighbours were up in arms. They stopped it from happening, which meant that we got to buy it.'
'The final job was to create a proper front entrance,' says Susanne. 'The original small, grey, steel door was a bit underwhelming, and our builder suggested we knock it through and install something double the size, with full length glazing, to allow light to flood into the hall. We built a new pathway at the same time, which leads up to a larch clad porch design.'
'With the new glazed door, the hallway gets so much more light. Sound proofing wood was used to make the doors to the coat cupboard. It's warm and attractive looking and it works as a stylish cladding finish.'
Specially built in hallway storage for shoes will also keep floors cleaner for longer.
'We're waiting for Jeremy's dad Dennis to come and inspect his creation – hopefully soon!' says Susanne. 'It's been an incredible experience to design and build this renovation together, and it gave us, as a family, a great project and purpose during lockdown, when we were so far away from one other.'
Get the Ideal Home Newsletter
Sign up to our newsletter for style and decor inspiration, house makeovers, project advice and more.