18 utility room lighting ideas to achieve a light and bright space
Add illumination, ambience and style with these utility room lighting ideas that will upgrade a practical space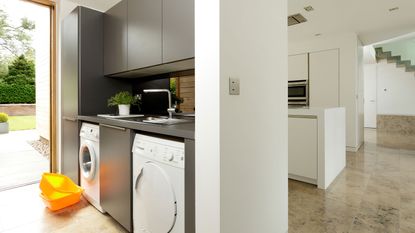 (Image credit: Future Plc/David Still)
A utility room is high on the list of dream-home requirements, so if you're lucky enough to have one then it's important to get the design just right. You want it to be practical at its core, but also stylish - it's an extension of your main living space after all.
An easy way to achieve instant ambience is through utility room lighting ideas. From task lighting to the ever-useful overhead pendants, lighting choices will determine how a room looks and feels.
As an addition to a kitchen area, it's common to have a small utility room, which leads many to believe that simple ceiling lights will suffice. As Peter Legg, lead designer at där lighting explains, a bright 'top light' just won't cut it. Instead, he says 'the utility area is a space where task lighting is vital. If your room doesn't have access to natural light, consider installing lighting with low-energy bulbs (LEDs). Choose a crisp, cool white lamp, for better visibility.'
No matter which utility room idea you opt for, whether contemporary or traditional, there are lighting options to suit any scheme. Or better yet, mix and match more than one.
Utility room lighting ideas
Because utility rooms are often hidden away behind a closed door, the hard-working space can be overlooked when it comes to planning, especially finer details such as lighting. However, neglecting to think about lighting is one of the biggest utility room design mistakes you can make.
Often considered a necessary yet secondary overflow space off the kitchen that requires less project planning and budgeting, it's easy to think a utility room doesn't need much designing, but the industry experts we spoke to were quick to shine a light on the importance of a well-lit laundry space.
'Laundry rooms are often smaller spaces and have a specific function. Brightness is key, so flush lighting is ideal for providing plenty of light' explains Niki Wright, founder of Lights and Lamps.
Read on to discover our top tips for nailing utility room lighting ideas.
1. Mix old with new
Lighting offers an opportunity to try something new - whether that's a different metal or an opposing design aesthetic that breathes new life into your utility room.
If you have opted for a country utility room idea, consider including a contemporary touch through a stainless steel lighting fixture or an exposed bulb. Not only will this offer ample lighting for a workspace but it also creates an eye-catching look.
A pendant also works well in small utility rooms with less wall space to work with. As Charlie Avara, managing director of All Done Design says, 'What a smaller utility room lacks in space, it doesn't need to lack in functionality or style. There are many clever ways to create a practical, and aesthetically pleasing room.'
2. Bring in brass
Utility room lighting is handy for more than just practical purposes - it can provide a chance to add metallic tones that will instantly enhance the overall look of a space.
Brass is an on-trend choice that wears well in high-traffic areas - ideal for a utility room where function has to take the forefront. For a complete design that makes your laundry room look just as curated as the rest of your home, consider matching the metal of your lighting to a tap or the handles on your utility room storage ideas.
3. Try out sconces
Sconces are having a moment in every room throughout a home, taking inspiration from hotel interiors that have been expertly designed. If you're looking to take your utility room design to the next level, then consider attaching lights to the wall instead of simply overhead.
This will add visual interest and provide smaller bursts of light that aren't as harsh. You can also customise the sconces with fabric lampshades in unique colourways or exposed bulbs, depending on your taste.
4. Add task lighting
When you think of table lamps, your mind likely goes to living rooms and bedside tables, not utility rooms. However, adding lamps to the counter area in a utility or even kitchen adds useful illumination and ambience.
'Thanks to Instagram, these new must-have spaces are being decorated with the same consideration and care as more public rooms, despite their utilitarian purpose,' says Charlie Bowles, director of Original BTC. 'Often small and awkwardly shaped, lighting is a great way to make these small spaces more inviting and of course, a well-lit room makes work of any kind far more enjoyable.'
Sometimes an overhead light can be too intense for evenings spent organising laundry, whereas popping on a warm lamp will set the mood for relaxing once the jobs are done. You can even opt for a rechargeable lamp like these rechargeable table lamps from Pooky if you're short on sockets.
5. Introduce an industrial look
Utility rooms primarily put practicality at the centre of the design, but this doesn't mean you can't have fun with it. One way to take a utility room to the next level is by going full throttle with a warehouse-inspired look.
Whether this is in a farmhouse scheme or alongside a modern utility room idea, lighting often uses metals and wires, so why not lean into this as a design feature? If your general utility design feeds on from your kitchen, this can also be a unique way to differentiate the spaces.
6. Don't scrimp on style
Yes the utility room is a practical one, but that doesn't mean it can't look beautiful and lighting can play a big part in achieving that, even if you only have a small utility room.
Charlie Bowles, Director at Original BTC says, 'While our wall light Hector 30 Wall light, from £185, Original BTC remains one of our most popular models, what's new is seeing it used in more functional spaces like pantries and utility rooms.'
'Thanks to the likes of Instagram, these new must-have spaces are being decorated with the same consideration and care as more public rooms, despite their utilitarian purpose. Often small and awkwardly shaped, lighting is great way to make these spaces more inviting and of course, a well-lit room makes work of any kind far more enjoyable.'
7. Plump for pendants
Pendant lights might not be the most obvious lighting choice for a utility room, but they're easy to install and can give brilliant directional light to spot stains, as well as light up areas of your utility room storage.
The Toulan pendant light, £110, Garden Trading has just the right balance of practicality to beauty and with a white interior shade, will disperse maximum light around your utility room.
If you utility room is part of an open-plan space, look to have your pendant light fitted with a dimmer switch so you can adjust the light levels easily when needed.
8. Match your lighting to your hardware
To really layer the luxury in your utility room, look to match your lighting finishes to your hardware. Brass is still a hugely popular material to use in both categories and choosing taps, handles, light switches and light fittings that all coordinate will achieve a winning look, even in a traditionally practical space.
Wall lights are a great choice for a utility room as they'll help to a create a more attractive light level than just having ceiling lights, and are perfect for lighting up utility shelving too.
Peter advises, 'Wall lights can boost specific task areas such as folding and ironing zones. Those with adjustable heads will allow you to angle the light when needed. If you're planning to install a light directly over a sink, make sure it's at least 60cm clear and a minimum of IP44 rated. Adding LED strip lights under your cabinets or shelves will also give you some extra illumination.'
9. Let in more natural light
While not an option for everyone, fitting skylights into the roof of your utility room could be a great way to boost the natural light levels. In a space with a pitched roof it could be the answer to turn a dark, gloomy space into one that is airy and bright.
Another great way to make the room seem brighter if there is a lack of natural light, is to paint walls, ceilings and cabinetry a light cream or white shade. This will bounce any light that is able to reach the space back around the room plus it's a great budget utility room idea.
10. Favour flush ceiling lights
Spotlights are a popular choice for utility rooms for their ability to provide a consistent illumination across the whole space. Opting for fuss-free flush or recessed ceiling lights will keep the look simple and streamlined, plus they can be positioned cleverly to ensure dark corners are well lit.
They can also be wired in sections so you don't need to always have all of them on at once, plus they still give you the option to add on additional light levels like wall lights.
11. Layer the lighting scheme
Use overhead lighting to set the scene then place wall lights and lamps to create different levels of lighting throughout the room. 'Layer your lighting at different levels to suit your activities' recommends Mary Buchanan, Creative Director at där lighting. 'Bar pendants will produce a strong downwards steam of light, while wall lights can boost specific task areas such as folding and ironing zones.'
12. Light under the cabinets
Think of your utility room lighting scheme as an extension of your kitchen lighting. 'Functional lighting such as recessed LED strips or spotlights are great for seeing what you are doing,' says Niki Wright. But it is also worth planning how you want the room to look when you are not actually using it for its intended purpose. 'A combination of practical and decorative lighting can really make all the difference in the most used room in the home.'
13. Position useful task lighting
Given task lighting is vitally important, the source of directional light should take centre stage. Consider where you are most likely to require extra light for completing tasks – such as above the sink, where you may be dealing with stain removals etc.
Have a task lamp fitted to add more focal light, but you can also enhance the decor with your choice. This country utility room idea incorporates a number of classic country design notes – from the sage green cabinetry to the traditional butler sink and ceramic wall pendant light.
14. Adjust the direction with moveable designs
If you're looking for classic lighting but want to create a sense of freedom with the flow, choose traditional fittings which can be moved. Such as overhead spotlights or focus wall lights that can be titled in different directions. This is especially useful in a sizeable room where you might want to change the layout in future – as your household grows, so does the purpose of such rooms.
15. Coordinate the look
'You needn't lose the glamour when creating a boot room or utility room; these rooms are often an extension of the kitchen area' explains Mary Buchanan. 'Keep the lights and style coordinated with your kitchen. Choose designs that won't get in the way but that will still offer a good amount of light.'
16. Incorporate lighting into bespoke cabinetry
If you're building bespoke cabinetry for your utility room, consider having the lighting built-in to enhance the layout. Directional spotlights under shelving helps to make a feature of the design, while also directing light onto the space below which is prime placement for mirrors and noticeboards – as demonstrated in the utility room above.
17. Expose the bulbs to bounce light
'One way to add a little more style to your utility room could be to consider lighting,' advises Amber Greenman, Home Designer at Neptune. 'As it is often a smaller space, the more light the better.' As well as adding more lighting you can enhance the light quality by painting the cabinets in a light colour which helps by reflecting light around the space – a great small utility room idea.
18. Keep it simple with static spotlights
Spotlights are the faithful, functional lighting choice that never fails. Covering the entirety of the room and not taking up any valuable space, it's easy to see why this humble lighting design is so highly favoured. To make them even more functional install a dimmer switch to enable a change of warmth and brightness for the space.
What is the best lighting for a laundry room?
The best lighting choices for a utility room are ones that illuminate it well and allow you to get your chores and cleaning jobs done succesfully.
'Laundry rooms rarely have space for specific decorative lighting,' says Niki Wright of Lights and Lamps. Her advice when choosing designs is to look for designs which are both pretty and practical.
'Try pairing a flush ceiling light with specific task lighting, wall lights work well as they do not take up any room. Try a wall light with an adjustable bulb holder, such as our Lever wall light, this will allow you to direct the light to a specific spot you want to illuminate.'
Peter Legg, lead designer at där lighting advises, 'You needn't lose the glamour when creating a utility room. These rooms are often an extension of the kitchen area so keep the lights and style coordinated. To add a luxurious touch, try a pendant or semi flush design with bevelled glass that will elevate your scheme and reflect light around the room.'
How many lumens do you need in a laundry room?
'Lumens equals brightness, and a laundry room needs to be bright! ' Niki Wright explains. 'However, it is more important to concentrate on kelvins – this is the warmth of the light. For a warm glow in a living room, for example, we would recommend around 2700-3000 k. So, for a laundry room, a more neutral rating of around 4000 k. This will produce a cooler light, helping you see when your laundry is whiter than white!'
Get the Ideal Home Newsletter
Sign up to our newsletter for style and decor inspiration, house makeovers, project advice and more.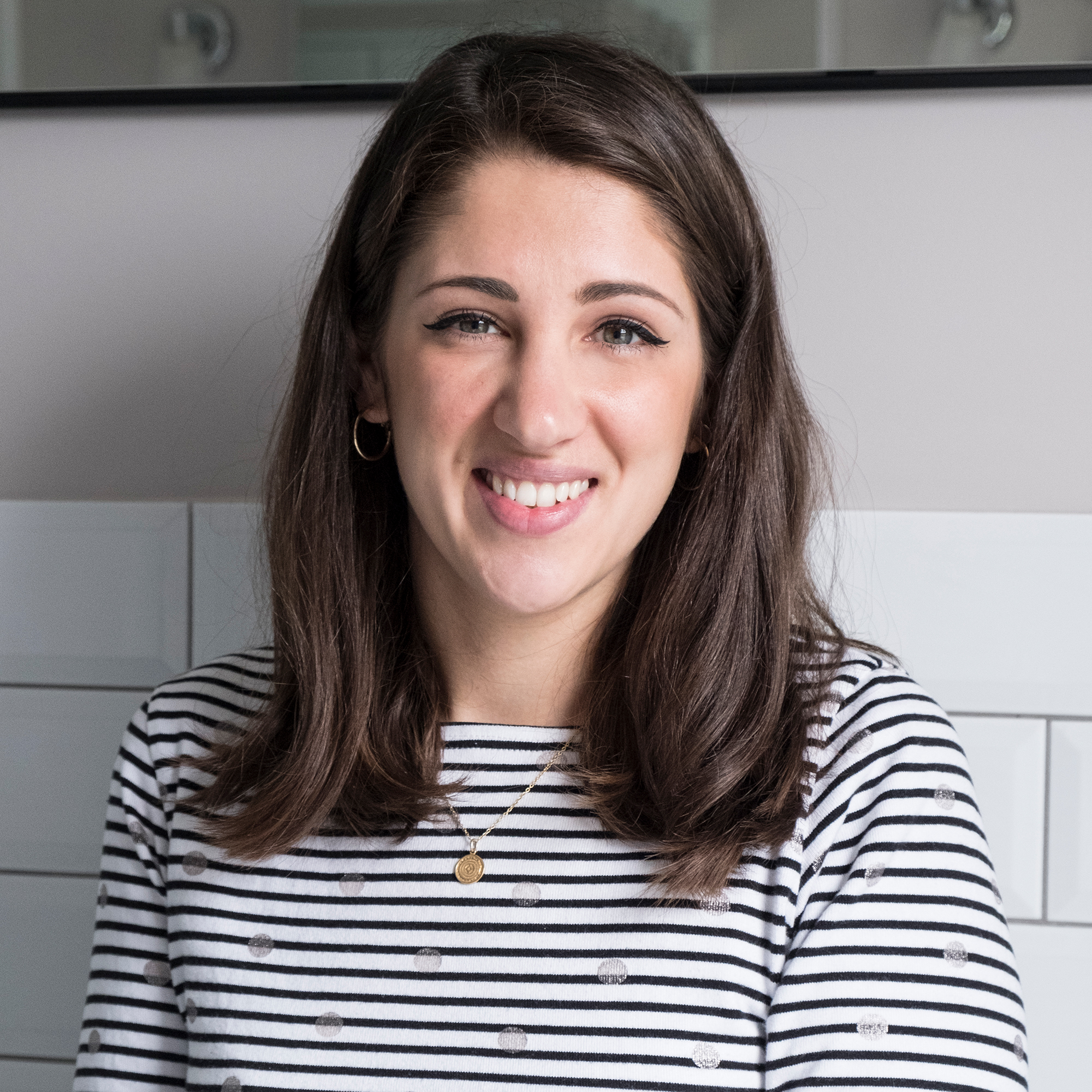 Holly Walsh has been Content Editor at Ideal Home since 2021, but joined the brand back in 2015. With a background of studies in Interior Design, her career in interior journalism was a no-brainer and her passion for decorating homes is still as strong as it ever was. While Holly has written for most of the home titles at Future, including Livingetc, Country Homes & Interiors, Homes and Gardens and Style at Home, Ideal Home has always been her ideal home, and she can be found sharing her expertise and advice across both the printed magazine and the website too.