Bathroom wallpaper ideas to add instant colour and impact to bathroom walls
Done right, wallpaper in a bathroom can be a winning combination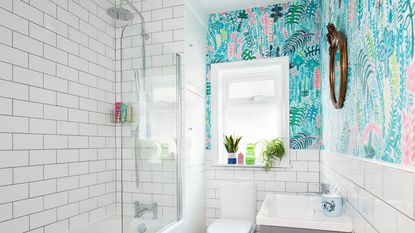 (Image credit: Future PLC / David Giles)
When it comes to small spaces like bathrooms, en-suites and cloakrooms, creating an impact with the decor can be a challenge. While tiles and paint are the go-to choices, for a quick and easy alternative, bathroom wallpaper ideas are an instant winner that can transform a small bathroom idea beautifully.
'Often overlooked as an option when it comes to decorating a bathroom, wallpaper is a fairly easy and inexpensive way to breathe new life into an outdated space,' says Chelsea Clark, Head of Brand at I Love Wallpaper. 'As an area of high humidity and moisture, a wallpaper with a vinyl coating or scrubbable finish can provide extra durability, and there are now plenty of choices when it comes to picking a wallpaper suitable for a bathroom.'
Bathroom wallpaper ideas
'We're always being asked if you can use wallpaper in a bathroom. We say, yes - of course you can!' says Jamie Watkins, Co-founder, Divine Savages. 'A properly ventilated bathroom will happily accommodate wallpaper. Embracing pattern in a small room is great and can actually make it seem bigger, plus it's the room all guests are bound to see when they pop over, so it's a chance to have a bit of fun and experiment, creating maximum impact.'
With our inspiring suggestions below it's easy to see why wallpaper is such a popular decorating choice for bathroom ideas.
1. Go bold with an oversized print
While regular wallpaper isn't recommended in damp and humid spaces, specialist bathroom wallpaper is designed to cope with steamy conditions, so is a brilliant way of brightening up a dull and dreary small bathroom layout on a budget.
Contour wallpaper has a 3D effect that can be used to mimic the look of tiles, marble, mosaic or simply to showcase an eye-catching print (like this bold botanical) and can be hung as easily as standard wallpaper, but with a splashproof and wipe-clean finish.
2. Find the right spot
'Steer clear of applying wallpaper to areas that experience a lot of splash back, such as around a bath, shower, or sink, or pair with complimentary tiles, for some extra protection,' advises Chelsea at I Love Wallpaper.
'It's also important to ensure the area remains well-ventilated by keeping windows and doors open or using an extractor fan. This is especially important during application, to prevent any peeling. If you're looking to use standard wallpaper, we recommend using an extra strong wallpaper adhesive to avoid lifting.'
3. Pretty up a plain scheme
Bathrooms are home to lots of cold, hard surfaces that can make the space feel quite stark and clinical. Get around this by bringing in areas of colour and pattern that will add warmth and help to soften any harshness.
The area above the basin makes a prime spot for a panel of patterned wallpaper. Out of the direct splash zone, choosing a pretty chinoiserie or floral in a delicate colourway will bring softness to plain white tiles and fittings and pretties up the space for the cost of a roll of wallpaper.
4. Pick a print to compliment tiles
'Small spaces are the ideal place to go big and bold, with all the impact of the wallpaper at less cost,' says Jamie at Divine Savages. 'Create exciting design moments by pairing tiles with a bold wallpaper. A particularly pleasing look, especially when using a single accent colour like this dark bottle green.'
Dark colours can work well in small spaces and used throughout can have the same space-expanding effect as a pale colour scheme. Go for glossy tiles and sanitaryware, teamed with mirrors and plenty of metallic accents on fixtures and fittings to add extra sparkle to a dark scheme.
5. Stretch space with stripes
Horizontal stripes are a clever visual trick that designers often use in compact spaces, helping to lengthen walls and make a small bathroom feel wider. Focus on just one wall and opt for simple bands of colour that will draw the eye along and stretch the space visually.
In a low-ceilinged bathroom, try a wallpaper with vertical stripes that has the opposite effect to horizontal and will make walls appear taller and the ceiling higher. Clean lines and simple shapes are easier on the eye and can feel less chaotic in tight spaces.
6. Protect the finish
To protect wallpaper from splashes in areas where it might come into contact with water (such as around a basin) consider adding a clear acrylic or perspex splashback. A transparent material will mean that the wallpaper pattern will still be visible, but without the problem of water damage.
Match wallpaper colour to flooring in a small bathroom. Continuous colour throughout can help to blur the edges of a room and will make it feel bigger and more expansive. Warm neutrals and soft, barely-there whites are easier on the eye than brilliant white for a less-clinical feel.
7. Pair panelling with a print
Keeping wallpaper out of the splash zone is the easiest way to protect it from water damage. Instead of tiling the lower portion of wall, panelling makes a stylish alternative that can be painted a myriad of shades and is easily changed should you fancy a different colour later down the line.
Colour match wallpaper with painted panelling for a co-ordinated look. With a bright and bold design like this one, pick an accent colour from within the wallpaper design to provide some visual contrast. The bold teal - or the deep red - contrasts with the old gold background colour to give a warm, rich look.
8. Go with the faux
Mimic the look of tiled walls with a faux-tile wallpaper that looks just like the real thing but is far less-fiddly and time-consuming to put up. Made with a splash proof vinyl-coated finish, the wallpaper has a contoured surface with grout lines that look and feel realistic to the touch.
'Paste-the-wall' wallpapers are an easier and less-messy option than standard wallpapers, meaning that the paste goes directly onto the walls, with no pre-soaking or sticky paste table required.
9. Pick a point of focus
Use bold bathroom wallpaper ideas to create a point of focus. this elegant white tiled bathroom dedicates a surface area above the sink to show off the famous Cole & Son Flamingo wallpaper in all its glory.
Above the sink and behind the mirror is the ideal place to captivate those using the bathroom. Using the wallpaper design in a soft blue colourway helps to add a watery touch to the design – ideal for a bathroom colour scheme.
10. Protect surfaces
When using bathroom wallpaper you can never be too careful when it comes to protecting the surface, to ensure it withstands the elements of bathroom life. This characterful bathroom is entirely papered with a delicate butterfly design, that is stylish yet subtle in equal measure. To protect the paper around the points of water flow the taps are mounted on a protective marbled splashback.
Thanks to the wispy grey trees on the paper the light marble tile coordinates perfectly to offer an almost seamless way of incorporating a layer to safeguard the paper from water splashes.
11. Make waves with a subtle seascape wallpaper
A subtle wallpaper goes a long way to enhance a bathroom decorating scheme. Often the main aim of a bathroom is to create a calming sense of serenity, creating the perfect place to pamper ourselves and take time out to relax – meaning a calming colour scheme is welcomed to achieve spa bathroom decor.
In a softly hued room you don't want bathroom wallpaper ideas to overpower, it should add pattern but without making the room feel busy. Waves are the ideal pattern, as they set the scene of tranquil beach life.
12. Go for large-scale pattern in a bigger bathroom
If you have the space go big and bold with the pattern to allow the design of the bathroom wallpaper to dominate. Match the tones within the paper design to that of your bathroom tile ideas to ensure a cohesive colour scheme, to balance the overall look.
13. Make a bold statement with colour
Use a wallpaper with a vibrant background colour as a small bathroom idea to enliven the space and make it feel more impactful. Using the bright wallpaper on a wall with windows will help to illuminate the space and also prevents the wall from feeling overpowering – thanks to the blocks of natural daylight breaking through the pattern.
14. Draw on pattern to distract from radiators
Use bold pattern on walls where you may wish to distract from fixtures and fittings. Perhaps you have an unattractive radiator or an overbearing towel rail that you want to conceal. Statement bathroom wallpaper ideas can go a long way to drawing attention away from the other bathroom wall features. Colour coordinate towels to the wallpaper to camouflage them into the background.
15. Add pattern behind open shelving
Papering behind open shelving in any room is always a great. way to add interest, especially in bathroom where the shelves are mainly for displaying luxury toiletries and jars of bath salts. Choose a design that is captivating but not overbearing, to ensure the openness of the bathroom storage is retained – this soft foliage design is perfect, welcoming a touch of nature into the space too.
16. Elongate walls with a corner of pattern
In a long slimline room throw the decorating scheme off balance to help create the illusion of space regardless of the layout you're dealing with. In this slim space the bathroom wallpaper dominate two walls to create a corner of interest, leaving the remaining walls as less of a focus – which helps to make them feel more detached from the feature walls.
17. Invite a reflective sheen to smaller bathrooms
In addition to adding pattern many wallpapers feature foil print which offers a level of sheen to modern bathroom ideas. In this small bathroom there is only one slim window at the far end meaning it is lacking in natural light. While often pattern can make a small space feel quite claustrophobic, a clever use of pattern can help to make the space feel bigger.
Take for instance the leafy patterned paper above, with a foil print on top of a light duck egg blue background. The pattern picks up the light and bounces it back into the room, helping to soften the pattern and create a feeling of airiness and space.
18. Bring hothouse style to an all-white suite
There are few better ways to add colour to white bathrooms than with bathroom wallpaper ideas. A tropical design like this can be complemented with real plants and towels in accent shades of aqua and pink. The pattern was actually designed by the bathroom's owner – if you fancy having a go yourself, you could use a website like Bags of Love.
19. Choose a design that speaks to you
The owner of this bathroom picked this beautiful koi carp design wallpaper as it reminded her of the years she'd spent living in Japan. It makes what is usually a functional space feel all the more special, and we love the way it coordinates with the blue glass used as a splash back next to the sink and shower. See more of this bathroom makeover.
20. Match the paint
Paint your walls, woodwork - or if you have it - panelling in the same shade as the background colour of your chosen bathroom wallpaper. This modern toile from Timorous Beasties looks gorgeous with the matching paint colour and heritage style sanitary-ware.
21. Invite a glimpse of pattern
Wallpaper doesn't actually have to be in the bathroom to enjoy the effect. If you have an open ensuite like the one shown here, papering a wall next to the bathroom in a bold palm print will bring colour and pattern to the space without overwhelming it. Adding in a real plant or two will unite the two rooms.
22. Balance a bold botanical print
This standout botanical wallpaper not only adds stunning pops of colour, but the vibrant hues take the familiar metro tiled bathroom to a whole new magnificent level. Conversely, the paler shade of the tiles creates balance.
23. Mix wallpaper with wood panelling
Create luxurious country bathroom ideas by using muted floral designs in soft grey tones. Wooden wall panels can be used in the areas where water is likely to splash, and are in keeping with a traditional look.
24. Pick something a little different
If you're wallpapering a bathroom it's generally not a huge area to cover, particularly if you steer clear of the wet bath or shower areas, so it's a good chance to, erm, splash out on a more expensive or unusual wallpaper and have some fun.
25. Frame a window with pattern
This pretty damask style wallpaper looks gorgeous next to this slipper bath - and the huge candelabra adds to the opulent feel of the room. Flickering candles are all the lighting you'd need for a long, relaxing soak in this tub, which looks fit for a queen.
26. Maximise impact by papering a single wall
Using bathroom wallpaper ideas to create a feature wall is a proven way to make a statement. An added advantage of going for one feature wall in the bathroom is that you can target a wall furthest away from water. Plus, the smaller the area, the less wallpaper you'll need so you may be able to afford that designer roll you've been coveting!
27. Encourage relaxation with marbled paper
Marbling is often used as a mindfulness exercise because it literally encourages people to go with the flow – you have no control over the paint or pattern created. That's why it's the perfect choice of pattern in a bathroom, as you can lose yourself in its arbitrary swirls.
28. Combine wallpaper and tiles
if you're worried about your bathroom wallpaper ideas getting wet, but want to put it on the same wall as a water feature, try this treatment. Tile up to the point where splashes might reach, then wallpaper to the ceiling. It's a smart look and is more subtle that papering a full wall – if you're unsure about taking the plunge, so to speak, this might be the way to go about things.
29. Go nautical
It's pretty obvious why nautical bathroom decor is a natural fit, but you can take things further with a themed wallpaper. From fish (see above) to anchors to beach huts, there are plenty of directions to head in – we think this is one of the most fun.
30. Add warmth with a wood effect
Want to tap into the wood panelling trend without breaking the bank? Why not create a feature wall using textured or printed wallpaper? This wood-print paper brings a cosy Scandinavian feel to the cooler metal and ceramic surfaces.
31. Enhance a structural feature
If your bathroom is built into the eaves why not show off its striking proportions with wallpaper? In a light-filled space like this one, you can get away with something dark and dramatic as a striking attic bathroom ideas.
32. Clash patterns
Mixing and matching bold patterns has given this bathroom a retro feel – just check out the wallpaper versus that dramatic floor tiling. If you're looking to channel 1970s chic, we advice you stick to a similar palette of orange and olive green. But use a lot of black and white, too, otherwise it could get too overwhelming – not ideal when you're trying to unwind in the bath.
How to wallpaper a bathroom
1. Measure up
Choose a suitable wall to paper and measure the area to calculate how much wallpaper you will need. Avoid walls next to the shower, or directly behind the bath or basin, as water splashes could cause damage.
2. Prepare the walls
Damp walls must be treated, any cracks filled and glossy painted surfaces lightly sanded first. If the walls are freshly plastered, you must 'size' them using a coat or two of wallpaper primer.
3. Keep the paper smooth
Take care when hanging the paper to smooth out any air bubbles that form beneath the surface as you go. Use a squeegee to get rid of those imperfections. Otherwise, they will make the paper more likely to peel over time.
4. Protect with varnish
Once you have finished hanging the wallpaper, leave to dry fully before sealing with strong varnish to give a layer of protection against humid bathroom conditions. Try Decorators Varnish by Polyvine, £10.63 for 500ml. It's a durable overcoat that is available in matt or gloss finishes.
Which type of wallpaper do I need for a bathroom?
Most wallpaper is labelled according to use, and those suited to high-moisture rooms like kitchens and bathrooms are invariable vinyl. 'Scrubbable' wallpapers that are made from heavyweight vinyl 
or vinyl-coated are the best options, but also look for rolls labelled 'extra washable' or 'highly wash-resistant'.
If you have your heart set on bathroom wallpaper that's only marked 'spongeable', or not cleanable at all, it's possible to boost its resilience using Polyvine's Decorators Varnish. Use the Dead Flat version, which won't alter the paper's colour, and do a test patch first. Don't forget to add the cost to your budget. A one-litre pot costs around £10.50 and will cover 15-20sq m. For best results, apply two to three coats.
Can I paper all the walls in a bathroom?
Yes, as long as you have a decent circumference of tiles around the bath and basin – aim for at least 60cm between water and wallpaper. But while maximalism is on trend, bathrooms are usually small, so if you're going all out do choose a soothing design that won't kick off your day with a headache.
A feature wall is a smart choice. You can afford to go much bolder and it's easier to keep your bathroom wallpaper ideas away from splashes.
Is wallpaper safe inside a shower?
No, but you can get 100 per cent waterproof wall coverings that look like bathroom wallpaper ideas and don't have the grout issues associated with tiles. For example, the Wall&Deco system available from West One bathrooms. It's expensive though and requires specialist installation. A cheaper option is to wallpaper behind a sealed glass shower enclosure or screen.
Get the Ideal Home Newsletter
Sign up to our newsletter for style and decor inspiration, house makeovers, project advice and more.
Tamara was Ideal Home's Digital Editor before joining the Woman & Home team in 2022. She has spent the last 15 years working with the style teams at Country Homes & Interiors and Ideal Home, both now at Future PLC. It's with these award wining interiors teams that she's honed her skills and passion for shopping, styling and writing. Tamara is always ahead of the curve when it comes to interiors trends – and is great at seeking out designer dupes on the high street.