Navy blue and grey bedroom ideas - 10 ways to work this classy colour pairing
Warm grey tones and velvety navy blues can work beautifully in the bedroom - here's how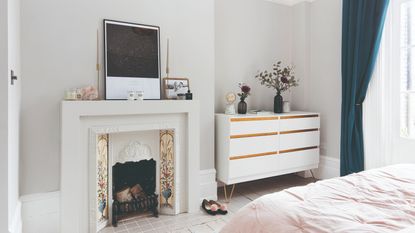 (Image credit: Future PLC)
Ideal Home Newsletter
The Home Of Great Ideas For More Than 100 Years
Thank you for signing up to . You will receive a verification email shortly.
There was a problem. Please refresh the page and try again.
If you're looking to introduce navy blue and grey bedroom ideas into your space, rest assured there are a multitude of ways to pull off the pairing and achieve classy, stylish results.
Navy and grey are two versatile colours which can complement each other beautifully, and they're becoming an increasingly popular duo in bedroom colour schemes. 'We see navy blue and grey colour schemes regularly in our community', says Emily Chance from painting and decorating brand Harris Brushes (opens in new tab). 'Both can work brilliantly with most other colours, and combine here to create a cosy aesthetic with a mature, adult edge – perfect for the bedroom.'
'Navy blue pairs beautifully with the more neutral hues of warm greys to bring feelings of calmness into the bedroom', agrees Joanna Ross, General Manager of Design at Sheridan (opens in new tab).
If you already have grey bedroom ideas that you love, simply add to these with navy blue accents and create a space that feels both updated and familiar.
Navy blue and grey bedroom ideas
Our navy blue and grey bedroom ideas cover all bases, from choice of shades, to wall decorating options, to layering and textures. Whether you combine multiple ideas from the list below, or select just one of them, you'll soon have a grey and navy blue bedroom worthy of many a Pinterest dream board inspiration.
1. Use warm greys to balance out navy's cooler hues
The key to pulling off a navy blue and grey bedroom is to avoid creating an overly cold palette, which cool grey shades might do.
Warm grey hues however will nicely complement navy and create a more comforting atmosphere. 'We recommend a warmer grey shade to avoid making your colour palette appear moody and negative', says Emily from Harris Brushes. 'Try something like Dulux (opens in new tab)'s Dieskau, Warm Pewter, or Timeless Grey, to leave room for your navy to work wonders.'
Have a look through the best grey paint for walls, or try COAT's Peel & Stick swatches (opens in new tab) to test how your chosen shade looks against any navy furniture or decor.
2. Bring in patterns
Patterns are a sure way to keep things visually interesting in a navy and grey bedroom, and can steer the colour palette away from being overly sombre.
You can simply add a navy and grey patterned quilt to your bedspread, or create a feature wall using wallpaper if you fancy something a little more elaborate. There are plenty of bedroom wallpaper ideas to choose from, and the navy and grey tones will already have been combined for you perfectly. Or, choose wallpaper in one of the colours and paint the surrounding walls in the other colour for contrast.
3. Add a deep navy headboard
A plush navy headboard behind the bed can create an elegant, regal effect, and will be sure to catch the eye as a stand-out centrepiece in the bedroom.
Martin Waller, Founder of luxury furniture brand Andrew Martin (opens in new tab), says that a striking navy headboard can compensate for other pieces of decor. 'We no longer need artwork in bedrooms when we have a striking navy headboard shaped to elaborate perfection or upholstered in a bold-patterned fabric', he says.
4. Paint a navy feature wall
Navy walls make for a striking bedroom, and work particularly well in larger master bedroom ideas. 'If you have a larger bedroom, using a darker colour such as navy can visually bring walls inwards', says Justyna Korczynska, Senior Designer at Crown Paints (opens in new tab).
Navy walls offer a stylish contrast to any grey furniture, or decor pieces you might want to hang on them. According to decor expert Andrew Martin, 'darker colours such as navy blue form a much better background for paintings and artworks than white or other neutral shades.'
5. A greige carpet will bring softness
A soft carpet can provide the final comforting touch to the bedroom, and greige - the popular beige and grey combo shade - would complement a navy and grey colour scheme perfectly.
'A great alternative neutral to white, greige is a soft shade that balances a room, creating a relaxing and calming atmosphere', says a decorating expert from Neatsmith (opens in new tab). A griege carpet would soften the navy elements of the room and provide a welcoming light contrast to darker tones.
6. Bring in texture through rugs, cushions and throws
Added texture through furnishings and decor is key to making the bedroom feeling cosy, especially when working with a cooler colour palette such as grey and navy.
A fluffy navy rug would be a warm addition to the room, and could be matched with cushions and blankets on the bed. Or, use these elements to bring a pop of colour to contrast with the blue and grey, such as a muted yellow or botanical green. Anything that makes the room feel more snug will work a charm.
7. Paint the ceiling navy
While navy might not seem like the first choice of colour for a ceiling, its richness can envelop a bedroom perfectly. 'Navy looks amazing behind the bed then up and over the bed onto the ceiling in a canopy effect', says Creative Director at Dulux (opens in new tab), Marianne Shillingford.
Homeware expert Joanna Ross agrees. 'Blue can have a positive effect on our mood before sleep as it connects us to a blue sky and the feeling of being in nature, which helps us feel more relaxed.' A navy blue ceiling is the perfect way to bring forth this idea and create feelings of serenity and calm.
8. Complement the duo with a third accent colour
Adding a third pop of colour is a wise choice for a grey and navy bedroom, so you can warm the palette up and even make the space feel a little more fun.
Pastel yellows would contrast beautifully against navy furnishings, as would a muted dusky pink. 'Grey's neutrality means that most mid-range greys will naturally complement a vast range of colours', says Emily Chance from Harris Brushes. If you pair it with a naturally cool shade like navy, a third accent colour will provide welcoming lighter hues.
9. Use colour blocking for a stunning feature wall
Colour blocking is a smart bedroom paint idea to create a feature wall, and is great for cementing your chosen colour duo into a room.
'Colour blocking has become the new feature wall over the last couple of years, because it adds interest in a really simple way and all you need is some paint and some masking tape', says Aaron Markwell, Colour Expert at COAT (opens in new tab). 'Paint the ceiling and the top half of the wall the same light grey, to reduce visual noise in the room. Then paint the bottom half of the wall in your navy.'
A grey and navy feature wall would look particularly stylish as a backdrop to your bed, as the natural focal point of the bedroom.
10. Use succulents for added serenity
Indoor plants would be a soothing companion to a navy and grey bedroom, and add a relaxed botanical green element into the mix.
There are a lot of house plant ideas which you can bring into the bedroom, including hanging wall plants or potted succulents which you can place beside the bed. A plant or two would complement the natural, earthy tones of the navy and grey perfectly, and contribute to a relaxed atmosphere.
Do navy blue and grey go together in the bedroom?
Colour combinations that inspire feelings of peace and relaxation should be a priority for the bedroom. Navy blue and grey can therefore work particularly well because they both have cool undertones, and are often associated with natural, earthy hues.
'Grey and navy blue work brilliantly together in a bedroom where they create a relaxed grown up space in which you are guaranteed a good night's sleep', says Dulux's Creative Director Marianne.
What shades of grey go with navy?
'When pairing grey with navy, the trick is to choose a deep cocooning navy with a pale, warm grey to avoid the space feeling too cool', says John Ashton from Albany.
Marianne from Dulux agrees. 'It's especially important to choose 'warm' versions of grey to pair with navy, as combining two 'cool' colours could easily make a room feel less cosy than you might have wished.'
Look for pastel greys with pebble or clay-like tones, and avoid harsher greys such as charcoal and graphite. These darker shades won't contrast well against navy blue, and risk creating an overly negative or moody palette. Remember that the bedroom should feel like a welcoming space where you feel comfortable and relaxed, and a cold colour palette won't help you achieve that feeling.