Grey bedroom ideas – decorating schemes in shades of grey and perfect accent colours
From atmospheric dark grey to light pastel grey...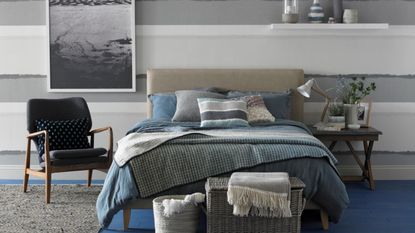 (Image credit: Future PLC/David Brittain)
Constantly pinning grey bedroom ideas to your Pinterest board? We don't blame you; a perennially stylish shade, daubing grey over the walls is one of our favourite ways of adding a chic sheen to a space.
More important than its luxe look, though, is grey's unerring ability to help us get a good night's sleep – something which, we're sure you'll agree, is a must in any big or small bedroom.
With that in mind, then, it's time to embrace the potential of this oh-so-calming shade and start cooing over the best grey bedroom ideas around.
Grey bedroom ideas
Grey is the colour, and covetable bedroom ideas are the game – but it's important to consider your own personal style when planning out your colour scheme.
'The fun of grey is that it goes with all colours, so you can't go wrong,' promises Marianne Shillingford, creative director at Dulux. 'And, because it demands little of us in terms of stimulating visual wavelengths and colour saturated attention, grey is well suited to the bedroom. It's gentle on the eye, so it can help aid a more restful environment on the journey to sleep.'
Even better? There's no such thing as a basic grey, as there are so many variants on this neutral available (hey, that whole 50 Shades Of Grey thing didn't come from nowhere!). So, let's dive on into our favourite grey bedroom ideas...
1. Opt for a matte silver
One of our favourite grey bedroom ideas around, opting for a matte silver colour scheme could be key to the best night's sleep of your life.
'Unlike dark grey tones, silver induces calm,' Geoff McKinnen, certified sleep coach at Amerisleep, tells Forbes.
However, make sure you choose a flat or matte silver paint as they are less invigorating and absorb light. Glossy paints, on the other hand, reflect any bright light – making it difficult to doze off, notes the sleep expert.
2. Think about the texture
When poring over the best grey paint for the walls, take a step back and think about the texture of it over the appearance.
'When choosing the right shade of grey for your bedroom, I find It helps to think about how the shade might feel if it were a texture,' says Marianne.
'Bedrooms need soft, tactile, comfortable furnishings and it's the same with colours. Choose a grey with visual softness like Dulux Heritage Turtledove Grey fromHomebase or Goose Down from B&Q.'
If you have a cooler north-facing room, Marianne recommends 'a cosy, warming grey like Dulux Heritage Quartz Grey or Pebble Grey.'
3. Ramp up the drama
Think all the best grey bedroom ideas are light and airy? Think again: you can create a thoroughly modern look with lashing of dark grey paint and bright red accessories, as seen above.
'Moody, mysterious and welcoming in equal measure, dark grey is a statement shade that's still versatile enough to work with almost any other colour you can think of,' promise the experts at Farrow & Ball.
4. Get the Oppenheimer look
Barbie may have inspired a lot of people to think pink this year, but Oppenheimer has compelled many to try out some dark grey bedroom ideas, too.
'For those seeking a moody interior look, consider using the Oppenheimer palette to create dramatic appeal in your space,' says Maisie Milliken at Pursue PR.
'Opt for dark walls, clean lines and hard surfaces for an accurate recreation, but if you want to create a cosy dynamic then introduce warm layers and a fireplace feature.'
She recommends the neutrality and balance of Loving Grey Paint, available from £21 at YesColours.
5. Add a dopamine twist
Gen Z might think our grey bedroom ideas are 'cringe', but there are actually plenty of ways to add a dopamine hit to this classic neutral shade.
'Grey plays nicely with every colour in the spectrum so you can really have fun teaming it with jelly bean brights,' says Marianne.
'For a surprise twist with a classic deep grey, why not pair Urban Obsession with juicy Frosted Papaya and give your room a much needed shot of dopamine.'
Alternatively, let grey stick to the walls and allow your soft furnishings to take centrestage with a dash of bright pink (as seen above).
6. Team it with navy or denim-blue
Grey is a neutral, which means it works well within almost any bedroom colour scheme – but things get especially magical when you team it with a dark blue shade.
'One lovely combination that works really well in a bedroom is grey and rich navy blue, because it creates a relaxed, peaceful grown-up space,' says Marianne.
'Combining light and dark tones of each colour is a good way to add interest and a sense of depth too. Try deep Sapphire Salute on the wall behind and over the bed with warm mid tone Pebble Grey on the remaining walls.'
7. Pair it with a warm feature colour
Again, picking out one of our grey bedroom ideas doesn't mean that grey has have to be the star of the show: in fact, it might win more awards for Best Supporting Actor... we mean, paint colour.
'Grey is a classic you cant go wrong with but I recommend you pair it with a soft and warm shade on a bedroom accent wall or the woodwork to avoid it looking a bit cold and characterless.' says Marianne.
'Try a combination of Dulux Rock Salt or Polished Pebble and Dulux Colour of the Year 2024 Sweet Embrace.'
8. Keep it simple with pale grey walls and flooring
For a gentle bedroom colour scheme, paint walls, floors and even a clever built-in wardrobe to match in a mid grey tone. It becomes the perfect backdrop for any accent coloured bed linen selection – whether plain or patterned, you just can't go wrong.
Try pinky terracotta and dusky teal plains, or go all-out with an oversized floral or a modern geometric, in pastel shades.
9. Use grey to accentuate original features
A strong grey – Dulux's Natural Slate – celebrates the eccentricities of this attic room. While the skirting, wall and a portion of the ceiling are painted in White Cotton, and the remainder has gone grey, accentuating its quirky architecture and cosying up what could have been a cold and awkward space.
Vibrant orange bedding, softened by accents of blush pink, energise and soften things further.
10. Mimic hotel glamour with charcoal grey and taupe
Looking to create a hotel-style bedroom? Smarten up your boudoir with some luxe grey bedroom ideas; think a charcoal velvet headboard and a matching grey cabinet.
Layer the bed, three pillows deep, in various shades of caramel and toffee. And add textural throws and cushions, in linens and silks, for a totally luxurious feel.
Finish off with brass handles and a sleek brass lamp to bring a finishing touch of glamour to the look.
11. Accentuate grey walls with slate grey flooring
Whether tiled or carpeted, a slate grey flooring can create a striking contrast to accentuate grey walls. This works particularly well with pale grey bedroom ideas to offer more of a contrast. The floor can act as the fifth wall for decoration, in line to the four walls.
Regardless of whether you're using bedroom wallpaper or painted grey walls, a strong slate grey floor can anchor the whole scheme – without dominating entirely. A dark flooring helps to give purpose.
12. Mix your hues
Dark floorboards set against white walls could look harsh, but these grey bedroom ideas make the scheme easier on the eye.
Just take the above as an example of how to do this well: black and white prints and monochrome bed linen unite the soft furnishings with the decor and give this lavish master bedroom a contemporary look.
13. Pick the perfect backdrop
A light grey bedroom idea is a more welcoming and relaxed alternative to white bedroom ideas, and proves that going grey doesn't have to mean dark and moody.
A brilliant option for bright and airy bedrooms, this shade prevents the space becoming stark and provides a soft backdrop for a mix of original arts, crafts and retro details.
14. Pair warm grey with coral accents
Vibrant coral tones are an ideal complimentary shade for grey bedroom ideas, helping to lend warm tones. This can be especially important in a bedroom, to avoid the grey being too cold and uninviting – not a welcome effect in a bedroom space.
Another way to create a warming feel to a bedroom scheme is by incorporating layers of tactile faux fur textiles, from rugs beside the bed, to cushions and throws.
15. Incorporate doors into the paint scheme
To create an unbroken wall of colour paint the back of the doors within the room too: just be sure to choose a paint that can be used on woodwork.
In this cool grey bedroom idea the door to the ensuite is painted into the colour scheme to ensure when the door is closed it seamlessly blends into the wall of grey.
This idea can work with the back of an entrance door, as well as any cupboard doors to unify all four walls.
16. Venture over to the dark side
Grey bedroom ideas can be cosy, especially in its darker tones. It also provides a fantastic contrast to bold, graphic patterns, such as the chevrons on this upholstered headboard.
Soften the look with pops of pink in your accessories and add extra glow with exposed squirrel cage lightbulbs on colourful cables - these will also make a neat alternative to bedside table lamps if you're short on space.
17. Add subtle tone on tone pattern
This bedroom uses shades of grey to create a calming haven. The feature wallpapered wall, while covered in a busy pattern, uses the palette of grey and white, which softens it.
The colour theme continues throughout the room, with grey walls complementing bedside furniture. Different tones appear in the soft furnishings to ensure the colour theme does not become monotonous.
18. Embrace nature with grey wood wallpaper
Don't think by choosing a grey bedroom idea you have to exclude any one trend. This birch wood bedroom wallpaper idea in a grey-scale colourway ticks all the box of on-trend print, while working perfectly in a grey bedroom decor.
Paired with a grey upholstered headboard and occasional furniture helps to cement the grey scheme even further.
19. Paint a panelled wall in a sophisticated grey
Wood panelling painted in a serene shade of grey provides the perfect backdrop for a sophisticated master bedroom. The wood panels helps to add a nod to coastal style, without being too OTT.
To add a further elegant touch two wall pendants in chrome provide a hotel-like lighting solution. Mounted either side of the bed they make ideal bedside lamps. Chrome is the ideal choice of metallic to keep the grey tones cool.
Crisp white linens layered with soft grey cushions and throws adds to the well put-together grey bedroom idea.
20. Choose warming grey tones for a feminine feel
A grey bedroom idea that airs on the side of lilac can instantly lend a softer edge to the overall look in a bedroom.
For a romantic bedroom, you're best to opt for warm shades that have an undertone of pink to ensure the grey feels warm, rather than cold. Team with rich golds, blush pinks and pretty florals to add further warmth.
21. Invite a cosy feel with warm greys
Make a room feel inviting with a warm grey bedroom idea that mixes well with other neutrals for a comfortable layered look. Tints of yellow can give these deeper greys a greenish hue, which touches of red can make them look brown through to purplish in some lights.
Add pops of black, khaki or olive to green-tinted hues, or nude beige. With red warmed tones, try lilac or rose. Warmer greys can be used anywhere you want to create a cosy, enveloping feel – perfect for a north-facing room that needs the chill taking out of it.
22. Choose a chic combo
Muted and mellow, this chic grey bedroom idea gives pink a whole new gender-neutral identity. Whether you're a fan of industrial chic, modern country, Scandi style or classic elegance, this colour pairing can be adapted to suit any taste.
Blush pink and grey is such a delicate combo. Add luxe with pops of polish with metallics like gold, brass or copper which work well with this pairing. The trick is to treat them as a finishing touch to help lift the scheme and prevent it looking flat.
23. Select the right shade of grey
Picking a grey for your walls is rather like choosing the best white paint: there are far more to sift through than you might ever imagine. To get the best look for your space, try out plenty of samples on your walls and see how they work in different lights before committing.
This soft grey bedroom idea sits beautifully with luxe cream furnishings and comforting textiles, creating a harmonious scheme.
24. Wow without vibrant colour
Grey bedroom ideas are ideal for the colour shy, and easily create beautiful schemes full of wow factor. This sumptuous room has no brights in sight, but is none the less for it.
In fact, with the leafy print wallpaper, Gustavian headboard and amazing sunburst mirror, it's a masterclass in decorating with grey.
25. Add zing with lime accents
Don't feel that you have to ban bright colours from a grey bedroom idea, though. With its neutral look, grey is super versatile and works well with many a block colour, as you can see in this stylish room with lime-green accents.
Choose tactile fabrics and opulent furniture designs to make your scheme feel special - this chaise longue is definitely on our wish lists.
26. Give grey a rustic feel
Grey bedroom ideas can be totally sleek, but they can also be charmingly rustic. Immaculately painted walls don't need to be paired with glossy furniture - distressed finishes look amazing, too.
This room has a beautifully Scandi-country feel, and the 'marshmallow'-like bedding and soft-coloured accessories keep the decor natural and relaxed.
27. Search for the blue tones within grey
Can't decide between a grey or blue bedroom idea? Combine the two but choosing a grey with strong blue undertones.
Accessories such as cushions have a massive role to play in adding hints of alternative colour, despite their compact size. In this room, their impact is felt as the block-coloured blues pick out the blue tones in the grey wall paint. Not bad for such small objects.
28. Transform an attic room
In an eaves or attic bedroom idea, make decorative use of sloping walls and ceilings. In this grey bedroom idea, a gentle grey has been used on the feature wall to offset the white paint used elsewhere. The contrast emphasises the lovely lines of the architecture, opening up what is quite a small space.
Darker grey touches are best kept limited to lighting and bedding to stop the small space from feeling overwhelmed. Exquisite touches of pattern on cushions and a primrose armchair helps warms up both shades of grey in this bedroom scheme.
29. Take a simple but effective approach
If deep grey feels a bit scary in a small bedroom, accessorise with it rather than decorating with it. This grey bedroom idea is actually a completely white room, but the luxurious velvet bed throw, cushions and smart Roman blind dominate the space.
An open shelving unit positioned behind a bed can function as headboard and bedside tables as well as storage.
30. Drape beautiful fabrics
Pick mid grey for walls but keep ceiling and woodwork white for a sophisticated backdrop to a grey bedroom idea. Look for a modern take on the four poster bed – this darkwood version has something of the East about it.
Soften the frame by draping with a silk or satin floral fabric – this one is in a pretty, toning pink.
31. Embrace a bygone era
If you are going all out for glamour, pay attention to your headboard. Choose an ornate scrolling design that will set the benchmark for the rest of the grey bedroom idea: this one sports a burnished silver finish.
Explore home decor discount codes to look for an affordable wallpaper print that can emulate its ornate detailing without the usual scary price tag and bring in mirrors and polished chrome lighting. Silver finishes have a natural affinity with lilac so use it as your accent shade on bedding.
32. Make it metallic
Metallic materials and silver tones bring elegance and glamour to a grey scheme. This tile-effect wallpaper in distressed shades of pewter adds intensity to this striking bedroom scheme, which is finished with Prussian blue velvets and faux furs.
Different metallic touches can keep the overall grey scheme cool or add warmth – depending which finish you opt for.
FAQs
What colours go best with grey bedroom?
'Equally beautiful in its own right or supporting brighter and bolder shades, grey paint has an unparalleled ability to create different moods depending on both the strength and warmth of the shade you choose,' explains Farrow & Ball's Charlotte Cosby.
'Between the delicacy of pale grey and the drama of deep grey, you'll find mid greys such as shades like Lamp Room Gray and Manor House Gray. These middleweight tones add a bit more depth making for inviting rooms to relax in (like bedrooms)'.
'For this group, try layering different shades of grey to create a hushed, and calming feel. Such as Worsted walls with Cornforth White trims. They also pair well with pops of colour in accessories or furniture such as orange like Charlotte's Locks.'
'Dark Greys such as shades of lead, gunmetal and charcoal grey are wonderfully cocooning shades for a home, adding a contemporary twist and a grounding influence to a scheme. Down Pipe, is a deep and dramatic neutral.'
How to decorate a bedroom with grey?
'Depending on the vibe you are trying to create in general, light clean crisp colours tend to be more uplifting and help boost optimism whilst deeper muted shades create a cosy bedroom environment,' says Marianne from Dulux.
How do you make a grey bedroom look warm?
Look for greys with visual softness and plenty of texture if you're hoping to create a warm and cosy bedroom – and don't be afraid to pair them with rich, warm tones throughout your bedroom colour scheme. It is a neutral, after all!
Love these grey bedroom ideas? Whatever look you want from your bedroom, whether it be minimalist Scandi or something dark and dramatic, remember that grey always has the potential to create a striking scheme.
We hope you have fun with your decorating.
Get the Ideal Home Newsletter
Sign up to our newsletter for style and decor inspiration, house makeovers, project advice and more.
Tamara was Ideal Home's Digital Editor before joining the Woman & Home team in 2022. She has spent the last 15 years working with the style teams at Country Homes & Interiors and Ideal Home, both now at Future PLC. It's with these award wining interiors teams that she's honed her skills and passion for shopping, styling and writing. Tamara is always ahead of the curve when it comes to interiors trends – and is great at seeking out designer dupes on the high street.