Best kettle of 2023 in the UK - the top 12 electric kettles reviewed and ranked
Looking for the best kettle? We've been busy brewing endless cups of tea with these electric kettles from Dualit, Breville, De'Longhi and more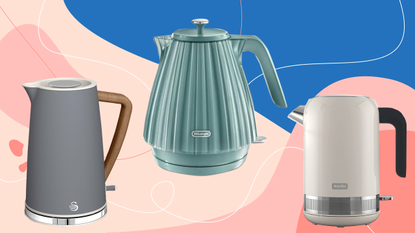 (Image credit: Future)
No appliance will get more use in your home than the best kettle. From speedy boil times to sleek and attractive designs, the best kettle for you will depend on your specific needs and preferences.
That's why we've been busy reviewing the top 12 kettles (from a long list of many more) to bring you our complete ranking. We've kept a keen eye out for energy efficiency too, with a one-cup kettle also featured in this roundup.
If you're a tea lover who likes different types of green and herbal teas, you might enjoy one of the smartest kettles on the market. They will offer different temperature levels to avoid scorching your brew at 100 degrees.
And of course, if you want to upgrade to on-demand boiling water from your sink, take a look at the best boiling water taps. If you're set on the classic method, be sure to pair your new kettle with one of the best toasters.
Quick list - the best kettles
Looking for the best kettle for your home but short on time to shop? Take a look at our quick list instead, which has all the positives and negatives of our favourite kettles that we've tested neatly summed up.
Load the next 6 products ↓
Best stainless steel
Best stainless steel
+ Stunning design
+ Perfect if you need a quiet kettle
+ Good for retaining heat
- An expensive choice
The best high-end dupe
8. ProCook Gun Metal Kettle
The best high-end dupe
+ Get a sleek look for less
+ Good capacity
+ 360 swivel base
- A little loud
Best large
9. De'Longhi Luminosa Kettle
Best large
+ True family-sized capacity
+ We love the colour range
+ Exterior stays cool to touch

- Not great for smaller quantities of water

Read more below
Best sustainable
10. Dualit Architect Kettle
Best sustainable
+ Parts are replaceable
+ It has a truly classic design
+ The quality is stellar
- You have to pay extra for panel kits
Best one cup
11. LAICA Dual Flo Electric Kettle
Best for one cup
+ Get one cup of boiling water at a time
+ Energy efficient
+ Capacity for all day tea drinking
- The one cup dispensed could be larger
Best quiet
12. Russell Hobbs Emma Bridgewater Kettle
Best quiet
+ Easy to pour
+ Great for a country kitchen
- Plastic paddle looks a little cheap
Best kettle overall
1. De'Longhi Ballerina Kettle
Best kettle overall
Specifications
Capacity: 1.7 litres
Type: Pyramid
Colours: Green, black, white
Features: 360° swivel base, anti-limescale filter, water level indicator
Reasons to buy
+
The beautiful design and quality construction
+
Integrated anti-limescale filter
+
Easy to see where the water level is
Reasons to avoid
-
No button to open the lid
The De'Longhi Ballerina Kettle pairs with our guide to toasters perfectly, because its two and four-slice counterpart also sits in the top spot. Why? Well, for a start it has a stunning design that really catches the eye and looks beautiful on any kitchen counter. We had numerous comments from friends and family when testing, and it's more than just easy on the eyes, too.
With a water level indicator and a light-up switch to indicate that it's on, the De'Longhi Ballerina Kettle is ideal for practical use around the kitchen. The 1.7 litre capacity is also perfectly suited to serving mugs of tea or filling up a whole teapot.
Our one gripe is that the lid has to be lifted away. Other options in our guide have a button to lift up the lid and open up the kettle for easy refills, but the De'Longhi requires both hands.
Best affordable kettle
2. Russell Hobbs 20460 Quiet Boil Kettle
Best affordable kettle
Specifications
Capacity: 1.7 litres
Type: Jug kettle
Colours: Black & silver
Features: Water level indicator, quiet boil
Reasons to buy
+
Truly great price point
+
Water level indicator is easy to read
+
Quiet boil (as promised)
Reasons to avoid
-
Stainless steel look isn't for everyone
-
It lacks some style points
Sometimes you just need a kettle that gets the job done, why is why we were impressed with the Russell Hobbs Quiet Boil Kettle when we tested it, which does what it says on the tin. Perfect for those on a budget, and with a water level that's easy to see, this is a no-frills kettle, but it's very effective.
This was a quick boiler too, as it took just 1 minute 23 to get to 100 degrees. The spout is good for pouring out of, and while it's not quite a Smeg kettle, there are some design points to admire. Stainless steel can work well in lots of kitchens, and it's minimalistic in its overall look.
You get a removable limescale filter in the spout for your money too, and the kettle connects at any angle to the base. The 1.7 litre capacity is great for family life too.
Best affordable AND stylish kettle