Christmas gonks for 2023 – where to buy seasonal gnomes and how to style them around the home
Christmas gonks have become a major holiday staple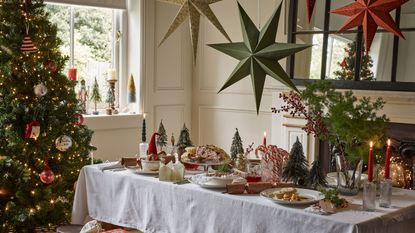 (Image credit: Dobbies Garden Centres)
Christmas gonks were everywhere last year, and it's official: they're back and bigger than ever for 2023! Still, there's more to these little critters than them simply being the must-have Christmas decor of the season.
That's right: when you head out to buy Christmas decorations, it's important to remember that gonks are positively steeped in tradition. 'Inspired by gnomes and hobgoblins, the Christmas gonk stems back to Nordic and Scandinavian mythology,' explains Dayna Isom Johnson, Etsy trend expert.
'I love these funny looking little creatures, they are super cute and who doesn't love a bit of magical folklore at Christmas? They are notoriously mischievous and even have fun traditions like leaving out a bowl of porridge for them over the winter solstice.'
Christmas gonks
On Etsy there are over 18,000 listings for Christmas gonks, which proves just how popular these naughty little creatures have become. Still, if last year is anything to go by, these things sell out fast.
To help you stay ahead of the curve we've been on the look for where to buy these popular festive must-haves, as well as ideas on how to style them around the entire home.
1. Light the way
What a way to extend a warm welcome! One of the best Christmas gonks we've seen, this acrylic gonk Christmas decoration from Argos is holding a lantern, to help light the way into your home.
As such, the standing figuring is ideal to place beside the front door to greet guests. Although, if you don't have a sheltered porch area, out of the wind and rain, it would be just as welcome next to a TV unit or bedside the Christmas tree even – both festive focal points for sure!
2. Deck the windows
Festive decorating is taking over walls and windows this year, thanks to the many brilliant stickers available. And these adorable Christmas gonks are perfect for a friendly Christmas window decorating idea.
The set of Christmas gonks window stickers from Etsy are crafted from the highest quality, ultra-thin removable, and reusable vinyl, which means that they are repositionable, removable, and reusable year after year.
3. Snuggle up with gonks at bedtime
Christmas gonks are taking over our entire homes this year – so yes, prepare to see them in people's ever-increasingly festive bedroom ideas, too.
With a snuggly duvet adorned with gonks, like the reversible duvet set above from The Range, you can add a pop of holiday magic to your slumber space with just one swift change of the bedsheets!
4. Embrace a new garden companion
What a way to extend a friendly warm welcome! This adorable 'Gary The Gonk' design from Festive Lights is holding a spade, to help him get to work on all your favourite cosy garden ideas.
Better still, he's been designed so that he can be stood along your garden, pathways, or nestled snugly within the bushes. You could even pop him close to the front door, ready to welcome guests into your home.
Thanks to his bumblebee design, this is one of those Christmas gonks that can grace your home all year long – which means you can reap the benefits of all of his good fortune even after the holidays have ended!
5. Hang Christmas gonk decorations
This charming Mini Fabric Red Gnome Decoration from Dunelm is just the thing to add a rustic touch to festive trees.
The simple, yet statement, design features a knitted red hat, a white fluffy beard and a sweet little nose. It's the perfect addition to your real Christmas tree, we swear!
6. Hold the door open for all
Invite the spirit of the season into every room, quite literally by choosing a Christmas gonk doorstep to keep the door ajar.
This superb Christmas Sage Gonk Doorstop from Next is ready for the winter in his hat, scarf and boots! And he's more than ready to unleash his inner Hodor (one for the Game Of Thrones fans) and 'hold the door' for one and all.
There's also a gonk draught excluder at The Range which is available in two colourways, meaning you can choose the gonks that best fit your personal style:
7. Fill the hallway with friendly Gonks
These Scandi-style Christmas gonks (available from The Range) are the ideal way to introduce this classic gnome into the more minimalist home.
Perfect for a whimsical winter wonderland decorating theme, they come in a variety of simple neutrals. All you have to do is collect a few to create a curated display with other festive decorations, such as garlands and paper pom poms.
Hallways are a great place for this simple idea, to welcome visitors with a cluster of friendly face.
8. Countdown to Christmas
If you're in the market for some alternative advent calendar ideas, you can't go wrong with this stylish Wooden Christmas Gonk Countdown from Etsy.
Handmade with plenty of love and care, these Nordic designs are guaranteed to bring you some festive fun over the holidays.
And, for everyone championing sustainability, it's important to note that these wooden calendars (which come in three different styles) are perfect to use year after year.
9. Transform your kitchen
Create a captivating corner in your kitchen with a little help from some Christmas gonks.
The Christmas Wonder homewares collection from Dobbies Garden Centre is filled with gonk-emblazoned treasures, including plates, mugs, and glasses, as well as the traditional figurines.
Mix and match a few different designs to give your kitchen a festive makeover, ready for Christmas baking sessions galore.
10. Top the tree with an on-trend gnome
It's no longer about the fairy: the tree topper for this year is the on-trend Christmas gonk. What better way to finish a traditionally dressed tree than with this folklore favourite?
We're particularly fond of this Gnome Tree Topper from Dunelm, if you're wondering...
11. Transform your hot chocolate
Hot chocolate stations are a big Christmas trend this year, so why not combine this with our neverending love for Christmas gonks?
The sweet Gonk Mugs available from The Range (as seen above) are a great way to get the look, as is the Grey Christmas Gonk Doll Lidded Mug from New Look. And there are gonk mugs aplenty available on the high street, too.
It's a brilliant way to add some festive magic to your hot drinks over the winter, not to mention move your Christmas decor outwards from the main point of focus – the Christmas tree!
12. Go for a gonk garland
Elevate the status of Christmas gonks by hanging a decorative garland to capture the attention of all who visit.
Whether you drape it over the fireplace, or use it as a Christmas wall decor idea, this Christmas Gonk Pom Pom Garland from Etsy is available in four different designs, meaning you can choose the one that best fits your own festive colour scheme.
Customisable gonks for the win, we say!
13. Get draping
When setting your Christmas table this year, why not incorporate a Christmas gonk (or two)?
This Christmas gonk runner from Walton & Co has been printed with falling snow and embroidered gnomes, making it a more subtle way to pay homage to these cheeky festive characters.
The red-and-white design makes it a timeless addition to your Christmas homeware collection, in our opinion.
FAQs:
What are Christmas gonks?
One of the country's favourite quirky Christmas decorations, gonks have 'bushy beards that cover most of their faces, a pointed hat pulled over their eyes, and a sweet button nose,' explains Nick Drewe, trend expert at online discounts platform, Wethrift.
'While many are dressed in traditional festive colours, red, white and green, you can find them wearing all sorts of colours to match your home interior.'
What does a Christmas gonk mean?
Christmas gonks are not a new thing, in fact they go back yonks. And it turns out there's more to these bearded little Santa doppelgangers than mere decoration.
'According to folklore, gonks favour colder weather and like to make themselves at home in warm houses, where if the family welcomes them and treats them kindly then they will bring good fortune,' explains Dayna.
'However, if the family does not welcome them or disrespects them in some way they are said to become mischievous, playing tricks and creating misery for humans.'
What does a gonk symbolise?
Notoriously mischievous, there are plenty of fun traditions that surround gonks, who are said to bring luck to the families that treat them well over the winter solstice (and misfortune to those who disrespect them, too).
Many people, as a result, leave out a bowl of porridge and butter for their gonks over the colder months.
This wholesome snack, apparently, will make the creatures happy and ensure good luck in the new year ahead!
How will you be styling your Christmas gonks this year? Whatever you decide, just be sure to show them the respect they deserve.
After all, we could all use a bit of gonk-bestowed good luck come the new year ahead...
Get the Ideal Home Newsletter
Sign up to our newsletter for style and decor inspiration, house makeovers, project advice and more.
Tamara was Ideal Home's Digital Editor before joining the Woman & Home team in 2022. She has spent the last 15 years working with the style teams at Country Homes & Interiors and Ideal Home, both now at Future PLC. It's with these award wining interiors teams that she's honed her skills and passion for shopping, styling and writing. Tamara is always ahead of the curve when it comes to interiors trends – and is great at seeking out designer dupes on the high street.