10 Christmas tree trends that are set to dominate the festive season in 2023
The styles you'll be decking your Christmas tree with this festive season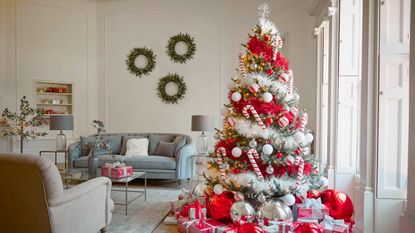 (Image credit: Cox & Cox)
Christmas tree trends are one of our favourite ways to revamp our festive decorations. While many of us will dust off the same decorations year after year, there are always some new ways to decorate by switching up the colour of your baubles or investing in some fun novelty baubles.
To help inspire you, we've spoken to industry experts to find out the biggest Christmas tree trends that are set to be big this year so that you know how to decorate your Christmas tree. We know this year has been tough, the cost of living crisis and inflation have tightened all of our purse strings, but it's not deterring us from going all out with Christmas tree ideas in the upcoming festive season.
We are definitely not the only ones as reports show that Brits are investing in Christmas decorations earlier than usual, with John Lewis reporting 25% increase in decoration sales compared to this time last year and eBay reporting that a quarter of polled people are going to put up their Christmas decorations before December. We're very ready to get on board with the latest Christmas tree trends and start designing our festive pinterest boards.
Christmas tree trends
Whether you're going for a timeless, classic vibe this year or you're up for creating your own traditions with unusual themes, this year is big on character, colour and flair.
'We know Christmas is an important time and customers want to reflect joy in their homes,' says Anna Badger, seasonal designer at Dunelm. 'While some customers want to introduce new themes to their festive decor, many will be seeking out a few special pieces.'
1. Vibrant Christmas trees
If you're somewhat bored of the traditional green Christmas trees, then a coloured tree is a great way to add a layer of visual interest. Originally, seen as a novelty, this year they've been upgraded and could rival some of the best artificial Christmas trees. We saw the coloured tree trend gathering pace last year with shades of pink and white, but this year John Lewis is leading the way launching it's very first coloured trees this year including the Cobalt Sherwood Spruce Christmas tree and a copper Christmas tree.
'Our customers are looking to experiment more with their Christmas decorations, and this includes the tree,' says Lisa Cherry, Christmas buyer at John Lewis. 'Last year, we noticed a demand for alternative Christmas trees as our white tree was a bestseller. We are excited to introduce the copper and blue trees this year which create a 'wow' moment in the home.'
2. Get into the disco tree groove
The kitchen disco trend is a lockdown staple that is going nowhere, building on the current fascination with all things 70s. Now it has been extended into a Christmas disco trend. This look is defined by (surprise, surprise) mirrored, disco ball-style Christmas decorations, iridescent finishes and metallic silver tinsel. We've seen this embraced by everyone from M&S Home to George Home and John Lewis this year.
'Because disco was so popular over the summer, it's only natural that metallics are becoming a big hit this Christmas,' says Jess Martin, Christmas decoration expert at Ginger Ray. 'Many young people are gravitating towards design styles that embody positive vibes as a way to combat the negativity they see in the media. As a result, it's not surprising that the 70s is making a big comeback, with celebrities like Taylor Swift and Harry Styles bringing disco fashion into the mainstream.'
Karen Thomas, head of design for M&S Home, continues, 'A playful approach to the festive season, maximalist designs and eclectic styling with metallic detailing and iridescent finishes. Disco edit offers a contemporary twist on the traditional Christmas aesthetic. Pairing high shine tinsel with neon lighting and shimmer finishes, this story encapsulates a groovy disco-inspired interior.'
Our favourite way of incorporating this trend is by adding the M&S Disco Ball Tree Topper as a fun Christmas tree topper idea.
3. Cosy Scandi style
The cosy 'hygge' aesthetic of Scandinavia is making a comeback this festive season as an anecdote to the wild maximalism of other Christmas tree trends this year.
'The Scandi theme is a more stripped back and neutral look,' says Rachel Miles, head of home & garden at eBay UK. 'It incorporates textures like faux fur and forest foliage, with a focus on simplicity and home-made touches. There's also lots of cosy lighting involved in the Scandi theme, with fairy lights.'
The minimalism of this aesthetic has also given rise to a particular Christmas tree style - the sparse Christmas tree trend. 'A trend we're continuing to see is an increase in sparse trees,' explains Balsam Hill's chief merchandise & design expert, Jennifer Derry.
'Trees combine barer branches with warm lighting to add a festive feel without overwhelming the space. With less dense foliage, sparse trees also allow for you to show off the various decorations you've collected over the years.'
'A great option for those who prefer a more pared-back look, I would also recommend this style of tree for households that have a smaller or darker space. The lack of density in the foliage allows for more light to pass through, so your tree can be enjoyed as much in the day as in the evening.'
4. Traditional and nostalgic
When times are tough, we often look to the good old times and comforting memories of childhood, and what better time to do that than at Christmas? We've spotted classic colourways like red and green and conventional Christmas motifs like reindeer holding their own among the newer tree trends.
'It's been a tough year for many, so I think that this Christmas people will be looking for comfort in nostalgic traditions - opting for either real, or realistic-looking faux fir trees,' Rachel at eBay UK predicts.
'We found that when it comes to trends, classics continue to pave the way, with 34% of the nation using lots of traditional greens, reds and golds to decorate their trees. It also includes those well-known Christmas motifs, from Santa to reindeer and holly.'
The traditional Christmas look is being celebrated by most retailers, including Dunelm as Anna says, 'Inspired by Christmas past, we also have traditional Christmas, featuring traditional textiles and animal motifs, classic hues and antiqued metals bringing classic festive feels to your home.'
5. Quiet luxury
Quiet luxury has been one of the biggest trends of 2023, affecting every part of lifestyle, from interiors to fashion. So it's no surprise that it's being embraced for Christmas too.
'I'm a great believer in less is more when it comes to decorating a tree,' says Chrissie Rucker, OBE, founder of The White Company. 'For a lovely contemporary look – which works particularly well on smaller trees – I love using just one type of decoration.'
This trend is all about pared-back elegance that looks expensive at the same time. Using only one type of decoration, as Chrissie suggests, is the perfect way to achieve just that, giving your tree a curated look. Chrissie's favourite product for realising this decorative style is by using The White Company's Gold Glitter Bauble.
6. Vintage flair
Similarly to the traditional Christmas theme, indulging in vintage Christmas decorations is another way to embrace nostalgia and look to the past.
Another way of embracing this trend is to go for vintage-inspired styles as Danielle Le Vaillant, head of photography & film at Cox & Cox, suggests, 'The pearly elegance trend is brimming with old school elegance and vintage charm. With a palette of soft gold, cream and white, drape your tree with elegant strings of lustrous pearls, blush and gold Christmas decorations, antiqued baubles and a glorious glittered pearl tree topper. Bring in a sumptuous jewelled garland and vintage lace ribbon for a luxe finish.'
7. Autumnal Christmas
The introduction of John Lewis's copper tree from its Christmas Cottage theme also brings an unusually autumnal feel to Christmas decor, seamlessly blending autumn with winter, which we actually love.
'We've seen a high demand for autumnal decor this year, with customers loving our autumn leaves wreaths,' Lisa at John Lewis adds.
This year, John Lewis introduced six Christmas decorating trends. And it's the Christmas Cottage theme, filled with nods to autumn including mushroom motifs, copper hues and checked patterns, that is enjoying the most popularity with customers. It is also filled with
8. Wonkacore
One of the most anticipated movie releases of the year is Wonka, released in December ahead of Christmas and starring Timothée Chalamet as the young founder of the famous chocolate factory. This has given rise to a new Christmas decorating trend coined 'Wonkacore'.
Filled with bright stripes and delicious candy cane motifs, this trend captures all the child-like whimsy and wonder of Christmas.
'This season we have a fantastic over-the-top new trend which fits perfectly with "Wonkacore" - which is picking up momentum as we get closer to Christmas and the new film release,' says Danielle at Cox & Cox. 'With good cheer and a jolly scheme of candy cane stripes, this family look conjures up the holiday spirit you see in the movies.'
And Cox & Cox has just the thing to conjure up the look with their Supersized Hanging Candy Canes.
9. Frosty Wonderland
One of the big Christmas tree trends for this year is this cool, wintery look. Bringing together a classic winter colour palette, this is one for lovers of a magical, snow-covered Christmas and plenty of sparkle too.
This trend can be embraced both with the tree itself, opting for a snow-effect covered artificial tree or Winter Wonderland-style decorations. Or both.
'One in ten people say they prefer a Winter Wonderland motif, with various tones of blue and lots of glitter,' Rachel at eBay UK says.
10. Handicraft decorations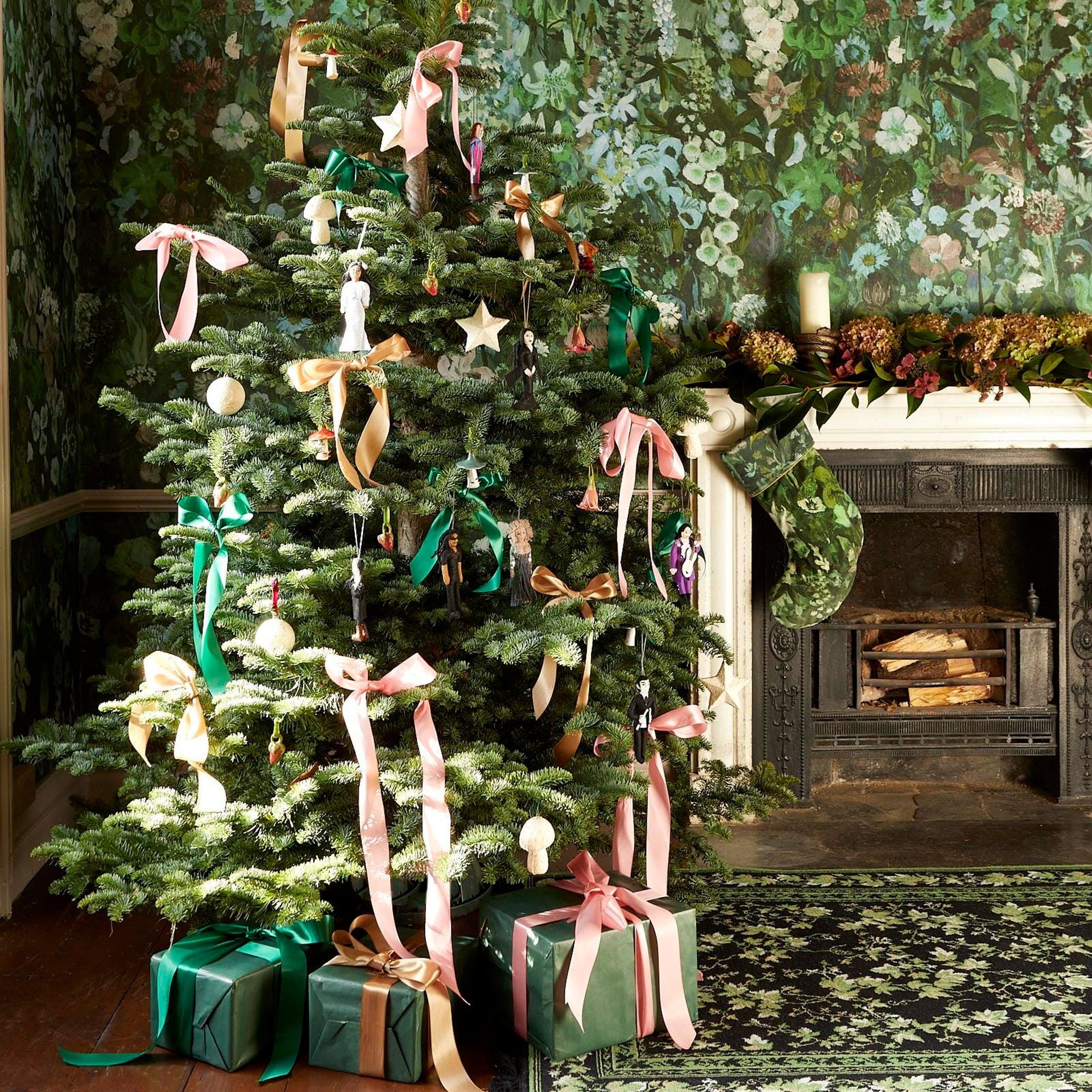 The last but perhaps the biggest of Christmas tree trends on our list for 2023 are hand-crafted and personalised Christmas decorations. And as the word 'personalised' suggests, this is a very subjective trend that can take on many different forms, reflecting your own meaning, style and memories. This is also the perfect budget Christmas decorating idea.
One idea comes courtesy of lifestyle expert, author and creator of Hill House Vintage, Paula Sutton, who is going to be decorating her tree with ribbon cut-offs this year.
'When it comes to decorating presents this year, we're using white paper with the glitz of ribbons to wrap gifts - it's a cheaper option that's for sure. Those ribbon cutoffs are going onto the tree to add metallic fractions amongst the green. Then, save those more perfect ribbons from the gift wrapping to go on the tree on the special day.'
Rachel at eBay UK adds, 'At eBay, we're seeing a shift in shoppers looking for decorations and gifts that have meaning behind them - this year it's all about quality not quantity. Personalisation is a great way to add that special touch, it could be in the form of adding pictures of the grandchildren to baubles to give to nan and grandad or doing a bit of DIY and embroidering names onto some beautiful vintage stockings.' The world is your oyster really.
Alternatively, paper Christmas decorations like Dunelm's Boho Round Paper Decorations are a great way of partaking in this crafty trend.
FAQs
What colour Christmas tree is in this year?
There are two rather contradicting Christmas tree colour trends this year. But they are both equally as prominent. One is going for a coloured tree such as John Lewis' copper or blue trees.
'The copper-coloured tree fits perfectly within our AW23 home collections as it compliments our colour of the season - damson,' says Lisa at John Lewis. 'As for cobalt blue, this is one of the trend colours we have seen within interiors throughout 2023.'
The other trend is opting for a tree that is either real or very realistic-looking and therefore green, which goes hand in hand with the traditional Christmas trend.
What is the new Christmas tree trend?
Perhaps the newest addition to the traditional Christmas themes we see year in, year out is the Wonkacore trend inspired by the soon-to-be-released Wonka film about young Willy Wonka. Candy cane stripes, bright-coloured stripes and candy motifs in general are all fair game this year.
'If you only want to dip your toe into this trend, opt for our candy cane wrap and striped tree bows; an effective and affordable way to experiment with a new theme because you can overhaul your whole tree subtly with the tree bows - and finish at the base with complementing parcels,' says Danielle at Cox & Cox.
Merry Christmas and happy Christmas tree decorating!
Get the Ideal Home Newsletter
Sign up to our newsletter for style and decor inspiration, house makeovers, project advice and more.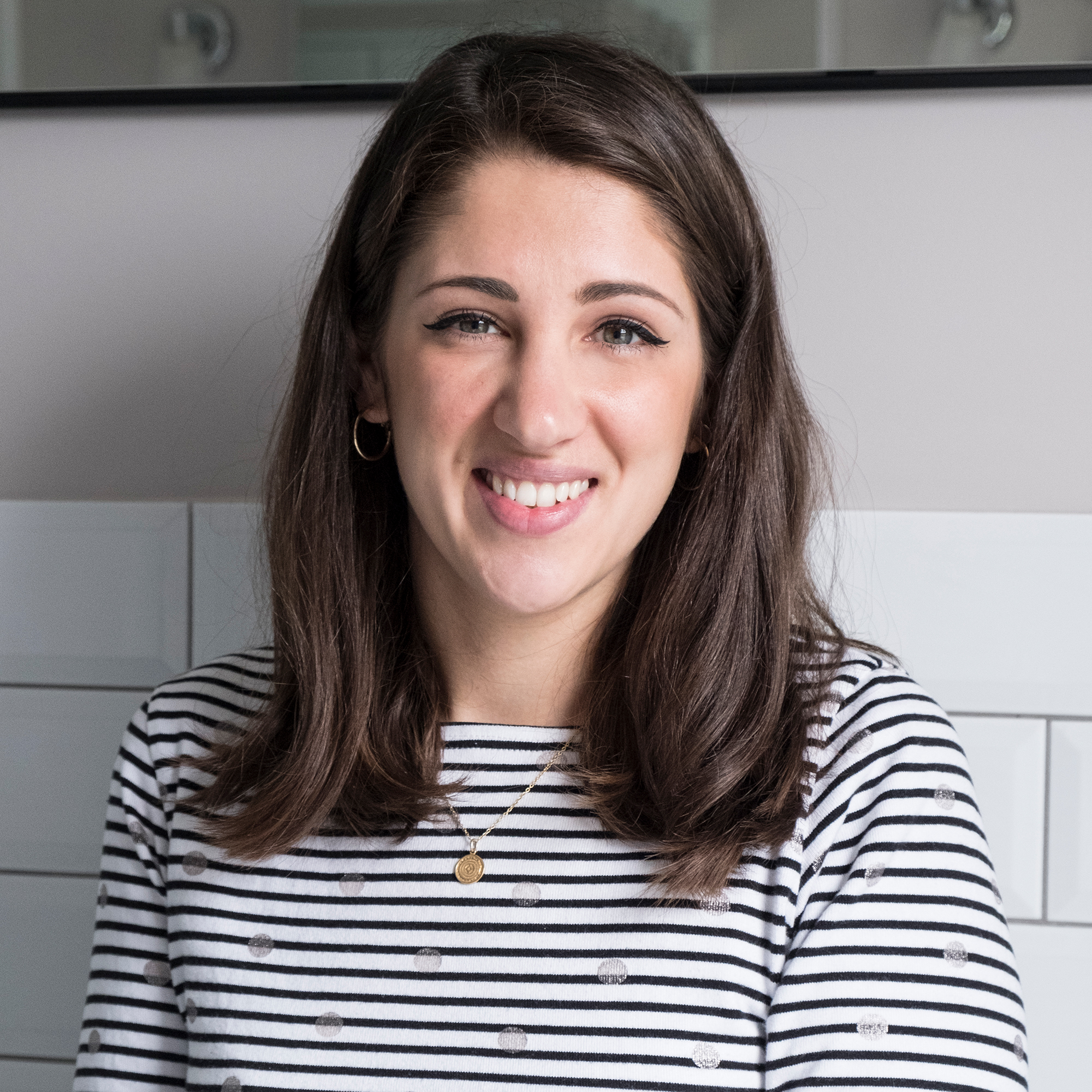 Holly Walsh has been Content Editor at Ideal Home since 2021, but joined the brand back in 2015. With a background of studies in Interior Design, her career in interior journalism was a no-brainer and her passion for decorating homes is still as strong as it ever was. While Holly has written for most of the home titles at Future, including Livingetc, Country Homes & Interiors, Homes and Gardens and Style at Home, Ideal Home has always been her ideal home, and she can be found sharing her expertise and advice across both the printed magazine and the website too.