How to organise a small kitchen - 16 ways to make the most of your space
Maximise your space with these tips and tricks on how to organise a small kitchen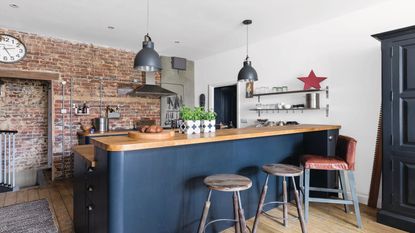 (Image credit: Future PLC/Chris Snook)
Due to the lack of space in a small kitchen, organising it is essential to allow your small kitchen ideas to not be overwhelmed by unnecessary clutter. With space at such a premium you need to be creative with how to organise a small kitchen and there are plenty of tips and tricks that will allow your space to be multifunctional and work as a place to cook, eat and socialise without compromising on style.
Melissa Klink, creative director at Harvey Jones, emphasises that having a smaller kitchen doesn't mean you can't create a space you love. 'Smaller, compact kitchens can still be functional and there is no need to miss out on the features you like; the space purely requires a bit of extra planning.'
How to organise a small kitchen
With a kitchen of any size but specifically a smaller kitchen with small kitchen problems, an easy way to organise your space which people often overlook is to have a thorough clearout. Be cutthroat about it and throw out anything you don't need or want and make sure to check those sell-by dates.
1. Store recipe books on high open-shelving
Over the last year, open shelving has risen in popularity as a smart way to display kitchenware. While they look gorgeous styled with trinkets, they can also be an effective way of squeezing in extra small kitchen storage ideas for less-used items when organising a small kitchen.
The trick to making it work is squeezing the shelves into locations that are too small for a cupboard but there is still wall space that could be utilised. For example the small gap between the wall and a window, above a cabinet or as shown here running along the top of a splashback. The only restriction is how safe it is to access so make sure you're able to reach anything down with the help of a handy step stool.
Al Bruce, founder of Olive & Barr advises, 'Items that you don't use often like special occasion crockery and baking supplies can easily be stored out of the way above kitchen cabinets. You can use baskets or boxes that match the décor of your kitchen to keep everything neat and tidy, avoiding clutter.'
2. Keep your fridge in check
Having an organised kitchen is important in creating a space that allows you to cook and prepare food. Since fridge space is often at a premium in small kitchens knowing how to organise a fridge is essential to prevent you from buying unnecessary duplicates or running out of essential items.
Break down your fridge based on the upper shelf, middle shelves and lower shelf. Your upper shelf should be reserved for foods that don't require cooking, your middle shelves are perfect for dairy items and your lower shelf is the coldest part of the fridge so great for storing raw meat and fish.
Reserve your drawers for vegetables and fruit and your door shelves for condiments and juices due to temperature fluctuations. Take your organisation skills a step further by using clear storage containers which will make it even easier to see your food and reduce waste. John Lewis sells a great collection designed by the organising duo the Home Edit.
3. Cut down on appliances with an instant hot tap
An instant hot water tap is not only a top trick on how to organise a small kitchen, it is also a great kitchen space saver. Countertop space in a small kitchen is often lacking so every inch counts and if you have multiple appliances out on display it can make your kitchen feel cluttered and affect the ease of use. Hot water taps work just as well in traditional and modern properties.
Michael Sammon, managing director at Wödår, says 'Electric kettles are subtle space stealers. In a kitchen where every centimetre counts and cupboard room is sparse, losing 5 inches and a power source can quickly become a problem. Instant hot taps immediately free up room and are cheaper to run than a stovetop or electric kettle; they also help you avoid overfilling so save water.'
4. Make use of hooks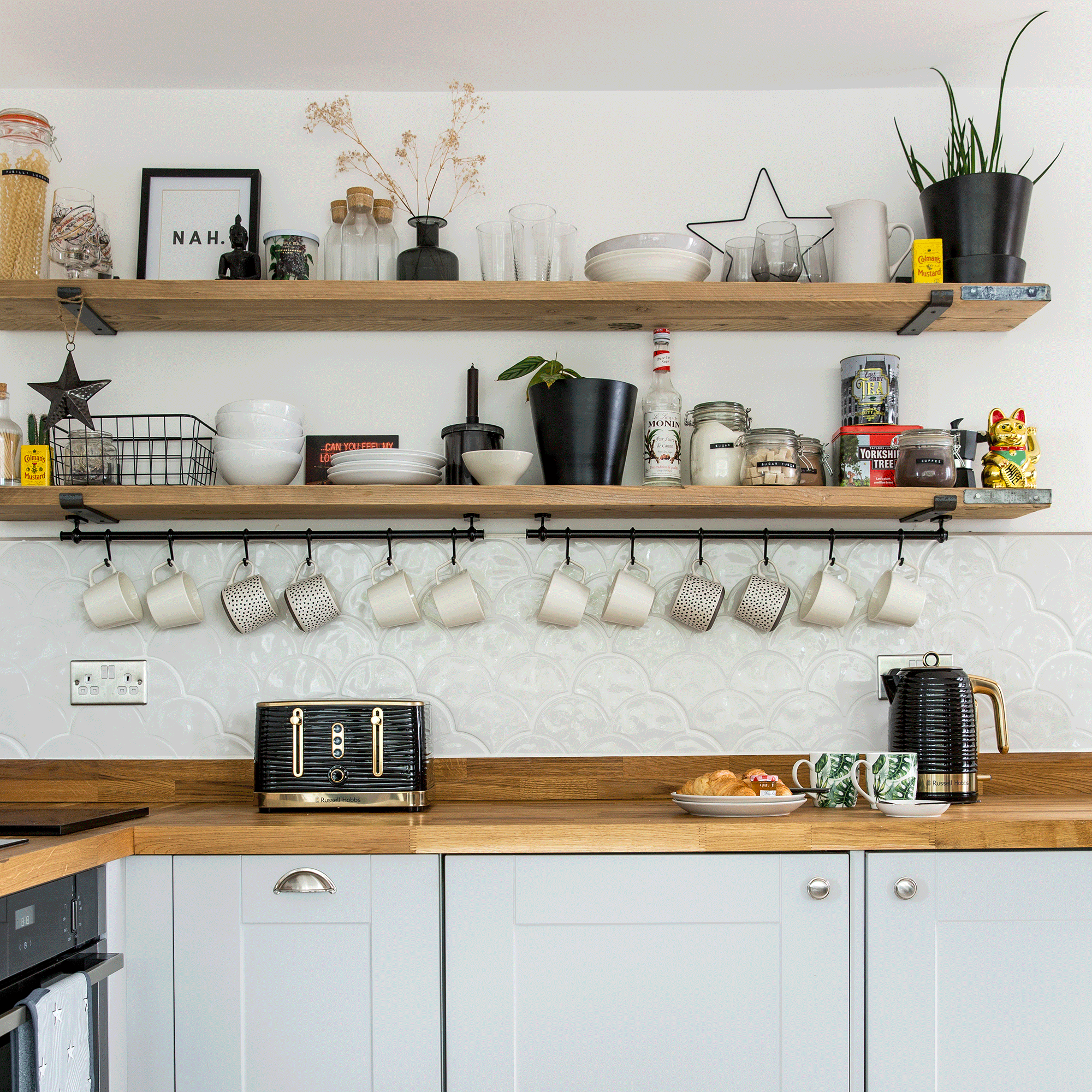 Hooks are worth considering as part of your kitchen shelving ideas. Hooks are easy to install and can be stuck or drilled into your wall providing both a practical and decorative element. Don't be afraid to hang hooks in a variety of places, from your splashback to the sides of cabinets or the underside of shelves.
'When you're a little short on storage space, one of the most creative (and homely) solutions is hooks — and the best part: you can hang them anywhere to store anything. They can turn your apron collection into textured wall art, your chopping boards into wooden focal points and your backsplash into an untapped storage spot, all while freeing up some other space too. You can use baskets or boxes that match the decor of your kitchen to keep everything neat and tidy, avoiding clutter,' advises Al Bruce from Olive & Barr.
5. Create your own larder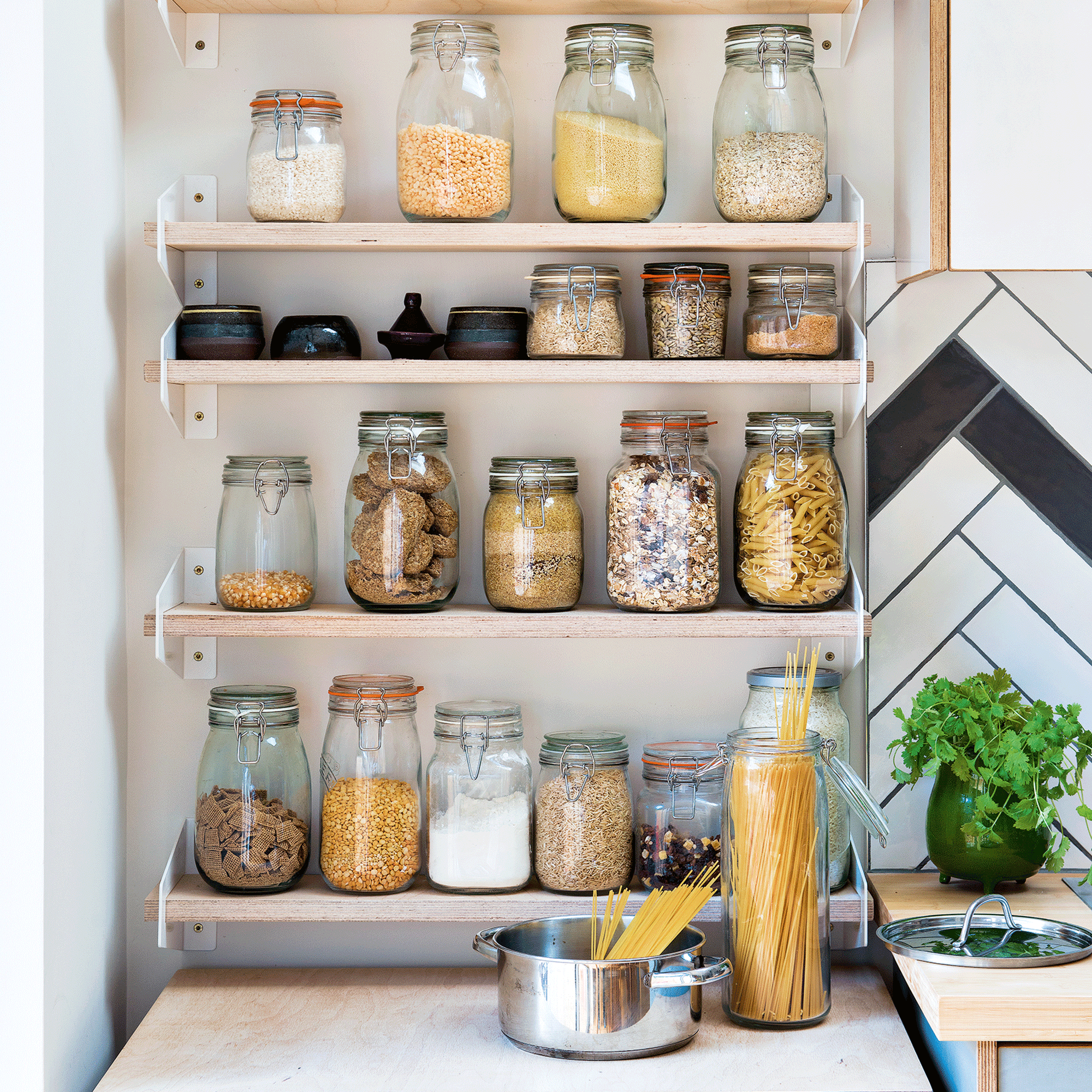 When thinking about small kitchen layouts, a larder is a feature that is often associated with larger spaces. But even in the smallest nooks and crannies you can create a stunning larder to suit your kitchen and its needs. Organising your food within a larder is a great way to take stock of the items you have and they often come with drawers, pull-out baskets, shelves and racks which makes it easy to keep your products in order.
'You need to think vertically and create as much extra storage space as possible by utilising the height of your walls,' recommends Al Bruce from Olive & Barr.
'Larders maximise space in every kitchen regardless of size, from slimline full-length single units to double larders that stow away bulky electricals such as microwaves, toasters or even your coffee machine, the possibilities are endless. If a larder isn't an option, think about opening up creating form and function with open shelving. Simply use mason jars to create your own stunning storage solution by placing them in shelves on your blank walls.'
6. Create a bar area
The kitchen is an area that is no longer just for cooking, but is also the social hub of the house. So having a dedicated bar area will save you from hunting around the kitchen struggling to find where you put that bottle of gin and the glasses to go with it when a friend drops by.
Even in a small kitchen you can still create the bar of dreams with a streamlined bar cart that won't be obstructive to your space. There are also the options to create a wine holder in the slim gaps between cabinets, or take over the lower shelf of a cabinet and transform it into your own hidden bar. A deep drawer with flexible dividers acting as draw organisers will allow you to keep your bottles together without the risk of them toppling over.
Take inspiration from kitchen shelving ideas and use your shelves to house your favourite bottles and glasses, but be careful to not place the shelf so high that you struggle to reach it, or this could lead to some unfortunate breakages.
If you want a bar area but don't want to have it on show, consider creating your own little hidden bar, by using a sliding door to tuck away all your bottles and glasses to provide a polished look when the bar is not in use. Then surprise any guests and pull back the door to reveal your stash when someone asks for a drink.
7. Make better use of wall space with hanging rails
It always seems to be, in any room for that matter, that our walls are never put to best use, particularly higher up. In a small kitchen, it makes absolute sense to utilise the full breadth of an available wall for kitchen storage ideas. Provided they don't impede access to a cupboard unit or an appliance, hanging a rail, or several rails, is a quick and affordable way for how to organise a small kitchen.
Use them to hang baskets where you can store everyday food essentials, such as eggs and herbs. And in the lower portion of the wall, display fruits to entice your little ones to grab a snack. Pop on some hooks and you can also use them to hang your oven mitts, tea towels and utensils.
8. Carve out storage spots in forgotten spaces
Have a look around your space and try to suss out if there are any voids or hidden areas within the walls that you could adopt to help with how to organise a small kitchen. A great first place to consider is underneath your stairs. Can you access it from the kitchen? Or perhaps it's not far down the hall? Either way, with some clever carpentry, you could transform it into a pantry with shelves, hooks and racks.
Yours truly here did just that, and now has a fully fledged – and neatly organised – pantry under the stairs, complete with lighting and a new full-height door. A space that was once redundant has been turned into usable space, invaluable in a small kitchen layout.
9. Keep everyday items on display for quick access
Transfer all your dry goods; nuts, cereals, flours, sugars, pulses, pastas and so on, into glass airtight jars and position on shelves, with the more frequently used items closer to hand. It's a good idea to label and date the jars so you know the lifespan of the goods, too.
Whether inside a pantry for you to see, or placed on open shelves visible to all, they're a smart budget kitchen idea for making an eye-catching display. Not only does it look great, it will also save you space by not having to accommodate mismatched sized boxes and bags.
10. Adopt a moveable trolley for overflow
This idea for how to organise a small kitchen is a great one with a dual purpose. Neatly sized and moveable, a trolley on wheels immediately becomes a handy place to store everyday items that you'll grab frequently, such as cutlery, a tea towel and glassware. IKEA now sells a smart chopping board that sits neatly on top allowing you to even turn a trolley into a small kitchen island idea.
Yours truly here, keeps one of these in the bottom of the pantry, which can be wheeled out and positioned next to the oven when cooking. It's packed full of spices on the top, store-cupboard veg in the middle and tin cans on the bottom. Super handy!
11. Think about adding a slimline run of units
Whether you're embarking on a total refurb or just want to update an area of your kitchen, you could think about installing a slimline worktop with cupboards. When storage is at a premium, you still want to be able to maximise your cabinetry space, but you don't want the room to feel oppressive. How you can ensure that you are still able to make a small kitchen look bigger is by adding a slimline worktop with base and wall cupboards, rather than the standard depth. It will give you plenty of storage space, whilst making the room itself feel wider.
If you plan ahead with how to organise a small kitchen, you could also include tuckaway bar stools, saving you from having to take up valuable space with a table and chairs.
12. Put the corners to work with nifty racks
Smaller items can end up being the most difficult to store and keep orderly. It can become a challenging task for how to organise a small kitchen when there are lots of spices, mini bowls and pots to house.
The humble, inexpensive rack is one the best kitchen space savers and you should try to pop them just about anywhere there is 'dead' space. The internal side of cabinet doors, the underside of cupboard shelves and the corners of worktop spaces are all crying out for racks and baskets. Wooden, plastic, or metal, these handy helpers are a quick way to get organised.
In particular, slot racks are really useful for tidying up awkward items such as saucepan lids and chopping boards that often end up piled on top of each other, only to cascade out onto the floor upon opening the cupboard door. One of these racks will keep everything lined up neatly, a bit like a toast rack, and stop things from rattling around. Repeat after me: "racks are my friends."
13. Welcome multifunctional furniture
When you're thinking about ideas for how to organise a small kitchen, don't forget to consider furniture you may have elsewhere in your house that you could put to use.
Let's say the corner of your kitchen is a bit tight, it actually feels a bit redundant like you can't fit anything kitchen-specific in it. It's too tight for any small kitchen table ideas and it's definitely too small for additional cabinetry. But think on it further, and you may realise that you could bring in the shallow bookshelf from the lounge and use it as open shelving in your kitchen.
Put it to work housing your favourite cookbooks, everyday items – glassware, dry goods, plates and bowls – keeping them in easy-reach and also add some baskets for odds and ends. Before you pile everything on, first think about what items you use and when. You don't want to be bending down to the bottom shelf for your daily water glass when it would be better suited on the middle shelf. Not only will you be organising your items, but you'll be saving yourself time moving about the kitchen, too.
14. Store non-essentials on the top of cupboards
Remember that gizmo for peeling bananas? Or maybe the egg chopper and pineapple spiralizer that are currently buried in a drawer under other non-essentials?
It's time to get ruthless and have a thorough clear-out. Too many items, especially those that you rarely use, will make a kitchen feel cluttered and can make you feel overwhelmed and stressed – not conducive to culinary creativity.
So when thinking about how to organise a small kitchen, one of the earliest things you should do is sort and donate anything that you no longer use or want (but is still intact and usable) to charity. Put other items that you don't use regularly, but want to keep, in a box and place it on top of a wall unit.
These items, though there shouldn't be that many, are useful enough not to be tossed, but don't need to be accessible every single day. Kept high on the top of the cabinetry, they'll be on stand-by for when you do need them.
15. Invest in pull-out storage
If you have a small kitchen and are starting to think about having a makeover, then you'll be pleased to know that there are plenty of storage solutions that you can have cleverly built into the cabinetry. From tall, larder-type units to smaller under-counter options there are plenty to choose from. You can also invest in nifty rotating and oscillating types that store items in the recesses and otherwise void areas under worktops.
When planning how to organise a small kitchen, think about which items you use more regularly and also the weight of them. You don't want to be reaching overhead for a heavy food mixer, so pop that on the bottom shelf and keep glassware, crockery and other frequently used items mid-way and closest to you, for ease of access. Items used less often can be popped on the top shelf.
16. Hang shelves wherever you can fit them
Removing wall cabinetry to create a more open and airy feel to kitchens shows no sign of wavering any time soon. But whilst it is aesthetically pleasing, this style-move does pose a storage issue; you just won't have enough space, especially in a small kitchen. Cue shelves – and plenty of them!
Hanging shelves where the cabinets once were, will still give you the airy, spacious feel you want to achieve, but will also give you plenty of storage for all your cooking essentials. It's a win-win situation.
Whilst you're at it, you can also have a go at styling the shelves with art, favourite culinary pieces and other trinkets. Need we remind you of the popular hashtag still doing the rounds (#shelfie – in case you've been living under a rock these past two years)?
How do I organise my small kitchen with a lot of things?
There are plenty of DIY kitchen ideas that will help you make your small kitchen work harder and store everything you need and look good.
'Good use of different storage styles with a mix of door units and pull-out units is a must in smaller kitchens to ensure the available space works to the max. A walk around island unit with large, deep drawers is ideal for storing larger items such as pans and crockery and a mix of open and closed tall larder units can provide ample space for essentials and display items, while creating a more spacious feel than a full run of closed units.
'Multi-use open shelf units are useful for storing items which are used at every mealtime. We all have that frequently used bowl or saucepan, and it's helpful for these items to be convenient and close at hand. Open shelving also helps ensure smaller kitchens feel more spacious and easier on the eye,' recommends Richard Turner, national sales manager for Pronorm.
How do you arrange things in a small kitchen?
'In a small kitchen, how you arrange things not only impacts how easy it is to cook and actually use your kitchen, but impacts how your kitchen looks and how neat and tidy it is' says Karl Huckerby, cleaning and organisation expert from Spare and Square.
'Arrange your kitchen into sections. For example, your coffee machine or kettle should be placed in the same vicinity as your coffee pods, tea, sugar and everything else you need to make your hot drinks. Similarly, your cleaning products should be arranged neatly underneath your sink (or in another cupboard away from food produce), to keep them all together in one place and away from contaminating anything else.'
How do I store appliances in a small kitchen?
You don't want to hide the electric hand mixer at the back of a cupboard only to revert to a manual whisk every time you're preparing eggs, just because you can't face removing every item in the cupboard to get to it. So think practically about where to store items when deciding how to organise a small kitchen.
Alex Main, director at The Main Company recommends, 'Large, deep drawers and cupboards are ideal – but keep them to lower cabinetry. Avoid storing large, heavy items up high and instead store them in deep drawers that are easy to pull out. Items such as cooking appliances, frying pans, utensils and crockery are great for keeping in drawers. Make the most of the space inside your drawers with organised partitions to break up cutlery and miscellaneous items. In cupboards, include drawers that pull out so you can easily reach the back to make everything more accessible. This is particularly effective with corner cupboards.'
Get the Ideal Home Newsletter
Sign up to our newsletter for style and decor inspiration, house makeovers, project advice and more.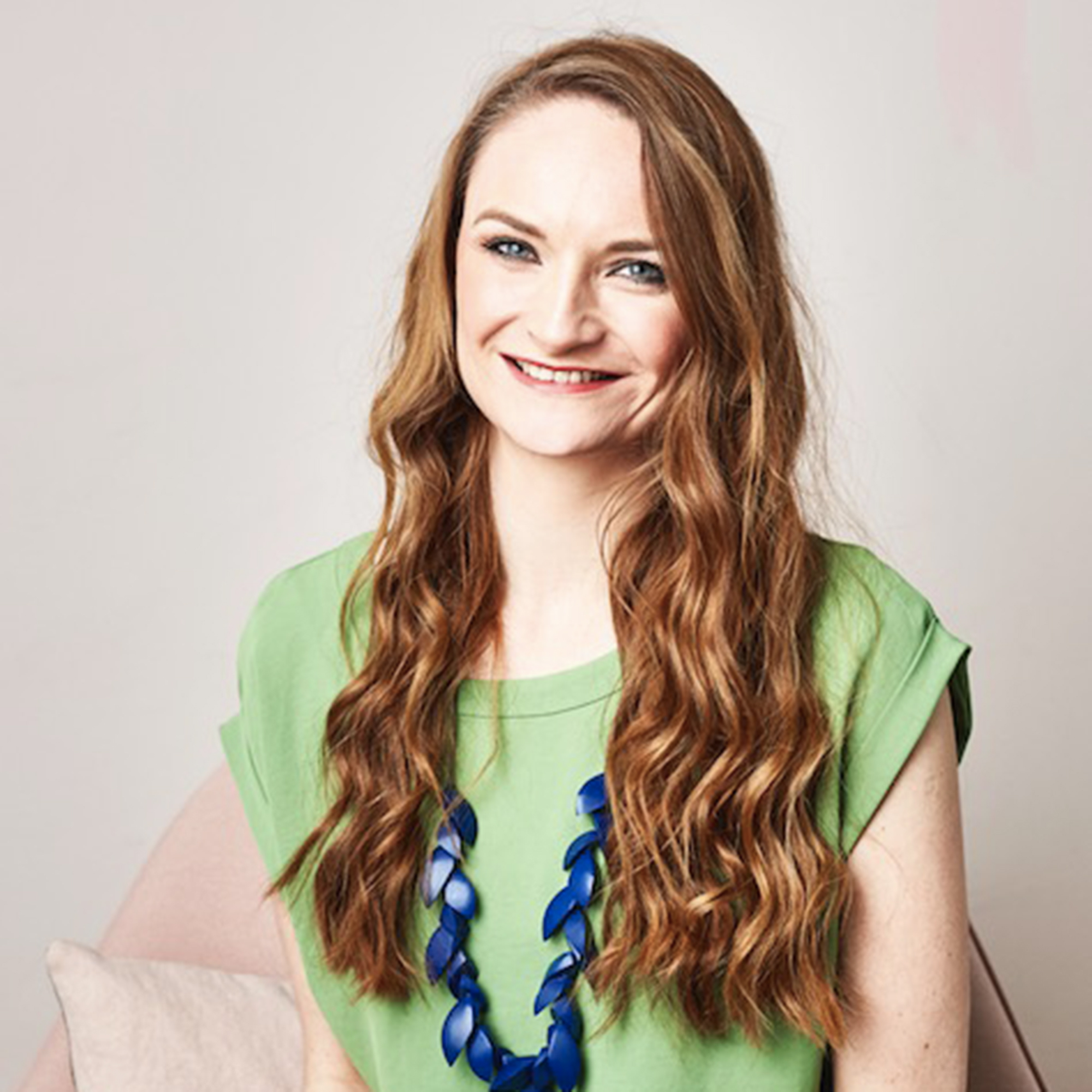 Lizzie is an experienced and highly-regarded freelance writer and editor, specialising in interiors and women's lifestyle. She has been producing inspiring content for print and digital platforms for over 15 years, having worked with some of the UK's leading brands. Most proudly, she is the former Editor for Style at Home, but has also held the reins for Grand Designs, Homemaker and House Beautiful during her exciting career. Brimming with ideas, Lizzie is passionate about all things interiors and loves nothing more than bringing real home stories to life through creative content work that will inspire others.