Paint ideas for kitchen cabinets - all our favourite shades and styles
From bright and bold to nice and neutral and everything in between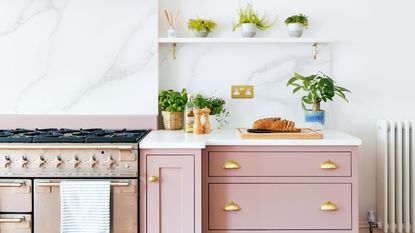 (Image credit: Future PLC/James French)
When designing - or redecorating your cooking and dining areas it can feel like there's a never-ending list of decisions to be made. One of the more fun things to consider is what paint ideas for kitchen cabinets you're going to go for.
Rather than investing in new cabinet fronts, paint is a budget friendly option to give them a revamp. As with all kitchen paint ideas there are colours and finishes to suit every style. Super contemporary space? Maybe you're looking for a gloss white or dramatic black. Quaint country cottage? Perhaps you're checking out buttercup yellows and sage green.
Whichever type of home you're putting your painted kitchen cabinet ideas into, there are a few things to bear in mind across the (chopping) board.
'When choosing a paint colour, make sure you've tested it within the room itself,' advises Helen Shaw, Director, Benjamin Moore UK. 'Differences in light can hugely affect the nuances of a colour – for better or for worse.'
'Think about what purpose each room is used for and use a little colour psychology to guide your choice in main colour. Dynamic spaces such as kitchens lend themselves well to bolder colour choices. I love rich spice colours in kitchens to reflect flavoursome foods and get mouths salivating before the food prep even begins.'
So whether you're ready to go bold or are tempted by a pretty pastel or classic neutral, there's bound to be the perfect shade for you.
Paint ideas for kitchen cabinets
'There are really no rules when it comes to colours for painted kitchen cabinet ideas,' says Francesca Wezel, Founder, Francesca's Paints. 'I personally think orange, green, dark blue and pink work well, but it all depends on personal preference.'
'The important thing is to get a balance – nothing too overpowering and nothing too underwhelming.'
1. Get pretty with pastels
Pastel schemes are a wonderful way to add joy and light into a space - and they can work very well for kitchen ideas.
Keep things on the grown-up side and choose slightly duskier pastels, those with tones of grey. This will stop things becoming too sickly sweet. Mix and match shades across your paint ideas for kitchen cabinets, island and walls, to create a pretty and unique finish.
2. Choose a heritage shade
'Choose heritage colours for country kitchen ideas,' suggests Alex Main, Director, The Main Company. 'Add wood pieces for contrast – wooden accents can add warm colour that has character and charm.'
'There is nothing quite like the warm rustic colour and texture of reclaimed wood, mixed with encaustic tiles and some copper tones.'
3. Go light and bright with white
White kitchen ideas are a classic choice, and it's easy to see why. The light and fresh finish feels clean and bright.
Plus, white cabinetry means you've got the perfect neutral backdrop to start introducing pattern and colour elsewhere. Think a patterned splashback or consider some brightly coloured kitchen island paint ideas.
4. Stretch the room with a matching wall
'If you're working with small kitchen ideas and you want to make it feel airier, matching the colour of the cabinets with the adjoining wall will 'stretch' your room making it feel wider,' explains Charlotte Radford, Senior Product Manager, Valspar.
'Another tip is to choose a shade such as bright yellow as it will make your room look larger and brighter. If you want to take a bold step further, paint your kitchen chairs in the same colour as your wall and cabinets with a contrasting table to create a focal point.'
5. Go dark and dramatic
'Dark colours are becoming more mainstream in kitchens and we find that this adds drama, strength, and solidity to the space,' notes Justyna Korczynska, Colour Consultant, Crown.
'A versatile look, it also can portray an edginess in your interiors. Black also has the ability to put a contemporary spin on even the most traditional looking space or furniture.'
'If you incorporate black into your kitchen scheme in a subtle way such as painting kitchen cupboards it will give the scheme definition and add depth to the room without having to completely change the space.'
6. Create vibrancy with brights
According to colour theory, bright shades are naturally energising - meaning they're fantastic in places like a kitchen. After all, when you come in groggy in the morning waiting for your caffeine to kick in, some brightly painted cabinetry is sure to start the day off right.
7. Consider your finish
'Semi-Gloss cures to a smooth, finish and its glossy look makes a great finish for kitchen cabinets,' recommends Helen from Benjamin Moore. 'It has a higher sheen level than satin. Meaning that it is more reflective, with extra levels of luminosity that make it suited to highlight any architectural details, but is not so difficult to handle as high gloss.'
'Many interior designers and adventurous homeowners like to experiment with high gloss paint. However, you need to keep in mind that these paints require extra careful application and preparation. It's important to prime surfaces to ensure they are even and clean prior to paint application. Since a gloss finish reflects light and accentuates blemishes, you should avoid using it on areas that are not completely smooth.'
8. Co-ordinate with your tiles
Above all with paint ideas for kitchen cabinetry, it's important to remember that they don't sit in a vacuum. One of the number one riles of what not to do when designing a kitchen is not take the time to work out how each area sits with the next.
Your splashback, for example, is bound to sit between, above and maybe even below cabinetry. Choose a co-ordinating colour for a considered and cohesive finish.
9. Colour drench for impact
'A fun and easy way to transform the kitchen is to paint your shelves or cupboards in a bright colour,' suggests Justyna from Crown. 'You could even paint the corresponding wall in the same effect for maximum impact.'
Colour drenching may be something of a trend right now, but it's certainly an impactful one. If you don't want to make everything the same colour, break up the paint ideas for kitchen cabinets and walls with a different shade of worktop.
10. Express yourself
There are no real rules for what to paint your cabinetry. For an individual approach, ignore all the common shades of white, blue and green and chose a colour which reflects your personality.
Purples, pinks, neon orange... if you love it, then get painting!
What is the most popular colour for kitchen cabinets?
'Like elsewhere in the home, colour choice is largely a personal decision,' says Helen from Benjamin Moore. 'However, by updating kitchen cabinetry, you can create a focal hue for the rest of the room to be styled around.'
'Popular colours for cabinets continue to be rich navy blues and forest greens, both being versatile and durable in industrial styles or Shaker-style kitchens. For a more pared back look, neutrals with pink and red undertones are currently taking over from more traditional cooler grey tones.'
'Pink kitchens are very popular at the moment!,' adds Francesca from Francesca's Paints. 'Pink is a flattering, versatile colour, it can invigorate and uplift a space and works equally well in both classic and contemporary settings. Orange, yellow and green are also trending.'
Should kitchen cabinets be lighter or darker than walls?
'In general, I would opt for darker, but again there are no rules,' says Francesca from Francesca's Paints. 'A new trend is to paint the bottom kitchen cupboard colour a different shade from the top one – with the bottom cabinet usually being darker.'
'We're also seeing pops of bright colours in a white kitchen,' adds Helen from Benjamin Moore. 'With lower cabinets painted in a statement colour, drawing the eye and creating a focal point.'
How durable are painted kitchen cabinets?
'Kitchen cabinets and islands work incredibly hard and are subject to the bumps and scrapes of a busy household, so it is important that your chosen product is up to the job,' notes Helen from Benjamin Moore. 'Preparation is also very important when it comes to durability. Take time to do the job properly.'
'In terms of finishes, eggshell is one of the most popular, offering low levels of sheen for a smart contemporary finish. Satin finishes are durable enough to wipe away finger marks or stains to ensure a long lasting and fresh look. If you prefer a more reflective finish opt for a semi-gloss or gloss paint.'
Get the Ideal Home Newsletter
Sign up to our newsletter for style and decor inspiration, house makeovers, project advice and more.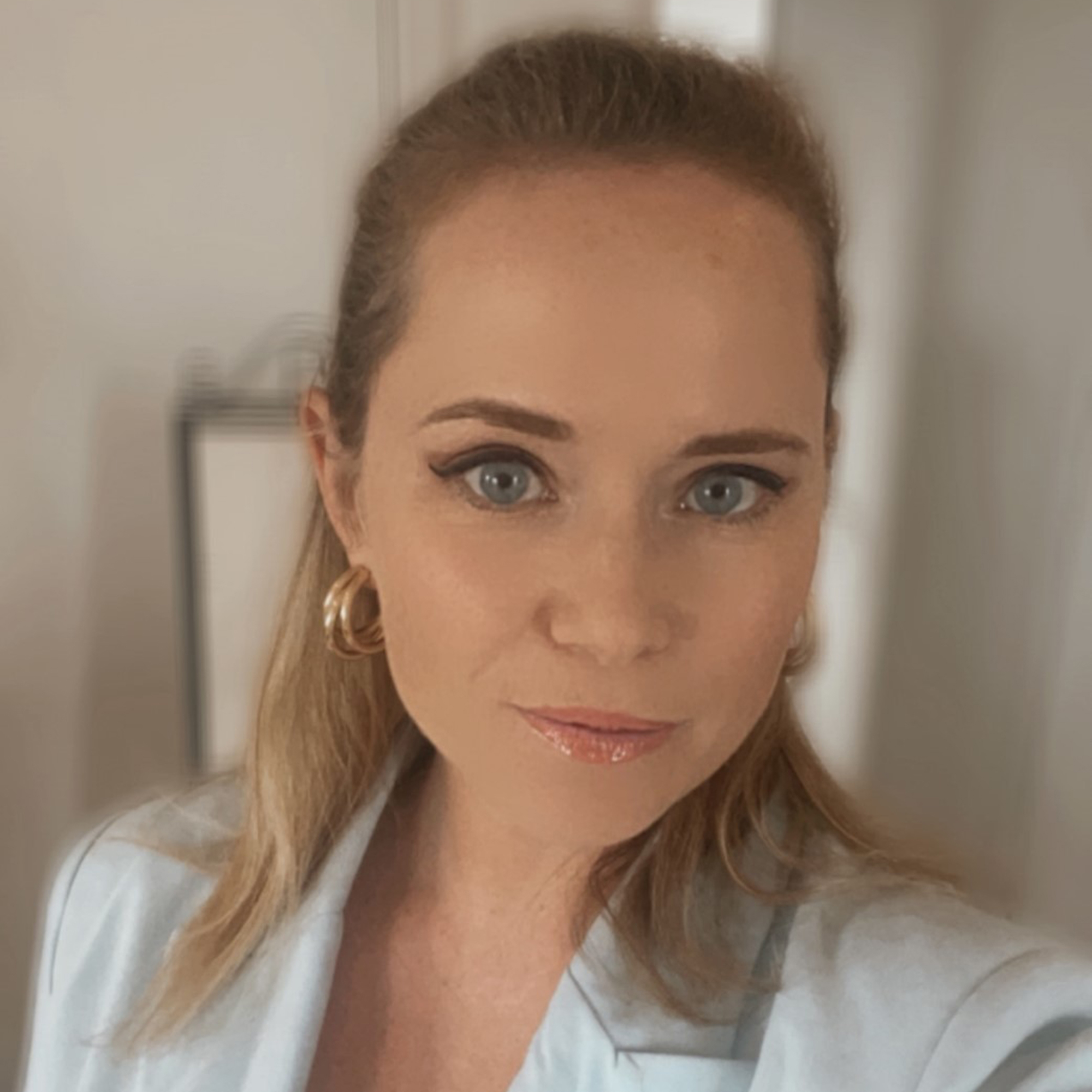 Thea Babington-Stitt is the Assistant Editor for Ideal Home. Thea has been working across some of the UK's leading interiors titles for nearly 10 years.
She started working on these magazines and websites after graduating from City University London with a Masters in Magazine Journalism. Before moving to Ideal Home, Thea was News and Features Editor at Homes & Gardens, LivingEtc and Country Homes & Interiors.