Kitchen extension ideas – to maximise the potential of your extended space
If you're struggling for space, creating a larger kitchen with a new extension could be the answer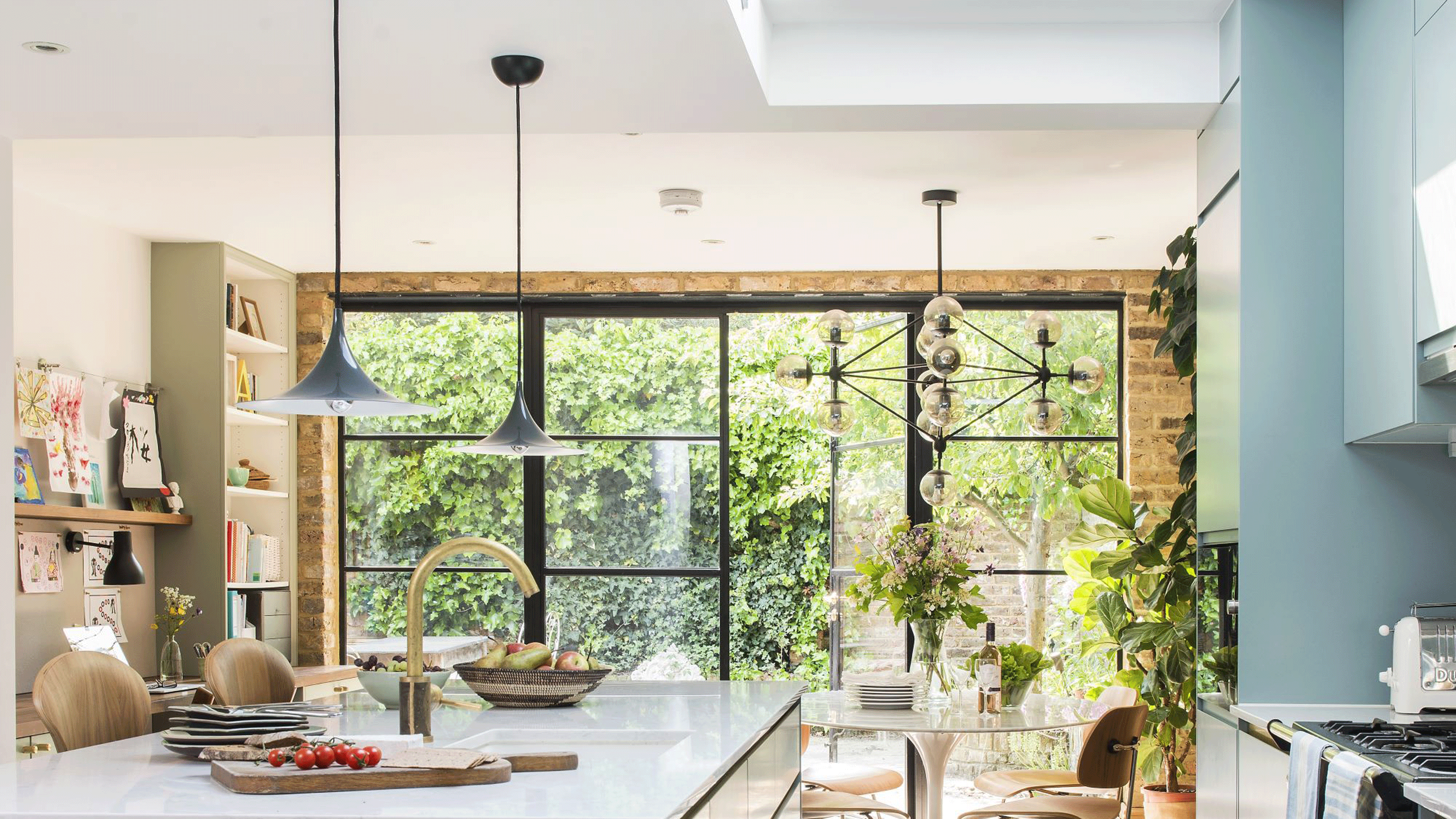 (Image credit: Future PLC)
If you've been dreaming about kitchen extension ideas for a while now, you may be feeling just a little overwhelmed. Learning how to extend a kitchen in the first instance is a lot to get your head round, and that's before you even get started on planning the end result of what your new kitchen ideas will look like.
But that's really where the fun begins because kitchen extension ideas offer a wealth of opportunities. You can plan, design, and bring to fruition your dream kitchen. It might be a spacious kitchen-diner that flows beautifully into the living room or an enlarged kitchen that offers full views of your back garden - or, it might be both!
'The question is how can you extend the kitchen to make the new space work with the existing space,' says George Omalianakis, Expert Residential Architect ARB / RIBA, GOAStudio. 'You want the extension to create an enlarged kitchen, dining, living, and even kid's play area that opens up to the rear garden and that links to the rest of the house in an effortless way.'
So to help you get the kitchen you've been longing for, we've come up with all the best kitchen extension ideas that will bring your dream into reality. Whatever your budget, there will be some ideas in our guide that you can implement into your home. It's time to start planning!
Kitchen extension ideas
Aside from transforming your kitchen to the space that you need it to be, a kitchen extension will add value to your home, so it's a wise investment. Transform your current cooking space into a socialising and living space too with our pick of the best kitchen extension ideas.
1. Incorporate various roof profiles
A multifunctional kitchen extension - i.e. one that will house cooking, dining, socialising, and living spaces - will benefit from a varied roofing structure over one bland, flat ceiling. Different ceiling levels will help define and separate the different functions of the new kitchen area, so it's worth thinking about this in the early planning stages.
'Once you have come up with a clear layout of where the kitchen is, where the living area is, and what you would like to connect to the garden, try to then play with various roof profiles to define the various functions of your new kitchen area,' says architect George. 'High ceilings create an uplifting, "cathedral", effect, whereas lower ceiling areas are more cosy and intimate. Pitched roof profiles will draw your eyesight upwards or downwards leading your brain to read the space you are in differently.'
2. Define areas with different floor levels
If your extending to create an open-plan kitchen, you want to define separate living, cooking, and dining areas. A helpful way to do this is to have different levels of flooring; you could raise the level of the cooking space above that of the diner, or vice versa, then gradually transition down towards the garden level.
'This is a reflection of how you use this space and how it fits with everything else around it,' says George. 'By lowering the floor level you put a boundary around a dining area for example. By raising the kitchen area you make it the centre of activity, the raised deck where you can also monitor all family and social life from while cooking.'
3. Consider a conservatory or orangery
'A conservatory or orangery extension is a really popular choice for kitchens as the abundance of glass allows the room to be filled with vast amounts of natural light,' says Mervyn Montgomery, Joint Director, Hampton Conservatories. 'However, when the majority of the external walls are glazed, the layout and zoning of the kitchen need some additional thinking through.'
You could opt for a kitchen that is heavy on base units to counteract the fact that the glazing extension does not allow for many wall units. The extension can then focus on being a seating and living area, or even a playroom or office space.
If you are building a conservatory or orangery extension, the key is to plan ahead to make sure you still have space for all your kitchen storage.
4. Embrace asymmetry
Uniquely shaped kitchen extension ideas can create wonderful living spaces that suit their individual household perfectly. Think outside the box during the initial planning stage; you can go for a popular L-shaped kitchen layout or bring something to life that is beautifully asymmetrical, that performs in the way you need it to.
'Often a bit of asymmetry, an organised and considered chaos approach in terms of design, results in spaces that are surprising while they still feel just right,' says architect George. 'Keep an eye on proportions and scale and composition; there is a lot you can achieve with pretty standard construction methods as long as you plan everything in advance and explore a few options during the design development stage.'
5. Plan in the finer details at the start
Before your extension project gets fully underway, it's important to think about the kitchen layout and design too. 'If possible have some ideas before you decide on the build, so that they can be incorporated at the outset, e.g., drainage points, electric sockets, extractors, windows, etc.', says Mark Mills, MD, Mereway Kitchens. 'This way you save time and money and can even turn a necessary utility into a feature – e.g. support structure.'
Remembering to incorporate these nitty gritty details in the early planning stages is something you'll thank yourself for later.
6. Match your extension plans to the foundations
It's important to understand the footings and foundations you'll be building on, as this will affect the type of kitchen extension ideas you can implement, as well as the project's price tag.
'In terms of the footings - if you have clay, overtime this would depress when you put concrete footings on top so you need to go below clay level, which can be very expensive per square metre', says Ian McConville, Group Procurement Director, MKM. 'This only matters if you are extending upwards. If you are undertaking a side extension you would install new footings anyway.'
Your architect will be able to go through these details with you, but it's helpful to do a bit of research first so you're prepared for how much work your extension will involve.
7. Turn an awkward space into a utility area
There will inevitably be one or two areas of your new kitchen that you're not sure what to do with. One wall will stay in the darker part of the room, so you might want to use this space for utility units and chores rather than as a dining or socialising space.
'Utility areas tend to declutter the rest of your kitchen or dining space and you can always find awkward and previously unused parts of the floor plans to turn into utility, storage or to a pantry space,' suggests George, GOAStudio.
8. Add a skylight
If you're looking to maximise light and make your new kitchen as bright and open as possible, a new skylight the best way to do this. 'A skylight allows you to achieve a bespoke look which really opens up the space and allows the light to pour right into the room,' says Thomas Goodman, Property Expert, MyJobQuote. 'Add some glossy features such as cabinet doors or countertops and this will allow even more light to flood the room.'
9. Consider keeping your extension small
The size of your kitchen extension will likely be at the forefront of your mind, so it's important to get clear on how much square footage you want to add exactly. Think in terms of floor space; how much more do you actually need for your new kitchen to do exactly what you want it to? Try to stick to this and not go over unnecessarily.
'Kitchen extensions don't need to be huge to bring in the benefits. Most kitchen extensions are no more than 3 metres in depth, and side return extensions especially are usually quite small', says Thomas. 'Even just a 1.5 metre wide side return extension can dramatically change the room.'
A small kitchen is usually around 15m2 and a large kitchen is usually up to around 50m2. Keep these numbers in mind as a rough guide when planning your kitchen extension.
10. Make an island the focal point
Always dreamt of having a beautiful kitchen island as the stand-out feature in your kitchen? An extension will give you the space to do just that. Kitchen island seating ideas are great socialising spaces; they create a place for people to gather round with a glass of wine while the cook sees to meal prep, and they're a great breakfast and lunch spot for everyday.
Plus, you can use your island as extra storage too. Keep your countertops clutter-free and put larger utensils and appliances you don't use everyday away in the confines of your island unit.
11. Create a thoughtful layout
Architects Studio Varey transformed this charming semi-detached North London home with a sleek new kitchen extension. A newly open-plan ground floor houses a modern kitchen /dining space, extending out into the back garden, that takes inspiration from orangery ideas with its large skylight.
'The new space is filled with natural light from both the large skylight positioned over the dining table, as well as the expansive glass doors that allow this family to bring the outside in and maximise the home's connection to the garden' say the design experts. The kitchen design features composite countertops and a large run of tall cupboards, which have created over 50 per cent more usable storage, a key request for this family home.
12. Form a relationship with the outside
'One thing to consider when extending outwards to create a bigger kitchen is how natural light will be affected,' says Victoria Brocklesby, COO, Origin. 'In instances where the square footage of a room increases but the number of windows or glazing doesn't, the space can become dark and uninviting.' Glass sliding doors are ideal for maximising light in the new kitchen space, and opening up the area to the outdoors.
This Edwardian house features a modern rear extension which allows the kitchen-dining area to seamlessly flow into the beautiful garden beyond.
13. Envision how the space is best used
The main objective with this kitchen extension was to create a spacious kitchen with the island and dining table taking centre stage. 'We used Resi, an architecture practice, to secure planning permission,' explains this homeowner. 'We produced several different layouts on graph paper, detailing the dimensions for the space needed – for things like walking between the island and kitchen units. And what might be required for the seating area.'
'It was a fairly straightforward design using planed structural timber, double-glazed panels and power-coated aluminium capping. In fact, it was probably cheaper than a slate and Velux alternative and allows plenty of light to flood in.' The combination of a glazed pitch roof and large steel-style windows and doors provide a bright, airy feel to the kitchen.
14. Mix materials
Use a mix of materials to get the best from your kitchen extension. Allow a brick extension to extend the space, retaining structure and warmth within the framework. But pair the brick with steel framed doors that offer an airy feel, allowing the outside to integrate with the indoor space. Further use of glass with a roof lantern adds a contemporary edge to the design, that floods the main kitchen area with natural light.
15. Create a multi-purpose space
At the planning stages work with your architect to create a space that can provide the perfect balance for your lifestyle. A smart kitchen extension that can seamlessly integrate cooking, dining and socialising is a great way to use the space – especially when working from a small floor plan.
Using larger furniture pieces to help create the different zones is an ideal solution, to save on structural divisions. You can also use colour blocking to define the different zones. Two-tone kitchen colour schemes are hugely popular with larger kitchens, as they help to create visual variety and prevent the space from feeling too big and empty.
16. Make the walls retract
'Remember: the garden is the "stage" for pretty much all kitchen extension projects,' says architect George. 'You will experience your new space from the inside out.'
Extensions that allows a seamless fusion of outside and inside dwellings are the most popular for a reason. And sliding doors, which all but disappear, are the best way to completely open the space up. Aside from having the freedom to unit the spaces in summer, in winter the glass structure allows maximum light capacity – to keep the space feeling open and airy, ideal in smaller kitchens.
17. Double the size by repurposing a side return
Use redundant space from a side return to create extra space for an open-plan kitchen and dining area. The extra footage will allow adequate room for a more comfortable living arrangement. The extension also opens up the possibility to put in skylights and doors across the back to create a further sense of openness.
18. Use glass to balance the light
This period village house is enhanced by a contemporary glass extension and modern interior. Extending out a few metres beyond the boundary wall is enough to completely open the ground floor space. Where the garden is at a higher level to the ground floor the use of glass across the entire rear extension helps to ensure the sunken space isn't dark and enclosed.
19. Adapt the space to fit the new normal
Our homes have never had to work harder to incorporate our growing needs. Kitchens have always been considered the heart of the home – and in 2021 they are very much so, as they become home offices, restaurants, classrooms and more. Not to say how we live now will stay, but designers are most definitely sensing this will influence how we use the space in the future. An extension can pave the way for a reconfigured layout that complements your 'new normal' lifestyle.
20. Use extended glass panels to let the light in
Lose a wall by installing glass panels and folding/sliding doors for a space that opens up completely to the garden beyond. This smart extension doesn't go out further, it uses the space vertically to flood the room and incorporate the garden.
Pick and position wall and base units by thinking about the outside space too. Here the honeyed tones cabinetry helps to draw the eye up and out, while the lower cupboards are grounded by a darker hue. All the design aspects work in tandem to open up the space, without having to make a larger footprint for extending. A high traffic throughway will need a hardwearing floor so choose a durable dark-tiled version.
21. Unify the ground floor through thoughtful decor
Extend your kitchen thoughtfully by extending your decor from room to room, so one living space flows seamlessly through to the next. This elegant open-plan kitchen space uses a coordinating colour palette with the sitting room at the front of the house. Along with light fittings and flooring choices that feel at harmony with a living room decor.
22. Put safety first when thinking of the layout
Essential if you have small children in the house, the most efficient and safest layout will route traffic away from your oven and hob to ensure kids aren't likely to get themselves under your feet and into danger when you're moving hot pans around the room. Make the fridge accessible but don't put it at the very heart of the room. Try placing it to one side, nearest the entrance to the room, so children can help themselves to drinks without venturing into the cooking space.
23. Incorporate structural elements
Instead of trying to hide structural steel beams, turn them into part of the design. In this instance the black patio window frames and black steel beam bring balance and interest to this simple white kitchen. Windows in particular should be seen as part of the design rather than a merely functional element, as they have a big effect on the kitchen-garden flow.
'It's good to take some time to consider the glazing and window design options to maximise your visual connection to your garden,' says architect George. 'Dark window frames, minimal framing, and turn-the-corner window arrangements will maximise the effect and bring your kitchen area right into your garden.'
24. Create a viewing room
If you have extended into your garden space, make the most of lovely views. Let the windows be the star of your decorating scheme and wherever possible place furniture where it can oversee your outdoor space.
'It's not a hard and fast rule, but many homeowners choose to locate their kitchen on the inside wall of the new room, and place their dining area adjacent to the windows and glazing,' says Mervyn, Hampton Conservatories. 'This allows the homeowner to install a long run of cabinetry at the rear of the room with an island in front, looking out into the garden.'
Keep the decorating scheme pared back, and simple so the view is always foremost. Go for matching neutrals across the board with simple decorative touches, a reclaimed table and eclectic chairs. Use glass wall lights for added character at night time.
25. Be brave with clashing colour
Your newly reconfigured kitchen is the ideal place to use colour. But be sure to thinking about the long-life factor. Love pink, the colour of the moment but scared it will date quickly? Why not experiment with a small section of the wall above the tiles? After all, it's not a huge deal if you decide to change it at a later date.
The key is using a clever combination of materials to create a colour clash. Dilute block colour in a kitchen by separating bold shades with patterned tiles, different shades on cabinets and through accessories.
26. Make storage attractive and accessible
Don't want to waste time rummaging for things in the backs of cupboards? Create an open shelving system, like the one in this U-shaped kitchen idea, and you'll have utensils, cookery books and other items that you frequently use to hand when you need them.
Or if open storage isn't your thing, floor to ceiling cabinets will help you make the most of your newfound space. 'Full height, floor to ceiling, cabinet units can provide you with additional storage in an efficient way while retaining clean lines across your kitchen', says architect George.
27. Welcome warmth with brick
If you've built a new wall or relocated one as part of your extension leaving the bricks exposed on the inside will give your kitchen character and warmth. Reclaimed bricks look best as the irregularity of colour and texture will pick up other tones in your cabinetry and flooring.
28. Extend out with a side return
Extending out to the side is a good option if you live in a semi-detached or detached home, as it doesn't mean using garden space. You may lose side access to your garden though, and planning permission can be trickier as it will be determined by how close you are to you neighbour's boundary.
For period terraced homes the path or back garden to the side of a kitchen at the rear, called the side return can be extended into to create a kitchen that runs the full width of the house. Remember, though, to consider how light will then reach the rooms the new space will extend over. You can also combine rear and side extensions for a stunning wrap-around kitchen.
29. Consolidate storage
Plan your kitchen extension storage with care. If you have the space, it pays to keep cupboards to a specified area rather than have them dotted all around.
In this impressive extension, base and wall units have been banked together on a single wall and long, full-width island. This not only keeps everything close to hand at the busy, business end of the space, but allows you to co-ordinate your colour scheme - in this case, a dark-grey matt paint finish.
30. Use a peninsula as a divider
Define the different functions of your extension with well placed units. If you have extended out into your garden from the back wall of your house, the line of the old wall will quite often make a natural dividing point for the new extension.
Here, a rigid steel joist and window mark the spot. The worktop below houses a sink, a couple of cupboards and a mini breakfast bar and divides the working kitchen from the dining and sitting area overlooking the garden.
31. Consider glazed doors
In larger extensions with high ceilings you may feel you need more than furniture to divide up an open-plan space. These full-height sliding glazed doors are a revelation, adding smart, defined verticals to the design and marking a change of function between kitchen and living areas without screening anything from view.
'Statement glazing, like a sliding or bi-fold door, will ensure there is enough natural light,' says Victoria, Orgin. 'These have larger panel sizes, so maximise the amount of natural light entering the room.'
Add even more light with low-hanging pendants, and complement fabulously tall storage emphasise the height of this space. Cornflower blue paintwork and slate wall tiles will unite the decorative elements.
32. Unite a multifunctional space with materials
Use a single material throughout an extended space to keep the feel orderly, contained and open. This extension features a country kitchen with breakfast bar, a seating area and separate dining space.
Decoratively, this could be a messy arrangement, but the use of wood throughout brings its own settled order. From the fitted shelves and larder unit at the back of the room, through to the impressive breakfast bar at the centre and out to the low coffee table, farmhouse dining table and mismatched chairs inspired by shabby chic decorating ideas, the warm wood tones unite the scheme. Pops of vibrant colour on soft furnishings and ceramics to add to the fun.
33. Seek out and follow the light
In a kitchen extension, position a dining table where the maximum light falls. In this space, which lacks conventional windows, roof lights bring drama and atmosphere to the table. An adjustable, wall-hung pivot light adds a modern touch.
Look for furniture that fits the space you have as exactly as possible. This table is the width of two place settings and no more, allows room for chairs to move in and out and is the perfect length to make full use of the room's dimensions.
34. Pick simple but strong colour schemes
The modern extension will increase the light levels in a property, so be adventurous with colour in your new kitchen. Working against a white or neutral backdrop, make a strong statement with a black gloss central island and black modern stools that create crisp, clean-lined silhouettes.
Use gunmetal-finish patio door frames to tie in with stainless-steel appliances. Complement and uplift the scheme with a bright yellow splashback and matching pendant lights that draw the eye upward to impressive roof lights. This will simplify and streamline the scheme, particularly in a smaller extension.
35. Blur the boundaries
Use an extension to continue your kitchen space outside. Choose floor tiles that allow a continuous flow from kitchen to patio, giving the illusion of one large room.
Use the white of your cabinets and kitchen walls on external brickwork, masonry and planters. Create an outdoor cooking area that has all the features of a kitchen rather than a barbecue, including a worktop positioned to continue the run of the kitchen version inside.
36. Colour code kitchen zones
Make large, open-plan spaces work by using colour to define different functions. Try white, handleless cabinetry for a practical, easy-to-maintain cooking and food preparation area.
Introduce a contrast shade on a breakfast bar island to signpost the change of function, but keep the worktop white to indicate that this is a dual-function surface. For dining, go unfinished wood - in keeping with its proximity to the patio, this table and chairs could be mistaken for garden furniture.
Unify the whole with timber flooring, a wooden sideboard and a row of wooden bar stools.
How much is a kitchen extension?
'Realistically, you're looking at paying an average of £30,000 for a kitchen extension in 2022,' says Thomas Goodman, Property Expert, MyJobQuote. 'But costs do vary. A small kitchen extension without any fancy features may only cost £16,000. But if you go for a large extension with a bespoke design and high-end fittings, you're likely to pay nearer £100,000.'
The kitchen extension cost will vary dramatically from project to project. Factors like the size of the extension, the location, bespoke features, and planning permissions needed will either plus or minus a few zeros on to the final price.
It's helpful to think of kitchen extension cost in terms of cost per sq m, so you can track the rise in price along with the increase in size. According to Natalie Mitchell, Property Expert, HomeHow.co.uk, current prices per sq m for a kitchen extension are around £1400 - £2000. If you're also installing a new kitchen suite (appliances), you can expect to pay around £200 - £1000 per sq m for the kitchen suite.
It's important to be as detailed as you can during liaisons with your architect, so they can give you as accurate a quote as possible. 'If you are getting a rough build cost calculation from a builder or an architect, this will usually be for the 'shell' of the extension,' explains Sky Moore-Clube, Architectural Designer, Urbanist Architecture. 'If the extension will include big-ticketed items such as a kitchen, the type of kitchen you want could dramatically affect the final cost.'
Do you need permission to extend a kitchen?
Most kitchen extension ideas will need planning permission, unless they fall under permitted development. The different forms of permission your extension requires will depend on the type of property, the location, and how the new extension relates to the adjacent boundaries with the neighbours.
'If your property has Permitted Development Rights (this often applies to non-Listed houses that are not in Conservation areas, but not to flats) you might be able to add an extension that needs no prior planning approval', says George Omalianakis, Kitchen Extension Expert, GOAStudio. 'But you will be limited with what you are able to do in terms of design, as Permitted Development requires that you tick a number of boxes.'
A single-storey rear extension is usually the most planning permission-friendly extension project, and can often be achieved under permitted development. Keep in mind the balance between house and garden, as swallowing up too much garden may be detrimental to the property's value. A simple side extension is also planner-friendly and can widen a narrow kitchen without stealing precious outdoor space. Side-returns are a common choice for terraced properties, which often have a half-width kitchen tacked onto the rear.
You will likely need to seek Building Regulations approval as well, which covers a number of technical and structural matters including the insulation levels, fire regulations, structural safety, weatherproofing details etc.
'You will also need to deal with any relevant Party Wall matters if you build near the boundary with your neighbours', adds George. 'And if your property is leasehold then you will need to obtain approval (often called License to Alter) from your Freeholder. It's best to ask a solicitor to advise on the terms of your lease and how you go about obtaining approval from your Freeholder.'
Working with an architect or planning consultant can increase your chances of success at this stage as they will be aware of local planning policy. It can also help to find similar extensions on your street, as these can serve as a precedent for your project. Refer back to GOV.uk throughout the planning stage, as this will keep you informed of all the relevant info.
Will you be using any of these kitchen extension ideas?