How to extend a kitchen – design and plan your dream culinary space
Create space for your dream kitchen by designing an extension. Our step-by-step guide takes you from costs and planning to build.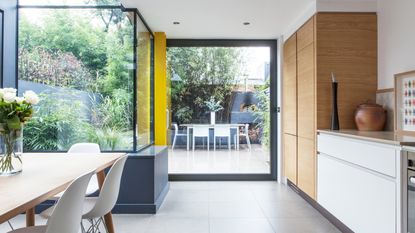 (Image credit: Future PLC/Emma Lewis)
It's easy to become overwhelmed once you start thinking about how to extend a kitchen; from planning permission and design briefs, to how much it's going to cost and whether or not it's going to be worth the time and money, there's a lot to consider.
But if you have started thinking about extending your kitchen, you're probably dreaming of a bigger culinary space which does whatever you need it to, from cooking and dining to household chores and office/ school work. Small kitchen layouts may have done the job previously, but as the needs of your household change, so should your kitchen, which is where an extension comes in.
'If you're facing a daily struggle using a tiny kitchen and have a lack of space to enjoy family meals or be sociable, then a kitchen extension is going to be worth doing', says Thomas Goodman, Property Expert, MyJobQuote. 'And although extensions do cost a lot of money, you're likely to see the value of your home rise significantly.'
Our step-by-step guide will take you through everything you need to know about how to extend a kitchen. We've asked the experts and compiled their advice, covering everything from the beginning planning stage to the finishing touches at the end. Keep reading to have all your questions answered so you can get cracking with building the kitchen of your dreams.
How to extend a kitchen: step by step
1. Make initial plans
The kitchen layout needs to be decided early on so that all of the electrical and plumbing services can be positioned to suit your plan. Think about what you want from your extension, and therefore how much space you want your extension to provide. Do you need room for a kitchen-diner? Do you want to include a kitchen island?
Ensure your new extension will provide an adequate supply of natural light. It may not be possible to add windows to a side extension, so glass roofing may be a good option. You want your extension to add space to your home... but not space that's dark and uninviting.
It's really important to think this stage through thoroughly. The more detailed your plan, the more likely it is that your contractor will be able to bring your ideal kitchen extension into reality, and you'll know exactly what planning permissions you need.
Bear in mind that the more spacious your kitchen extension, the longer the process will take. A single-storey rear extension is usually the most planning permission-friendly option, often achievable under permitted development. Don't swallow up too much garden otherwise you risk reducing your property's value. A simple side extension that's subservient to the main house is also planner-friendly and can widen a narrow kitchen without stealing precious garden.
Side-return extensions are a common choice for terraced properties, which often have a half-width kitchen tacked onto the rear. The section of garden to the side of the kitchen is called the side-return and can be utilised to create a kitchen the full width of the property. A side-return can create valuable wall space for cupboards and worktops. And it can still be light filled, provided you install a series of skylights in the new roof space.
How much will it cost?
Kitchen extension costs are probably at the forefront of your mind, and it's understandable why. The Hillarys renovate or relocate tool predicts that a kitchen extension could cost up to £30,000, and take 11 months to complete.
That figure may make you want to throw the towel in, but we recommend getting several quotes to gain a rough idea of how much your specific kitchen extension will cost. Try sites like MyJobQuote and PriceYourJob. There's also a kitchen extension cost calculator on MyBuilder. The more detail you give, the more accurate your quote will be.
'As a rough guide, you can expect to pay around £1400 - £2000 per sq m for a kitchen extension in 2022', says Natalie Mitchell, Property Expert, HomeHow.co.uk. 'In addition to the extension, you may also have to buy the kitchen suite. You can expect to pay around £200 - £1000 per sq m for the kitchen suite.'
When planning your budget, use figures at the higher end of this scale to cover any unforeseen costs.
2. Choose an architect
Once you've decided on a style and space, look for an architect or designer who will be able to advise you on what's possible, guide you through the planning process and help you work on a budget. Make sure your architect is RIBA Chartered and make use of recommendations from family and friends.
Ideally, you should create a shortlist of three or four architects. Ask to see examples of their previous work and to speak with former clients. Your chosen architect will then undertake a site survey and present plans to you for approval.
3. Understand building regulations and planning permission
Once you have approved the architect's plans, you will know whether the extension falls under permitted development, or if you need to apply for permission. Your architect should be able to advise you in this respect, but for more advice about planning permission, visit GOV.UK.
'Obtaining permissions are an integral part of the design development process you will go through with your architect', says George Omalianakis, Kitchen Extension Expert, GOAStudio. 'It will help you make decisions on your requirements, starting with the overall layouts of your kitchen extension project, then "zooming" in to assess more detailed requirements about technical and structural requirements, finishes, fittings and materials, before finally preparing tendering information for builders to review and price before you are able to appoint a builder for your project.'
If your extension falls under permitted development, you will still need to obtain building regulations approval from a building control officer (BCO), also known as a building inspector. Building regulations apply to most work and ensure safety and energy efficiency. You can choose between a local authority inspector or private approved one, which may be quicker.
If you're applying for planning permission and your house isn't listed or subject to restrictions, your architect can submit the plans for you. Allow at least eight to ten weeks for the application to be processed. You may also require approval under the 'Party Wall' Act, which is a wall that stands on either side of a boundary of land belonging to two or more owners. Works with foundations within certain distances of the walls also fall within the act, not just work to the wall itself.
4. Find a builder
When looking for a builder, try recommendations from friends and family. You could also post a job on Ratedpeople. Your architect should also be able to suggest contractors they've worked with before. As with choosing an architect, make sure to get references and check that they have relevant insurances and guarantees.
Make sure any builders you request quotes from are TrustMark approved. This means their previous work will have been vetted and subjected to on-site inspections to check it's up to Government-approved standards.
Costs vary for building works, and it is a good idea to get several quotes. Allow at least three weeks for contractors to prepare their prices, as they themselves are relying on sub-contractors to price parts. Then ask them to submit a proposed schedule.
5. Consult a kitchen designer
This can happen at around the same time you are deciding on a builder. Your architect may have planned the basic layout of the kitchen for you, but now's the time to take your architectural drawings to your favourite kitchen companies. They can then fine-tune the layout and come up with designs for your approval.
Layout finalised and supplier chosen, you'll then be able to ask for detailed layout, wiring and plumbing plans. Have these ready to share with your builder in time for the next step...
6. Get started on site
Once you have planning approval, Party Wall Agreement and a kitchen is on order, the building work can begin. At this point, 'first fix' decisions, such as the position of walls, floors, ceilings, electrics and water pipes should have been finalised.
While preliminary works get under way, 'second-fix' design decisions and a tender can be made about finishes, light fittings and tiling. Allow plenty of time for flooring to be ordered.
You'll need a contract with your builder and your architect can advise you on the type required. 'Most contracts require staged payments against valuations,' says Hugo Tugman, founder of Architect Your Home. 'This means that your architect visits the project every payment period and issues a certificate to say what percentage of the total work is complete. You then pay against completed works.'
7. Final stages
Once the building work is finished, any snagging issues can be dealt with. Snagging refers to the knock-on structural and finish effects of the building settling back on its foundations after the work is completed. Only when these have been done to your satisfaction should you make your last payment to your builder in return for a final certificate. Make sure that all electrical work, plumbing and gas supplies are signed off, too.
Before your kitchen cabinetry and appliances can be installed, you'll need to lay your flooring. Fitting of your new kitchen should then take up to four weeks. After the cabinets have been fitted, your kitchen company will template the worktops, which should take around two weeks. In the meantime, you can paint the walls and add fixtures and lighting. Then, once the worktops are in place, you're done!
Can you extend an existing kitchen?
Yes, the chances are that you can probably extend your existing kitchen.
'The question is how can you extend it to make the new space work with the existing space', says George Omalianakis, Expert Residential Architect ARB / RIBA, GOAStudio. 'You want the extension to create an enlarged kitchen, dining, living, and even kids play area that opens up to the rear garden and that links to the rest of the house in an effortless way.'
He adds, 'you will need the experience of an expert residential architect to help you assess what works best for you, what works best for the property, and how it can all come together in a way that is sensible and meets your requirements.'
'When planning an extension, visit your kitchen designer with your plans after you have had your planning permission accepted', advises William Durrant, Owner, Herringbone Kitchens. 'This should avoid the need to compromise on your design later on and your designer will be able to provide your builder with drawings of your kitchen design.'
Do you need permission to extend a kitchen?
Planning permission is usually one of the more difficult stages of how to extend a kitchen. You are likely to need a number of approvals for your extension, all of which depend on the type of the property, the location, and how the new extension relates to the adjacent boundaries with the neighbours.
'If your property has Permitted Development Rights (this often applies to non-Listed houses that are not in Conservation areas, but not to flats) you might be able to add an extension that needs no prior planning approval', says architect George. 'But you will be limited with what you are able to do in terms of design, as Permitted Development requires that you tick a number of boxes. It's also advisable to apply for a Certificate of Lawfulness to confirm your Permitted Development Rights.'
You will need Building Regulations approval from your local Building Control or from a private Approved Inspector. Building Regulations deal with a number of technical and structural matters including the overall insulation levels of your extension and of your home, fire regulations, structural safety, weatherproofing details etc.
'You will also need to deal with any relevant Party Wall matters if you build near the boundary with your neighbours', explains George. 'And if your property is leasehold then you will need to obtain an approval (often called License to Alter) from your Freeholder. It's best to ask a solicitor to advise on the terms of your lease and how you go about obtaining approval from your Freeholder.'
Lastly, if you live near a public drain, you'll need to run your plans through the local water authority as well. There's a lot to cover, but any chartered architect should be able to help advise you on the planning permissions of your extension, and you can keep referring back to GOV.uk for all the relevant info.
How can I extend my kitchen on a budget?
If you're wondering how to extend a kitchen on a budget, it might be worth considering small kitchen ideas instead of a full-blown extension. There are a number of cost-effective ways to make the most of the space you already have, and going down this route will save you a lot of time and money.
'Blinds work really well in kitchens as they can make your room look taller and, as they free up space either side of the window, they instantly make a room feel bigger', says Yvonne Keal, Senior Product Manager, Hillarys. 'Also, you can instantly create the illusion of space by simply adding a mirror to your kitchen. Place a mirror opposite your window to reflect natural light around your kitchen and accompany with a light and airy colour palette to add to the effect.'
You can also elongate your walls by painting your skirting board the same colour as your kitchen walls. Try these simple hacks if you're still on the fence about whether to invest in a kitchen extension. They will make your kitchen appear bigger than before, and you might not feel the need to extend afterwards.
Get the Ideal Home Newsletter
Sign up to our newsletter for style and decor inspiration, house makeovers, project advice and more.