Dishwasher sales January 2023 – big dishwasher deals on Bosch, Samsung, Miele and more
From Amazon, Very, Argos and more, we're bringing you the best dishwasher deals all in one place
If you had a meltdown over doing the Christmas dishes, now is a great time to be in the market for a new dishwasher. There are some tremendous discounts in the January sales up for grabs. From slimline models that will fit nicely into a smaller kitchen, to 60cm pot washers capable of cleaning up after a large banquet, you'r sure to find one that will slot nicely into your kitchen.
Related: Strange noises coming from your dishwasher? – 5 signs your home appliances are on the way out

This dishwasher has a long and successful history dating back all the way to the 1850s! So for over 150 years, the dishwasher has been in people's homes, taking care of the dirty plates and cutlery, while looking stylish inside our kitchens.
Below we're highlighting our favourite dishwasher deals on right now, with many of them carrying at least a 20% discount. Here's our run down of the best dishwasher deals out there right now. Enjoy!
---
Dishwasher sales January 2023 – quick links
---
Best dishwasher sales January 2023
Best Currys dishwasher sales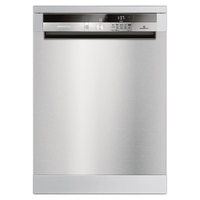 GRUNDIG GNF41821X full-size dishwasher in Stainless Steel, was £499.99, now £429.99, Currys
Capable of washing 14 place settings at a time, this efficient A++ dishwasher will slash your washing-up-related bills and has a smart stainless steel finish.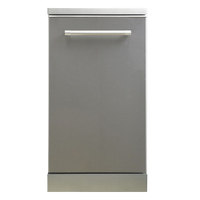 KENWOOD KDW45X20 Slimline Dishwasher, was £269.99, now £249.99, Currys
If you love the Stainless steel look but don't have space for the full-size Grundig, this slimline option might be your cup of tea. It can hold 10 place settings and is A++ rated, so matches the Grundig for efficiency.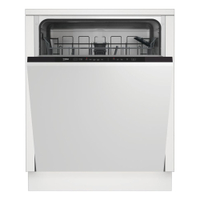 BEKO DIN15X20 Full-size Fully Integrated Dishwasher, was £249, now £229 (save £20)
If you're looking for an affordable but hardworking dishwasher, our Head of Audience (and former Girl About Tech) Amy will always recommend a Beko. This one handles 13 place settings and has a handy 30 minute quick wash if you're in a hurry.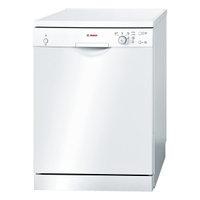 Bosch SMS40T32GB Full-size Dishwasher: was £329.99, now £299, Currys
This Bosch is an easy to operate dishwasher with practical functionality for getting your dishes clean. With 12 place settings, there is plenty of room for storage and varying programmes in the form of normal, economy, quick wash and pre-rinse for suitable cleaning.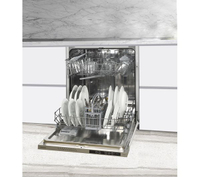 Kenwood KEN KID60S20 Full-size Fully Integrated Dishwasher: was £259, now £229, Currys
With space for 13 place settings, this machine is ideal for medium-sized households. It has a 30 minute quick wash cycle – perfect if you need clean cutlery in a hurry! There are 8 other wash programmes available.
---
Best Very dishwasher sales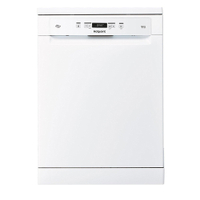 Hotpoint HFC3C26WCUK 14-place dishwasher, was £359.99, now £299.99 (save £60)
This customer favourite has a FlexiLoad system that allows you to adjust the lower basket to fit in bigger pots and pans. If you are a new parent, or simply love a deep clean, the sanitising programme will be a big selling point.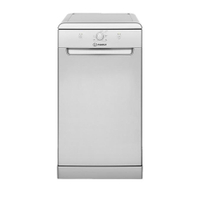 Indesit DSFE1B10SUKN 10-Place slimline dishwasher, was £269.99, now £239.99, Very
This freestanding offering will sit beautifully at the end of a run of worktops, so if you don't have a gap for an appliance, this could be the answer. It has a 40-minute quick wash and has a 10-year parts guarantee should something go wrong.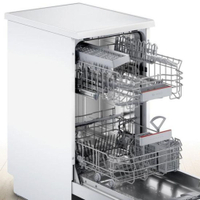 Bosch SPS4HKW45G 9-Place, Slimline Dishwasher: was £569.99, now £469.99, Very
This slimline dishwasher from Bosch will fit in any kitchen. And with a depth of 600mm, you can pack a lot in it. You can also control this appliance with your smart devices for an easier everyday life.
---
Best AO.com dishwasher sales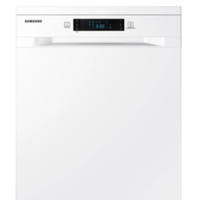 Samsung Series 5 DW60M5050FW Standard Dishwasher: was £409, now £399, AO.com
In a hurry to have the dishes cleaned? This Samsung's handy Time Saver function speeds up cycles without compromising on results. It also uses the heat generated to dry the washed items, so another environmentally friendly dishwasher.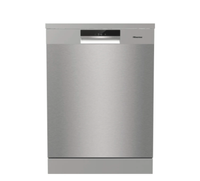 Hisense HS661C60WUK Stainless Steel Dishwasher: was £529, now £429, AO.com
Save £100 on this A+++ rated Hisense dishwasher. It can hold 16 place settings so it's a great choice for large families (or if you're a keen entertainer when restrictions end!). With 5 wash cycles, there's a cycle to suit any task.
---
Best Amazon dishwasher sales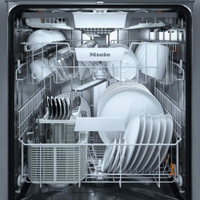 Miele G5022SC Freestanding Dishwasher: was £669, now £628.93, Amazon
You don't have to wait around for your dishes to be cleaned, as this Miele gets the job done in just 58 minutes. It has an A++ energy rating so saves you money and helps the environment. And with just a 45db noise level, this dishwasher is extremely quiet.
---
Best Argos dishwasher sales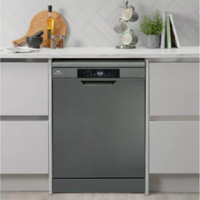 New World NWECO13FSX Full Size Dishwasher: was £309.99, now £289.99, Argos
Adapt to any cleaning situation with 8 different programmes and 6 temperature settings. There's even an Extra Silent button, meaning you won't miss any post-dinner conversations.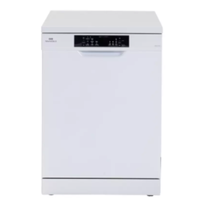 New World NWECO13FSW Full-Size Dishwasher: was £299.99, now £279.99, Argos
No need to sacrifice style for substance as the machine boasts an impressive A+++ energy rating. And with an Economy and a Half-Load programme, you can save the planet as well as money on your utility bills.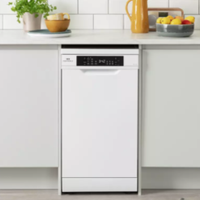 New World NWLCSL10FS Slimline Dishwasher: was £249.99, now £229.99, Argos
Ideal for a small family, there's enough room for 10 place settings in one load. And you can slide out the cutlery tray to help make space in the bottom basket. Adapt to most cleaning situations with 8 different programmes and 4 temperature settings. There are even dedicated Baby and Glassware options for those more fragile items.
---
How to buy a new dishwasher – the features to look for
If it's been a while since you bought a dishwasher or if you're getting one for the first time, you may be surprised at how much they've moved on.
1. Modern dishwashers are easier to load: With separate cutlery trays, foldable tines and upper baskets that can be raised or taken out, they're a doddle to load.
2. Wash times are fast: Expect them to wash a lightly soiled load in just 30 minutes, and a full haul of dirty plates in less than an hour.
3. Drying has been improved: This is thanks to special features that kick in at the end of a programme, such as an extra-hot drying cycle, a fan or an automatic door that opens to let out damp air.
4. You can wash half loads: Half-load cycles use less energy, so you don't have to ll the dishwasher to run a guilt-free wash.
5. They'll pick the right cycle: Intelligent dishwashers detect the load size and dirt levels, then choose the programme that will deliver the best results.
6. There's one for any size of kitchen: Compact designs no bigger than a microwave can sit on worktops to offer a smart saving-saving solution. 45cm-wide slimline dishwashers can cleaner 8-9 place settings at a time, and full size 60cm-wide versions can handle anything between 12-17 place settings. Choose a built in model and it could slot in at eye level, as well as on the floor.
In case you're wondering, a single plate setting equates to a soup bowl, dinner plate, dessert bowl, cup & saucer, drinking glass and a knife, fork, soup spoon, dessert spoon and teaspoon.
Related: Dyson Deals 2023 - get the best vacuum, heater and even lighting from Dyson, on sale right now
Are dishwashers efficient?
Yes, and far better than washing up by hand. A dishwasher can deal with a single dinner party-sized load using as little as 6 litres of water. Whereas it will take 20 litres of water to fill a single sink, which you might do four times to clean the same amount. Compare the water consumption on different dishwashers before you buy. It's usually given as the number of litres used for a fully loaded machine on a normal 50°C programme.
Dishwashers also clean to a higher standard, as the water reaches hotter temperatures than your hands will cope with. To reach these temperatures, a dishwasher uses approx 1.5kW of energy per cycle. Yet a hot water system uses 2.5kW to heat the water to fill a sink.
Also, check the energy ratings of the appliance before you buy. The letters refer to energy efficiency, washing performance and drying performance. A+AA-rated models are the best.
For more incredible deals on kitchenware, furniture and more, be sure to check out our website.
Related:Le Creuset deals 2023 – discounts at John Lewis, Amazon, and Wayfair
Happy shopping!
Get the Ideal Home Newsletter
Sign up to our newsletter for style and decor inspiration, house makeovers, project advice and more.