Easter decorating ideas – from easy DIY makes to fun seasonal updates
Make the Easter holidays eggs-tra special this year, with these fun DIY decor ideas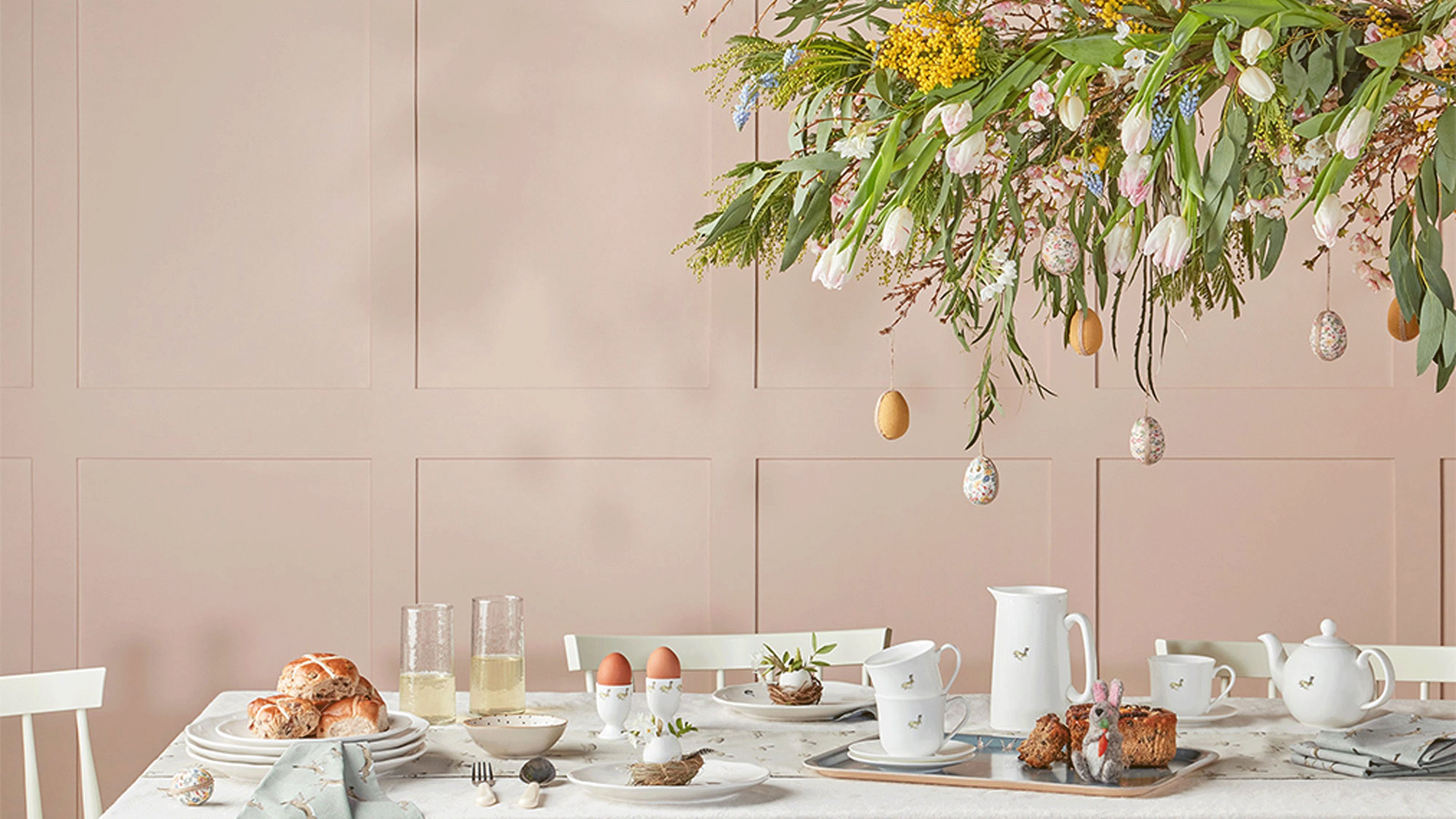 (Image credit: Sophie Allport)
Spring is here and if you feel the desire to start sprucing up your home and feathering your nest, then our Easter decorating ideas are just what you need. After a gloomy winter, there's nothing like an abundance of pretty florals, soft pastels, cute bunnies and chicks to brighten up the mood and get the house and living room ideas looking colourful again.
'Easter decorations are fast becoming the norm, with beautiful Easter trees, egg wreaths, decorative dishes and stylish tablescapes marking the occasion,' says Sophie Allport of the celebrated homeware brand.
'It has to be one of our favourite holidays as it sits between Christmas and summer, offering the perfect chance to relax, unwind and celebrate with friends and family. And we love any excuse to decorate the home with fresh flowers, pretty pastels, and playful prints.'
And we're certainly a nation of crafters when it comes to Easter decorating ideas, with Hobbycraft launching its Easter range in February this year. 'Our seasonal range arrived earlier than ever before following a rise in demand for Easter crafts,' says Katherine Paterson, Customer Director at Hobbycraft. 'Searches increased by 12% in January 2023 compared to the previous year.'
Olivia Clarke, Seasonal Buyer for John Lewis says 'Our customers are adorning their homes with pastel coloured delights this Easter, with sales of Easter trees up +456% since last year. Hanging decorations are proving popular too, with sales up +482% since last year. From eggs-pertly styled tablescapes to bannisters dressed with Easter garlands, our customers are making sure every inch of their home is considered.'
Easter decorating ideas
When it comes to seasonal Easter decorating ideas, one of the best places to start is with an Easter table setting or centrepiece to complement your dining room ideas. Choose vintage-style touches, such as china with faded floral designs or vintage glassware in delicate tones. And why not use your regular homeware to make a unique Easter display - a cake stand or serving platter is the perfect place to display ornamental birds, bunnies or homemade gifts.
Pretty vases and pitchers filled with springtime florals or potted bulbs in planters dotted along a table can also create a striking centrepiece that will wow your guests. Then add on traditional extras such as painted eggs in tea cups and bowls, bell jars and lanterns filled with blossom, or mini wreaths and spring garlands decorating place settings.
1. Decorate the doorway
Ensure that the front door and entrance way are looking tip-top if you're planning on hosting family and friends over the Easter holidays. A fresh coat of paint in a cheery colour will work wonders at perking up a dull door - or for a more speedy spruce-up try a display of colourful painted eggs and spring flowers in a tub or basket.
Make an easy Easter wreath to hang on the door, using a simple rattan grapevine wreath, from £5, Hobbycraft, as your base. Grab a selection of coloured foliage, faux mini eggs and floral picks to decorate, arrange everything in place to cover roughly half of the garland and then glueing on using a hot glue gun. Tie your wreath with a loop of coloured ribbon in a pretty pastel shade and hang on your door.
2. Add wow with a hanging centrepiece
Make your Easter table sparkle with a seasonal centrepiece that will delight guests at family gatherings. Created using a large branch or wooden pole, suspended from the ceiling, this fab Easter craft idea can be easily adapted for other festivities, be it birthday parties or Christmas celebrations.
Use sturdy hooks and fishing wire or coloured cord to suspend your hanging centrepiece, then simply decorate with seasonal foliage, such as sprigs of cherry blossom, yellow mimosa or fresh tulips wired-on, or add a selection of ornaments and decorative hanging eggs, £15 for 6, Sophie Allport, as a pretty finishing touch.
3. Make an easy Easter tree
Put together a colourful Easter tree display to pretty up the house over Easter. A lovely idea for brightening up the hallway as guests come in, or use a tree to decorate a buffet or sideboard if you're hosting family and friends over the holidays.
Grab a handful of twiggy branches, collected from the garden or opt for a couple of shop-bought sprigs of blossom or pussy willow if easier to find. Stand your branches in a sturdy vase filled with sand so that it won't topple over. To decorate, get little ones to paint coloured eggs that they can tie on, or simply buy a selection of paper egg decorations, £10.50 John Lewis if you're pushed for time.
4. Make cute bunny napkins
A fun way of decorating the breakfast table over the Easter weekend, little ones will love waking up to these super-cute bunny napkin ears. Why not stand one at each place to brighten up the morning's boiled egg and soldiers?
Learn how to fold a napkin into a bunny and then once you've mastered the technique, whip up a family-sized batch using pretty gingham napkins, alternated with a few plain pastel shades for a colour co-ordinated look.
5. Play peek-a-boo at the window
If you've an egg hunt planned over the Easter holidays, have fun by decorating all over the house to keep little ones entertained.
Try a few peek-a-boo bunnies at windows to surprise and delight younger members of the family as they come in. These easy-to-apply Bunny window stickers, £7.99, Ginger Ray, are made of vinyl and cling to windows with no adhesive needed. Just fix in place with a light mist of water and smooth firmly. They can be removed easily afterwards and used again another time.
6. Stencil a bunny table runner
Create an Easter-themed table runner to use as the backdrop for a festive feast. Any plain fabric runner will do, or use a strip of natural hessian, £8 per pack, Hobbycraft cut to length and the edges frayed for a rustic look.
Buy a ready-made stencil, or make your own, drawing a shape onto a sheet of acetate and then cutting out with a craft knife - simple shapes such as bunnies, chicks and Easter eggs work well and are easy to cut out. Fix your stencil in place in the centre of the runner using tape, then carefully apply fabric paint in a contrast colour using a small sponge or stencil brush to dab the paint on.
7. Bake Easter place settings
Make Easter celebrations eggs-tra special by whipping up a batch of edible place setting biscuits. Simply tie with ribbon or string around napkins and they'll look super pretty decorated with coloured icing.
Use a basic gingerbread recipe, cutting the dough into small rectangles (enough for all your guests) and pushing a tiny hole in each using the tip of a plain icing nozzle. Once your biscuit label shapes are baked and cooled, mix up some white icing and use a piping bag with writing nozzle to decorate the biscuits, adding guests' names or an Easter greeting. They'll make a lovely treat for guests to take away afterwards.
8. Make a pom-pom bunny
Decorate a wall or a doorway for Easter with this easy DIY project. The bunny wall hanging is made out of assorted woollen pom-poms. You'll need 18 small pom-poms for the ears, 13 medium-sized for the head and 11 large for the body. Use a pom-pom maker set, £4, Hobbycraft to speed things up, or make your own using a simple cardboard template.
You'll also need two wire wreath frames, large and small, to create the bunny shape. Secure the smaller one above the larger, using a piece of wire, then shape two bunny ears out of two 20-inch pieces of wire and attach. Once you have your basic bunny shape, simply tie on the pom-poms with short lengths of wool, knotting securely at the back. Then simply hang on the wall or your front door with a length of brightly-coloured ribbon.
9. Make Easter treat jars
Cute treat-filled jars topped with toy animals make a sweet Easter gift for little ones and can be re-used afterwards for storing toys or children's stationery. If you're stuck for things to do on a quiet afternoon, this is a great idea for getting children involved, letting them try their hand at making their own jars and it's a fun way of re-using old jars too.
Use plastic toy farm animal figures, £6.99, Amazon for these Easter themed jars or you could just as easily use other mini figures, such as toy dinosaurs or soldiers. Fix the figures to the jar lids using a hot glue gun, then paint with tester pots in a mix of pretty pastels or bolder primary shades. Wrap lambs with coloured wool for a fun touch
10. Create an easy Easter centrepiece
If you're hosting Easter lunch and need a speedy table setting idea, this easy gift box table topper will take no time at all and is a great way of using up spare scraps of gift wrap and remnants of ribbon from your craft stash.
Just grab a handful of small boxes and wrap them up in a colourful assortment of pretty papers. If you can match them to your table colour scheme, all the better. Tie with coloured ribbons and bows to create a mix-and-match effect and pile upon a simple china cake stand. Add mini chocolate eggs and floral sprigs to decorate.
11. Use mini jars for an Easter egg hunt
Try another easy recycling idea with these pretty mini pots that can be used for Easter egg hunts or simply for decorating table settings if you're entertaining over Easter.
Use small glass jam jars or mini glass yogurt pots, wrapping them with wire around the top rim and then bending the wire to create hooped handles. Add lengths of pretty coloured ribbon tied around each jar and then finish off with paper tags stamped with guests' names.
12. Decorate chairs with bunny tails
Delight little ones with cute bunny-tail chair decorations - perfect for a post-egg hunt tea. Wrap a length of wide ribbon around your chair back to start, then simply add a supersized white woollen pom-pom in the centre (use a hot glue gun to fix in place). Cut two ear shapes from pink felt, pinch in at the bottom and then glue in place on your pom-pom.
13. Wrap Spring bulbs
For a last-minute Easter gift idea, try this easy upgrade that will make shop-bought bulbs and inexpensive plants in plastic pots look super-special.
Perfect for mini potted daffodils or hyacinths, buy a roll of floral gift wrap and cut a few large squares to size (enough to wrap each pot in). Once you've wrapped your pot, simply tie with a piece of rustic twine or coloured ribbon and add a gift tag if required. You could also add a layer of moss as a topper with a few decorative eggs nestled in here and there.
14. Decorate eggs with temporary tattoos
Temporary tattoos are a fantastic way to add instant decoration to eggs, and are available in all sorts of designs- including these beautiful butterflies. Begin by washing and blowing eggs and leave them to dry. Next take an individual tattoo, remove the top protective plastic sheet and place face down on the surface of the egg.
With a wet cloth, press and apply even pressure to thoroughly soak the tattoo. Leave for around 60 seconds, then slide off the paper backing sheet and allow to dry.
15. Get crafty with macramé bunny plant pods
If you're a dab hand at crafting, these macramé bunny plant pods make a wonderful Easter decorating idea, as well as great gifts for visiting friends and family. Follow Hobbycrafts step-by-step guide on how to make them and use to display your smaller houseplants or even for hiding eggs inside!
16. Layer up the colour for a show-stopping table
Lay up your dining table ready to welcome guests with a table featuring plenty of colour and fresh florals. A classic farmhouse table and mismatched seating creates a dining area with a laid-back feel, designed for long, lazy weekend breakfasts or lunches with friends.
Colour-pop candles will bring vibrancy to your table settings even if they don't get lit, and chairs painted in bright, cherry shades will bring joy to your space all year round.
We love these colourful tapered candles from Esty, for instance. They're perfect for brightening your Easter table in more ways than one, plus they are made from soy wax.
17. Go all-out with an Easter balloon arch
One for the kids and one they are sure to love, is an Easter balloon arch or garland. This one from Ginger Ray's Easter decorating ideas collection, features pretty florals and what's more, the balloons are biodegradable, so once it (sadly) does reach the end of its life, you know that you won't be harming the planet once you dispose of it. You can buy this Easter balloon arch from Amazon.
A balloon garland laid along a table is another way to decorate for an Easter party, using half-blown up balloons in pretty pastel colours.
18. Make a display of wrapped gifts
Give your hallway a fun feel and welcome guests with a thoughtful Easter display. Wrap gifts in patterned paper and add bunny ears-inspired decorations, plus paper flowers and ribbons. You could even wrap empty boxes and keep them as purely decorative to bring out year after year.
While re-decorating with bunny wallpaper might be showing a little too much dedication to the cause, you could opt to use a length along a dining table, or frame a swatch and hang as a decoration.
19. Decorate napkins with punch needle
Jazz up plain white napkins and get crafty with these punch-needle embroidered pretties. Hobbycraft will guide you through just how to make them, ready to dress your table in time for Easter. Alternatively, why not use swatches of pretty fabric cut into egg shapes and simply sew them onto napkin fronts.
20. Use spring florals to create a pretty centrepiece
Not only does this floral display make a beautiful centrepiece for your Easter table, the narcissus flowers and rosemary sprigs used to create it, will emit a wonderful spring fragrance too. Arrange the flowers in a lined basket or trough, then top with green moss and poke the sprigs of rosemary in the soil too. Pop decoupage covered eggs on to paper straws, and add to the display for an Easter feel.
21. Decorate the table with eggs
22. Add egg accents around the house
Egg decorations don't have to be limited to the dining room table. If you really want to go the eggs-tra mile this Easter, try to find other design opportunities to include them in your home.
It might be placing them at the bottom of a lamp, popping a few in a plant pots or filling some vases with them. If you use the same coloured eggs throughout your home, the decorations will nicely tie together throughout the house.
23. Play with pastel shades
Pastel colours are used time and time again for Easter decorations — perhaps due to their light and bright spring-like associations.
If you don't want to use Easter accessories, such as eggs, then another way to achieve a seasonal look is to experiment with different shades of the same colour — be it blue, pink, green, yellow, and lavender — as this will create a variety of tones reminiscent of the natural world. A good way to do this is with plates on a table setting, or with accents across a room.
These pretty linen napkins that we spotted on Amazon come in a range of pastel shades and they are perfect for adding colour to your table, Easter or not.
24. Keep your table relaxed and natural
We have lots of Easter tabletop ideas but this modern country look is pure pared-back elegance. Stepping the Easter theme up a notch, but without going overboard with bunnies, lambs and ducklings, we'd suggest you dress the table in a similar way to the mood you want to feel over Easter – informal yet stylish, obviously.
Bring the food and the foliage to the fore with a simple monochrome table scheme; mix up striped detailing by pairing the table cloth's wide stripe with finer lines on the napkins. Warm navy blue on textiles and glassware brings smartness to this casual scheme, the perfect foil to the fresh greens of the floral displays.
25. Celebrate with a riot of spring colours
Could this Easter buffet spread be any more joyful? With fresh blues, verdant greens, sunshine yellows and hot pink, this small dining room idea of a rainbow palette of spring colours can't help but make you smile.
If you are looking to invest in some new cookware, then take a look at Le Creuset's Shell Pink Petite Casserole Dishes. For serving everything from desserts to dips, they're perfectly pretty for your Easter table.
26. Mix in a rabbit motif
Here's a simple way to introduce a subtle Easter theme to a room – just add a cushion, throw, tablecloth or even a tea towel featuring a bonny bunny. If you're trying to avoid anything cutesy, a handsome hare like this chap is a sophisticated alternative.
This bunny cushion from The White Company is our favourite option out there this year, plus it's incredibly soft and made from faux fur.
27. Put together stylish place settings
Add a special touch to place settings with personalised name cards. Punch two holes in a plain white card with each guest's name handwritten in calligraphy upon it, and thread a fresh flower's stem through for a pretty, welcome to the dining table.
Warm-toned cutlery brings an extra dimension to the cool-coloured scheme, providing a lovely optimistic glow for the new season... or just that particular meal!
Just a note... the Berglander Titanium Gold Plated Stainless Steel Cutlery Set from Amazon comes highly rated by reviewers.
28. Fill the house with flowers
Mealtimes needn't be the end of this seasonal decorative journey – you can extend the florals throughout the house without going all-out flower power.
Just create a delicate garland, like this one, by twisting a selection of leaves, ferns and seasonal flowers at intervals along a length of florist's wire, and hang it up to bring a springtime vibe to whatever space it's located in.
Displays of daffodils or tulips in fuss-free white ceramics, and against rough-hewn wooden surfaces, simply add to the charm.
Whether you prefer supermarket-bought flowers or you like to buy your blooms online, adding some spring florals to your table will make the world of difference.
29. Mix and match materials for a fresh spring look
Colours are not the only way to bring the outside inside this spring. By incorporating different materials around your home, you're giving a nod to Mother Nature without even realising.
The neutral nature of wood also means it helps other Easter accessories to stand out — like this gorgeous white and rattan table setting from Duchess & Butler, which helps the beautiful bunnies and greenery to pop.
We spotted these lovely rattan placemats on Amazon, for anyone who wants to add texture and colour to their dining table without switching up their dinnerware. They come in a set of eight.
30. Go heavy on yellow details
With visions of daffodils, buzzing bees, baby chicks and those first sunny days, yellow is, in many ways, the colour of spring. So anywhere it can be injected into your home the better. Not to mention it's an instant mood booster.
31. Throw in some gingham
Gingham is a cheerful print that reminds us of balmy days spent in the sunshine with food and friends. So bringing this traditional picnic print into our homes for Easter will work as a lovely background for seasonal accessories like eggs and daffodils.
The Home Direct Gingham Tablecloth from Amazon is one to check out, with five lovely colours available. It's also wipe clean.
32. Introduce snowdrops to a monochrome palette
If monochrome is more your thing, snowdrops are an elegant alternative. A bunch tied with string make a charming place setting, especially amongst a mixture of plain white china and glassware.
33. Hang Easter egg bunting
Garlands and paper chains aren't just for Christmas. Set the scene for Easter Sunday lunch by decorating your dining room with colourful paper eggs on string and fresh spring foliage.
If you love homemade pieces, be sure to check out our Easter craft ideas, too.
This bunny-shaped bunting from Amazon is super on-trend for Easter, plus each bunny has a fluffy tail and a gingham pattern, painted in a differentpastel colour.
34. Spell it out
Buy a personalisable letter banner and you can create your own Easter message to hang in a hallway, across a door or above a fireplace. This floral design from the Rifle Paper Company sets just the right spring-like tone, alongside rabbit sculptures and a cloche full of eggs.
How do you decorate your house for Easter?
If you're looking for Easter decorating ideas, hopefully lots of the ideas above will inspire you! You can't go wrong with florals, so go big with fresh as well as faux. Adorning doorways, window sills, consoles tables, dining tables, mantelpieces... the list is endless! Anything with eggs, chicks and rabbits will also convey an Easter feel, so look for motifs, stickers and figures you can weave into your decor.
Easter garlands are a lovely way to decorate, and even pretty, floral bunting will give your home an Easter vibe.
How do you decorate for Easter on a budget?
Utilise what you already have! Left over decorations from birthday parties, hen parties or baby showers can all be re-used as 'spring' decor, and balloons in pretty pastel colours will add to a scheme too.
Bring in potted plants and flowers from the garden and pick up cheap bunches of daffodils from the supermarket to display in jugs and vases. Empty glass jars wound in garden twine or dipped in left-over paint make for sweet candle holders and pretty nibbles bowls could be filled with chocolate eggs to make a display too.
What date do you put up Easter decorations?
This is totally personal choice, as Easter decoration ideas can also just be spring decorations, so you don't need to wait till the bank holiday to get them up.
While some will decorate their home following Valentines Day, the 'holiday' that proceeds it, some might wait until the clocks change. You could coinside your decorations going up with the start of the kids school holidays and get them involved too, or perhaps after pancake day and lent begins is a good time to start. Whenever you choose to embrace Easter decorating ideas, you can't go wrong by adding touches of spring to your home.
Get the Ideal Home Newsletter
Sign up to our newsletter for style and decor inspiration, house makeovers, project advice and more.