Halloween decorating ideas to get your home ready for spooky season
If you love Halloween but don't dig tacky skeletons and faux cobwebs, try these eerily elegant styling ideas instead...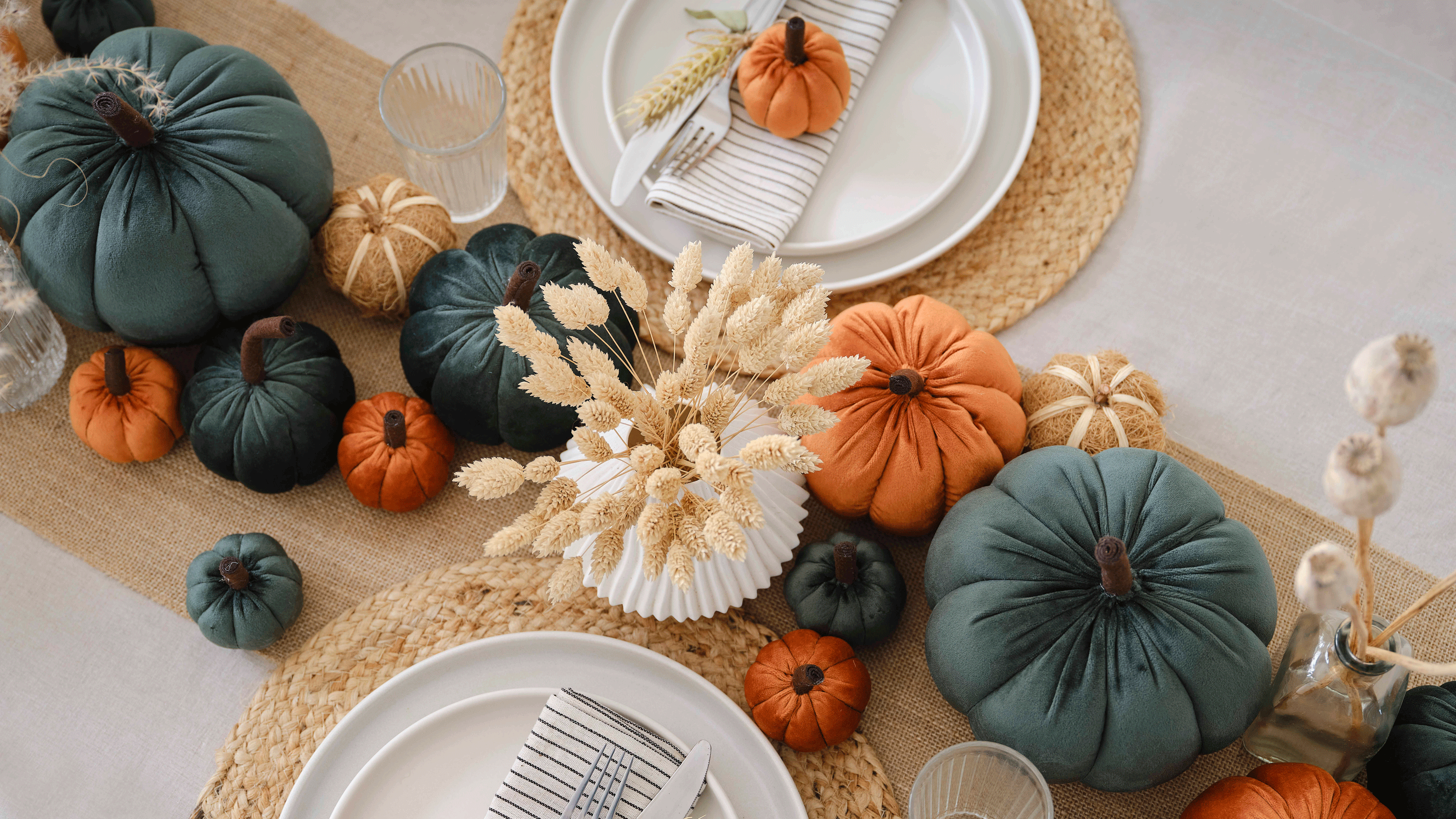 (Image credit: Hobbycraft)
Halloween decorating ideas have taken off in a big way this year. We've already seen floating candles and pumpkin wreaths popping up all over Instagram.
Decorating for autumn and Halloween have become almost synonymous. Pumpkins, ghosts and warm rich russet colours are flooding the high street already to take our minds off the rapidly approaching longer dark nights. Now that we are entering September and PSL season we think it is finally acceptable to give your home a spooky makeover.
Whether you're looking for seasonal decorations for a subtle nod to the 31st October or are ready to embrace your inner witch with a full-blown spooky scene - we have it all.
The best news is that decorating your home for Halloween doesn't have to be a huge drain on your finances. While you can choose to buy a few investment decorations you'll return to each year, sometimes all you need is some sheets of black card and a chalk pen to make a spooky statement.
Halloween decorating ideas to delight
Halloween decorating ideas have come a long way since the simple plastic cauldron and skeleton days. No longer restricted to scaring your guests 'cosy Halloween embracing autumnal colours and pastel-coloured pumpkins have also taken off in a big way.
When planning your decorations always consider how long it will be up for and your existing home decor. For decorations that will be hung for a couple of weeks consider spooky soft furnishings that will take some wear and tear and not jar with your space. However, the decorations only need to scare the neighbours for a short period of time you can go wild with paper creations and glowing jack-o-lanterns.
1. Make your own spooky candles
While we love pumpkin candles as much as the next person (who really loves pumpkin candles), there's no doubt that they can be a little big and bulky when you're planning an epic Halloween-themed dinner party for your family or friends.
If you're looking for something a little slimmer and a little more subtle, these bat dinner candles will still spook mere mortals. And while we love these from Ginger Ray, you could easily DIY these yourself if you fancy getting creative with the kids before the big day.
2. DIY a kooky neon sign
Mixing a cool and unusual lighting option with Halloween decor? Sign us up! And we're not the only ones who think neon signs are going to dominate spooky season this year.
'Neon signs have been hugely popular over the last 18 months due to their vibrant, eye-catching and contemporary appearance, but Autumn has prompted a renewed interest,' says a rep for The Range.
And while you can buy a pre-made neon sign, you could also give it a go yourself. We love using this JIGUOOR Orange Neon Light Wire from Amazon to create our spooky Halloween signs, and we think you will, too.
3. Reduce, re-use, re-spook
If you're trying your hardest to be eco-friendly and cut costs at every corner, Halloween can be a challenge. But you don't have to shell out a fortune on new decorations if you don't want to. It's super easy to make your own using materials you'd usually throw straight into the recycling bin - so why not reduce, re-use, and re-spook?
To make these toilet roll Halloween decorations, you'll need Duck Tape (in black, green, orange, yellow, and white), cardboard toilet roll tubes, scissors, and googly eyes. Then, you can spread them out throughout the house, spooking your family at every corner.
4. Go chic, but make it creepy
While it can be easy to fall head over heels for plastic Halloween decorations, this can often look tacky. If you're looking for a chicer alternative for older kids or an adult-only home, there are so many ways to make your house look spooky but chic for Halloween.
'Opt for arranging tapered iron-look candle stick holders of differing heights together with smaller ornaments such as glass pumpkin candles and ghost-shaped candles. Pull the look together with black and red roses or a gothic garland,' says a rep from The Range.
5. Mummify your kitchen jars
At Ideal Home, we love a Kilner jar. There are so many ways to use a Kilner jar, and this has to be one of our favourite hacks yet. This Halloween decoration idea is perfect for those who have left the decorating to the last minute, as this DIY creation will take just a few minutes to make - and can be removed as soon as the spooky season is over.
But more than anything, we love how this mummy jar can have so many uses. You could use it as a trick-or-treat jar, you could use it to store your homemade Halloween cookies, or you could fill it with lights! View the full step-by-step guide on how to make this at Kilner.
6. Create a gothic tablescape
If you're hosting a Halloween party your dining table should be the centrepiece. Embrace a grown-up spooky theme and fill your table with gothic details.
'Your dining table is the place you can really go to town on the spooky settings,' says Home entertaining and tablescaping expert Lucy Hood, founder of Tableday.co.uk. 'Bright orange and jet black are usually key colours, and with Hallowe'en it's all in the details, black faux flowers, velvet fabric pumpkins, black skull place settings, eerie test tube vases, black candle sticks, paper fake spiders and bats, and a gothic table runner which will really pull together any Halloween party look.'
7. Swap cushions covers for creepier styles
One of the easiest ways to decorate your home for Halloween is to swap out your soft furnishings, especially cushions. 'If you are a Halloween fanatic and will likely decorate your home every year, purchasing Halloween-themed bedding and cushion covers is a cost-effective way to transform your home, time after time,' says Leanne O'Malley home interior expert at Studio.
'Plenty of Halloween-themed soft furnishings are available at an affordable price, or you can simply replace your current covers with ones that are orange or black in colour, which you may already have stored away in your linen closet.'
8. Cast a magical glow with fairy lights
Fairy lights aren't just for Christmas, they work a treat for creating a magical Halloween display. Nestle battery-powered fairy lights amongst pumpkins as a safer alternative to tea lights. We love them scattered over a mantlepiece idea and tumbling out of cauldrons for a witchy glow.
'Take one-time measurements of your home so you know how many Halloween lights you'll need, there's nothing worse than hanging some lights or decorations and realising they only cover half of the intended space!' recommends Paula Boston, Visual Merchandiser at Festive Lights.
9. Use a chalk-pen to create a cobweb window
If you don't want to spend a lot on Halloween decorations, tracing a Halloween pattern onto your windows is a smart way to get in the festive spirit for a couple of pounds. This cobweb design was created by illustrator Hello Ruth. Simply download the free template, blue-tac it to the outside of the window and trace along the lines inside the window with a chalk pen.
A single chalk pen should cost a couple of pounds from a local stationary store. Alternatively, you can pick up a pack of 6 Chalk Pens from Amazon for £11.95. When the festive season is over all you need is a damp cloth to wipe your design away.
10. Decoupage pumpkins for a twist on a classic
If you don't want to face the mess of carving a pumpkin, one of the best no-carving pumpkin decorating ideas we've seen this year is decoupage. Double up on the Autumnal theme by collecting fallen leaves and using them to cover a pumpkin or two.
Similar to painting a pumpkin, clean your pumpkin and coat it in a layer of PVA before layering on the leaves in your chosen design.
11. Change things up with a silver scheme
Orange and black might be traditional, however, for more sophisticated Halloween decorating ideas consider matching them to your existing colour scheme. Grey living room ideas will pair beautifully with a silver pumpkin display.
Layer together plush pumpkins, ceramic versions and real pumpkins for a multi-textured effect. Hobbycraft's plush pumpkins are perfect for this, as are white 'ghost' pumpkins which you can pick up for around £3 at most supermarkets.
12. Create a balloon arch
Make your Halloween party go with a bang (although not literally we hope) by creating a spooky balloon arch. Arrange a combination of black, white and silver balloons above a table laden with treats. Use a black marker to draw ghostly faces on the white balloons. Cut bats, spiders and webs from black paper and arrange among your display.
Want to learn more about making a DIY balloon arch? We show you how to create a balloon arch in simple easy steps.
13. Display an autumnal wreath
Celebrate the season by adorning your door with a sophisticated autumnal wreath. Dress a grapevine wreath blank with leaves, berries and pinecones in warming red and orange tones. Attach mini velvet pumpkins for softness.
Use florist's wire or a glue gun to make sure components are securely attached. If you're worried about exposing your wreath to the elements, display inside on an internal door or as part of a table arrangement.