Toy storage ideas – 26 solutions for an organised living room or playroom
Store toys so they're easily accessible and easy to quickly stash away after the kids have gone to bed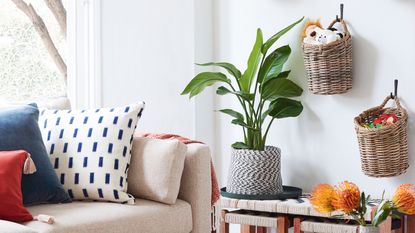 (Image credit: Future PLC / Joanna Henderson)
No one warns you just how much clutter will enter your home when becoming a parent. Whether you're in the Play-Doh and gigantic wooden toy phase or you've moved onto LEGO, a lack of toy storage ideas can make you feel like you're trying to contain the ocean.
If your living room, playroom or children's room currently features a sea of toys, it's time to follow The Home Edit's mantra of 'edit, categorise, contain.' From tried-and-tested baskets and IKEA storage units to over-the-door solutions and cute designs you won't mind having on display, there are all kinds of smart playroom storage ideas to inspire. After all, we all deserve a calm and clutter-free living room to unwind in when the kids have gone to bed.
Toy storage ideas for all rooms
'In recent years, the living room has become a playroom, a classroom, a yoga studio, and a home office all at once, while still being a place to unwind and relax in the evenings,' says Siobhan McMillan, Head of Buying (Homewares), MADE.
'Particularly when there are little members of the family, the space can slowly become filled with brightly coloured toys and objects. The essential key is finding toy storage ideas, which is integral in restoring the calming desired aesthetic of the living room for the adults.'
1. Go high
'Choose bedroom storage that's out of the way (up high) then swap them over,' suggests childcare expert Kathryn Lord from More To Organising. 'Too many toys out can be very overwhelming and by rotating, it means they play more purposefully. It also makes it easier to tidy up as you have fewer different parts. You do not need the zoo and the farm out at the same time.'
Kathryn argues that big boxes and baskets are counterproductive, and says you're better off looking for playroom storage ideas like smaller boxes so the children can move themselves, making them more independent.
2. Hide toys in plain sight
For Rachal Hutcheson, National Retail Manager at Sharps, fitted toy storage ideas are the most efficient option, especially in small spaces. 'Combine open living room shelving ideas with functional cupboards so that all toys and games can remain easily accessible but are stored out of sight when not being played with,' she says.
With a made-to-measure unit like this one, you can style your shelves with your favourite home decor pieces and stash the Minions and L.O.L Surprise dolls behind cupboard doors, so when guests come over they'd never know what was behind the doors.
3. Opt for over-the-door solutions
Store craft supplies on the back of a door to keep paint and brushes organised while taking up minimal surface space. This metal, over-the-door number from A Place For Everything makes brilliant use of what would otherwise be dead space. It also means your kids can easily grab coloured pens and glue when they want. Label the craft area with their name and encourage them to put their things back on their own.
Hopefully, it'll mean you don't mind leaving the door open, meaning the contents will be concealed behind the door. An over-the-door rack works for playroom storage ideas for little ones that love arts and crafts. 'Children's toys won't stay tidied away for long,' says Simon from A Place for Everything. 'So choose a storage solution that's easy for you, but also easy for your little one.'
4. Hang storage nets
Storage nets, available at Amazon are a flexible, space-saving option for shoving away toys, as they fold down neatly when not in use.
You'll need to buy a hook to hang these toy storage ideas from the ceiling, and while they won't be able to hold heavy items, they're sturdy enough to house plenty of cuddly toys and sports balls.
5. Take stock of what you've got
'Look at the type of storage you have and compare it to the items in the room,' advises Sian Pelleschi, from the Association of Professional Declutterers and Organisers.
'The IKEA Kallax is all the rage in playrooms and while it's good for some items, it can be limiting on what it can house for those slightly longer or more unusual-shaped ones. Assess whether you need open and wider shelving or whether some of the items need to be hidden away.'
6. Keep things labelled up and in order
Have a place for everything and everything in its place with lots of labels attached to storage baskets and boxes. If everywhere has its own designated home there are really no excuses for not putting them back properly.
'Consider clear boxes and labels,' comments Sian Pelleschi. 'If children can see what's in a box they're more likely to play with it (although can sometimes make the space look busy) and labels are great if children are learning where an item belongs.'
These baskets containing sports kits are a great boys' bedroom idea that helps keep the floor space free.
7. Hide toys away in adorable designs
Conceal toys in cute playroom storage ideas like these toy house storage bags from Next. These drawer-string bags designed to look like little houses will look right at home even in the corner of the most stylish of living rooms. Having these to hand will make it easy to give your space a quick tidy during nap time.
8. Style a sideboard
A sideboard like this provides the perfect modular storage solution to hide items away and display the most attractive toys – because there are so many beautiful toy designs that deserve to be shown off.
A well-styled sideboard can help to declutter any space within the home, from hallways to living rooms and bedrooms. Intersperse the toys with more grown-up items, such as house plants and framed family photos to prevent the look from feeling too much like a playroom accessory.
9. Add personality with paint
Just because storage is functional doesn't mean it has to be boring – especially in a child's room. We've updated this pine IKEA storage unit with a few tester pots of paint – a simple yet brilliant IKEA hack to try.
For this bedroom paint idea, simply use masking tape to section off the areas you wish to paint and let your creativity run wild. Giving toy storage ideas a fun makeover might even encourage a little one to want to tidy up themselves.
10. Utilise an alcove space
A smart alcove idea ensures space is used to its maximum potential. Use any awkward spaces and corners to stagger playroom storage ideas, leaving larger pieces such as play kitchens freestanding in the lower half, then put up shelves stacked above to keep items out of reach.
11. Create a curated display on floating shelves
Create a striking wall feature that's also a handy place to keep books, toys and kid's artwork with floating shelves. Stack several floating picture ledges and attach a wire trim to hang artwork to create a characterful display.
Children can easily store and display their favourite toys and books on the shelves, turning them into an ever-changing curation.
12. Keep LEGO in order
There's nothing more frustrating than losing a vital building block to complete a LEGO masterpiece. It is therefore essential to seek sensible storage for your children's LEGO collection. LEGO appeals to all ages, from six to sixteen so the storage has to be timeless and suitable for all tastes – so these characterful LEGO design collection storage boxes perfect.
The stackable toy storage ideas are ideal for keeping order in style for boys and girls bedroom ideas. Of course, they are not just for building blocks, and can be used to store all manner of accessories.
'Our easy access Stacking Open Toy Storage Trunk makes it easy for you to fill quickly, but is also at your little one's level so they have easy access when it's playtime' explains Simon from A Place for Everything. 'Plus, as each toy storage cube cleverly interlocks, you can safely stack them to make the most of vertical space and use those awkward spaces in communal areas.'
Buy now: LEGO Design Collection Large Storage Brick Box, £24.95 each, A Place For Everything
13. Elevate storage in living rooms
Keep toys off the floor and out of sight in a living room, to ensure the space feels like a grown-up affair after bedtime. Out of sight, out of mind is very much the idea behind elevating playroom storage ideas.
Multiple hooks on the wall provide plentiful space to hang stylish baskets to store toys – which can easily be taken down when playtime begins. It's a great bargain living room storage idea too if you can find good-value baskets.
14. Dedicate a corner for bespoke storage
Make the most of a corner by putting up shelves on both sides. By hanging the shelves at a higher level you can use this idea for storing books and toys that may need to be looked after, rather than left on the floor or squished into a basket. Elevating toys into a corner is a great space-saving small kids' room idea that will free up some of the rest of the room for play.
15. Make storage multifunctional
Look out for ways to make storage multifunctional, such as this window seat idea that combines seating with drawers to stow away toys and more.
Multifunctional solutions are especially practical for smaller rooms where you need to make more considered choices when using the space.
16. Create a dedicated space for creativity
As your children grow, their bedroom will need to accommodate plenty of additional storage space for a desk, books and equipment. Look for multi-functional pieces of furniture that incorporate desk space with plenty of hidden, but accessible, storage.
This smart storage solution is merely a painted panel with floating shelves mounted against it, to create a small but adequate desk area.
Additional magnetic strips have been added to ensure all manner of metal objects can be safely stored off the floor – tiny toy cars included.
17. Explore the possibilities with multi-use hangers
Sometime the simplest of solutions is the best. In this child's bedroom we used Komplemet multi-use hangers from IKEA to storage storage soft toys. Instead of the use intended, storage for scarves and ties, we've utilised the hanger for kids toys.
Not only does it make perfect sense to provide extra toy storage ideas in an accessible bedroom wardrobe, it's also a great way to keep plush items off the floor – ideal for hygiene purposes too.
18. Use portable baskets for storing toys
Keep your child's books or doll house toys together in easy to clean jelly baskets. They are perfect if your child's play area sprawls into your living room and you need to be able to move them around to clean.
These toy storage ideas also come in handy when you're packing your little one up for a trip to grandma's and they can't decide want book to take – why not take all of them?
19. Hang tote bags from a windowsill
Playroom storage ideas don't need to cost a fortune, if you are looking for a unique way to keep your kids toys in order but are a little short on funds have a go at this tote bag storage idea.
Use any old canvas bags that you might have hanging around the house and cover them with a splash of fabric paint or screen print some letter to personalise them. Next attach some hooks into the underside of the windowsill and simply hang the filled bags from them.
20. Add in plenty of wall storage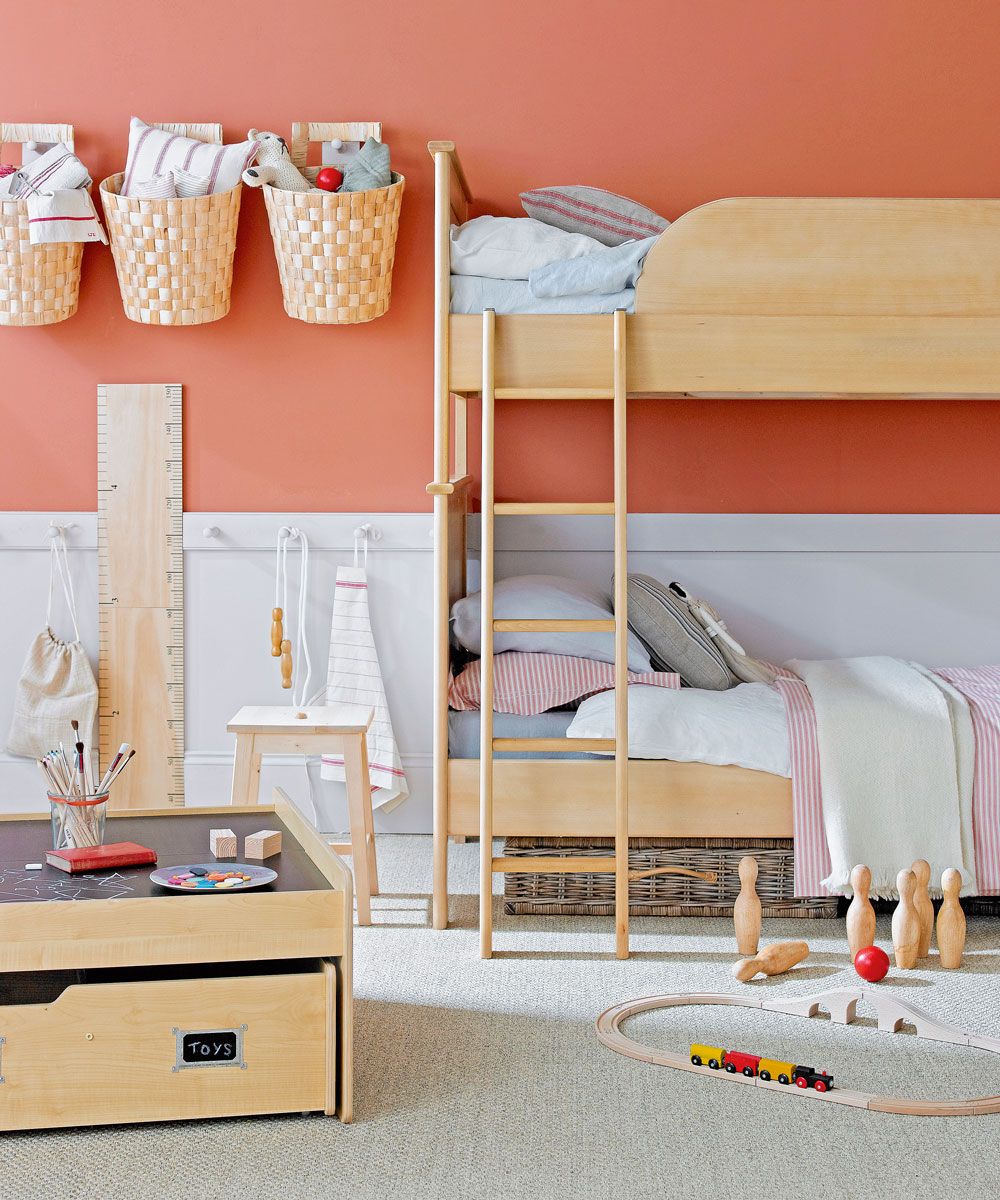 Team less-frequently accessed toy storage ideas, such as an under-bed basket, with easy-to-reach containers, baskets and peg rails so that everything can be cleared off the floor quickly and easily. Bedroom walls are a great way to use every inch of space for storage potential.
21. Repurpose old crates
In small bedroom ideas, make the most of walls for storage. Wall-hung shelves or units will not take up floor space, leaving it available for playing. Open shelves will keep everything within easy reach and will make tidying a quick and easy task.
Combine storage with display by using crates as wall-hung, box-style shelves. Each of these boxes has been painted to match a chest of drawers, creating an eye-catching practical feature space against a white backdrop.
The boxes have been lined with a decorative paper and then filled with favourite toys and accessories, proudly visible but nice and neat. The tops of the crates create additional display shelves too.
22. Streamline with smart cabinets
If you prefer a more streamlined look, incorporate wall cabinets and chest of drawers for toy storage ideas that can be hidden behind closed doors. Look for shelves that feature hooks or peg rails for a little additional hanging space.
23. Look for low-level solutions
Make it easy for your child to play with and pack away their toys. Playroom storage ideas don't have to be boring and bland. Get creative by painting each door in a different colour to stimulate the senses and provide an attractive display that you can change as often as you wish.
24. Include under-bed storage
Ideally, look for childrens beds with built-in storage. Bunk bed and divan beds will provide convenient drawers at a height perfect for little arms, and many feature sliding panels for easy accessibility that allow you to have a bedside table next to the bed. This also keeps you from having to drag out unwieldy storage systems.
However, if the specific look of a divan bed does not fit into your chosen design, go for a bedstead that is high enough to stash small storage boxes underneath. Wicker baskets peeping through can keep a bedroom feeling rustic and homely.
25. Add in moveable storage for versatility
As we encourage little ones to express themselves through art and crafts, we need to provide the perfect place for all the mess that goes with it. By creating a dedicated workstation it allows them to get creative but remain tidy at the same time.
Look for toy storage ideas that can be adapted as your child's needs change. Adjustable shelving allows for different uses, from big blocks to DVDs to ring binders. Tidying their own room will be impossible if they can't reach. Use higher storage for things like bedding that only you need access to.
26. Place beloved toys high on floating shelves
As your kids grow up there will be certain soft toys that they might not play with everyday, but still can't bare to be parted from.
Find a permanent home for their fuzzy friends by positioning them on top of a floating shelf. These style of shelves are perfect for storing all sorts of keepsakes, position them at staggered heights to create an eye-catching display.
How do you store toys in a small living room?
How do you store toys to make more of space in a small living room? 'If you're strapped for space, finding multi-purpose storage units will make stashing toys much easier' says Simon Glanville from A Place for Everything. 'Instead of a large coffee table in the living room, you could go for a big, beautiful trunk, which can double up as coffee table and a place to stash all your children's toys.'
'If you're looking for something more versatile that adds to the aesthetic of your home a set of leather or rattan boxes or cubes can be perfect. Ideal for storing away cluttered toys and make great occasional tables that allow easy access for the little ones.'
What is the best way to organise toys?
'Children's toys won't stay tidied away for long so choose a storage solution that's easy for you, but also easy for your little one' Simon advises. 'Something like an oversized basket means you can quickly tidy their toys when you need to, but also that your child has easy to access when it is playtime.
'Making tidying-up fun offers a great way to encourage kids to clear away the clutter when it's bedtime. LEGO's Giant Lego Storage Boxes and drawers make for a fun way to store toys and are available in a range of homely hues such as shades of grey, white, aqua and azure.'
'Children's bedrooms are where you can be more creative with toy storage ideas' Simon enthuses. 'Using colourful and interesting storage boxes will encourage children to get involved with tidying up – and make it fun! Pick plains or patterns, neutrals or brights and theme your toy storage in different colours or with coloured stickers, or if they're younger use photos so at a glance they're easy to identify.'
How do you store toys on shelves?
'Storing toys on shelves prevents trip hazards and means you can utilise more of your floor space' advises Simon. 'Creating extra room without using up more space. Organise your shelves using separators or boxes to make sure everything has its place – this will make toys easier for the children to find too!'
'If you're still struggling with toy storage ideas and have no floor space to spare, utilise your wall space with our Toy Storage Globes. These are simple but effective for removing clutter: they are transparent so your child can easily find the toy their toys and are easy to quickly store toys in when it comes to tidying away. Plus they might a nice addition to the decor of a room.'
How do you store lots of toys?
Getting rid of toys is never going to go down well, but if things are getting out of control, it's worth donating any that don't get used very often. 'Children get easily overwhelmed when they have too much to choose from,' comments decluttering expert Sian Pelleschi.
'Think of every time you go into a restaurant and they have over 100 items on the menu – it's really hard to choose what to have. The same goes with toys for children. Reduce down what they have in their playroom storage ideas so that the choice is easier and watch their imaginations go wild!'
Sian also recommends reducing the number of duplicates you have of any one type. For instance, it's fine to have lots of colouring pens if they're being used all of the time however if you have three similar board games tucked away in your toy storage ideas, then choose the one the children play with the most and let the others go.
Get the Ideal Home Newsletter
Sign up to our newsletter for style and decor inspiration, house makeovers, project advice and more.
Tamara was Ideal Home's Digital Editor before joining the Woman & Home team in 2022. She has spent the last 15 years working with the style teams at Country Homes & Interiors and Ideal Home, both now at Future PLC. It's with these award wining interiors teams that she's honed her skills and passion for shopping, styling and writing. Tamara is always ahead of the curve when it comes to interiors trends – and is great at seeking out designer dupes on the high street.