Christmas dining room decor ideas – perfect backdrops for festive dinners
Style your dining room for the holidays with these on-trend and joy-led schemes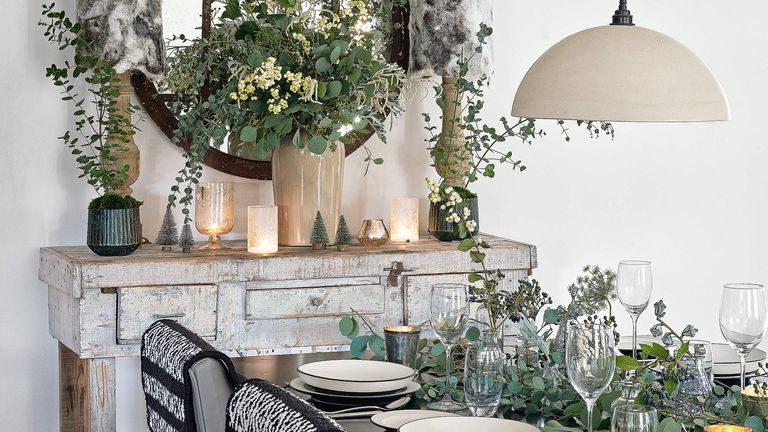 (Image credit: Future PLC)
The dining room really comes into its own over the festive season. Using considered Christmas dining room decor ideas you can transform your day-to-day space into something truly magical for friends and family to gather around.
From the table itself, to shelving and lighting, you can use these Christmas ideas to dress your dining room beautifully for the season. It may not make up for any cooking mishaps which are bound to happen, but at least you'll be in perfectly festive surroundings, whatever happens!
Christmas dining room ideas
Whether you just want to add a few Yuletide touches, or are looking for a more all-encompassing change, read on to discover our favourite ways to upgrade your dining room this December.
1. Hang a branch to create a hanging centrepiece
Turn this year's Christmas table decoration idea on its head – leaving space for festive fare by opting for an overhead centrepiece. Make sure the decorations are lightweight and hang from an existing light fixture, or fix to the ceiling using Command ceiling hooks and clear fishing wire.
Using a piece of wood with its natural undulations allows you to hang baubles from all different lengths, creating a more naturalistic and relaxed finish.
2. Create a cohesive scheme
When dressing your Christmas dining room remember that, although important, it's not all about the table. Make sure you include the other large pieces of furniture, such as dressers, cabinets and sideboards in your decorating. Christmas mantel decor can be linked in, too.
An easy way to integrate multiple pieces is by having a cohesive thread linking them all. For the festive season, an easy and pretty option is to continue whatever greenery you're using on the table onto these other pieces. Sp if you have a eucalyptus garland on the table, add a jug of the foliage on a dresser, or a wreath hanging from a sideboard.
3. Choose a lengthy option
Size isn't everything. But it can make a difference! For the majority of the year you're unlikely to need an especially large dining table, but if you're hosting for the extended family at Christmas, then things change.
Extendable tables are a godsend for when you have a large influx of guests, just make sure that the room can still comfortably fit the table when at its full length. Integrate your Christmas dining room with another space that you can make use of over the rest of the year, when the table is smaller. Choose something easy to move out. Perhaps a small yoga area, a little oasis for houseplants, or a beanbag lounge area for the kids to read and relax.
4. Accessorise with seasonal shades
Choosing a strong colour scheme in your Christmas dining room not only makes finding pieces and decorating it much easier, but it creates a warmer, more finished space.
One must-have item can usually dictate this colour for you. Perhaps a cushion, a water jug or simply your absolute favourite bauble. Choose a couple of complementary shades and use your accessories to layer the colour throughout.
This is also a great option for people who love hosting, as changing the scheme of the room can simply come down to switching out a few small pieces for each different event.
5. Stick to a dominant material
Colours aren't the only way to create a cohesive look in your dining room. Texture and material are equally as useful.
Since the focal point of these spaces is, more often than not, the dining table, use this as your jumping off point. A rustic wood table can be echoed in your Christmas decorations throughout the room. Woven wreaths, naturalistic displays and wooden decorations all tie in to the table to create a considered room.
6. Add a festive glow
Nothing quite adds atmosphere to a Christmas dining room than the use of lighting. Candles and Christmas lights create a sense of occasion, as well as making the room appear warmer, and creating extra sparkly details.
Weave fairy lights into centrepieces, garlands, wreaths and anywhere which needs a little extra something. If tying in with greenery, choose versions with green or clear wire so it blends in with the foliage.
7. Create a festive splash in an open-plan living space
If you have an open plan living space you can still add an extra festive flourish in the dining area. Capitalise on the proximity to the Christmas tree and keep the rest of the decorations simple.
A crystal reindeer as the table centrepiece and foliage over the mantlepiece keeps this space festive but elegant.
8. Keep the trimmings simple
Sometimes less is more, especially when it comes to hosting a laid-back rustic Christmas. When choosing your simple Christmas table decor ideas, consider simple sprigs of seasonal foliage, crackers and a large bowl filled with baubles is just enough to set the scene without overpowering the table with decoration.
9. Tie in a colour scheme with bows on the back of chairs
Ribbons on the back of chairs are a simple and cost effective way to add a little pizzazz to the dining table come Christmas time. These are an easy way to tie your decorations into your Christmas colour schemes.
10. Delight guests with a balloon display
While balloons might not be a typical Christmas decoration, if you have opted for a snow themed decor they are surprisingly effective decoration that will delight dinner guests.
A combination of white pearlescent helium balloons and see-through ones filled with confetti add to the snowy effect. Attach a garland of stars instead of the typical balloon string to add to the magic.
11. Hang a centre-piece from the ceiling
Christmas table centrepiece ideas don't need to be purely about the table. Create a natural chandelier out of foraged foliate and hang above the dining room table for a naturally festive look to coordinate your table centrepiece. Finish the look with a relaxed tartan table cloth and old milk bottles with berries and roses scattered along the middle of the table
12. Put up a Christmas tree
If you are a family who prefers to open their presents after Christmas dinner, why not bundle all the festivities into the dining room. Decorate a real tree with paper lanterns and wooden decorations to match a rustic dining table covered with wooden tea light holders.
13. Fill a chandelier with foliage
Bring the outside in and decorating with seasonal foliage. We're not just talking holly and mistletoe. Weave sprigs of pine and eucalyptus through chandeliers, on sideboards and along the table for a fresh and festive look.
14. Cast a rosy glow with scattered tea lights
A Christmas Eve dinner calls for demure and subtle lighting. Dim the bright overhead lights, and scatter tea lights in mismatched silver holders across the table and sideboard.
The more the merrier, but if you're also adding in foliage, go safe not sorry and look to battery powered LED tealights rather than the real deal.
15. Take a break from tradition with red roses
If you want to create a splash on the dinner table a striking floral centrepiece will draw the eye, but remember to keep it low so your guests can see each other across the table.
A bowl of poinsettias will always look festive and colourful. However, why not take a break from tradition and opt for a display of red roses.
16. Hang traditional wreaths over a mantlepiece
Christmas wreath ideas aren't just for the front door. Transform a chimney breast into a festive feature wall with three wreaths. In this dining room, rather than opting for a traditional red and green theme, more autumnal colours such as copper and amber have been used to compliment the existing room decor.
17. Create a Christmas scene on the mantelpiece
Sometimes only a jolly red will do when it comes to decorating for Christmas. Opt for a candy came red that will pop in your living room and bring a smile to adults and children alike. If you have a fireplace in your dining room, take full advantage of it by recreating a vibrant red Christmas village scene out of wooden decorations. Small lanterns spelling out Xmas on the table are a playful finishing touch.
How can I decorate my dining room for the holidays?
Decorate your dining nearly as liberally as you will when considering your Christmas living room decor. After all, the main event of Christmas dinner takes place here, so it needs to look good. That said, practicalities need to be taken into account. Christmas trees are lovely if there is space, but really work out if people can move around easily to get to their seats or leave the room. Similarly, layer up the table, but only once you've worked out how much space you need for your serving plates and platters.
How do you set up a Christmas dinner table?
Set up a Christmas dinner table as you would for any other large formal dining event in your home. All the key place setting elements must be there - place mats, coasters, cutlery, water jugs, candles and so on. To add that festive touch, a pretty Christmas centrepiece or garland harks nicely to the season. Similarly, place a small present, candy cane or personalised bauble at each place setting.
Rebecca Knight has been the Deputy Editor on the Ideal Home Website since 2022. She graduated with a Masters degree in magazine journalism from City, University of London in 2018, before starting her journalism career as a staff writer on women's weekly magazines. She fell into the world of homes and interiors after joining the Ideal Home website team in 2019 as a Digital Writer. In 2020 she moved into position of Homes News Editor working across Homes & Gardens, LivingEtc, Real Homes, Gardeningetc and Ideal Home covering everything from the latest viral cleaning hack to the next big interior trend.